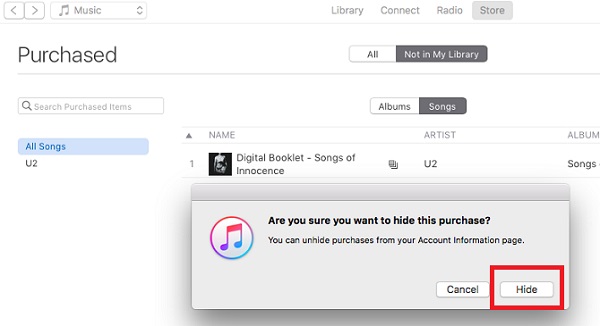 If you have got a large number of media items like movies or digital songs from iTunes, you'll probably found that it's not always convenient to see every song and movie being listed when browsing your iTunes library. Or you may just feel bored of listening to the same songs or albums repeatedly. In these cases, it's necessary to hide those purchased music or videos. Luckily, iTunes provides straight access for you to hide your disliked purchases easily. The following will show you the complete steps to hide purchased content in iTunes.
Delete/Hide Purchases from iTunes
Step 1. Open iTunes on your computer. From the menu, click on Store > Sign in to log into Apple account with your Apple ID.
Step 2. Then go to Account > Purchased.
Step 3. Now you should choose which type of content you want to hide by clicking the corresponding tab at the top of the page, including Music, Movies, TV Shows, Apps, and Audiobooks.
Step 4. Locate any track, album or movie that you need to hide or delete. Mouse-over the specific file and you will get a X icon. Click on it.
Step 5. Select Hide on the confirmation window.
Step 6. If there are tracks or videos with the "cloud" icon, delete them and they will be removed from your library. But don't worry. It still exists in the cloud so that you can redownload them in the future if you like.
Note: For those hidden purchases, if you want to see them in your library again, simply go back to Account > Purchased and download the items onto your machine.
Extra Tips: How to Keep iTunes Rentals Forever
In fact, if you don't like certain movies too much, the better way is to rent the videos from iTunes, instead of purchasing them. Because iTunes movie rental costs much less than purchase, although it's limited with period of validity. If after watching, you find out it's not your favored type, you don't need to remove or hide it as it will disappear from your library when expired. However, no matter you like the rental or not, it's worth keeping it other than letting it go as your favorite style may change someday. Fortunately, with only a few tricks, you will be surprisingly to find that you can actually keep the iTunes rentals in your library as long as you want. All you have to do is use a smart and exclusive iTunes DRM removal tool, like ViWizard DRM Media Converter to unlock the time limit from iTunes movie rentals. It can help you convert the iTunes rented movies to MP4 or other popular formats so that you can freely transfer to any device for playback even after expiration. For more details about this software, you can download the free version as below or follow this guide: How to Unlock Time Limit from iTunes Rentals.

Dave Henry is a long-time ViWizarder who loves all technological things. In his free time, he likes reading about science and technology, writing for his blog, watching sci-fi films, and meditating.