After Google unveiled its Android Play Store most popular apps in 2017, about a week later, Apple did exactly the same thing, revealing which of the most popular apps, music, movies, podcasts and books of this year in iTunes store for iOS users. Today, we will mainly talk about the top-rated book, Camino Island by John Grisham, which has beat The Handmaid's Tale to the top spot on iTunes iBooks' chart. Plus, we will introduce an effective solution for you to read Camino Island on more devices, including non-Apple e-readers, since iBooks eBooks can be only allowed to read on Apple ecosystem due to FairPlay DRM copyright technology.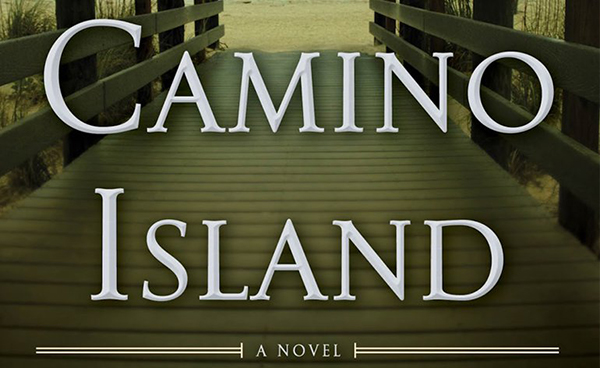 Everything We Know about iBooks eBook - Camino Island
Written by John Grisham, Camino Island is a crime fiction thriller novel released on June 6, 2017. This book is focusing on stolen rare books. Camino Island tells the story beginning with a group of thieves who steal five rare F. Scott Fitzgerald manuscripts from Princeton University's Firestone Library. And then this book turns into two main characters, Bruce Cable, an owner of a popular bookstore and Mercer Mann, pursuing an investigation of the heist.
Apart from a bookstore owner in the resort town of Santa Rosa on Camino Island in Florida, Bruce Cable also is a prominent dealer in rare books with the purpose of making money. But a few people know that he occasionally dabbles in the black market of stolen books and manuscripts.
Mercer Mann is a novelist, but she has recently been laid off from her teaching position. Soon later, she is working for a mysterious woman due to the temptation of money. She goes undercover and infiltrates Bruce Cable's circle of literary friends so that she can get close enough to him to learn his secrets.
Introduction of Author: John Grisham is an American bestselling writer, attorney, politician, and activist. He practiced criminal law for about a decade and is well known as the legal thrillers. A Time to Kill is the first novel for Grisham published in 1989. As his first bestselling book, The Film sold more than seven million copies and adapted into a 1993 feature film of the same name. It's worth mentioning is that Grisham is A Galaxy British Book Awards winner.
Part 1. Tutorial to Remove DRM from iBooks – Camino Island
After you purchased and download this top-rated iBooks Camino Island, you might like to read this e-book on non-Apple e-Readers, such as Amazon Kindle, Kobo e-reader, Nook Tablet, and more. But when you purchased this iBooks e-book, you must be well noted that you can read it on special Apple devices. The main reason why iBooks eBooks are not available for Android devices is that purchased iBooks files are encrypted by FairPlay DRM protection in order to prevent unlicensed sharing. As a result, if you need to make iBooks Camino Island readable on Android e-Readers, you should remove DRM restrictions from iBooks store. Here, we can meet TunesKit iBook Copy for Mac, a powerful iBooks DRM removal tool. By adopting advanced FairPlay DRM decryption technology, iBook Copy for Mac can work at 30X faster speed while removing DRM protection with near 100% original quality preserved. Now you can follow this complete guide as below to release your Camino Island on iBooks from DRM limitations.
Step 1

Import iBooks downloaded eBooks to TunesKit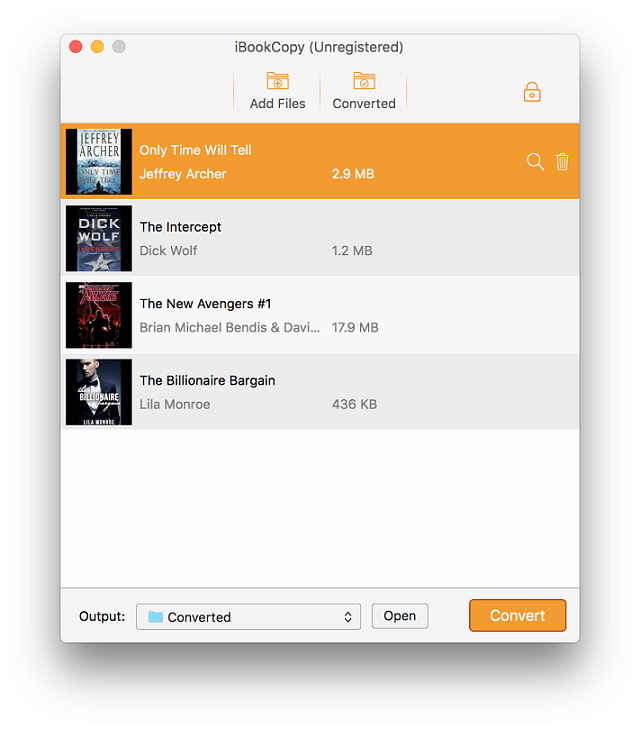 Please double click to launch the smart iBooks DRM removal software. And then you can import iBooks purchased eBooks to TunesKit by clicking the "Add Files" button at the upper left corner of the main interface or via dragging&dropping action directly. Besides, please make sure that you have downloaded Camino Island on your Mac firstly.
Step 2

Start to remove DRM protection from Camino Island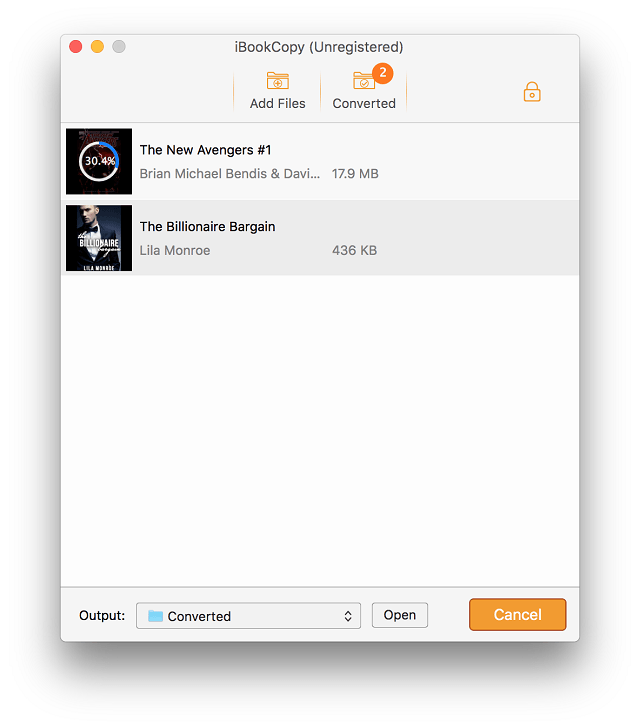 Now, you can adjust the output settings by changing the output parameters, such as book author, published date, book cover, destination folder, etc. Once all settings are OK, it's time to touch the "Convert" button to strip DRM protection from iBooks e-book Camino Island.
Part 2. How to Convert iBooks – Camino Island on Android e-Readers
When the conversion process finishes, you can discover the DRM-free iBooks e-book files on the destination folder that you set before. And then you can transfer iBooks Camino Island to Android devices via USB cable directly. Sometimes you might meet some troubles when converting iBooks to Android, since there are compatible issues due to different operating system. Take Amazon Kindle for example, as we all know that iBooks e-books are encoded with .epub format, while Kindle can only support Mobi, AZW, and PDF formats. At this moment, we need to use some free and open-source e-book converters to convert iBooks ePub format to other common e-book formats with ease, such as Calibre, an extraordinary e-book converter. And you can get this free eBook management app from its official website: calibre-ebook.com. After that, you can read iBooks e-book Camino Island on almost all Android devices.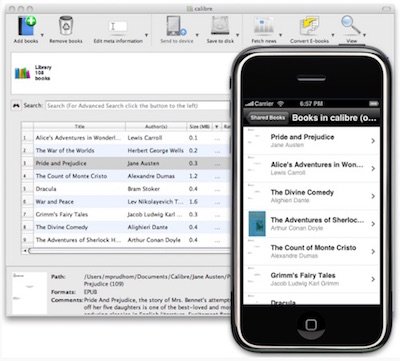 For more detailed tutorial on converting e-books to common formats with Calibre, there is a useful source page: How to Convert DRM-free iBooks ePub e-Books with Calibre >>