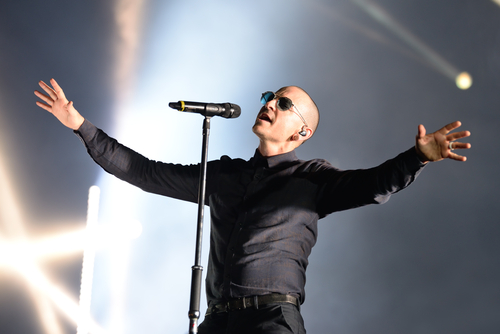 Chester Bennington, the lead singer of the Los Angeles hard rock band Linkin Park, found dead of an apparent suicide at his home in a Southern California coastal community at the age of 41. The band's most recent album, "One More Light," arrived in May and debuted at No. 1 on the Billboard album chart. A video for the single "Talking to Myself" was released Thursday morning, just hours prior to the heartbreaking news of Bennington's death. The band was scheduled to start a tour with a concert on July 27 in Mansfield, Mass. Now the unexpected loss of this musical legacy leaves everything behind and a hole in the hearts of family, friends, and fans.
A Look Back to Chester Bennington's Musical Life
Chester Charles Bennington was born on March 20, 1976, in Phoenix, the youngest of four children. His mother was a nurse and his father a local police detective prone to pulling double shifts. Mr. Bennington described his childhood as unhappy, citing his parents' divorce when he was 11 and frequent molestation by an older friend, beginning when Mr. Bennington was "about 7 or 8" and continuing until he was 13.
Bennington first gained prominence as a vocalist following the release of Linkin Park's debut album, Hybrid Theory in 2000. A highlight of Bennington's life was being chosen as the singer for Stone Temple Pilots, a band he'd worshiped and whose own frontman lost his battle with substance abuse in 2015. Bennington first appeared with STP in a May 18, 2013, concert at L.A. radio station KROQ's annual Weenie Roast. He wrote a song with the band, "Out of Time," and became an official STP member. The group's 2013 tour with Bennington saw the singer fitting in seamlessly, and shining on stage with his new bandmates, though two years later he amicably left to focus on Linkin Park.
During his career in Linkin Park, Bennington released seven albums, featuring his piercing scream and free-flowing anguish. Bennington took his life on the birthday of his close friend, the late Chris Cornell, who killed himself in the same manner in May.
Top 10 Linkin Park Best Songs With Chester Only
In the wake of Bennington's death, let's get a look back at some of the songs that made Linkin Park (and Bennington's unique blend of scream-singing) iconic for so many.
10. Shadow of the Day
9. And One
8. What I've Done
7. Numb
6. Pushing Me Away
5. No More Sorrow
4. Given Up
3. Leave Out All the Rest
2. New Divide
1. Breaking the Habit
More Tips
You can find and get all these Chester's songs or Linkin Park's best music from online streaming music sites, such as Spotify, Apple Music, etc. If you are free subscribers of Spotify, you can use ViWizard Music Converter for Spotify for Windows to download and convert any Linkin Park track or album from Spotify for offline listening on different devices and players. If you are using Apple Music service, ViWizard Apple Music Converter will help you convert those songs to DRM-free tracks for any non-Apple device and platform.

Rick Lee has written about business and consumer technology for nearly 25 years. He is the author of more than a dozen books.