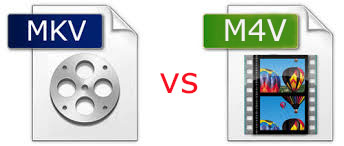 If you're about to video editing field, you may come across a lot of different video formats such as M4V, MKV, MP4, etc. Do you understand the real meaning of each format? Do you know what the differences between them are? If you want to be a professional video editor, you must dive into it. In the previous post, we have talked about the differences between M4V and MP4. And today we are going to investigate the comparison between M4V vs MKV format.
Part 1. What Is M4V and MKV?
What Is M4V File?
Developed by Apple Inc., M4V file format is a video container format that is used for the video files in its iTunes Store. Like other container formats, M4V files can hold not only video data but also audio data, subtitles, etc. One point we need to pay attention is that M4V files are protected by Apple's digital right management (DRM) FairPlay technology, so that they cannot be copied or shared outside Apple's ecosystem. It means that you can only play M4V files on Apple devices such as iPhone, iPad, iPod, Apple TV, iTunes or QuickTime Player, etc.
What Is MKV Format?
MKV (Matroska Video) is also a multimedia container format, but it's free and open source. It can contain an unlimited number of media data within one file, including video tracks, audio tracks, subtitle tracks and picture. It is a popular format for storing common media content such as movies and TV shows. Unlike M4V, MKV has a great compatibility that can work well on many common devices or operating systems.
Note: A contain format is a file that wrap around video and audio tracks, subtitles, chapter-info and meta-data (tags) to index and organize the streams for playback. With a container, you're able to choose different codecs to meet your needs. For example, you can select a high-quality video codecs but a medium-quality audio to save the space.
Part 2. M4V vs MKV: Main Differences
After understanding what is MKV file as well as the definition of M4V format, you must be curious about the main differences between these two file format. Next let's come to the deep analysis about MKV vs M4V.
Compatibility
The first obvious distinction is that MKV format is more flexible and widely used than M4V format. M4V files are limited to Apple devices only because of the DRM protection, while MKV files are compatible with almost all devices and platforms such as Android, Windows, Linux, etc.
Size & Quality
Another important difference is that MKV files usually have a larger size than M4V videos. This is because MKV files add support for additional features like multiple audio tracks and subtitle tracks, etc. Yet, it doesn't mean MKV has better quality than M4V. Since both of them are containers, the quality depends on the quality of the codecs used in the container and not the container itself. If you use low-quality audio for your MKV files, it will sound worse compared to an M4V video with high-quality audio.
Note: There are many factors that affect the quality of a video file, such as bit rate, frame rate, resolution, video codec, etc. And a high-quality video is the result of a combination of factors.
Video/Audio Coding Formats
An MKV container can store MP4G-4, MPEG-2, H.264, H.265 and VP3 (Vorbis) as well as audio in the MP3, AAC, Vorbis or FLAC format. However, an M4V video container can only hold H.264 or MP4G-4 AVC (Advanced Video Coding). Both containers can store MP3, AAC, AC3 audio codecs, but MKV can also hold FLAC lossless format.
Now you can read the following table and understand clearly about the main difference between M4V and MKV file formats.
| | | |
| --- | --- | --- |
| | M4V | MKV |
| Developer | Apple Inc. | Matroska Team |
| Initial release | 2003 | 2002 |
| Filename extension | .m4v | .mkv .mk3d .mka .mks |
| Type of format | Container format | Container format |
| Video Coding Formats | H.264 (also known as MPEG-4 AVC) | H.264 or AVC, H.265, HEVC |
| Audio Coding Formats | MP3, AAC, AC3 and others | MP3, Vorbis, AAC, AC3, FLAC, DTS, or PCM |
| Supported Devices & Players | Apple's own player and devices only | All common media players and devices |
| Copy Protection | Protected by DRM | No copy protection |
As stated above, M4V files are applied with a special DRM copyright technology, so you can only watch iTunes movies and TV shows that're in M4V format with Apple devices, even if you've bought or rented them. MKV has a great compatibility, so why not remove the DRM protection and convert them to MKV? That's why ViWizard M4V Converter comes out. It can help you get rid of such restriction from iTunes movie purchases and rental and then convert iTunes M4V to MKV at a super fast speed without quality loss. Afterwards, you can then play your iTunes videos on any device or player anywhere as you like. The program is easy to operate with clear navigation, so anyone can easily use it with no technical skill required. The following is the trial version and you can get the free download for a shot.

Why Choose ViWizard M4V Converter?
Convert iTunes M4V to MKV, MP4, MOV, AVI, WMV, etc.
preserve 100% original quality while converting iTunes
Support multiple popular portable devices
Convert other common video files from one format to another

Nick Orin is a review writer, software geek and Mac OS enthusiast. He spends all his free time in searching useful software and gadgets to share with others.