You might have seen the name Kodi pop up online or hear about Kodi's prowess lately and wondered what it's all about. Kodi is a free and open-source media player software application available for multiple operating systems and hardware platforms, with a software 10-foot user interface for use with televisions and remote. Its graphical user interface (GUI) allows the user to easily browse and view videos, photos, podcasts, and music from a harddrive, optical disc, local network, and the internet using only a few buttons.
However, Kodi relies exclusively on your existing audio or media source, so it completely cannot exist apart from some video streaming services, such as Netflix and Hulu, or music streaming platforms, such as Spotify. If you have created tons of your favorite playlists on Spotify, or if you prefer to chose Spotify as your music source library, you could stream Spotify music with Kodi.
If you don't have an appropriate method to get Spotify music on Kodi, don't worry, we'll cover that, too. Let's take a look at how to start Spotify music on Kodi. Read on below for a full explanation of the method.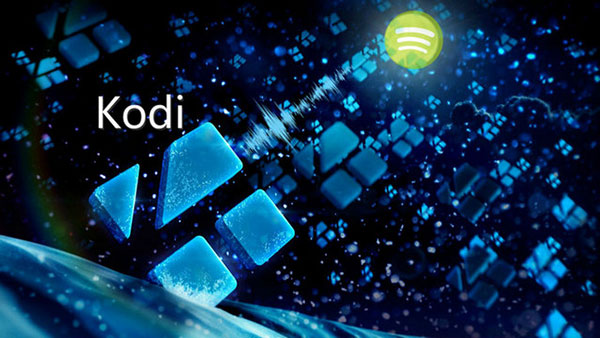 How to Install Spotify on Kodi Using Add-ons
Additionally, Kodi allows you to install third-party plugins that may provide access to content from that is freely available on the official content provider website. So, you can sync your Spotify music libraries to Kodi, using supported add-ons. We have a full guide on how to make Spotify music available on Kodi. We'll quickly run through how to do it here anyway.
Step 1. By using your web browser visit http://bit.ly/2T1AIVG and download the Zip file for Marcelveldt Repository.
Step 2. Launch your Kodi media player and select Addons on homepage. Select the Installer icon that located on the top left corner of the screen.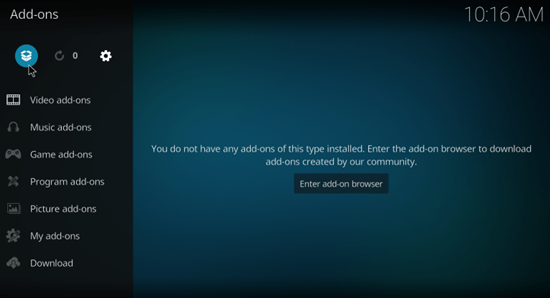 Step 3. On the Installer page, select Install from Zip File. Locate and select the Marcelveldt Repository Zip file that you downloaded before.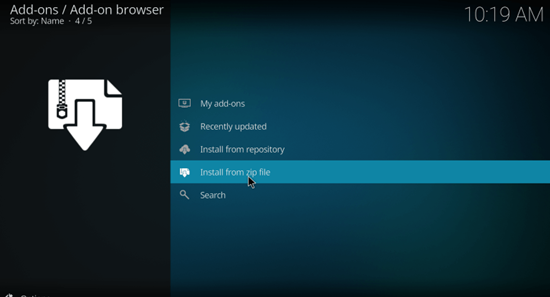 Step 4. Marcelveldt Repository will be installed within a few minutes. Once the repository is installed, a pop-up notification will appear on the top right corner of the screen.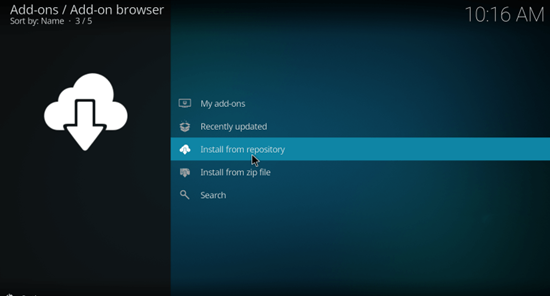 Step 5. Select Install Marcelveldt Repository on the installer page and choose Marcelveldt's BETA Repository from the list of repositories.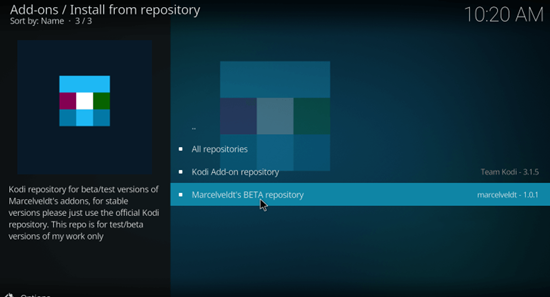 Step 6. Select Music Addons and scroll down to select Spotify Addon. Tap Install to start the installation process.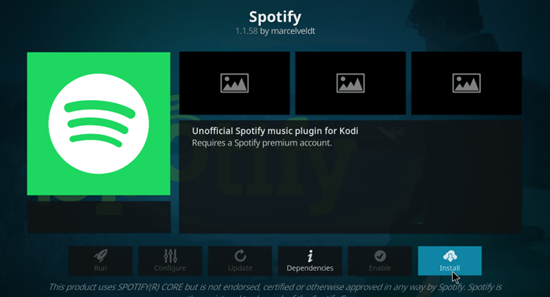 Step 7. Within a few minutes, Spotify Addon will be installed on your Kodi device. A pop-up notification will appear on the screen stating Spotify Addon installed successfully.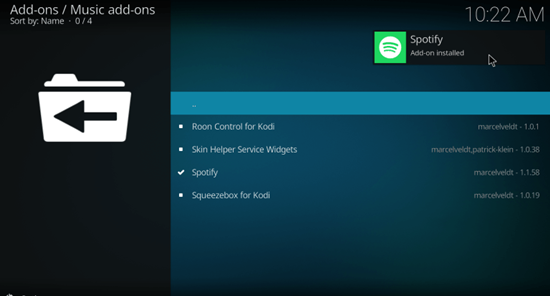 Step 8. Configure your Spotify login details and enjoy streaming your favorite music.
Note: Spotify connect is another feature which allows premium subscribers to connect their music library to their stereo.
How to Stream Spotify Music on Kodi Using Local Drive
The easiest method is to use ViWizard Spotify Music to transfer Spotify music to Kodi for playing. With the help of ViWizard Spotify Music Converter, you can get all Spotify music in the format of mp3 in advance and then listen to them on Kodi wirelessly at any time. At the same time, you don't need to worry about that whether there exists the internet connection or the connection between Spotify and Kodi is stable.
ViWizard Spotify Music Converter is a heavyweight and brilliant music downloader for Spotify which is perfect for quickly extracting the digital rights management protection from Spotify and losslessly downloading songs or playlists from Spotify to the networked device. Thus ViWizard Spotify Music Converter is highly recommended to give you a great help for achieving the purpose of Spotify on Kodi.
Learn how to play Spotify Music on Kodi with ViWizard Spotify Music Converter
Step 1

Transfer Spotify music to ViWizard Spotify Music by dragging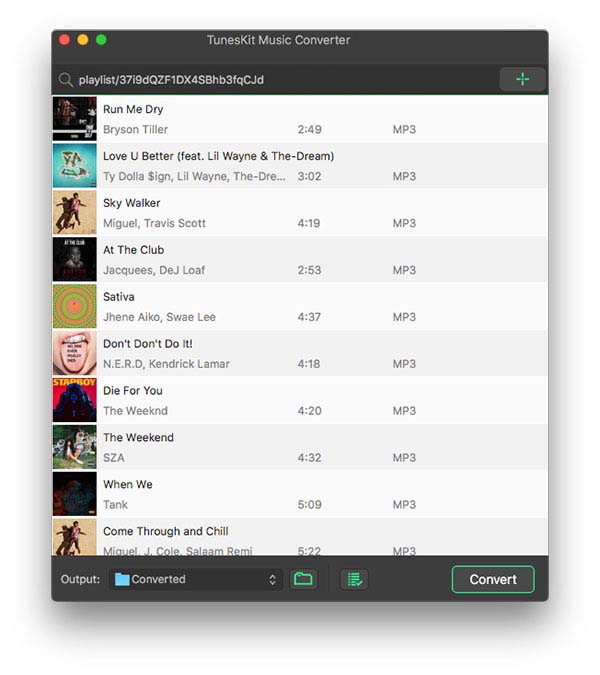 You should have ViWizard Spotify Music Converter installed on your personal computer, and then open the tool. After launching the converter, Spotify will be automatically started automatically, and make sure you have logged in with your account on Spotify. Select songs or playlists you want to get on Spotify and drag them to the converter directly.
Step 2

Configure a few settings depending on your personal need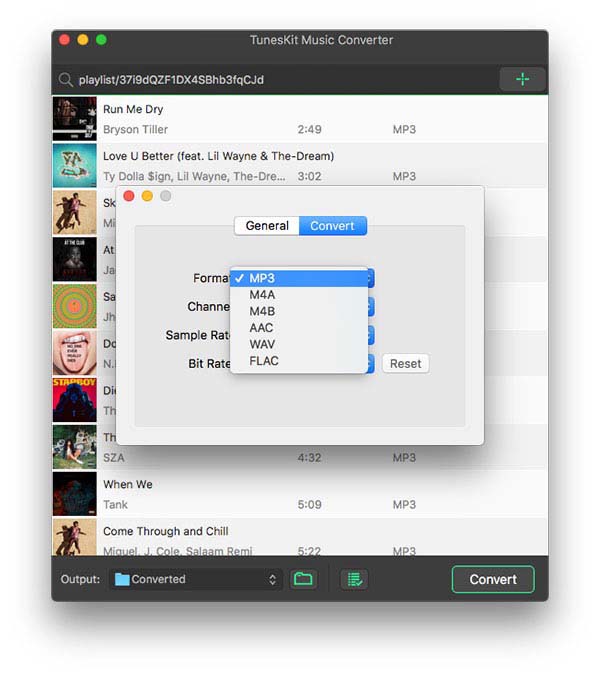 Through dragging them, all songs or playlists will be uploaded from Spotify to the converter. Tap the menu bar and choose the "Preference" option. Then you can configure the audio format, bit rate, channel, sample rate and more according to your personal need. By the way, if you want to download in a more stable mode, keep the default conversion speed; if not, set it as 5× speed.
Step 3

Begin to download music from Spotify to mp3 with a click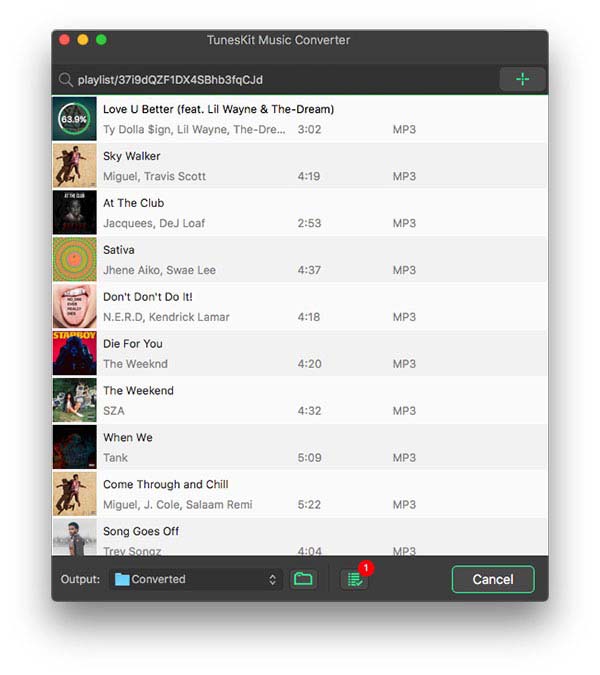 After you have set the audio parameter, you can click on the "Convert" button to start downloading your songs or playlists saved on Spotify. It will take some time for your selected Spotify music to download, but once it's done all your Spotify music will be on your personal computer for remaining forever.
Step 4

Add the downloaded Spotify music to Kodi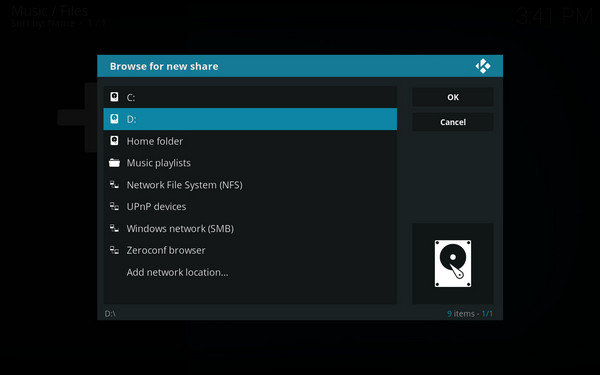 Now, all Spotify music you want are converted to unprotected audio files and saved in the format of mp3 or other plain formats to your local drive on your personal computer. You can launch Kodi and start adding the converted Spotify music to Kodi for playing.
Note: no matter you are premium subscribers or free subscribers, you all have privilege to download music from Spotify in bulk to your personal computer.
More Spotify Tips & Tricks