Given the extent of its popularity, Spotify is still scaling high heights in terms of music streaming. You can actually do a lot with this service including discovering new tracks and celebrity artists. There is, however, no point of keeping all the new discoveries to yourself. Come on! Let your friends share in your new found joy. You can email Spotify playlist to them to appreciate your friendship in the most adorable manner. In the event that your friend has a Spotify account, then it is a deal done deed because you can share Spotify music link directly through the same platform. Wait! What if your friend does not have a Spotify account? Well, simply follow these steps to share via email.
Solution 1. Email Spotify Music using the URL
One of the simplest methods is to share Spotify playlist directly to your friend's email address. You'll, however, need to have an email address and the corresponding playlist link that needs to be sent.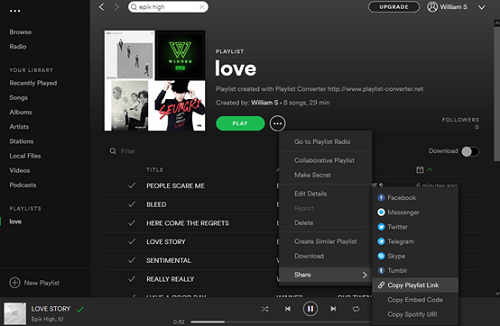 Step 1

Highlight the playlist link and copy

Go to your Spotify account and identify the playlist that you want to send. Right click on the same playlist and choose 'Share' and then hit the 'Copy Playlist Link' so as to get the exact link.
Step 2

Email Spotify playlists to your friend

Open your email address and search for your friends address as well in the contacts list. Paste the playlist link that you copied from the previous step. Then hit the 'send' button to send the playlist to your friend. Once the sent link arrives at the receiver end, your friend will simply click on the link and enjoy his/her newfound tracks.

This is pretty simple, isn't it? Yes, it is although the only limit is that such a link cannot be played offline. You and your friend must have an internet connection to be able to send and listen to the playlist respectively.
Solution 2. Convert and Email Spotify Playlist with Spotify Music Converter
We are in the technological era and there are of cause better ways to help deal with sharing and playing of favorable playlists, such as using ViWizard Spotify Music Converter. With this tool, you can convert your playlists to any form you want and then send Spotify playlist via email to your friend. In this way, your friends will be able to play the tracks offline even without internet connection. Besides, they will also manage to play the convertible formats using any device, be it in the car, on a smartphone or an iPad, without any more hitches.
Key Features
This program is capable of organizing your output music library by albums and artists, making it easy to manage and retrieve your music at any time.
This converter is highly versatile, encompassing numerous stunning features that help you to easily download Spotify music.
It has a speed of 5x more than other conversion tools. It will automatically do a speedy batch conversion of your playlist to any format that you want.
ViWizard is also easy to use and you don't need to be a tech-savvy to work with it.
Step 1

Launch ViWizard Spotify Music Converter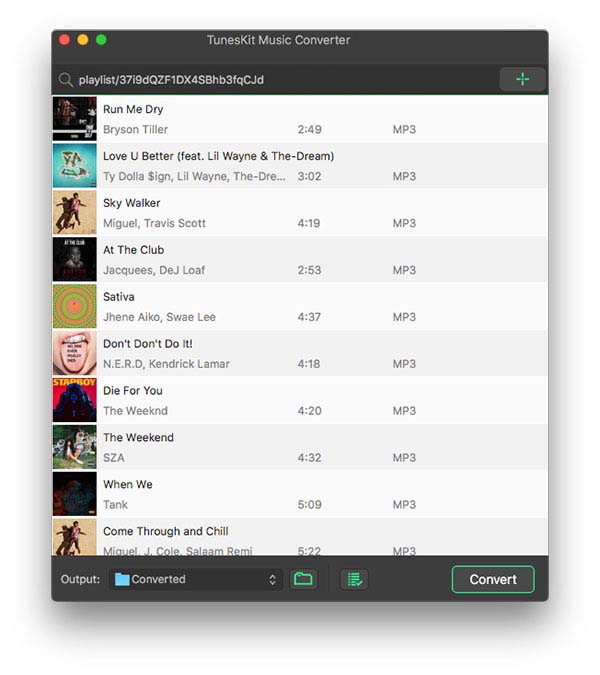 Go to the program official website and download it for free. Remember you can upgrade later to the premium level. Then install and launch ViWizard Spotify Music Converter. Identify the playlist that you want to email to your friend and drag it from the Spotify app to the program.
Step 2

Choose output format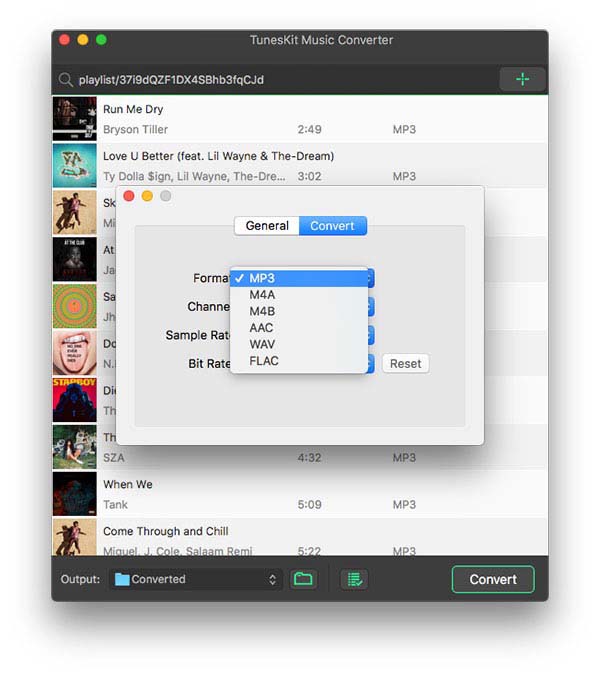 There are many formats including MP3, WAV, AAC, M4B among others. Choose the format that you need at that time. This is the format that you want to convert Spotify music to. Do this by going to the 'Menu' tab then click on 'Preferences' and lastly, choose the format you need.
Step 3

Convert your Spotify playlist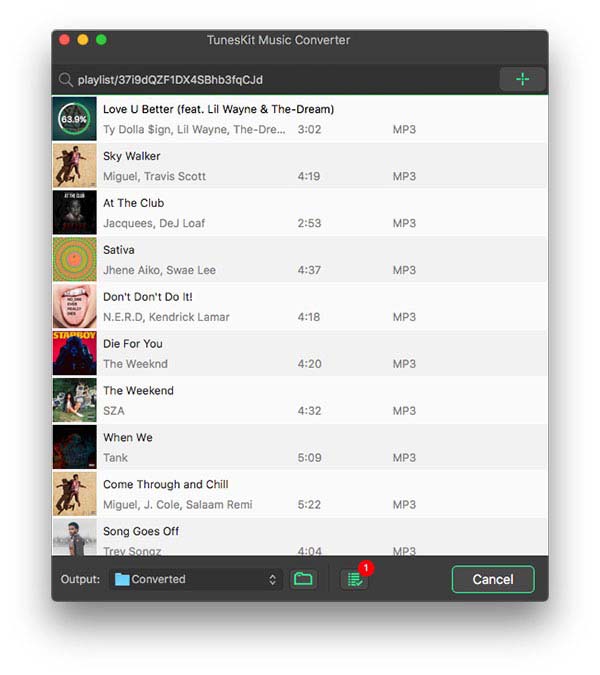 Begin to convert Spotify songs to the desired format. Click on the 'Convert' button and then, save the result to your device.
Step 4

Share the converted playlist to your friend

After a successful conversion, you'll then be able to automatically send the playlist to your friend via email. Look for the playlist that you need to send from the conversions. Then click on the 'Share' button and choose your friend's email address from the drop-down list and hit on the 'Send' button.
Other Ways of Sending Spotify Playlist to Friends
Besides the 2 ways that we have covered, there are also other simple ways that you may apply to share your playlists with friends.
Share Spotify playlists directly within Spotify
Perform this by first launching Spotify on your computer. Next, right click on the song that you want to share to your friend and then click on the 'Share' button from the menu bar. A window will pop up after a while after which you click on the 'Send to' button. Choose the username of Spotify that you are sending the playlist to and click on 'Send'.
Share through social channel
Spotify lets you easily share your playlists or genres with your followers. Use this opportunity by going to your Spotify account and clicking on the 'Share' button. Next, right click on the playlist that you want to share and then click on 'Post to followers'. Your followers on Spotify will be able to enjoy your playlist as well.
Conclusion
Sending a playlist to your friend can be a daunting task especially if it is in the format that is not compatible with many devices. The best option is to look for software that can convert your playlist to any playable format. ViWizard Spotify Music Converter has stood the entire test and is capable of removing DRM protection from tracks. This also enables your converted playlists to be played offline as well as in any device and player. With such a great move, you don't need to worry when you email Spotify playlist to your friends because you are sure that they will have an easy time listening to them.

Matt Smith is an amateur writer engaged in ViWizard in 2013. He is a movie lover who write a lot of movie reviews for many websites and blogs.