"I have tried seemingly everything for weeks with no resolution to Spotify crackling on my desktop. Both the app and the web player crackle. No other audio is crackling including YouTube, games, iTunes, etc… I have tried reinstalling, updating audio drivers, changing codec rates, changing firewall settings - nothing works. What have I missed???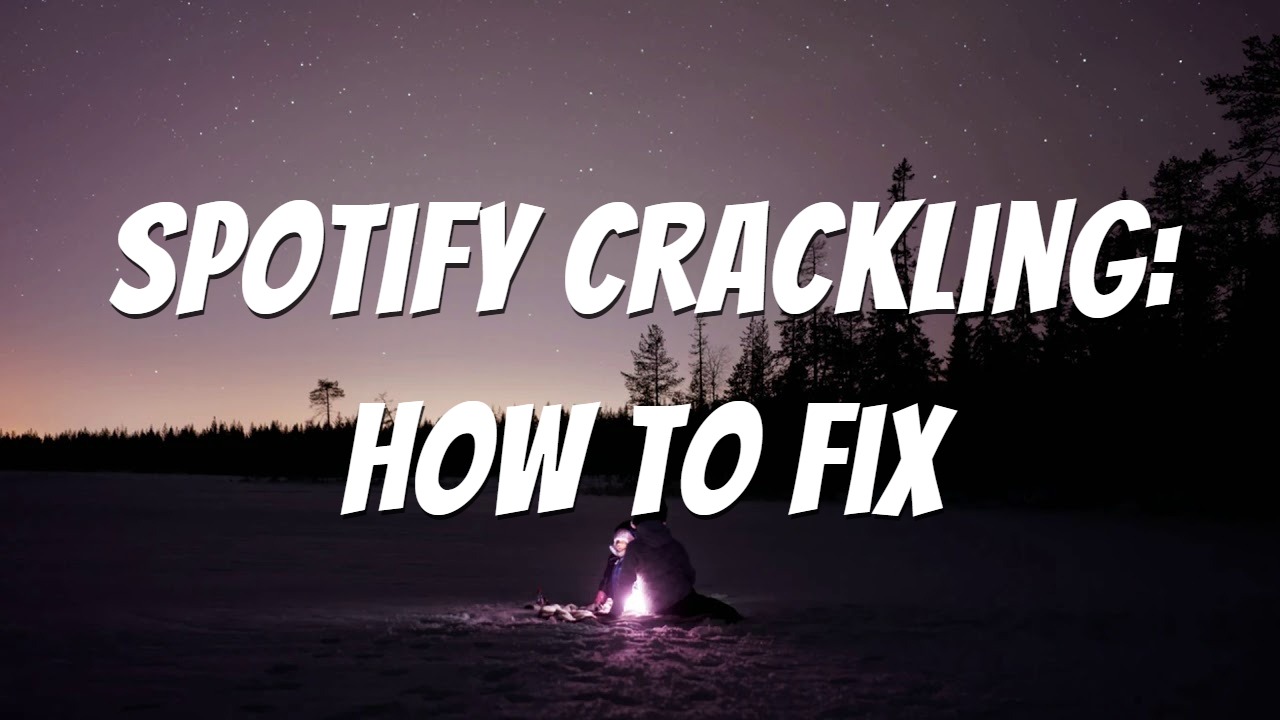 Both mobile and desktop users are reporting that the Spotify app crackles out of not clear reason. If you also run into this problem, you may check the audio settings on the device, update the sound hardware or try other workarounds. But there are more things you can try to completely fix Spotify crackling. Today, here we'll walk you through ways to troubleshoot Spotify crackling issue, as well as, an ultimate method to fix the problem forever.
Part 1. How to Fix Spotify Crackling Android/iPhone
If you encounter the problem that you hear the crackle when using Spotify on your iPhone or Android device, then you can try the following methods to solve this issue.
1. Clear Cache in Spotify
If you confront the Spotify crackling issue on Android or iPhone, you can try to clear Spotify cache. This will delete all the temporary song cache and then Spotify will turn back to normal when you reload the songs.
2. Reinstall the Spotify App
If you have tried clear cache and restart Spotify, it fails to solve the crackling issue. You can now delete the Spotify app on your device and install with the latest Spotify app. After the re-installation, you'll need to enter your account credentials again.
3. Adjust the Audio Quality
To fix the Spotify crackling issue, you can improve the audio quality of Spotify. Go to Settings > Audio Quality, and then choose High or Very High in both WiFi streaming and Cellular streaming. Now you can play songs and check whether there still exists the problem.
Part 2. How to Fix to Spotify Cracking Mac/Windows 10
In this part, we'll list out some solutions to fix Spotify crackling on your computer no matter whether you are using a Mac or PC computer.
1. Change Audio Playback Settings
No matter whether you're using direct output of your computer speakers, external speakers, or headphones, you can solve Spotify crackling by changing the settings of these output devices.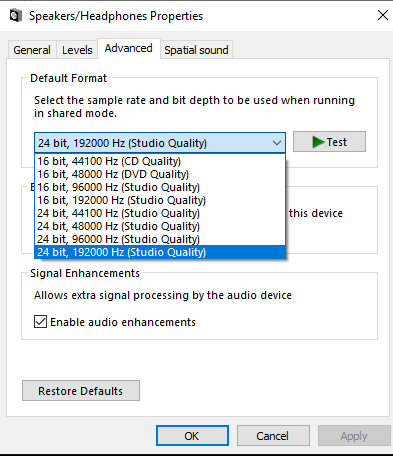 To change the settings, right-click the speaker icon in the notification area next to your clock and select Playback Devices. Double-click the device you're using for playback, then click Advanced. Under Default Format, change the audio quality to "16 bit, 44100 Hz (CD Quality)". Click OK to save the settings. Then open Spotify and play a song to see if the audio still keeps on crackling.
2. Update Your Sound Drivers
Some problems may be fixed in newer sound drivers. To get newer sound drivers, visit your computer manufacturer's website, find the driver download page for your model of PC, and download the latest sound drivers available.
3. Restart Computer
If you're looking for the easiest way to get rid of the Spotify crackling issue on Windows 10, then rebooting your computer will be the best choice. This can solve many problems happening on your computer if you're running it for too long without shutting down.
4. Reinstall the Spotify App
In this case, you can try removing the installed Spotify app on your computer. Then you can go to download the Spotify app from the official website of Spotify or find it in the App Store on Mac or Microsoft Store on PC.
5. Allow Spotify on Your Firewall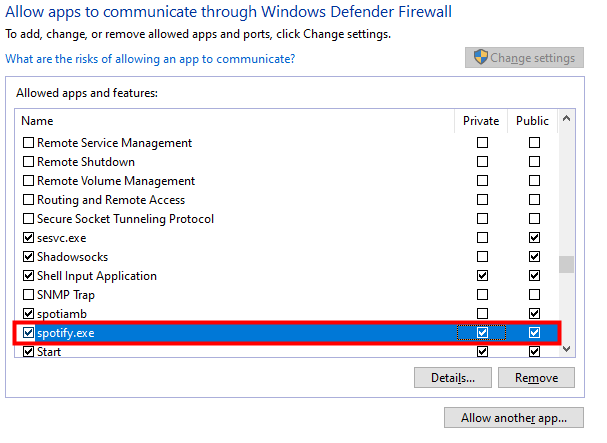 If you have reinstalled the Spotify app and the issue is still going, the firewall on your computer might have blocked the Spotify app from running. To turn off the firewall for Spotify, all you have to do is head over to the firewall settings on your computer, and allow Spotify to run under the firewall.
Part 3. Ultimate Solution to Fix Spotify Crackling
If you have tried out all the solutions above and still Spotify is crackling on your device. Here's the best way to settle the problem. That is to use a Spotify downloader to download Spotify songs. ViWizard Spotify Music Converter, as a professional and powerful music downloader and converter, can enable you to download songs, albums, playlists, and podcasts from Spotify. And it can save Spotify downloads to several formats.
With ViWizard Spotify Music Converter, you can directly download whatever content from Spotify and then play with any media player on your computer or mobile phone. All the songs can be accessed without the Spotify app, so that you won't come across the Spotify crackling issue anymore. Follow the below steps to download and convert Spotify music to MP3 via ViWizard Spotify Music Converter.

ViWizard Spotify Music Converter Key Features
Convert and download Spotify songs to MP3 and other formats
Download any Spotify contents at 5× faster speed
Play Spotify songs offline without Premium
Fix Spotify crackling issue forever
Save Spotify with the original audio quality and ID3 tags
1

Add Spotify Songs to the Conversion List

The first step is to launch ViWizard Spotify Music Converter on your computer. At the same time, it will automatically load the Spotify app. Locate the album or playlist you want to download in Spotify and then drag and drop Spotify songs to the main interface of ViWizard software. Alternatively, you can copy and paste the link of the album or playlist into the search bar.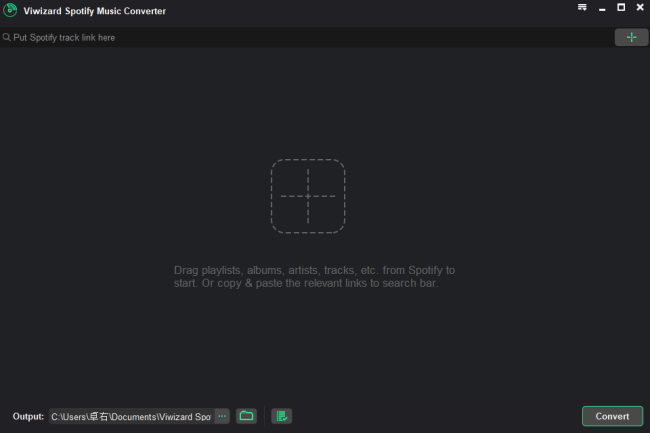 2

Configure the Output Audio Parameters

The next step is to go to personalize the output audio parameters by clicking the menu bar > Preferences. It will launch the settings window where you can begin selecting the output format. As ViWizard supports six audio formats like MP3, AAC, WAV, and more, you can set MP3 as the output format. Also, you can change the bit rate, sample rate, and channel.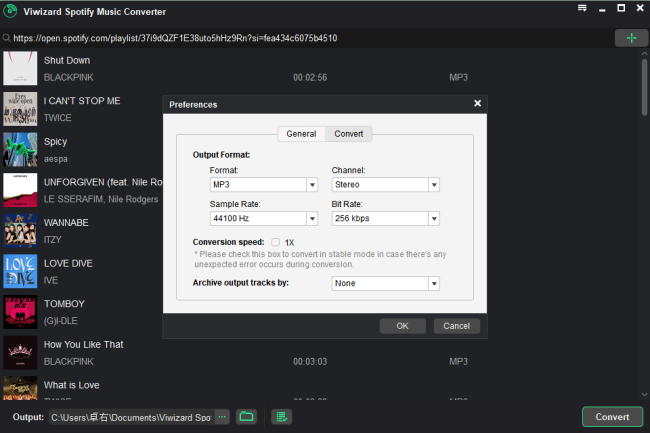 3

Start to Download Songs from Spotify

The final step is to let ViWizard Spotify Music Converter download your favorite songs. Simple click the Convert button at the bottom right corner of the software and your songs will be saved to the default folder or the folder you require. After conversion, you can browse all the downloaded and converted Spotify songs.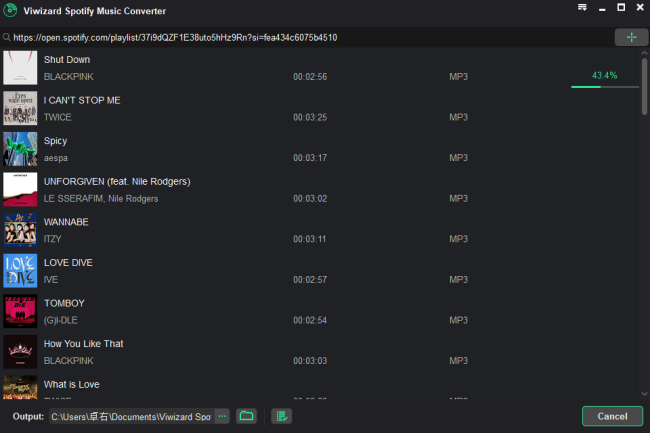 4

Play Spotify Music without Any Issue

Now you can play the downloaded Spotify songs on your computer without the Spotify app. And this you won't confront the Spotify crackling issue anymore. You can now listen to Spotify songs and do anything else on your computer without hassle from Spotify. Furthermore, you can transfer those Spotify songs to other mobile devices for playing anytime.
Conclusion
Hopefully you'll be able to solve the problem of Spotify crackling with one of the fixes introduced in this post. If you want to play Spotify songs without using the Spotify app, then you can try ViWizard Spotify Music Converter.
More Spotify Tips & Tricks