Smartwatches have gradually replaced iPod, especially for runners. Most smartwatches like Apple Watch, Galaxy Watch, Huawei Watch, and other Wear OS smartwatches can connect with Wi-Fi for enjoying music, but it is a new start in the fitness watch landscape like TomTom Park, Fitbit Ionic, and Garmin Forerunner. Since Garmin adds more popular music streaming services to its compatible watches for offline listening, more and more users use Spotify on Garmin watch for listening to music while working out.
It is really an amazing Garmin Spotify watch for fans of both fitness watch and Spotify. However, the feature of streaming Spotify on Garmin watch is only available for those users who are subscribing to any premium plan. So, it's impossible to stream Spotify if you don't pay for the premium version. Don't worry! Here's all you need to know on how to get Spotify on Garmin watch, and how to download Spotify songs to Garmin watch with a free or premium Spotify account.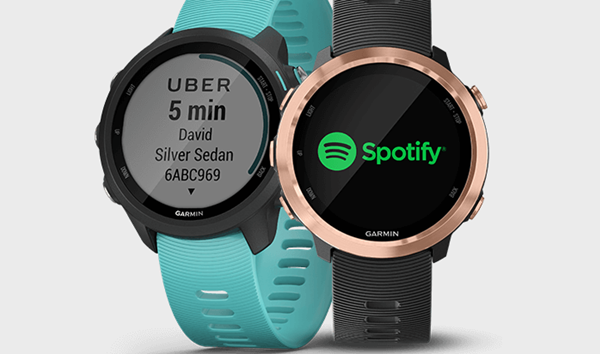 Can You Play Spotify on Garmin Watch?
Currently, Spotify has offered its streaming services to lots of smartwatches, including Garmin watch. But if you want to listen to Spotify on your Garmin watch, then you should make sure that you have a compatible Garmin watch. There are actually only a handful of compatible devices, with the oldest dating back to 2018. However, only the following series are compatible with Garmin smartwatches:
- Garmin D2 series;
- Garmin Fenix 5 Plus series, 6 series;
- Garmin Forerunner 245 Music, 645 Music, 745, 945;
- Garmin Vivoactive 3 Music, 4, and 4S;
- Garmin Venu, Venu Sq Music Edition;
- Garmin Legacy Saga Series and Hero Series.
How to Set up Spotify on Garmin for Playing with Premium
All Garmin users who want to enjoy Spotify music need to download from the Garmin Connect app store and then install it to their watches. Once installed, the watch can be connected to Spotify and then you can download playlists for listening on the run. With up to 500 songs worth of music storage built right into your watch, you'll have at least a week's worth of music at your disposal. If you have subscribed to any premium plan on Spotify, simply follow the steps below to sync and download Spotify playlists to your watch.
What You'll Need:
1. A premium Spotify account;
2. A compatible Garmin watch;
3. Access to a Wi-Fi network;
4. A smartphone with the Garmin Connect app.
2.1 Download and Install Spotify on Garmin Watch
Step 1. Open the Connect IQ app on your iPhone or Android device.
Step 2. Search for the Spotify app and tap Download.
Step 3. On your watch, scroll up to My Music and select Spotify. You'll see pop-up message that asks you to check the Connect IQ app.
Step 4. In the Connect IQ app, log in to Spotify and connect your accounts then tap OKAY to confirm.
2.2 Download Spotify Songs to Garmin Watch
Step 1. Launch Spotify on your watch and tap Your Library.
Step 2. Press Add music & podcasts and then tap Add to download your liked songs.
Step 3. Go back to Your Library, tap Update Downloads to refresh your downloaded playlists and podcasts.
Best Method to Play Spotify on Garmin Watch without Premium
The feature of downloading music and podcasts to your Garmin smartwatch for offline listening without your phone are only available for those premium users. If you are not, there still exists a method to get Garmin Spotify offline and enjoy Spotify on your Garmin watch during a workout. You only need to download Spotify music to MP3 or other Garmin supported formats by using ViWizard Spotify Music Converter. Then you can put Spotify songs on your Garmin watch for playing when you don't have a Wi-Fi connection.

Key Features of ViWizard Spotify Music Converter
Download Spotify music for listening anywhere
Listen to nonstop Spotify music without any ads
Get rid of all DRM protection from Spotify music
Achieve unlimited skips on any playlist or album
3.1 Download and Convert Spotify to MP3
First, make sure that you have installed ViWizard Spotify Music Converter on your computer. Then, follow the below steps to convert Spotify music to MP3 via ViWizard software.
Step 1

Add Target Spotify Songs to the Converter

Once you have ViWizard Spotify Music Converter installed on your computer, pull up the converter and the Spotify app will be automatically opened after several seconds. Locate to your preferred playlists in Spotify and then directly drag and drop those songs to the main interface.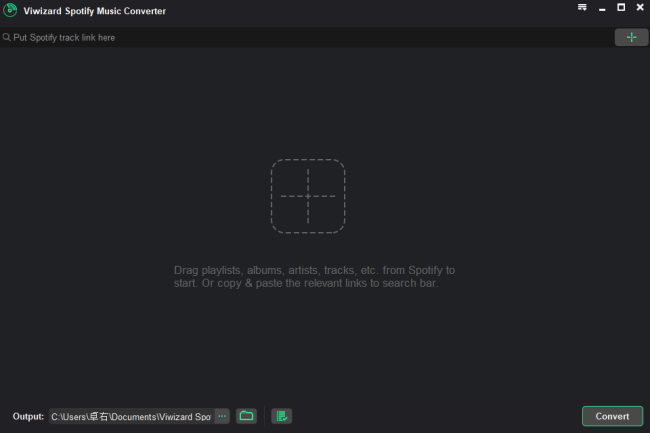 Step 2

Configure the Output Audio Parameters

After uploading your favorite songs to the converter, go to set the output audio parameters by clicking the menu > Preferences. There are six formats for you to choose from. In the Converted window, you can set MP3 as the output audio format and then save the settings.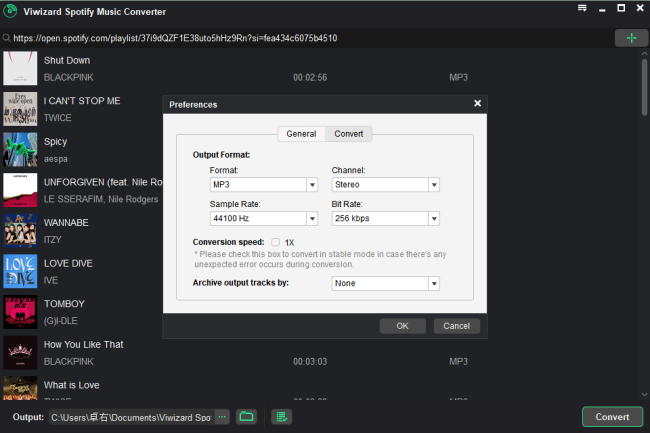 Step 3

Get Started on Saving Spotify Songs to MP3

Upon passing over the setting of the output audio, start downloading Spotify music to your computer by clicking the Convert button. Wait for several minute and you'll get those converted Spotify songs. Then click the Converted icon to locate the folder where you save Spotify music.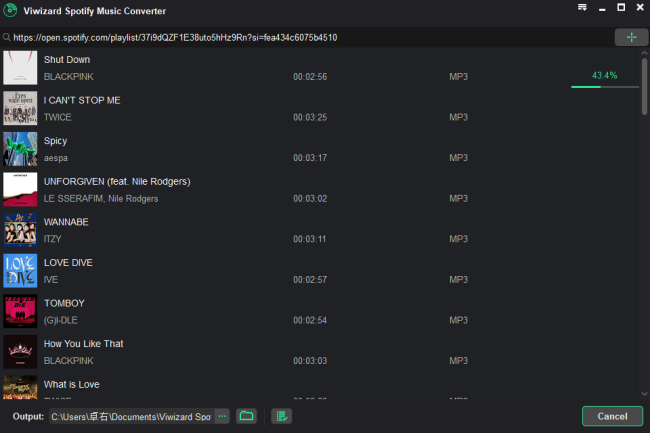 3.2 Transfer Spotify Songs to Garmin Watch
When completing the downloading and conversion of Spotify to MP3, you can transfer those Spotify songs to your Garmin watch now. It's pretty to sync Spotify songs to your watch by following the below steps.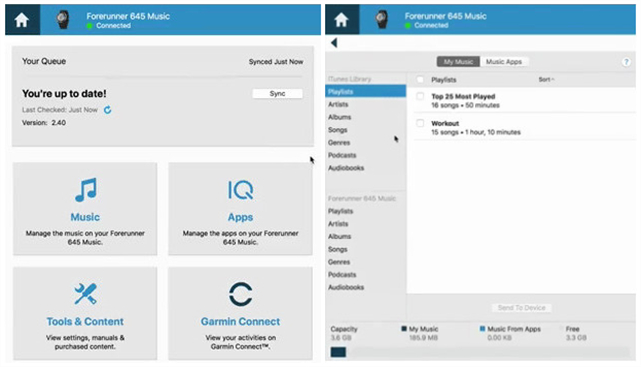 Step 1. Connect your watch to your computer using the included USB cable.
Step 2. On your computer, open the Garmin Express app and click on your device.
Step 3. Select Music, and under My Music or iTunes Library, browse the files you want to transfer.
Step 4. Click the checkbox next to the desired audio files then click Send to Device.
Once all that is complete, you've got your favorite songs from Spotify right on your wrist. Now you can pair your watch with a pair of Bluetooth headphones and start to listen to your preferred music while working out.
FAQs about Using Spotify with Garmin Smartwatch
Below are some frequently asked questions about using Spotify with Garmin watch. If you have issues with Spotify on your Garmin watch, then you can find the solution to resolve the Spotify issues you are facing.
Q1. Does Spotify work on Garmin watches?
A: Sure, you can use Spotify on your Garmin watch. But Spotify is only compatible with a part of Garmin watches. You can check whether your Garmin watch is supported by Spotify from Part 1.
Q2. How to log into Spotify on Garmin Connect?
A: You can go to Music on the watch and select Spotify. Then you need to open the Garmin Connect app and select Sign In to enter your Spotify account details.
Q3. How to update Spotify on Garmin?
A: To update Spotify on Garmin watch, you can open the Garmin Connect app on your smartphone and then select More. Then select Garmin Devices and go to Music > Music Providers > Spotify then select Update.
Conclusion
That's all! If you are facing the issue of playing Spotify on Garmin watch, then you can quickly know the details in this post. No matter whether you have a Spotify premium subscription, you will have the chance to listen to Spotify through your Garmin watch. The help of ViWizard Spotify Music Converter can enable you to download Spotify songs to your Garmin watch without a premium account. Have a try, and you'll find it out!
More Spotify Tips & Tricks