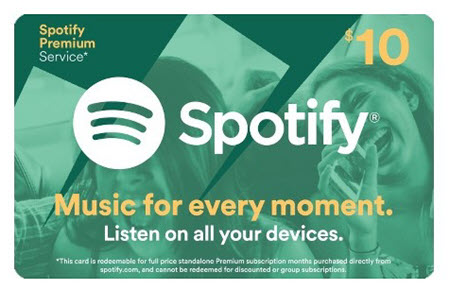 It could be that you want to gift your loved one with something unique this time around. As a matter of fact, music is something that everyone will definitely appreciate. Besides being loved, music can be used for various needs like entertainment or background support. There is no doubt music lovers will love a Spotify gift card. Spotify has unlimited skips and doubles your bit-rate pleasure like no any other. In this case, you need to know how to buy and redeem Spotify gift card for yourselft or better still, for that special friend.
Part 1.

Everything You Should Know about Spotify Gift Card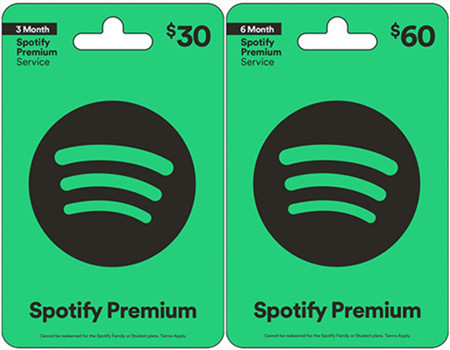 What is a Spotify gift card?
A Spotify gift card is a prepaid card that you can purchase to provide someone with credit to use on the Spotify music streaming. It allows the recipient to access Premium features and benefits on Spotify without needing to enter their credit card information. With a Spotify gift card, you can enjoy various Premium features, depending on the type of subscription you choose:
An ad-free music experience.
Download songs for offline listening.
Skip unlimited tracks.
…
How the Spotify gift card works?
Basically you can only use a Spotify gift card to redeem time on an individual Premium plan. If you are a Premium subscriber already, you can use it to continue paying for an existing Premium plan, and it starts on your plan's next payment date. If you are a free user, you can use it to upgrade your free account to a Premium one immediately. Anyway, when you receive a Spotify gift card, you receive a gift of Spotify Premium! And you can use the Premium tier on any device that supports the app, including iPhone, iPad, Android devices, Windows PCs, Mac, and web browsers.
Once you redeemed the Spotify gift card, you can see your remaining Premium time on Your Account Overview page under Your Plan. After the full gift card amount is spent, your payment continues normally.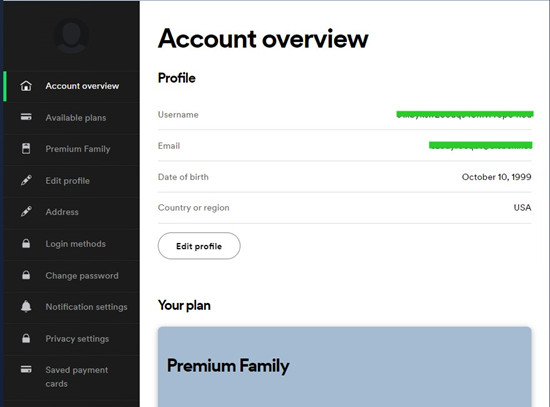 Part 2.

How to Use a Spotify Gift Card

Before redeeming your Spotify gift card, here're some precautions that you should keep in mind:
1. Account Country/Region Settings:
Your Spotify account's country or region settings need to match the country or region where the gift card was purchased. Check the setting on your account > Country or region under Profile along with your username, email, date of birth, and information.
2. Activation from Retail Store:
If the gift card is purchased from a retail store, it must be activated by the cashier before you can redeem it. Check with the cashier if it has been activated.
3. Code Format
Spotify gift card codes are alphanumeric characters, consisting of capitalized alphabets, numbers, or a combination of both. Make sure to enter the code correctly during the redemption process.
4. Stacking Premium Time
You can only stack up to 18 months of Premium time on your account. This means that if you already have an existing Premium subscription, the time from the gift card will extend your subscription by the number of months specified on the card, up to a maximum of 18 months in total.
Part 3.

How to Redeem a Spotify Gift Card

You need to redeem your Spotify gift card in 12 months from the date of purchase. Once you've entered the code, your Spotify Premium subscription will be activated, and you'll be able to enjoy the benefits of Premium features as long as your subscription remains active and you have sufficient time left on your account.
How to redeem a Spotify gift card: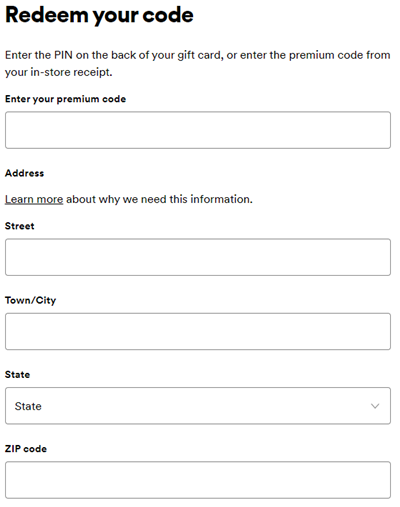 Step 1. Go to the Spotify Redeem website and make sure to log in with a Spotify free or Premium account. If you don't have an account, click on "Sign Up" to create a new account and them use the account credentials to log in.
Step 2. Once you are logged in to your account, take out the gift card and use a coin or card to gently scratch off the PIN cover to reveal the code.
Step 3. Now enter the code you get from the back of the gift card.
Step 4. Press Redeem code, and now you have got Spotify Premium!
Part 4.

How to Fix Spotify Gift Card Not Working

If you encounter any issues with the gift card redemption, you should double-check your account settings, and ensure that you have the correct country or region selected.
1. Check character similarities
Some characters in the gift card code may look similar, such as a zero ('0') and a capital 'O', or a capital 'I' and the number one ('1'). Make sure you carefully differentiate these characters while entering the code to avoid errors.
2. Enter the code correctly
Take your time when entering the gift card code on the redemption page. Double-check the characters to ensure there are no types or mistakes.
3. Be Patient with Attempts
If you encounter an error during the redemption process, avoid making multiple attempts in quick successions. After four unsuccessful attempts, you'll receiver an error message. At this point refrain from trying again for 24 hours.
4. Wait for 24 Hours
After reaching the limit of four unsuccessful attempts, wait for 24 hours before trying to redeem the gift card again. This waiting period is imposed by Spotify's system to prevent abuse and ensure security.
Part 5.

Where to Buy a Spotify Gift Card

If you want to buy a Spotify gift card, there are several methods for you to get a Spotify gift card.
Option 1. Get a gift card from Spotify official site
This is the most common mode of buying a Spotify gift card. It is efficient and can be done from the comfort of your living room. Furthermore, you'll get available support as well. The gift card will then be delivered to the recipient's email address. This is normally via email delivery. Nonetheless, you will also be issued with a receipt bearing the gift card code.
Step 1. From the Spotify website, go to the online gift card page and log into your Spotify account.
Step 2. Select the value of your card and key in all the required details at that time then click Continue. It would also be ideal if you customize your gift with a preferred color theme.
Step 3. Select which mode of payment you want to use then click on Buy Premium Gift Card.
Option 2. Buy from other approved sites
Online stores such as Amazon and Best Buy provide the opportunity for anyone to buy a gift card. You only need to check for those online sellers that have been authorized to sell Spotify gift cards. Once you get into their site, go to the search bar and search for Spotify gift card then select your preferred value.
Option 3. Buy a Spotify gift card from physical locations
There are some physical stores that sell Spotify gift cards. These include Staples, Target, and Walmart stores among other offline stores found in the United States. You can also try and find out other offline stores near you.
Option 4. Purchase a B2B gift card order
If you fee you need to touch the lives of many people with Spotify gift cards, then go for bulk. This is because Spotify works in partnetship with Cazooz and other online stores for bulk requests. This option is ideal for those who are in business and want to reach tons of their customers for special surprises at certain seasons.
Bonus Tip:

Best Alternatives to Enjoy Spotify Premium for Free

Spotify gift card is the service limited to Premium accounts only. If you are using a free plan, you need to use a Spotify music downloader like ViWizard Spotify Music Converter to get Spotify Premium for free. ViWizard Spotify Music Converter is a professional and powerful music converter designed for Spotify users. With it, you can download music from Spotify without a premium subscription.

Key Features of ViWizard Spotify Music Converter
Free Trial
Free Trial
* Security verified. 5, 481,347 people have downloaded it.
Download Spotify songs, albums, playlists, podcasts, audiobooks
Convert Spotify music to lossless MP3, AAC, FLAC, WAV, M4A, M4B
Support playing offline Spotify music on any device at any time
Compatible with Windows and macOS, as well as, the latest Spotify
Conclusion
Spotify Premium has continued to provide an awesome service. This is the reason why it is easy for anyone to buy and redeem Spotify gift card. The above tutorial acts as a guideline to let you have that cool feeling at any time. Just remember to take note of the tips whenever you experience any hitches. Even though the assumption is that the gift card is meant to access US Spotify accounts, you can still get it in other regions.