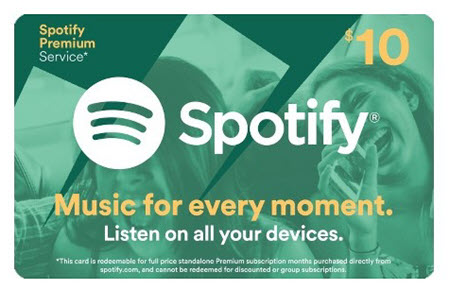 It could be that you want to gift your loved one with something unique this time around. As a matter of fact, music is something that everyone will definitely appreciate. Besides being loved, music can be used for various needs like entertainment or background support. There is no doubt music lovers will love a Spotify gift card. Spotify has unlimited skips and doubles your bit-rate pleasure like no any other. In this case, you need to know how to buy and redeem Spotify gift card for yourselft or better still, for that special friend.
Part 1. Where Can I Buy a Spotify Gift Card
So, where to buy Spotify gift card? If you want to buy a Spotify gift card, there are several methods for you to get a Spotify gift card.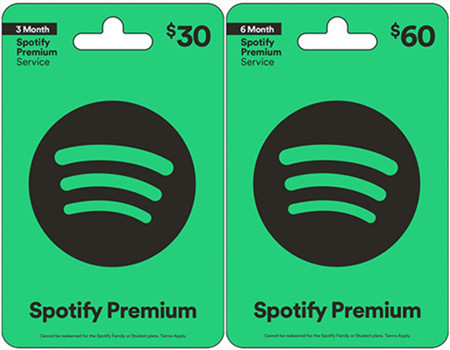 Option 1. Get a gift card from Spotify official site
This is the most common mode of buying a Spotify gift card. It is efficient and can be done from the comfort of your living room. Furthermore, you'll get available support as well. The gift card will then be delivered to the recipient's email address. This is normally via email delivery. Nonetheless, you will also be issued with a receipt bearing the gift card code.
Step 1. From the Spotify website, go to the online gift card page and log into your Spotify account.
Step 2. Select the value of your card and key in all the required details at that time then click Continue. It would also be ideal if you customize your gift with a preferred color theme.
Step 3. Select which mode of payment you want to use then click on Buy Premium Gift Card.
Option 2. Buy from other approved sites
Online stores such as Amazon and Best Buy provide the opportunity for anyone to buy a gift card. You only need to check for those online sellers that have been authorized to sell Spotify gift cards. Once you get into their site, go to the search bar and search for Spotify gift card then select your preferred value.
Option 3. Buy a Spotify gift card from physical locations
There are some physical stores that sell Spotify gift cards. These include Staples, Target, and Walmart stores among other offline stores found in the United States. You can also try and find out other offline stores near you.
Option 4. Purchase a B2B gift card order
If you fee you need to touch the lives of many people with Spotify gift cards, then go for bulk. This is because Spotify works in partnetship with Cazooz and other online stores for bulk requests. This option is ideal for those who are in business and want to reach tons of their customers for special surprises at certain seasons.
Part 2. How to Redeem Spotify Premium Code
Once the buying process has been successful, you will need to redeem your Spotify gift card. The process pretty easy with exception of not being able to do it on your mobile app. You need a browser from where to log in and redeem Spotify premium code first.
Step 1. Turn on your computer and ensure that you have a reliable internet connection.
Step 2. Launch Spotify and then log into your Spotify account by entering the username and passcode.
Step 3. Click your username at the top right corner of the window and then click the Account.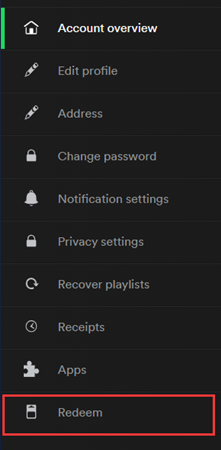 Step 5. Enter the PIN on the back of your gift card, or enter the premium code from your in-store receipt.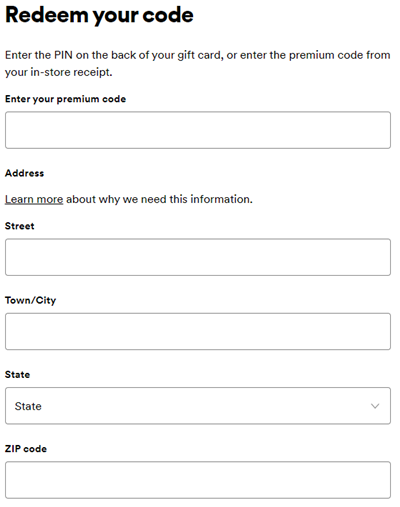 Step 6. Proceed to enter your address and ZIP code and click the Continue button to complete the process.
In the event that you are asked for a zip code, ensure you enter the corresponding code of the city you are in. If all goes well, you should start streaming non-stop Spotify music immediately.
Part 3. More Useful Tips about Spotify Gift Card
1) Remember to activate your gift card within 12 months from the date of purchase. Spotify gift cards are usually valid for exactly one year after which they are rendered obsolete.
2) It is impossible to use your gift codes in conjunction with promos like Family or Premium.
3) You can only activate your Spotify gift card if your Spotify account was registered in the same country where the purchase took place in.
4) You will be able to redeem Spotify code only if it was activated during purchase, otherwise, your Spotify gift card might not work.
5) Also, note that your payments will continue to be normal once you exhaust the gift card subscription.
Part 4. Alternative Way to Get Spotify Premium
Spotify gift card is the service limited to Premium accounts only. If you are using a free plan, you need to use a Spotify music downloader like ViWizard Music Converter to get Spotify Premium for free. ViWizard Music Converter is a professional and powerful music converter designed for Spotify users. With it, you can download music from Spotify without a premium subscription.
Here's a detailed rundown of all the features in ViWizard Music Converter:
6 types of output format: FLAC, WAV, AAC, MP3, M4A, M4B
6 options of sample rate: from 8000 Hz to 48000 Hz
14 options of bitrate: from 8kbps to 320kbps
2 output channels: stereo or mono
2 conversion speed: 5× or 1×
3 ways to archive output tracks: by artists, by artists/album, by none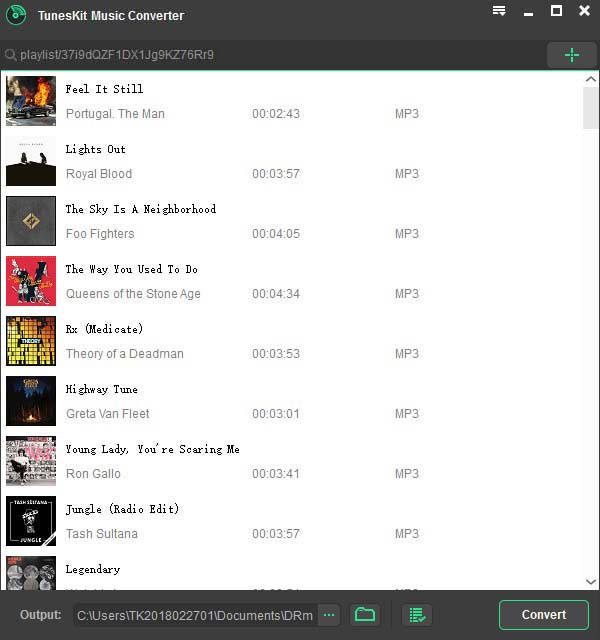 Conclusion
Spotify Premium has continued to provide an awesome service. This is the reason why it is easy for anyone to buy and redeem Spotify gift card. The above tutorial acts as a guideline to let you have that cool feeling at any time. Just remember to take note of the tips whenever you experience any hitches. Even though the assumption is that the gift card is meant to access US Spotify accounts, you can still get it in other regions.

Matt Smith is an amateur writer engaged in ViWizard in 2013. He is a movie lover who write a lot of movie reviews for many websites and blogs.