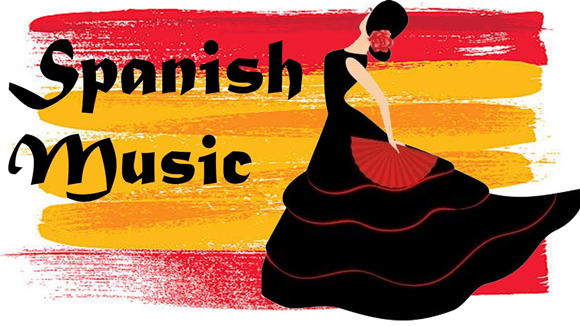 With the success of artists as Rosalía, J Balvin, and Luis Fonsi and tracks like Despacito, Spanish songs isn't just confirmed to the Spanish-speaking world instead of the whole world. Spanish music has gradually grabbed your attention, filled your day with music, and secured a place in your heart.
Wherever you're hitting the bars, doing exercise in the gym or partying at home, Spanish songs are your best choice. There are 10 hits that may just get you up on your feet and boogieing the whole day away. From Luis Fonsi's Despacito to Becky G's Sin Pijama. You can listen to this playlist from this Spotify media player. And scroll to the bottom to take advantage of a Spotify Music downloader to bring your favorites to more places!
Top 10 Most Popular Spanish Songs of All Time on Spotify (Updated in March 2023):
1. Despacito (Featuring Daddy Yankee)
2. Bailando - Spanish Version
3. Chantae (feat. Maluma)
4. Calma - Remix
5. Con Calma
6. Criminal
7. Mayores
8. Échame La Culpa
9. X
10. Sin Pijama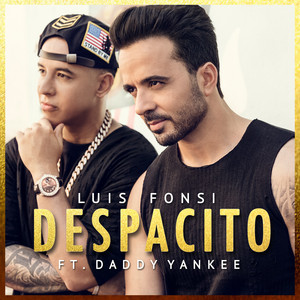 TOP 1: Despacito (Featuring Daddy Yankee) by Luis Fonsi, Daddy Yankee
"Despacito" (American Spanish: [despa'sito]; "Slowly") is a song by Puerto Rican singer Luis Fonsi featuring Puerto Rican rapper and singer Daddy Yankee as the lead single from Fonsi's 2019 studio album Vida. Released on January 13, 2017, the song was written by Fonsi, Erika Ender and Daddy Yankee, and produced by Mauricio Rengifo and Andrés Torres.
A remix version featuring Canadian singer Justin Bieber was released on April 17, 2017, which helped to improve the chart performance of the song in numerous countries, including various number-one positions. "Despacito" has been widely credited by music journalists as being instrumental in popularizing Spanish-language pop music in the mainstream market again.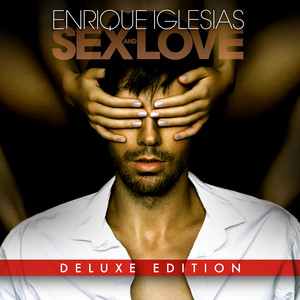 TOP 2: Bailando - Spanish Version by Enrique lglesias, Descemer Bueno, Gente De Zona
Before "Despacito," there was "Bailando" — the Enrique Iglesias smash featuring Cuban singer/songwriter Descemer Bueno and Cuban duo Gente de Zona. The 2014 track broke all records on the Hot Latin Songs chart by a considerable distance, remaining at No. 1 for 41 weeks.
If "Despacito" broke ground with its mix of Latin reggaeton and pop, rapping and singing, "Bailando" opened the door to that possibility, marrying Iglesias' up-tempo melodic fare with Descemer Bueno's singer/songwriter vibe and, the coup de grace, the urban beats and gritty vocals of Cuban duo Gente de Zona. At a time when Cuban-based artists had long been absent from the Billboard charts, "Bailando" brought them back, with a vengeance; in 2014 Gente de Zona became the first Cuban-based act to ever top Billboard's airplay charts after they were featured on "Bailando," which they co-wrote.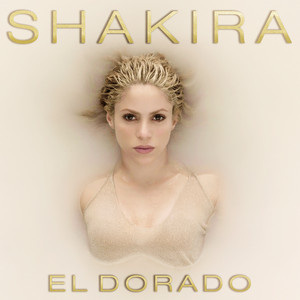 TOP 3: Chantaje (feat. Maluma) by Shakira, Maluma
"Chantaje" (Spanish pronunciation: [t͡ʃanˈtaxe]; English: "Blackmail") is a song by Colombian singer-songwriter Shakira, featuring vocals by fellow Colombian singer Maluma. The song was released as a single to anticipate Shakira's eleventh studio album El Dorado (2017) on 28 October 2016 by Sony Music Latin. Its lyrics were written by Shakira and Maluma. Its musical composition was done by Shakira, Maluma, Kenai and The Rudeboyz. It was produced by Shakira, Maluma and The Rudeboyz. Maluma and Shakira previously collaborated on a remix of Carlos Vives' single "La Bicicleta".
"Chantaje" is a pop and reggaeton song. Lyrically, the song was considered a "battle of the sexes", where the male protagonist is not sure where he stands with his lover, and the female protagonist does not exactly clear things up. The music video for "Chantaje" was filmed in Barcelona, Spain, with video director Jaume de Laiguana, Shakira's long-time collaborator. Commercially, the song topped the Brazil, Ecuador, Guatemala, Spain, Uruguay, and US Billboard Latin Songs charts, while also reaching the top five in nine additional countries. It became the most successful Latin single of the decade by a female artist in the United States. The track is also certified Platinum or higher in ten countries, including Diamond in Argentina, Brazil (three times), France, Mexico and United States (Latin).
The song was nominated for Record of the Year, Song of the Year and Best Urban Fusion Performance at the 18th Latin Grammy Awards.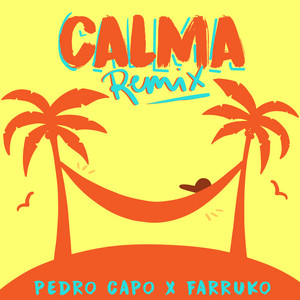 TOP 4: Calma - Remix by Pedro Capó, Farruko
"Calma" is a single by Puerto Rican singer Pedro Capó. The song was co-written by Capó, George Noriega and Gabriel Edgar Gonzalez Perez.
A remix version featuring Farruko was released on October 5, 2018. The remix video has received over 2.0 billion views on YouTube. Since its release, the song has become a huge success, topping the charts of Argentina, Bolivia, Chile, Colombia, Costa Rica, the Dominican Republic, El Salvador, Guatemala, Italy, Mexico, Panama, Paraguay, Peru, Uruguay and Venezuela. The song also received a Latin double-platinum certification by the Recording Industry Association of America (RIAA) for units of over 120,000 sales plus track-equivalent streams.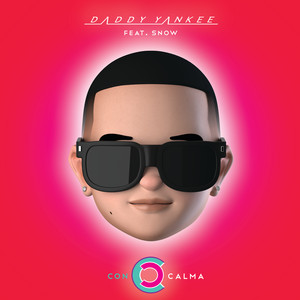 TOP 5: Con Calma by Daddy Yankee, Snow
"Con Calma" (English: "Calmly") is a song by Puerto Rican rapper Daddy Yankee featuring Canadian rapper Snow. The single was released on January 24, 2019, by El Cartel Records alongside a music video directed by Marlon Peña and filmed in Los Angeles and Toronto, which features a Memoji (Animoji) of Daddy Yankee dancing with a crew.
The track is a reimagination of Snow's 1992 hit single "Informer". The song was written by Daddy Yankee, Snow, Michael Grier, Edmond Leary, MC Shan, Terri Moltke, and Play-N-Skillz, and was produced by American production duo Play-N-Skillz and co-produced by David "Scott Summers" Macias. A remix version featuring American singer Katy Perry was released on April 19, 2019. The song is also used in the 2019 movie Spies in Disguise.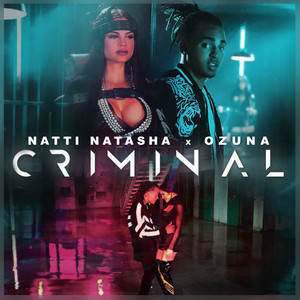 TOP 6: Criminal by NATTI NATASHA, Ozuna
"Criminal" is a song by Dominican singer Natti Natasha and Puerto Rican singer Ozuna, released by Pina Records on 18 August 2017. Written by the two singers, Jhay Cortez, Rafael Pina, Vicente Saavedra and its producer Haze, it is a reggaeton song with drum programming and forceful bass patterns indebted to the dancehall genre. The accompanying music video was directed by Nuno Gómes at an abandoned women's prison in Vega Alta, Puerto Rico, and portrays Ozuna as a prison director falling in love with a prisoner played by Natasha. It received over 1 billion views on YouTube within five months of its release and was the most watched music video by a female singer in 2017.
The track was well received by music critics who found it catchy and praised it for giving reggaeton dance floor appeal. It received a number of award nominations, winning Best Collaboration at the 2018 Soberano Awards. "Criminal" became a crossover success and helped relaunch Natasha's music career, becoming her first top five single on the US Hot Latin Songs chart since 2012's "Dutty Love" and first chart-topper in Spain where it spent three consecutive weeks at number one. It also topped the charts in El Salvador, Paraguay and Peru, and reached the top 10 in 10 other Latin American countries.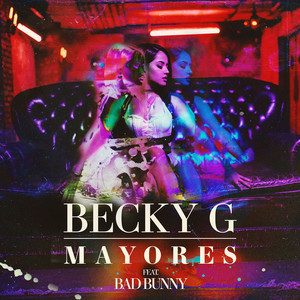 TOP 7: Mayores by Becky G, Bad Bunny
"Mayores" (transl. "Older Ones") is a song by American singer Becky G and Puerto Rican rapper Bad Bunny. Written by Mario Caceres, Servando Primera, Saul Castillo, Bad Bunny, and Patrick Ingunza, it was released by Kemosabe, RCA and Sony Music Latin as the lead single from her debut studio album Mala Santa on July 14, 2017.
"Mayores" topped the charts in Spain, Ecuador, Chile, Romania, Paraguay, Peru, Bolivia, Honduras, Mexico, Nicaragua, Panama and El Salvador, while peaking at number 3 on the Billboard Hot Latin Songs chart. The music video for the song was released on YouTube on July 13, 2017.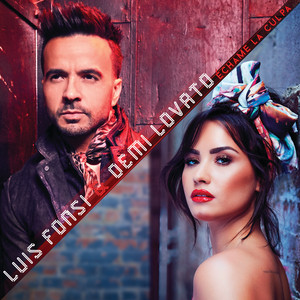 TOP 8: Échame La Culpa by Luis Fonsi, Demi Lovato
"Échame la Culpa" (Spanish: [ˈetʃame la ˈkulpa]; transl."Put the Blame on Me") is a song by Puerto Rican singer and songwriter Luis Fonsi and American singer Demi Lovato. Fonsi co-wrote the song with Alejandro Rengifo and its producers Andrés Torres and Mauricio Rengifo. It was released through Universal Music Latin Entertainment, Republic Records and Island Records on November 17, 2017, as the second single from his tenth studio album, Vida. On March 2, 2018, an English remix of the song titled "Not on You" was released.
The track received acclaim from music critics. It has reached number one in sixteen countries worldwide: Austria, Lebanon, Mexico, Spain, Romania, Argentina, Bolivia, Chile, Costa Rica, Ecuador, El Salvador, Guatemala, Honduras, Panama, Paraguay, Peru and Uruguay, as well as the top ten in Belgium, Germany, Hungary, Italy, Poland, Portugal, Slovakia, Sweden and Switzerland, the top twenty in Croatia, France, Greece, Latvia, the Netherlands and Norway, and the top thirty in Scotland. It also reached number forty-six in the UK and forty-seven on the US Billboard Hot 100. The song was the second-bestselling song of 2018 in Argentina and Slovenia. The song is certified Platinum or higher in twelve countries, including Diamond in Brazil, France, Poland, and Mexico.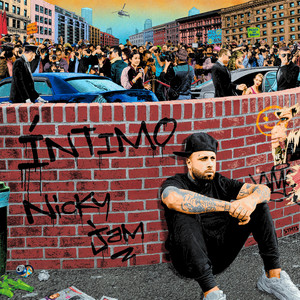 TOP 9: X by Nicky Jam, J Balvin
"X" is a song by American singer Nicky Jam and Colombian singer J Balvin. Written by the two singers, Juan Diego Medina, Giordano Ashruf and its producers, Jeon and Afro Bros, it was released by Sony Music Latin on March 2, 2018. It is a Spanish dancehall song, featuring a synth trumpet hook and elements of reggae, reggaeton, Latin pop and Afrobeats.
A Spanglish version of the song was released on April 27, 2018. On June 28, 2018, a remix version featuring vocals by artists Maluma and Ozuna was released. The accompanying audio was also released on Nicky Jam's YouTube channel on the same day. The song topped the charts in Spain, Italy, Portugal, Bolivia, El Salvador, Panama, Paraguay and Peru. Nicky Jam performed the song solo during the 2018 FIFA World Cup closing ceremony.
TOP 10: Sin Pijama by Beck G, NITTI NATASHA
"Sin Pijama" is a song by American singer Becky G and Dominican singer Natti Natasha. It was written by the two singers, Nate Campany, Kyle Sherear, Rafael Pina, Mau y Ricky, Jon Leone, Camilo Echeverry and its producers Daddy Yankee and Gaby Music. The song and its music video was released by Sony Music Latin on April 20, 2018. It became both Gomez and Natasha's third top 10 hit on US Hot Latin Songs and has reached number one in Bolivia, Chile, El Salvador and Spain as well as the top 10 in Guatemala, Honduras, Nicaragua, Peru and Uruguay. "Sin Pijama" received a Latin platinum certification in the US and surpassed 100 million views on YouTube/Vevo within 3 weeks of its release. As of 2022, it has been certified 38-times Latin platinum.
Best Spotify Spanish Songs Downloader - ViWizard Spotify Music Converter
Spotify provides the ability to all Premium users to download Spotify music, but not available for each Free subscriber. Meanwhile, all music from Spotify is saved in the format of OGG Vorbis not viewable on other media players or devices without Spotify. ViWizard Spotify Music Downloader offers enough power to you for downloading Spotify contents no matter you're using a Premium or Free account.

Key Features of ViWizard Spotify Music Downloader
Download any Spotify contents like songs, playlists, albums and more
Convert Spotify contents to common audio formats like MP3, AAC, etc.
Preserve Spotify contents with lossless audio quality and full ID3 tags
Work at 5× faster speed and customize the audio parameters at will
Customize the preference of all output music like format as you like
Keep on reading how to complete top Spanish songs download MP3 with the help of ViWizard.
Step 1. Add Spotify Spanish music to ViWizard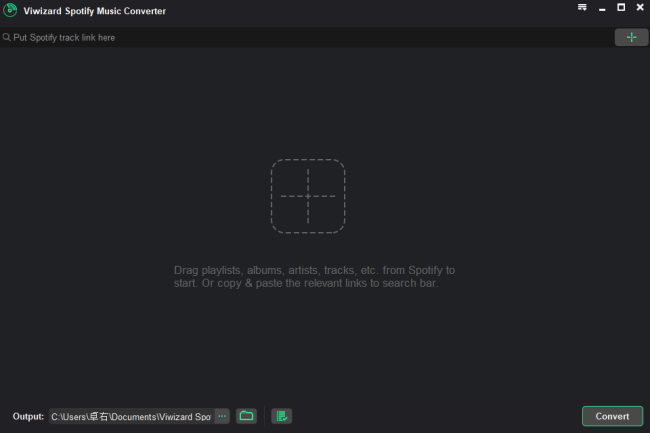 Head over to ViWizard and install ViWizard Spotify Music Converter to your computer. Then fire up the tool on your computer and wait that the Spotify program will be opened automatically. Find your favorite Spanish songs or playlist on Spotify and upload them into the downloading window of ViWizard by drag-and-drop.
Step 2. Customize the output audio parameters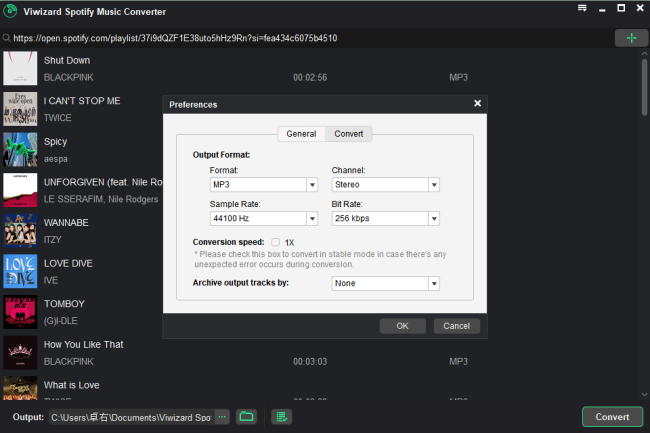 The next step is to set the output audio parameters by going to 'Menu > Preference'. There are 6 plain audio formats like MP3, AAC, AAC, FLAC, M4A, and M4B for you to pick. In addition, you could also edit the value of bit rate, sample rate, and audio channel. And you need to choose a folder to place your downloaded Spotify songs.
Step 3. Start to save best Spotify Spanish songs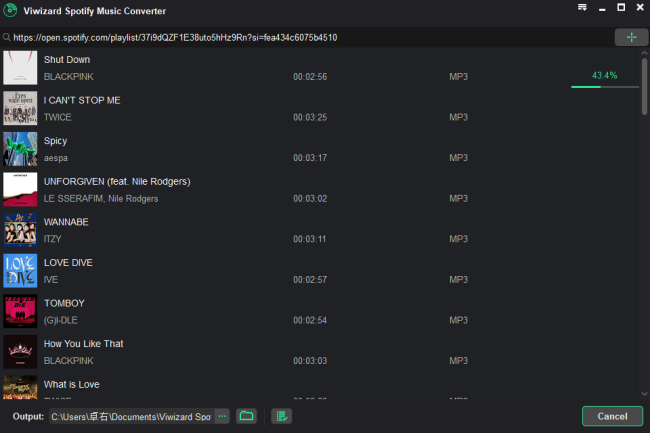 After the downloading of Spotify music is prepared, you could click the 'Convert' button to start to save your selected Spanish music from Spotify to your computer. Just wait for a while and then you could browse all downloaded Spotify songs in the history by taping the 'Converted' button.
Conclusion
Except for getting Spanish songs download free, the charming and amazing software could let you enjoy all music from Spotify without an internet connection. You could use the downloaded Spotify music as your ringtone, alarm, background music or to other places.