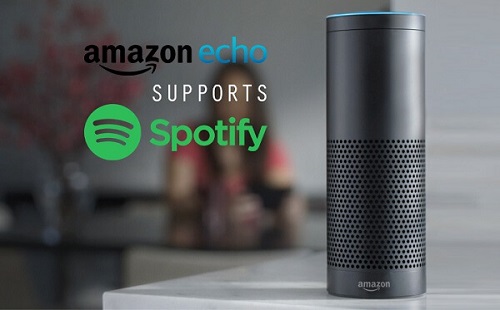 As a handy speaker for playing tunes at home, Amazon Echo has native support for various music streaming services, such as Amazon Music Prime and Unlimited, Spotify, Pandora, and Apple Music. For Spotify uses, it's easy to connect Spotify to Amazon Alexa so that you can play Spotify on Amazon Echo using Alexa voice commands.
In case you are not yet familiar with the process to stream Spotify to Amazon Echo, we are listing the whole steps here to show you how to set up Spotify on Alexa easily and quickly. Then you can control the playback of Spotify with voice commands. Meanwhile, we'll provide the solution to fix Spotify not playing on Amazon Echo. Here we go.
Part 1. How to Connect Spotify to Amazon Echo
All Spotify users can now use Alexa in Australia, Austria, Brazil, Canada, France, Germany, India, Ireland, Italy, Japan, Mexico, New Zealand, Spain, UK and the US. To use Spotify with Alexa elsewhere in the world, you should have subscribed to any Premium plan on Spotify. Now follow the below steps to connect your Spotify account to Amazon Alexa for playing.
Step 1

Download the Alexa app

Download and open the Amazon Alexa app on your iPhone or Android device, then sign in with your Amazon account.
Step 2

Link Spotify to Amazon Alexa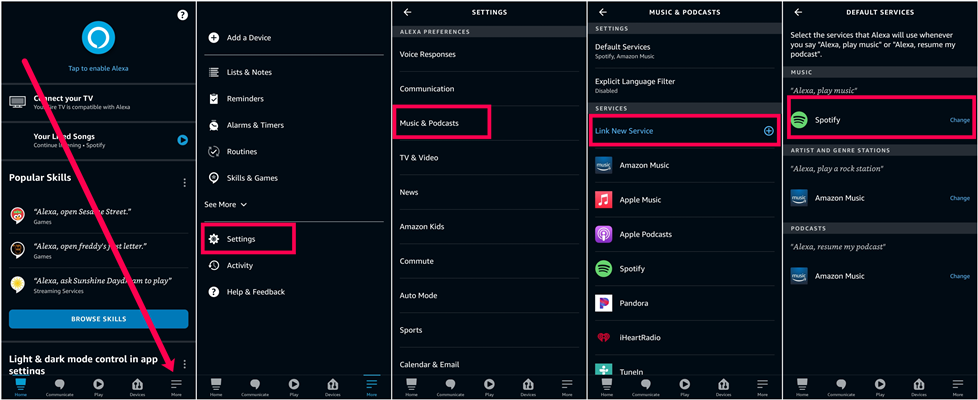 1) Tap the More button in the bottom right corner, followed by Settings.
2) Then under Settings, scroll down and select Music & Podcasts.
3) Go to link new service, select Spotify, and start to link your Spotify account.
4) Enter your username and password, or tap Log in with Facebook if you have an account created through Facebook.
5) Tap OKAY and your Spotify will be connected to Amazon Alexa.
Step 3

Set Spotify as the default

Go back to the Music & Podcasts screen, then tap Choose default music services under Settings. Go to select Spotify from the list of available services and tap Done to complete the settings.

Now you can start playing any Spotify music on Amazon Echo using Alexa. You don't have to say "on Spotify" at the end of your voice commands except for playing podcasts.
Part 2. Spotify on Amazon Echo: What Can You Ask for
Whenever you want to listen to a song or a playlist from Spotify on Amazon Echo, you can simply tell Alexa something like, "Play Ariane Grande on Spotify" and it will shuffle through various songs by Ariane Grande. Here are some specific Spotify commands you can give Alexa to play the songs:
"Play [song name] by [artist]".
"Plau my Discover Weekly".
"Turn up the volume".
"Play some classical music".
The usual playback control commands also work with Spotify as well, like "Pause", "Stop", "Resume", "Mute", and more. You can also tell Alexa to "Play Spotify" and it will play Spotify from where you last left off.
Asking Alexa to play Spotify podcasts is only available in the US, Germany, France, Italy, Spain, the United Kingdom, Mexico, Canada, Brazil, India, Austria, and Ireland. Also, you need to have a Spotify Premium account to use Spotify with Alexa elsewhere in the world.
Part 3. Fix Alexa Spotify Connect Not Working
In the process of using Spotify on Amazon Echo, lots of users encounter various problems of Spotify and Alexa. What a pity that there are still users who are not able to enjoy Spotify through Alexa. Here we'll share some solutions to help you fix Amazon Echo not playing music from Spotify.
1. Restart Amazon Echo and Device
Try restarting your Amazon Echo device including Echo, Echo dot, or Echo plus. Then launch the Alexa and Spotify app on your device again.
2. Clear Spotify and Alexa app data
Clearing the app data of Spotify and Alexa might help you fix the problem. Just go to app settings and find the Spotify app to clear the data cache. Then repeat this process for the Alexa app.
3. Relink Spotify to Amazon Echo
Simply remove the Echo device from your Spotify music service. Then follow the above steps to set up Spotify on Amazon Echo again.
4. Set Spotify as the default music service
Go to set Spotify as the default music service of your Amazon Echo. Then you can directly use voice commands to play music from Spotify.
5. Check compatibility of Spotify and Echo
Spotify supports playing music on Amazon Echo for free only in several nations. To play Spotify elsewhere in the world, just subscribe to Premium Plan or perform the below solution.
Part 4. How to Play Spotify on Amazon Echo without Premium
As mentioned above, only a part of Spotify users are able to play Spotify music on Amazon Echo. But other Spotify users who are not in the service area of Spotify to Amazon Echo still get chance to listen to music from Spotify on Amazon Echo without upgrading to Premium membership. By virtue of a third-party tool, you can even play offline Spotify on Amazon Echo.
As you should know, Spotify uses DRM to protect users from playing Spotify music anywhere even though you have a Spotify Premium subscription. That's the reason why you can't play Spotify on Amazon Echo when Spotify doesn't offer its service. Therefore, to solve the problem, you should get rid of the DRM from Spotify once and for all.
Fortunately, you can find many Spotify DRM removal tools that can remove DRM from Spotify and download music from Spotify with free accounts on the Internet. Among them, ViWizard Spotify Music Converter is one of the best Spotify download that can download and convert Spotify songs and playlists to unprotected audio files.

Key Features of ViWizard Spotify Music Converter for Mac
Download music from Spotify Mac free at 5× faster speed
Convert Spotify music to MP3, WAV, AAC, M4A, M4B, FLAC
Stream any Spotify songs on portable devices and desktop
Preserve Spotify music with very high quality and ID3 tags
Thanks to this smart software, you are able to stream Spotify to Amazon Echo or other smart speakers uf you are using Spotify free. Now the following guide will show you how to play Spotify music on Amazon Echo with Spotify free under the help of ViWizard Spotify Music Converter step by step.
Step 1

Drag Spotify files to ViWizard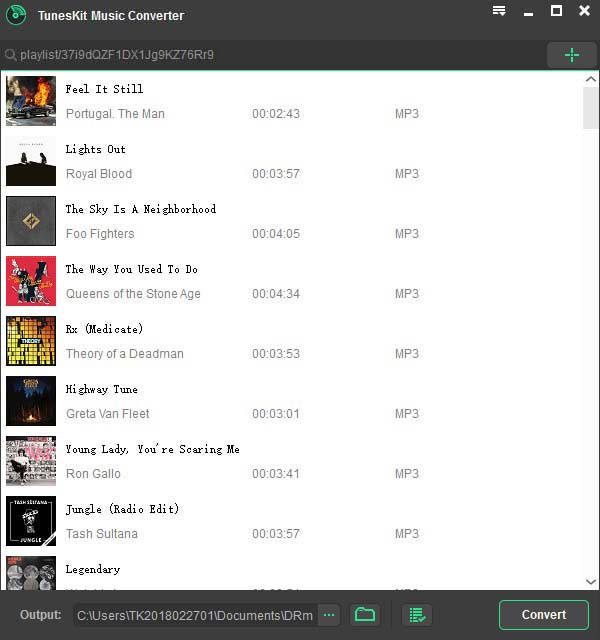 Launch ViWizard Spotify DRM Converter and it will load the Spotify desktop app simultaneously. Once it's loaded, go to Spotify store to find any track, album or playlist that you want to play on Amazon Echo. Then Simply add the song to the program by drag-and-drop.
Step 2

Define output profile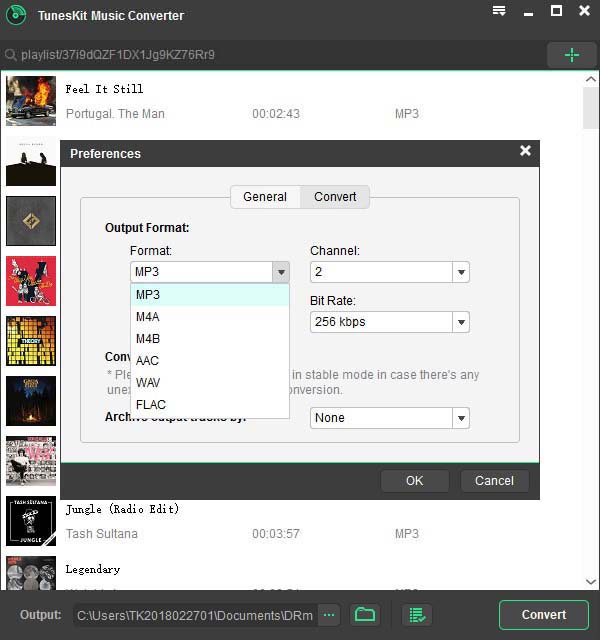 Once the Spotify songs are imported to ViWizard, you should click the top menu > Preferences to enter the output settings window, where you can set output format, bit rate and sample rate, as well as the conversion speed all according to your requirements.
Step 3

Start downloading and converting Spotify songs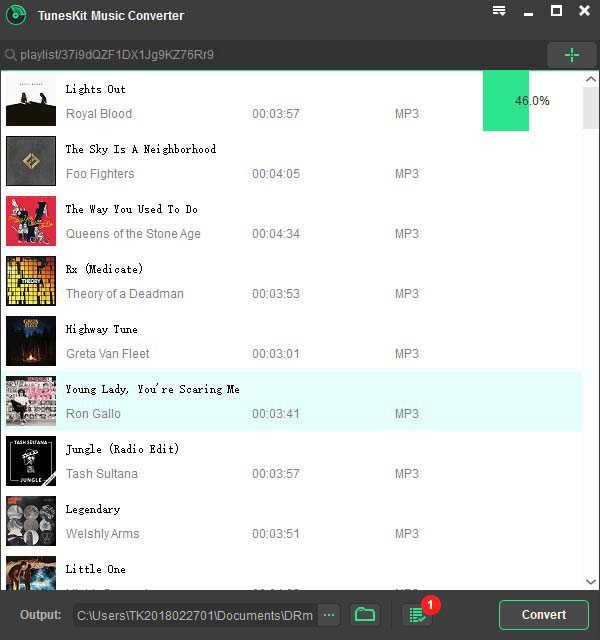 When everything is set OK, simply click the Convert button at the bottom right and it will begin to download music from Spotify while saving the tracks to DRM-free formats without losing any original quality. Once downloaded, you'll find those Spotify songs in history folder that are ready to be streamed to Amazon Echo.
Step 4

Add Spotify songs to Amazon Music for playing on Echo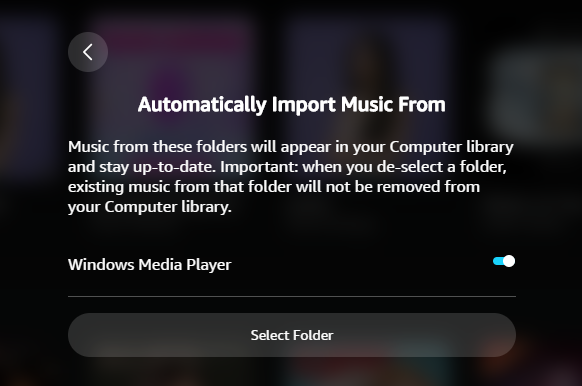 Make sure you've already installed Amazon Music app on your computer. Firstly, open the app, then drag the converted Spotify songs into the iTunes library or Windows Media Player. Then select Settings > Automatically Import Music from. Toggle on the button next to iTunes or Windows Media Player and then click Reload Library.
Wait till all the Spotify songs are uploaded into Amazon account. Then you'll be able to play Spotify on Echo with Amazon Alexa.
Conclusion
In this guide, you have known how to link your Spotify subscription with Alexa on your device. So you can start enjoying music from Spotify on Amazon Echo by using voice commands. Also, try to use the above solutions to fix the issue of Spotify not playing on Amazon Echo. If you want to use Spotify on Amazon Echo elsewhere in the world, try to use ViWizard Spotify Music Converter.