"Since last week, the web player doesn't work anymore on my professional computer. The web player displays a black page. I've already tries to reset Chrome but nothing works."
While listening to music on the Spotify web player, some users would meet the problem of Spotify web player stuck on black screen. It would be a bad experience, and you still don't find a solution to solve it yet. If you are getting a black screen on Spotify Web Player, you can get the answer about how to fix it in this post. Let's start to troubleshoot your problem.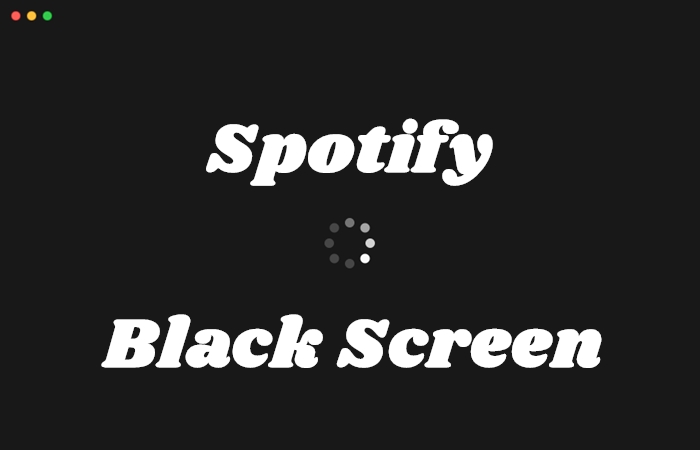 Part 1. 10 Tips to Solve Spotify Web Player Black Screen
When using a web player of Spotify to play music, lots of people encounter the issue of Spotify web player going black. That could be caused by different reasons, though. In this case, you could try to solve the issue by using the below ways.
1. Restart Browser
When the web player doesn't work anymore and displays a black page, you can try to use the straightest method. That is to restart the browser. You just need to close the browser and restart it to go to the web player of Spotify again.
2. Update Browser
In case, restarting the browser fails to help you, you can check whether your browser is up to date. Check this from the three-dot menu > Help > About Google Chrome. If your browser is not the latest version, you can try to update the browser and go to the web player again.
3. Network Connection
If you've already made sure your browser is up to date and you're still getting a black screen, we recommend checking whether there are any browsing restrictions on your computer and network, since this is the most likely cause.
4. Clear Browser Cache and Cookies
Clearing browser cache and cookies is also a helpful way to fix the black screen issue on Spotify. Click the three-dot icon and go to Settings. Scroll down to click Advanced and choose Clear browsing data. Then check the boxes next to Cookies and other site data and Cache images and files and start clearing browser cache and cookies by clicking Clear data.
5. Disable Browser Extension
Sometimes, you are not unconscious of the effect the extension has on the browser. To find that, you can go to disable the extension on your browser. Once disabled, restart the browser again and check whether Spotify doesn't work on the web player.
6. Check Advert Blockers
If you have installed an advert blocker, try to turn it off for a while. Relaunch the browser and select a song to play on the web player. Once the issue is fixed, it must be that your advert blocker is hampering with Spotify. So, you can add the Spotify web player in the advert blocker whitelist. Then your problem will be completely fixed.
7. Enable Flash Player
Enabling Flash for Spotify could also fix the black screen issue for some users. In this situation, you can whitelist Flash for Spotify. Just open the website and click the icon before the website URL. Then either select Allow or Ask first under Flash to enable Flash for Spotify.
8. Disable Hardware Acceleration
Except for the above methods, you can try to disable hardware acceleration in Chrome to fix this issue. Open the Chrome settings from the three-dot icon and click Advanced to reveal more settings. Scroll down and turn Use hardware acceleration when available off. Now relaunch the browser again and try playing a song on the web player.
9. Sign Out & Sign In
If Spotify web player goes black when you try playing a song or wile adding a song to your playlist, you should verify whether you are signed into Spotify or not. In this case, you can sign out first and then sign in with your Spotify account and password again.
10. Hit to Play Next Track
You can try to play a song on the Spotify mobile app and then cast it to a web player. This solution has fixed the black screen issue for many Spotify users. Just open the Spotify Web Player in your browser and play any song on the Spotify mobile app. Then tap Devices Available and select Wb Payer from the available options. Now refresh the Spotify page on your computer and the black screen will disappear.
Part 2. How to Listen to Spotify Music without Limitations
For many users, it is more convenient to use Spotify web player to access music instead of using a desktop version. It is because that the web player can work everywhere without the need to install an independent application on your computer. However, Spotify web player doesn't work sometimes.
For example, you could meet the problem such as Spotify web player not working or Spotify web player stuck on black screen. In this situation, you are eager to find a tip to solve it. But the stability of Spotify web player would also bring much inconvenience to you. You'd try to download Spotify music to your device for listening.
To listen to Spotify music without limits, ViWizard Spotify Music Converter could be a good helper. It is a professional and stunning music converter and downloader for both Spotify Premium and Free users. With its help, you can convert and download Spotify music to several playable audio formats, thus playing them on any media player without a hassle.

Key Features of ViWizard Spotify Music Downloader
Download Spotify tracks, artists, albums, and playlists without Premium
Support to convert Spotify to six audio formats at 5× conversion speed
Save Spotify music with lossless audio quality and metadata information
Enable you to play Spotify music on various devices without any hassle
Step 1

Add your liked songs to ViWizard interface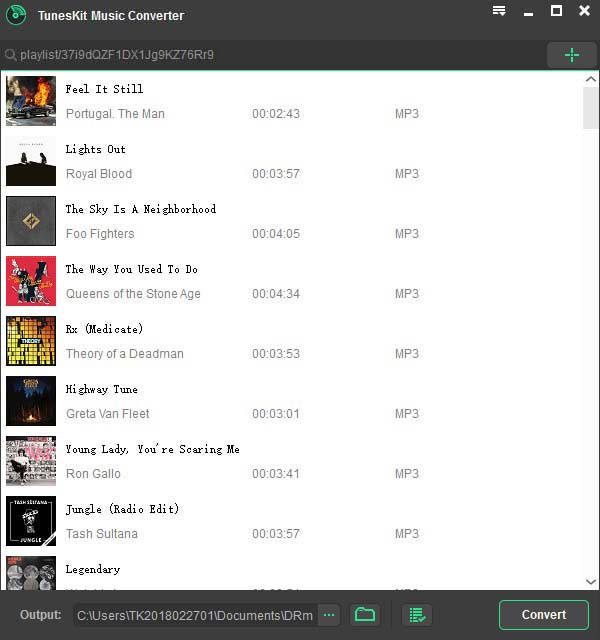 Launch ViWizard Spotify Music Converter and it will automatically load Spotify on your computer. Then navigate to your music library and when viewing a curated playlist that you'd like to download, just drag it to ViWizard interface for easy access. Or you can copy the URI of the playlist into the search box for load.
Step 2

Set up the output parameter for ViWizard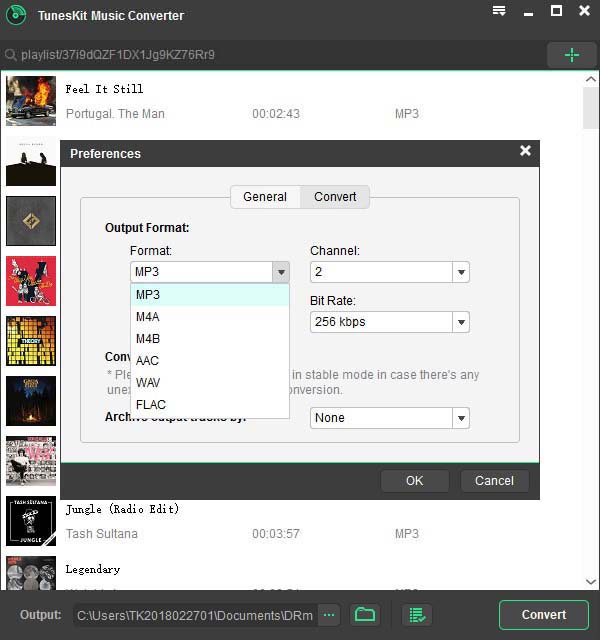 Next, go to set the output audio parameter by clicking the menu bar > Preference. In the Convert window, you can choose the output format as MP3, WAV, AAC, or M4A. For better audio quality, you need to continue to adjust the bit rate, sample rate, and channel. Remember to save the settings and then start to download Spotify music.
Step 3

Download Spotify music to your computer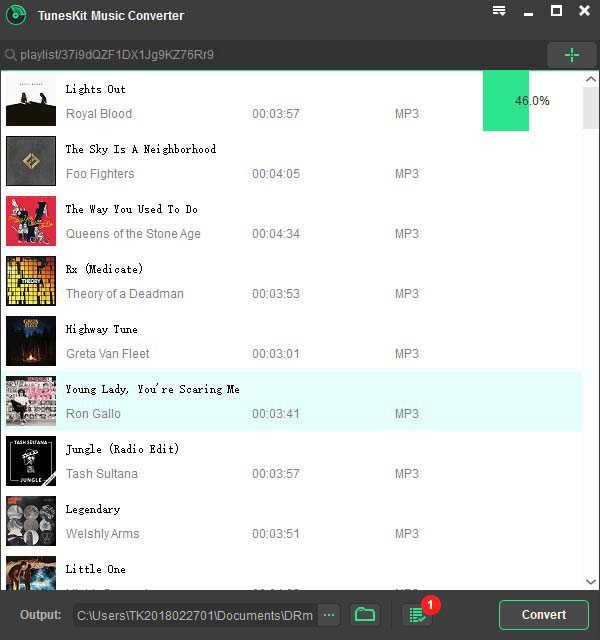 To download Spotify music, you just need to click the Convert button and the playlist will start to download, but keep in mind that it may take a little while depending on the size of the playlist and the speed of your internet connection. Once saved, the playlist will be accessible from your computer.
Bottomline
The above are the feasible methods for solving Spotify web player stuck on black screen but it might not work sometimes. In case everything fails to fix the issue, you should download the Spotify app. Meanwhile, you could try to use ViWizard Spotify Music Converter to get your favorite songs then listen to them on any media player even without an internet connection.

Matt Smith is an amateur writer engaged in ViWizard in 2013. He is a movie lover who write a lot of movie reviews for many websites and blogs.