Everytime I open Amazon music it goes to a blank screen with a song progress bar like it's going to the last song I listened to. It does this all the time, it's kind of annoying, does this happen to anyone else?
-- From Reddit.
Amazon Music enjoys a growing appeal among music lovers. But sometimes, things get tricky when Amazon Music gives you a black screen. Are you having a black screen issue when using the Amazon Music app? Annoying, right? This frustrating issue undoubtedly interrupts your listening experience and prevents you from accessing over 100 million tracks. If you're experiencing the Amazon Music black screen issue, fear not, as we've got you covered. In this guideline, we'll tell you what you can do to fix it. Without further ado, let's get into it!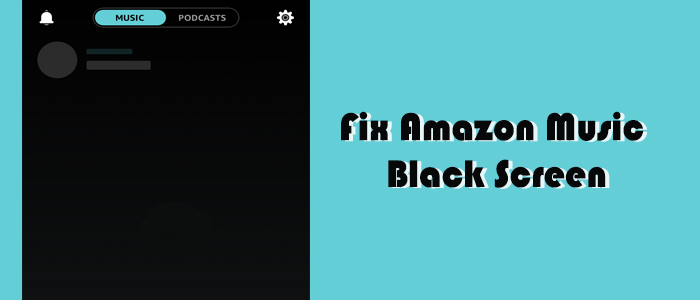 Part 1.

How to Fix Amazon Music Black Screen iPhone/Android

The Amazon Music black screen issue mostly affects iPhones. An outdated Amazon Music app, software glitches, corrupted cache files, and unstable internet connection can cause Amazon Music black screen. If you're seeing a black screen on your Amazon Music App on your iPhone or Android device, here's what to do.
Checklist to Fix the Amazon Music App Black Screen:
Check Internet Connection
Check for Amazon Music Update
Check Third-Party Security Software
Fix 1. Force Stop Amazon Music
Closing the Amazon Music app is one of the first steps to fix a majority of issues caused by Amazon Music. After using the steps below to shut down the buggy Amazon Music, reopen Amazon Music to see if the Amazon Music app black screen iPhone/Android still exists.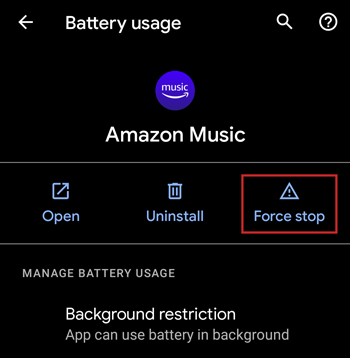 For those who are troubled with Amazon Music black screen iPhone 13, just swipe up from the bottom of your iPhone and locate the opening Amazon Music app. Then swipe upwards on it to close the Amazon Music app.
For Android users, go to Settings > Apps > All Apps > Amazon Music > Force Stop.
Fix 2. Restart Your Phone
If restarting the Amazon Music app fails to solve such an issue, then a full restart of your iPhone or Android phone may help reconnect with Amazon Music and refresh your system. This is a classic troubleshooting tip.
On iPhone, press the power and volume up buttons simultaneously to power off your iPhone. Then, hold the power button until the Apple logo appears.
On Android, press the power button for a few seconds and then choose restart from the menu to restart your device.
Fix 3. Clear Amazon Music Caches
Clearing junk cache files has the power to lead to an increase in your device's overall speed and performance. There is no option to clear Amazon Music caches on an iPhone unless you remove the app from your device.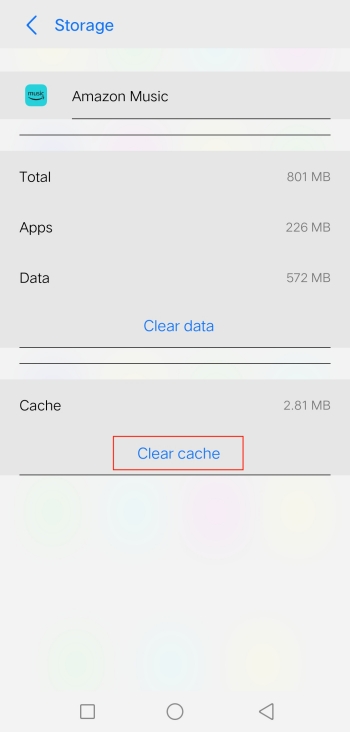 On Android:
Go to Settings and select Apps > Amazon Music.
Tap Storage and then hit on Clear Cache to delete the unnecessary Amazon Music cache files.
Fix 4. Reinstall the Amazon Music App
You may need to reinstall Amazon Music if the above steps don't work to address the Amazon Music app black screen iPhone/Android.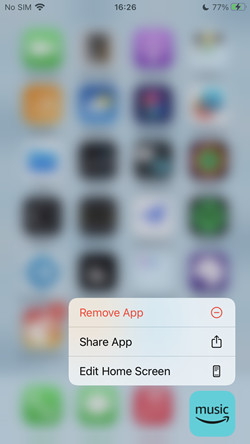 Tap the Amazon Music app icon on the Home screen of your iPhone or Android.
Select Remove App (iPhone) or Uninstall (Android).
Navigate to App Store or Play Store to search for Amazon Music.
Tap the Get button to install the latest Amazon Music app.
Part 2.

How to Fix Amazon Music Black Screen Windows/Mac

Amazon Music opens only as blank screen. I installed amazon music on my PC with windows 10. I launch it, and all I get is a black screen with the words 'amazon music'. No controls. Right clicking doesn't bring up any commands. I uninstalled and reinstalled with same results.

Lots of Amazon Music users reported that they only see a black screen when trying to open the app on Windows. In case you might be lost in this case, we also provide workable fixes in this part.
Checklist to Fix Amazon Music Black Screen Windows/Mac:
Check Internet Connection
See If You Have the Pending Update for Amazon Music
Check If your Amazon Music app was installed officially
Fix 1. Use Amazon Music Web Player
Thanks to the Amazon Music web player, you can switch to it when the Amazon Music app malfunctions on your PC or Mac.
Open a browser and enter amazonmusic.com.
Log into your active Amazon account to access the Library.
Start playing any song to get rid of the Amazon Music app black screen issue.
Fix 2. Reboot Your PC/Mac
Whether the Amazon Music screen black issue began before or after login, you should first try to restart your computer. This simple reboot will get the system back on track.
On Windows, open the Start menu > Power > Restart.
On Mac, click the Apple logo from the Apple Menu > Restart.
Fix 3. Change the Firewall Settings
Misconfigured firewall settings can trigger Amazon Music black screen or Amazon Music not working on your computer. To let Amazon Music run well on Windows or Mac, you have to allow Amazon Music through the firewall. Here's how to.
On Windows:
Open Windows Security by heading to Settings > Privacy & security.
Select Firewall & network protection.
Under this tab, hit Change Settings first and then Allow an app through firewall.
Locate Amazon Music. If you haven't found Amazon Music in this list, click Allow another app... to add Amazon Music to this firewall list.
Ensure the boxes under Private and Public are ticked.
On Mac:
Open the Apple Menu and select System Settings.
Click Network in the sidebar > Firewall.
Hit on Options. If the Options button is disabled, turn on Firewall first.
Click the Add button under the list of services, then select Amazon Music.
Fix 4. Update Windows or Mac OS
According to affected users, the Amazon Music black screen Windows 10 is the most common. This issue might be the operating system itself. As Windows 11 appears, there must be various residual issues with the older Windows 10. Similarly, Mac users should update their Mac OS to solve this Amazon Music black screen issue.
On Windows:
From the Start menu, go to Settings.
On the left sidebar, select the last option 'Windows Updates'.
On Mac:
Choose Apple menu > System Settings.
Click General on the left side of the System Settings window.
Then click Software Update on the right.
Fix 5. Uninstall the Amazon Music App
There is no doubt that uninstalling often resolves problems within the shortest time. After uninstalling, you can choose to install the refresh Amazon Music app again from this Amazon Music download page.
On Windows:
Run Settings > Apps > Installed Apps.
Choose Amazon Music and click the Uninstall button.
On Mac:
Head to Finder and select Applications from the left side.
Find Amazon Music and drag it to Trash located in the bottom corner.
Part 3.

How to Listen to Amazon Music without Black Screen

Thankfully, you can try the above potential fixes if you find yourself stuck in this Amazon Music black screen situation. Occasionally, you try all the ways but nothing changes. This time, the ultimate fix won't let you down absolutely. Let's make this issue simpler, it only happens within the Amazon Music player. Hence, the key to solving Amazon Music black screen is to play Amazon Music without the Amazon Music player.

To do so, you have to remove DRM from Amazon Music first. By using ViWizard Amazon Music Converter, this job can be easily done without a hiccup. ViWizard Amazon Music Converter helps Amazon Music paid users to crack DRM protection simultaneously converting Amazon Music to MP3, AAC, WAV, FLAC, M4A, and M4B. After conversion, you can easily listen to them without the Amazon Music app. Of course, your songs will be kept without downgrading the original audio quality. So you can hear the same sound as you do on Amazon Music.

Key Features of ViWizard Amazon Music Converter
Free Trial
Free Trial
* Security verified. 5, 481,347 people have downloaded it.
Download songs from Amazon Music Prime, Unlimited, and HD Music
Convert Amazon Music songs to MP3, AAC, M4A, M4B, FLAC, and WAV
Retain the original ID3 tags and lossless audio quality of Amazon Music
Support customizing the output audio parameters for Amazon Music
Over time, this tool has helped users to solve all kinds of Amazon Music errors, such as Amazon Music exception 180, Amazon Music not shuffling or not working, and more. Hence, install ViWizard Amazon Music Converter to reach a smoother experience without disturbing by Amazon Music black screen.
Step 1

Select and Add Amazon Music to ViWizard

Launching the ViWizard Amazon Music Converter will automatically load the Amazon Music app. Then copy the link of any track, playlist, or album from Amazon Music and paste it into ViWizard's search bar. Next hit on the + icon to upload it. Alternatively, you can directly drag and drop the playlist to ViWizard.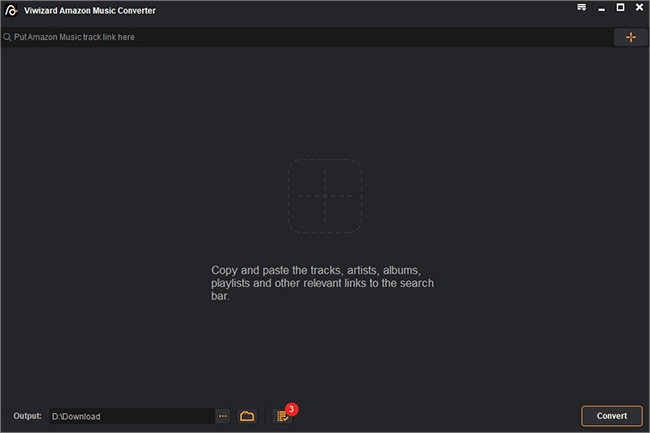 Step 2

Set the Output Format and Parameters

ViWizard offers personalized choices for you so that you can customize tracks to your heart's content. Click the three-line icon in the upper right corner, then select Preference and turn to Convert. Here, all parameters like the format, channel, sample rate, and bit rate are available to change. We suggest that leave the default MP3 format.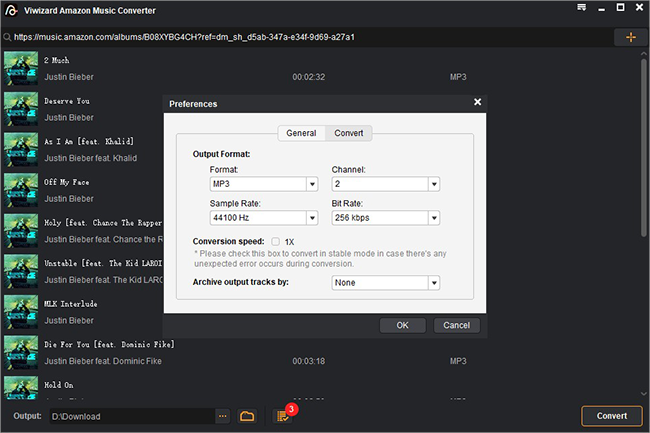 Step 3

Download Amazon Music Locally

To download Amazon Music to MP3, just one-click the right-bottom Convert button. After conversion, click the Converted icon at the bottom to browse all converted songs. On the history list, hit on the search icon next to each song and you will open it in the local folder.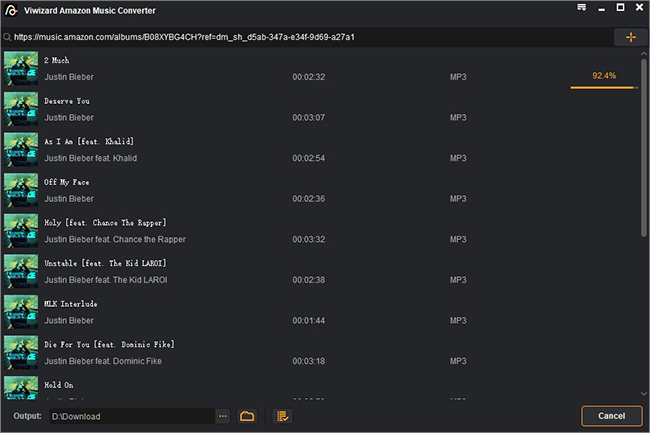 Step 4

Listen to Amazon Music without Black Screen

Now, all Amazon Music songs are stored on your computer and you can freely enjoy them on any player, on any occasion, and with no need for the Amazon app. This time, the Amazon Music black screen issue and any Amazon Music playback errors won't trouble you anymore. Just download ViWizard Amazon Music Converter to have a try and embrace a smoother music journey!