Just like other streaming services platforms, Amazon has written some code for sorting out different Amazon Music playback errors, which can help users to report their experiencing issues and get help as soon as possible from Amazon.
A normal issue of Amazon Music errors is Amazon Music user authentication. It seems there is another case that Amazon Music failed to authenticate the user and use Amazon Music error code 180. For starters in this article, we'll tell what is "Amazon Music Exception 180" and why it occurs for better understanding, then introduce how to fix Amazon Music error 180 in 8 workable fixes and an all-round solution.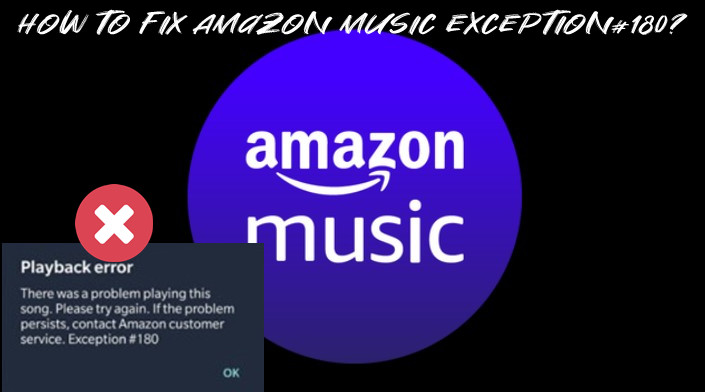 Part 1.

What Is Exception 180 on Amazon Music?

This is the second Amazon Music error that we have noticed after the spotted-in "Amazon Music Exception 119". According to Amazon Music, that exception is a licensing issue indicating that your Prime Music has expired and must be renewed. Being encoded in 180, it states that "There was a problem playing this song. Please try again. If the problem persists, contact Amazon customer service. Exception 180#".

As stated, "Amazon Music Exception 180" is rather random because that's how Amazon Music errors are sorted out. The more usual case is that this is not a licensing issue and happens both in the two basic modes that Amazon Music supports - Amazon Music online mode and Amazon Music offline mode. First a song or an album stream fine, and " Exception 180 Amazon Music" comes up and seems to exist forever.

Hence, here we create a checklist of possible reasons why it occurs. Hope it helps you understand Amazon Music Exception 180 better.

-Your Amazon Music subscription is expired or canceled.

-The internet connection to your device is poor.

-The Amazon Music app is out of date.

-The Amazon Music data are corrupted.

-The song of error you are playing is not available.
Part 2.

Settings to Fix Amazon Music Exception 180

Whenever the music stream in Amazon Music app, the song stops after a few seconds or skip to a different song with the appearing message "Exception #180 Amazon Music" due to the Amazon Music app. Hence, there are exclusive methods to fix this issue in Amazon Music settings.
2.1 Check Amazon Music Status
For starters, if there is a licensing issue according to Amazon, check Your Amazon Music Settings to see whether Amazon Music service, aka subscription plan, is expired or canceled. On the Amazon Music settings page, it is clear to see your current Amazon Music status and the expiration date. If necessary, you can turn on the auto-renewal button to save hassles.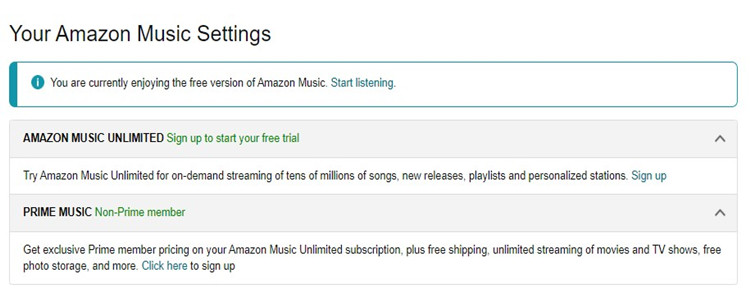 2.2 Redownload Songs from Amazon
For those who have found the "Amazon Music Exception 180" when streaming the downloaded songs (both purchased and downloaded with subscriptions) in its offline mode, the best way is to remove the downloads and then download them again. There must be a pain in the back to first delete all Amazon Music data including the downloaded songs and redownload them from Amazon Music. However, it will work for such Amazon Music playback error 180.
Step 1. Launch Amazon Music and go to Library > Downloaded.
Step 2. Locate the song for which Amazon Music error 180 happens, tap the three dots button next to the song, and select Remove from Device.
Step 3. After that, search for the song you deleted. And hit on the More option.
Step 4. Select Download to redownload it on your library and device.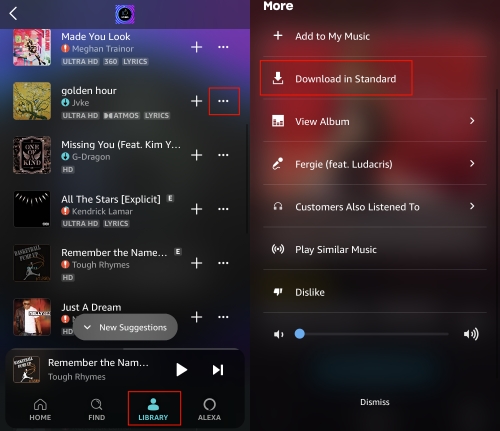 Once the downloading is complete, switch to Offline Mode to listen to them offline. Maybe this time, the Amazon Music Exception 180 on offline mode would be fixed by a redownload.
2.3 Refresh the Amazon Music
Sometimes the Refresh My Music setting in Amazon Music can help to solve issues like "Amazon Music Exception 180", especially for those who just renew their subscriptions. After renewing your subscription to solve playback issues, the Amazon Music library needs a reload based on your current licenses. Or if the song is unavailable anymore, it will be greyed out after a refresh. Which can help you quickly identify the reason and get a feasible solution.
Step 1. On Amazon Music, tap the gear button in the upper-right corner to enter Settings.
Step 2. Scroll down and you will see the Refresh My Music option.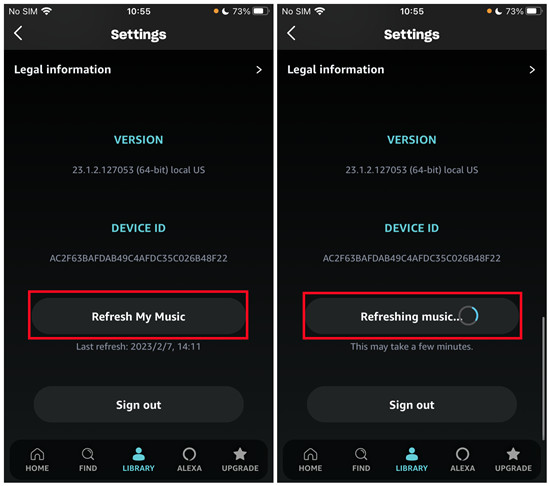 Wait for a few seconds and reopen Amazon Music to see if Exception #180 Amazon Music persists.
Part 3.

Common Steps to Fix Amazon Music Exception 180

As stated, the top reason for Amazon Music playback error 180 is the Amazon Music app itself. Contacting Amazon Music customer service for Amazon Music errors is expected but disappoints a lot, here we offer some collected methods for several situations for the coming up "Amazon Music Exception 180".
3.1 Confirm a Stable Network
When Amazon Music playback error Exception 180 appears, apart from checking your membership, examining the internet connection is also important. Make sure you connect to a solid wireless network on the device that is used to renew the Prime Music license and access online content. If using mobile cellular data, open Settings on the device and go to Apps. Find Amazon Music and enable its permission to use mobile data.
3.2 Force Stop the Amazon Music App
The possibility of bugs and temporary issues with the Amazon Music app can be ruled out for Amazon Music Exception 180. To fix these bugs Amazon Music brings, shutting down its app is the most direct way. Moreover, Amazon also suggests to force stop the Amazon Music app.
On Android, navigate to Settings > Apps > Amazon Music > Force Stop.
On iOS, after opening Amazon Music, swipe up from the Home Screen to open the task manager. Then tap and swipe up the Amazon Music app's preview to close it.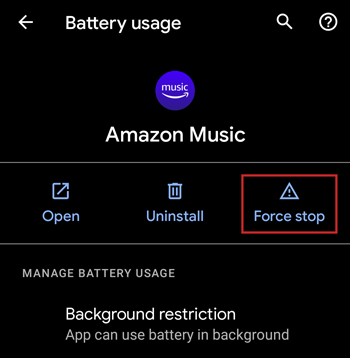 3.3 Update the Amazon Music App
When it comes to Amazon Music playback error, always recommend updating the Amazon Music app to the latest version, where the fixes are included sometimes.
Go to the App Store or Google Play Store and search for Amazon Music. If an updated version is available, there is an Update button. Tap it to get the latest version of the Amazon Music app and go back to check if the "Amazon Music Exception 180" still exists.
3.4 Clear Amazon Music Caches
Too heavy caches Amazon Music produces not only take up a lot of space but prevent the Amazon Music app from working well. Therefore, clearing Amazon Music caches regularly is the key to solving most issues.
On Android, open Settings > Apps and find Amazon Music. Tap Storage and you will see Clear cache.
On iOS, there is no option to clear app caches in Settings unless delete the app from your device.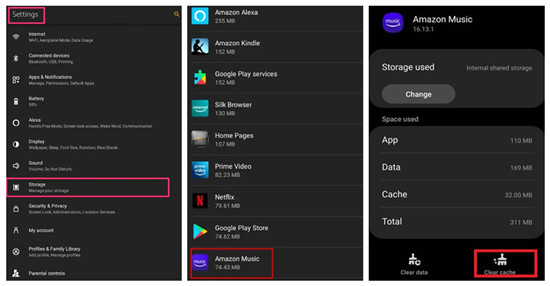 3.5 Uninstall and Reinstall Amazon Music
Amazon Music will suggest uninstallation as the last straw so to uninstall the Amazon Music app and reinstall it can work for "Amazon Music Exception 180".
On the device, tap and hold the Amazon Music app icon and tap Uninstall or Remove App then confirm. Next, go to the app store and reinstall the Amazon Music app. Now relaunch the app and check if there's any improvement.
Note
If you choose to clear caches or uninstall the Amazon Music app, all downloads will be removed.
Part 4.

How to Download and Play Amazon Music Free of Error

If the methods above still don't work, we will suggest ViWizard Amazon Music Converter help with all the Amazon Music errors because it can enable Amazon Music users to download music from Amazon and stream it free of error, including the "Amazon Music Exception 180". Whether you encounter playback issues in the Online Mode or the Offline Mode, the error appears and occurs within the Amazon Music player. Therefore, the key to solving Amazon Music playback error exception 180 is to get rid of the Amazon Music app.

Although all songs from Amazon Music are encoded with DRM resulting in you can't play them without the Amazon Music app, ViWizard Amazon Music Converter has the ability to remove the restriction. This professional tool is designed to download and convert songs from Amazon Music to MP3, AAC, WAV, FLAC, M4A, and M4B simultaneously retaining the original sound quality. It also can improve the listening experience with output parameter settings.

Key Features of ViWizard Amazon Music Converter
Free Trial
Free Trial
* Security verified. 5, 481,347 people have downloaded it.
Download songs from Amazon Music Prime, Unlimited, and HD Music
Convert Amazon Music songs to MP3, AAC, M4A, M4B, FLAC, and WAV
Retain the original ID3 tags and lossless audio quality of Amazon Music
Support customizing the output audio parameters for Amazon Music
With the help of ViWizard, any issues can be fixed with one click. First to click the above link to install the correct version of ViWizard Amazon Music Converter to your computer. After downloading Amazon Music songs, you can be free of Amazon Music Exception 180 and other playback issues.
Step 1

Select and Add Amazon Music

Launch the ViWizard program and the Amazon Music desktop app will be launched or relaunched to build a connection. Make sure the account with the subscription has been signed in to the app, and then a simple drag-and-drop can add whatever you like from Amazon to ViWizard Amazon Music Converter. Alternatively, you can copy and paste the URL link of a song, playlist, album, or artist from Amazon Music to ViWizard.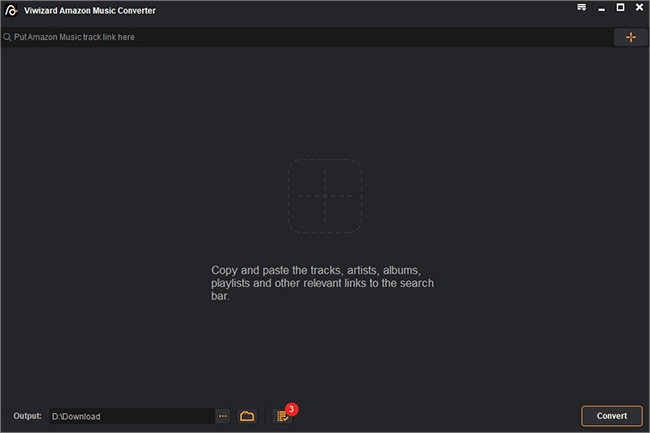 Step 2

Set the Output Parameters

To set the output parameters for a better listening experience, click the menu icon and select Preference to open a new window. Then select the Convert tab to configure the output formats and parameters like sample rate, bit rate, and channel as you want. But just remember to click the OK button to save the adjustments.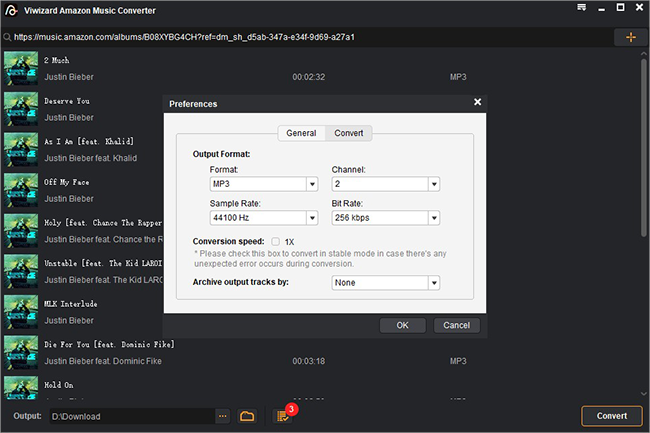 Step 3

Download and Convert Amazon Music

Now click the Convert button to download all the songs added. You can feel free to click the Cancel to put the conversion to a stop. At a 5x speed, the conversion will finish within a few moments. And you can view all downloads on the Converted history list. Now all the downloaded files are accessible to stream offline without the Amazon Music app and without Amazon Music Exception 180.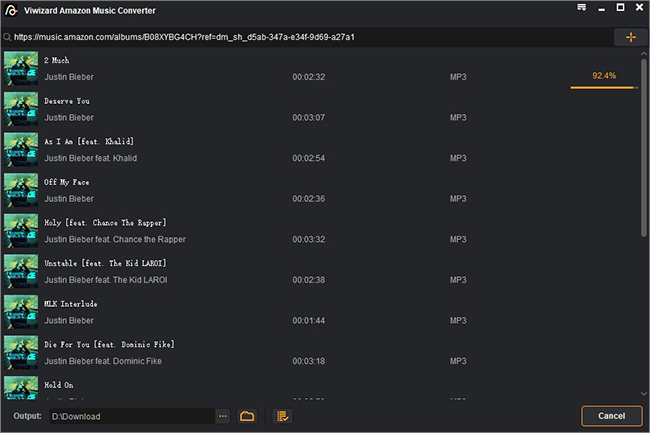 Conclusion
Hope the methods above work and the Amazon Music Exception 180 has disappeared. Remember that ViWizard Amazon Music Converter is here to offer continuous help. Try it and you'll find out.