Usually, Amazon Music operates without issues. I open the Amazon music app to download my favorite music with Amazon Music subscription and the app promptly responds to or undergoes the download at hand. However, one day "Error 200 Amazon Music" just pops up and I can't download the music no matter how hard I try.
While Amazon Music is devoted to provide the download service for users who have purchased music from its store or users with Amazon Music Prime or Unlimited subscription, sometimes an Amazon Music error just jump up and there is no reason. Fortunately, there are ways to fix that. If your Amazon Music is getting "Error 200 Amazon Music" on the download page, this article will offer 7 methods to fix this Amazon Music playback error and tell how to download Amazon Music free of error.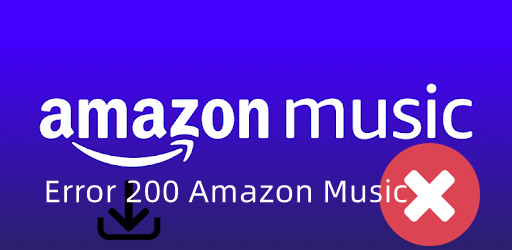 Part 1. What Is "Error 200 Amazon Music"?
"Error 200 Amazon Music" is one of the Amazon Music errors - especially of playback error Amazon Music - that is encoded in 200. It happens when Amazon Music users try to download a song on their devices and accompanied by a message that states 'Download error. Please retry.'
However, no matter how many times users retry, it just keeps popping up on the devices - especially on Android and iOS devices, preventing users from downloading music songs from Amazon.
Part 2. How to Fix "Error 200 Amazon Music"
To fix "Error 200 Amazon Music", you need to identify the causes and solutions accordingly for android and iOS devices or for both: check the Amazon music services, confirm the connection, log out and log back into Amazon Music account, check the permission, update the Amazon Music app, clear cache from the Amazon Music app and format or replace the SD card.
Normal case is that "Error 200 Amazon Music" can be fixed within one or several steps. Now reading on to check which steps are helpful to improve the downloading experience.
2.1 Check the Amazon Music Services
For starters, Amazon Music subscription services are sometimes to blame. The download services are accessible within Amazon Music Prime and Music Unlimited, so the status of services for Prime or Unlimited should be checked when an Amazon Music playback error occurs. There are times when the service is under official maintenance or the servers are down. You can search for an online website monitor to check if the service is not available.
2.2 Confirm the Connection
To download music from Amazon, it is suggested that users should have a strong Internet connection of Wi-Fi or a mobile network. For mobile network, users should confirm the "Settings" of Amazon Music app allow for "Cellular". Switch to other connections and check whether the "Error 200 Amazon Music" still exists.
Note: Both of these 2 Internet connections need to be strong enough to stream Amazon Music songs, especially for HD and Ultra HD music with Amazon Music Unlimited.
2.3 Log out and Log Back into Amazon Music Account
If is not for the Internet connection, there might be a temporary glitch within the Amazon Music app. This glitch can interfere the app's operations and resulting some Amazon Music errors, including "Error 200 Amazon Music". To fix the glitch, sometimes a simple log out and log back into your Amazon Music account can work.
2.4 Check the Permission
If Amazon Music app's permission for storage is not allowed on your device, "Error 200 Amazon Music" also can be caused. Please go to 'Settings' and find 'Amazon Music' to check whether Amazon Music app's permissions are insufficient. If it's on, then to turn off permission for storage. Open the Amazon Music app and try the download again, now it will show the message 'Amazon Music needs storage permission to download and play music', just select 'UPDATE PERMISSIONS' and tap 'ALLOW' for the asking for permission to 'access photos, media, and files on your device'. Then open Amazon Music app again and download should start now.
2.5 Update the Amazon Music App
Most errors can be fixed in a new update. You can confirm whether the Amazon Music app is the latest version by viewing the app's detail page. Open the store page and search Amazon Music. If an update is available, an 'Update' option displays and taps it to update the app to the latest version.
Note: If there is no available update in the store or you've tried the latest update and "Error 200 Amazon Music" still exists, you can uninstall and reinstall Amazon Music app instead. If both these 2 steps are still not working, you may have to wait for another update from Amazon Music patiently.
2.6 Clear Cache from the Amazon Music App
For those who use internal storage, Amazon Music cache can also be corrupt and result in "Error 200 Amazon Music" because the downloaded music songs are stored as cache files and have taken up a lot of space to accommodate the music, thus preventing a new download task. You can check on to learn more on how to clear Amazon Music cache on your devices.
2.7 Format and Replace the SD Card
If you have an SD card installed, sometimes Amazon Music will identity any Amazon Music playback error as SD card failure. You should go to the 'Settings' and tap 'Storage Location' to check whether it is set correctly. Amazon Music sometimes will recommend to replace or set the SD card up, but this can cause loss in files and have to redownload the files.
Part 3. How to Download Amazon Music Free of Error
If none of the causes and solutions is identified to fix "Error 200 Amazon Music", here we recommend using ViWizard Amazon Music Converter which can download all the music tracks from Amazon free of error.
ViWizard Amazon Music Converter enables Amazon Music subscribers to download Amazon Music tracks for free of Amazon music error and convert them into several universal formats like MP3, M4A, M4B AAC, WAV and FLAC. Also, sample rate, sample depth, bit rate and channel can be set as you want to improve listening experience. What's more, the conversion is stable at a 5x super faster speed and there is no error like "Error 200 Amazon Music" to cut the conversion. To cancel the conversion is on your choice.

Key Features of ViWizard Amazon Music Converter
Download songs from Amazon Music Prime, Unlimited, and HD Music
Convert Amazon Music songs to MP3, AAC, M4A, M4B, FLAC, and WAV
Retain the original ID3 tags and lossless audio quality of Amazon Music
Support customizing the output audio parameters for Amazon Music
Step 1

Select and Add Amazon Music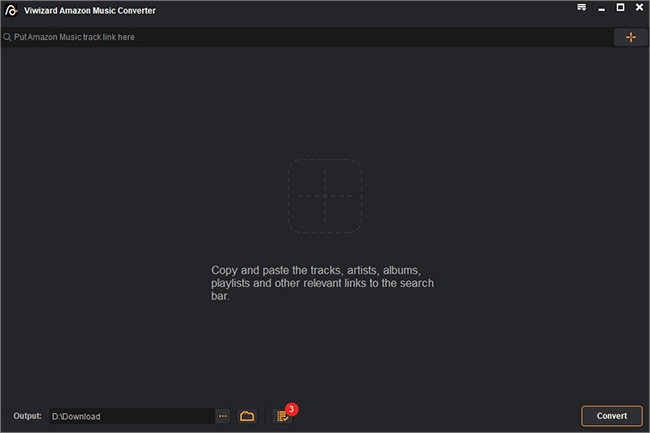 Launch the ViWizard Amazon Music Converter on your computer. Once ViWizard detects the pre-installed Amazon Music desktop app, it will launch or relaunch Amazon Music for stable conversion. Sign in to your Amazon Music account for Prime or Unlimited to get the access to music from Amazon. To download the songs from Amazon, you should first select or find the songs, then just drag and drop them to ViWizard's center screen. Now the added songs are listed, waiting to be downloaded.
Step 2

Set the Parameters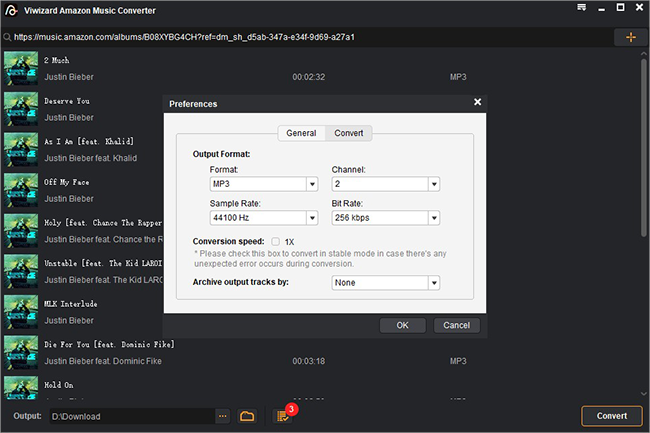 Before click the 'Convert' button, click the menu icon at the top menu of the screen and click 'Preference' icon to set the parameters like output format, bit rate, bit depth and sample rate. Note that the parameters set here contributes to your listening experience with the music files. For filing up, you can also archive out tracks by none, artist, album, artist/album. Remember to click the 'OK' button to save the settings here.
Step 3

Download and Convert Amazon Music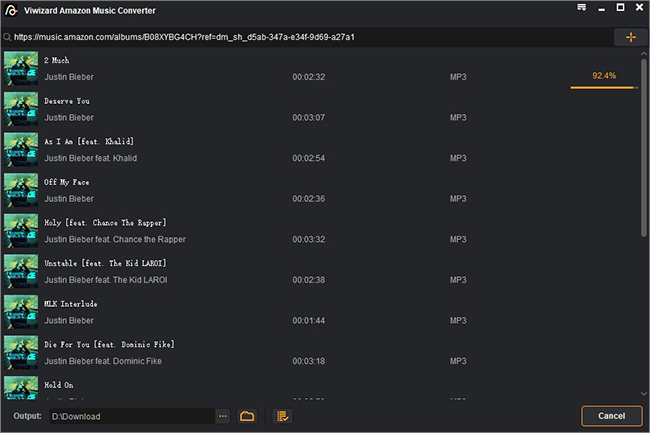 Now click the 'Convert' button and the songs listed are starting to downloading at a 5x super faster speed. You can feel free to delete the songs to be downloaded from the list or click 'Cancel' button to put the conversion to a stop instead of the pop-up "Error 200 Amazon Music". After the conversion completes, you can click the three-dot icon next to the output path at the bottom of the screen to locate the downloaded files quickly.
Congratulations! Now you have downloaded all the music you want from Amazon free of error.
Conclusion
Now you should have tried all the methods above to fix the "Error 200 Amazon Music" and can download music from Amazon again free of error. If you don't to experience this kind of playback error Amazon Music, remember ViWizard Amazon Music Converter can download music from Amazon free of error! Give it a shot!
More Amazon Music Tips & Tricks