On Amazon Music, all the errors are parts of Amazon Music not working and most of the time are about streaming music, but there's a time users will experience download issues.
For Amazon Music's download errors, for now we have spotted problems like "Error 200 Amazon Music" on the app's download page and Amazon Music greyed out for several reasons. Now we will figure out what's wrong with another download issue that Amazon Music users report - "Amazon Music not downloading".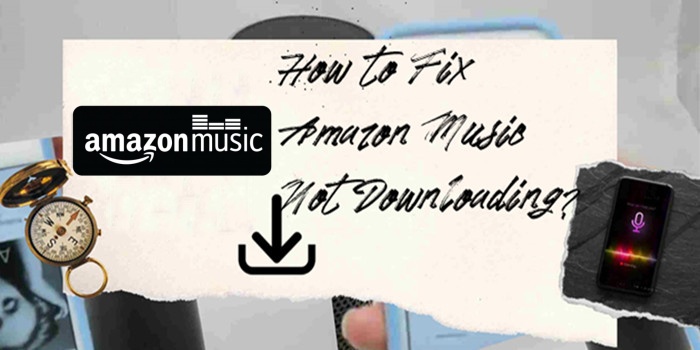 In this article, we'll first tell why won't Amazon Music app download, and 4 useful steps to troubleshoot the "Amazon Music not downloading songs" issue. Reading on to check if there is any help.
Part 1. Why Won't Amazon Music App Download?
Amazon Music won't download songs due to the following reasons: unstable network connection, Amazon Music service limits, Amazon Music not support and Amazon Music Cache. Each possible reason for "Why won't Amazon Music app download?" is listed and companied with solution.
1.1 Unstable Network Connection
According to Amazon Music, when it comes to downloading music from Amazon, first the stable and solid network connection of Wi-Fi or a mobile network is required. Noted the 'to download when Wi-Fi is available' option in the download settings. If this option has been selected, the download will be queued when using a mobile network and that's why won't Amazon Music app download.
To confirm the internet connection, check the mobile network on other apps or test Wi-Fi on other devices. Also make sure the internet speed is between 10-20Mbps. For Amazon Music not downloading in mobile network, tap off 'to download when Wi-Fi is available' in the download settings and redownload the songs, also make sure Amazon Music app "Settings" should allow for "Cellular".
1.2 Amazon Music Service Limits
The network connection is good but still, Amazon Music won't let me download. Then it can be the Amazon Music service to blame. Please noticed that the download service is included in Amazon Music Prime or Amazon Music Unlimited. Once the subscription is expired or cancelled or the free trial is over, Amazon Music won't download songs until there is a new subscription.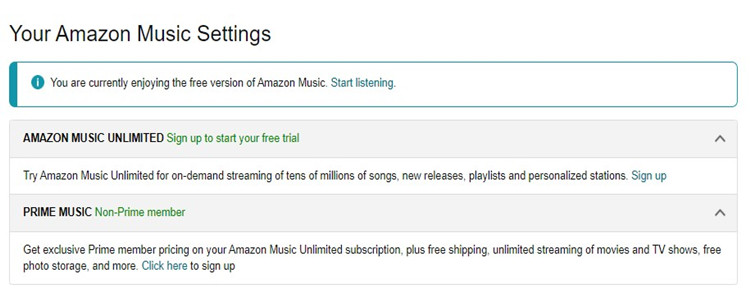 Go to Your Amazon Music Settings to check the status of your Amazon Music service, you can sign up for Prime or Unlimited to download accessible music from Amazon.
1.3 Amazon Music Service Not Support
If not for the expired or cancelled Amazon Music services, sometimes Amazon Music would remove a song or whole album from its services because licensing agreements limits or the songs are moved to Music Unlimited.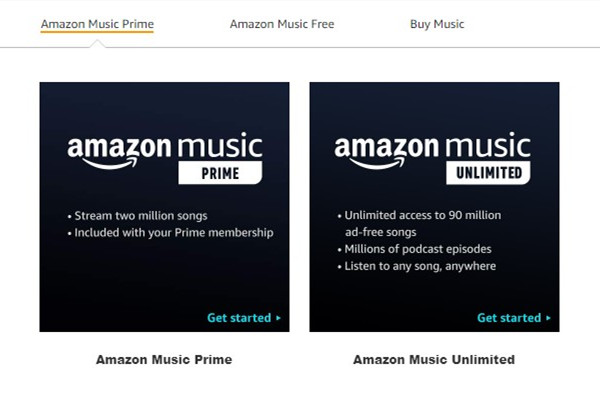 To get the access to the Amazon Music not downloading songs, please go to Amazon Music Digital Store to purchase them. Or if their titles are "Unlimited", you can choose to 'Go Unlimited'.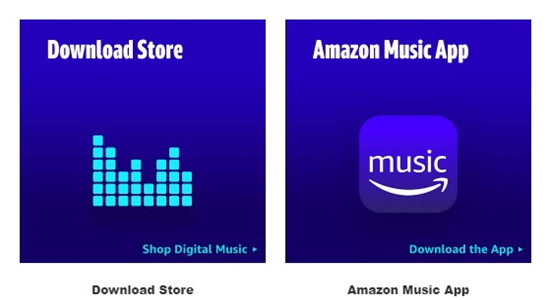 1.4 Corrupt Amazon Music Cache
Amazon Music cache can take up lots of device space but Amazon Music still needs more space to download music. If the device space is insufficient, Amazon Music won't download.
If there is a lot of Amazon Music cache to be cleared, check to see how to clear cache on Amazon Music for multiple devices.
Part 2. How to Troubleshoot Amazon Music Not Downloading
If situations above can't be identified, there are 5 more steps to troubleshoot Amazon Music not downloading.
Step 1

Update Amazon Music App
Step 2

Full Close the Amazon Music App
Step 3

Restart the Mobile Device
Step 4

Redownload Music from Amazon Music App
Step 5

Deregister the Mobile Device

1. Go to Manage Your Content and Devices and log in to your account.

2. Click Devices.

3. Select your device and click Deregister to deregister the device from your My Devices page.

4. Sign back into Amazon Music.
Part 3. Best Alternative to Download Amazon Music Available Forever
For most Amazon Music users, the persisting "Amazon Music not downloading songs" issue is not about Amazon Music subscription service or several limitations, there should be an immediate fix which enables them to download music from Amazon as soon as possible. Sometimes you just need a powerful third-party tool to help.
We all know there will be a cost, but sometimes a cost on a powerful tool can fix the issue of Amazon Music storage location greyed out once and for all.
Here we'd like to introduce ViWizard Amazon Music Converter, which helps Amazon Music users download music tracks without limits like "Amazon Music not downloading". Besides, DRM-protection of the downloaded music tracks can be moved and converted into several universal formats like MP3, M4A, M4B, AAC, WAV and FLAC in ViWizard. What's more, other output parameters like sample rate, bit rate, bit depth and channel also can be set here.

Key Features of ViWizard Amazon Music Converter
Download songs from Amazon Music Prime, Unlimited, and HD Music
Convert Amazon Music songs to MP3, AAC, M4A, M4B, FLAC, and WAV
Retain the original ID3 tags and lossless audio quality of Amazon Music
Support customizing the output audio parameters for Amazon Music
Step 1

Select and Add Music Tracks from Amazon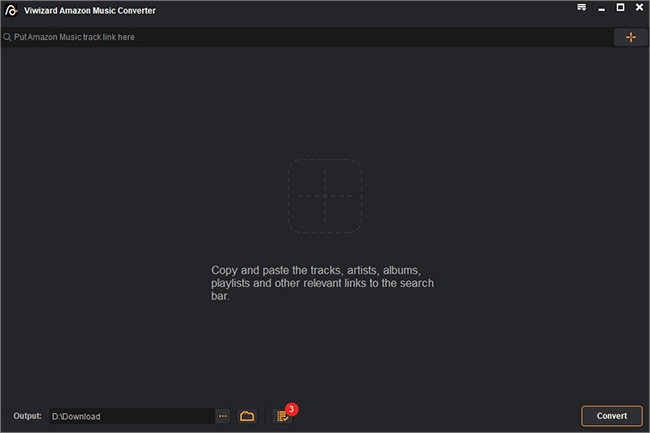 Click the 'Download' icon to download and install ViWizard Amazon Music Converter to the computer. Also make sure that the Amazon Music app with the signed-in account is on the desktop. Open ViWizard Amazon Music Converter, wait until it launch or relaunch the Amazon Music app. Now on the Amazon Music app, a simple drag-and-drop can add all the accessible music tracks to download.
Step 2

Set the Output Parameters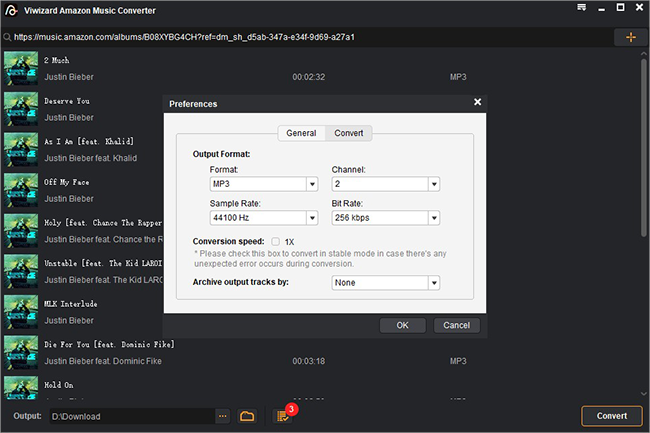 On ViWizard Amazon Music Converter, now the added music should be listed with basic information like title, artist, duration and the most important output format, which is the default M4A. Now click the menu icon and select 'Preferences'. On the Preferences window, click 'Convert' to check the output parameters settings. For output format, both MP3 and FLAC are recommended. For bit rate, both the standard 256kbps or HD Music's 356kbps can be set. Please click 'OK' button to save the settings here.
Step 3

Download and Convert Amazon Music Tracks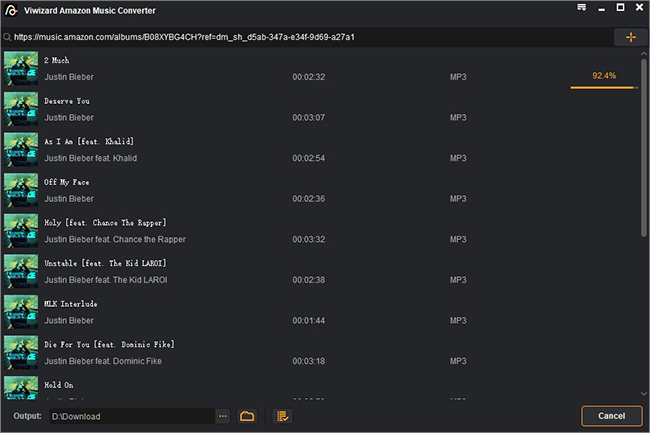 Now each song's output format should be reset. Click 'Convert' button to start the conversion or then feel free to click 'Cancel' button to put the conversion to a stop. After the conversion, click the file icon at the bottom of ViWizard Amazon Music Converter to browse all the downloaded music files.
Conclusion
If Amazon Music won't download songs the next time, you know what you can do or how to download Amazon Music without limits - using ViWizard Amazon Music Converter. A click on the 'Download' icon can have it on your computer. Give it a shot!
More Amazon Music Tips & Tricks