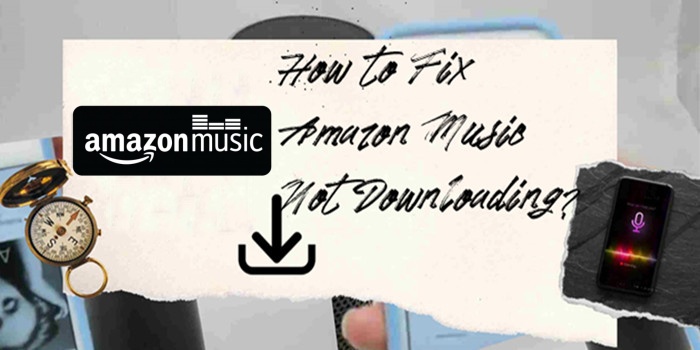 On Amazon Music, all the errors are parts of Amazon Music not working and most of the time are about streaming music, but there's a time users will experience download issues.
For Amazon Music's download errors, for now we have spotted problems like "Error 200 Amazon Music" on the app's download page and Amazon Music greyed out for several reasons. Now we will figure out what's wrong with another download issue that Amazon Music users report - "Amazon Music not downloading".
Part 1.

Why Won't Amazon Music App Download?

Are you frustrated because your Amazon Music app refuses to download your favorite tracks and albums? You're not alone. "Why won't Amazon Music app download?" is a question that has perplexed many users. In this part, we'll dive into the common reasons behind the issue before we provide you with effective solutions.
1. Poor Internet Connection
A stable internet connection is crucial for a smooth music download experience on the Amazon Music app. When your connection is slow or unreliable, it can lead to download failures. To resolve this issue, make sure you're connected to a strong and stable internet source. If you're using cellular data, consider switching to a Wi-Fi connection for more dependable downloads.
2. Amazon Music Settings
Your Amazon Music download settings can significantly affect your ability to download music. Take a moment to check your download settings within the Amazon Music app for "Download audio quality" and choose the most appropriate option, such as "Standard" or "Space Saver" based on your preferences. If you're using a mobile network, make sure to disable the "Download only on Wi-Fi" option to allow downloads via cellular data.
3. Amazon Music Subscription Level
Amazon Music offers different subscription tiers, each with varying download privileges. If you're encountering download issues, it's worth verifying your subscription level. Problems can arise if you're on a Prime membership and trying to download content beyond "All-Access Playlists" and your Amazon Digital purchases. In such cases, consider upgrading your subscription to Amazon Music Unlimited to unlock a broader range of download options.
Part 2.

How to Fix Amazon Music Not Downloading

When you're facing issues with Amazon Music not downloading, it can be frustrating. But fear not! We've got you covered with a step-by-step guide to troubleshoot and resolve the problem. Follow these 5 steps to get your Amazon Music downloads back on track.
Step 1: Check for Available Storage Space
Open your device's settings.
Navigate to "Storage."
Check the available storage space on your device. Ensure you have enough space to accommodate your music downloads. If storage is running low, consider deleting or moving unused files or apps to free up space.
Step 2: Clear the Amazon Music Download Queue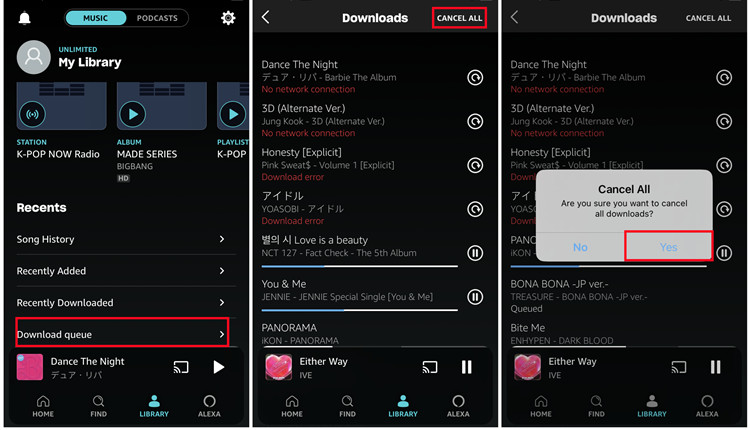 Open the Amazon Music app on your device.
Tap the "LIBRARY" section.
Scroll down to the bottom and tap the "Download queue" section.
Review the list of ongoing or failed downloads.
Tap the "Clear all" button to clear the queue.
Step 3: Clear Cache and Data
If you're using an Android device, you can clear the cache and data within the app settings.
Go to your device's settings.
Navigate to "Apps" or "Applications."
Find and select the "Amazon Music" app from the list of installed apps.
Tap "Storage."
Select "Clear Cache" to remove temporary files associated with the app.
For a more comprehensive step, you can also choose "Clear Data" to remove app-related data. Keep in mind this will log you out, and you'll need to sign back in.
If you're using an iOS device, please refresh your library instead.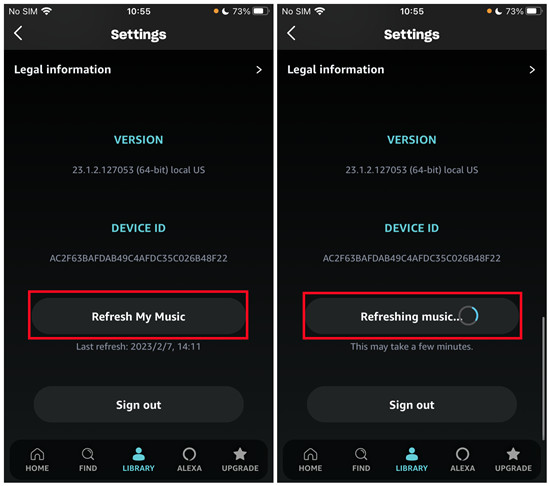 Open the Amazon Music app on your device.
Tap the Gear icon.
Tap "Settings."
Scroll down to the bottom and tap "Refresh My Music."
Step 4: Update the Amazon Music App
Open your device's app store, such as the Google Play Store (for Android) or the App Store (for iOS).
Search for "Amazon Music" in the store's search bar.
If there's an available update for the app, you'll see an "Update" button. Tap this button to update the app to the latest version.
Step 5: Reopen the Amazon Music App and Device
Close the Amazon Music app on your device. This might involve swiping it away from your recent apps or using the app manager.
Restart your device. This will refresh your device's resources.
After your device has rebooted, reopen the Amazon Music app and attempt your downloads again.
Step 6: Remove and Redownload Amazon Music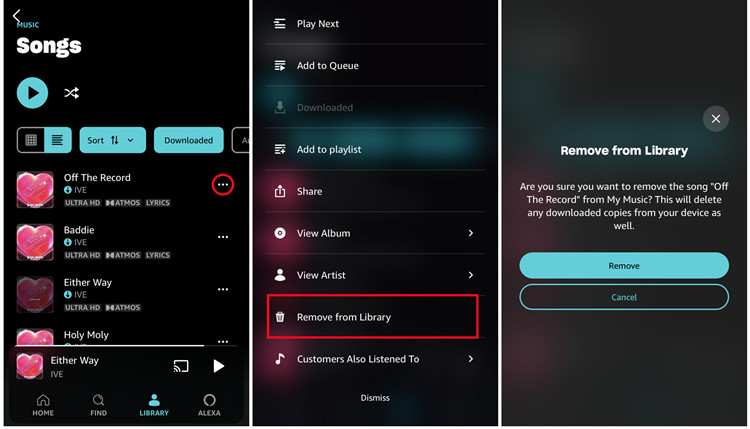 On your device, open the Amazon Music app.
Navigate to your library and find the songs, playlists, or albums you failed to download.
Tap on the hamburger icon next to the problem song.
Select "Remove from Library."
Tap the "FIND" section and search for the content you want to download.
Tap the Download button to initiate the downloading process.
Step 7: Reinstall the Amazon Music App
On your device, locate the Amazon Music app.
Press and hold the app icon until you see options or a context menu.
Choose "Uninstall" or "Remove" to delete the app.
Visit your device's app store (Google Play Store or App Store).
Search for "Amazon Music" and reinstall it by tapping the "Install" or "Download" button.
Part 3.

How to Download Amazon Music to MP3

For most Amazon Music users, the persisting "Amazon Music not downloading songs" issue is not about Amazon Music subscription service or several limitations, there should be an immediate fix which enables them to download music from Amazon as soon as possible. Sometimes you just need a powerful third-party tool to help.

We all know there will be a cost, but sometimes a cost on a powerful tool can fix the issue of Amazon Music storage location greyed out once and for all.

Here we'd like to introduce ViWizard Amazon Music Converter, which helps Amazon Music users download music tracks without limits like "Amazon Music not downloading". Besides, DRM-protection of the downloaded music tracks can be moved and converted into several universal formats like MP3, M4A, M4B, AAC, WAV and FLAC in ViWizard. What's more, other output parameters like sample rate, bit rate, bit depth and channel also can be set here.

Key Features of ViWizard Amazon Music Converter
Free Trial
Free Trial
* Security verified. 5, 481,347 people have downloaded it.
Download songs from Amazon Music Prime, Unlimited, and HD Music
Convert Amazon Music songs to MP3, AAC, M4A, M4B, FLAC, and WAV
Retain the original ID3 tags and lossless audio quality of Amazon Music
Support customizing the output audio parameters for Amazon Music
Step 1

Select and Add Music Tracks from Amazon

Click the 'Download' icon to download and install ViWizard Amazon Music Converter to the computer. Also make sure that the Amazon Music app with the signed-in account is on the desktop. Open ViWizard Amazon Music Converter, wait until it launches or relaunches the Amazon Music app. Now on the Amazon Music app, a simple drag-and-drop can add all the accessible music tracks to download.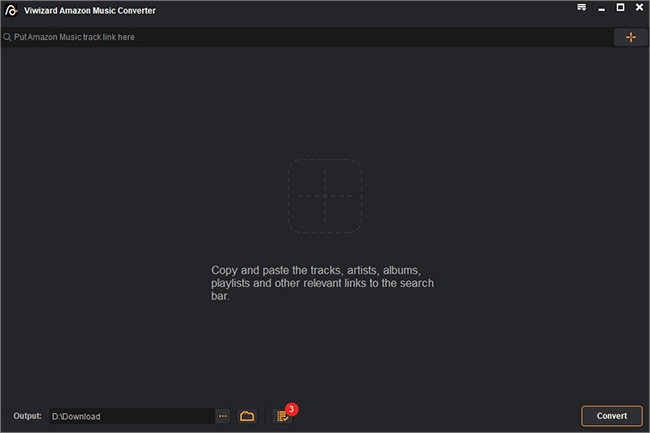 Step 2

Set the Output Parameters

On ViWizard Amazon Music Converter, now the added music should be listed with basic information like title, artist, duration, and the most important output format, which is the default M4A. Now click the menu icon and select 'Preferences'. On the Preferences window, click 'Convert' to check the output parameters settings. For output format, both MP3 and FLAC are recommended. For bit rate, both the standard 256kbps or HD Music's 356kbps can be set. Please click 'OK' button to save the settings here.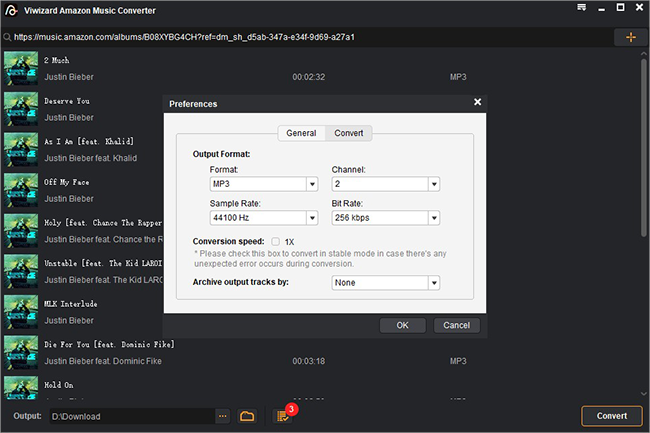 Step 3

Download and Convert Amazon Music Tracks

Now each song's output format should be reset. Click 'Convert' button to start the conversion or then feel free to click 'Cancel' button to put the conversion to a stop. After the conversion, click the file icon at the bottom of ViWizard Amazon Music Converter to browse all the downloaded music files.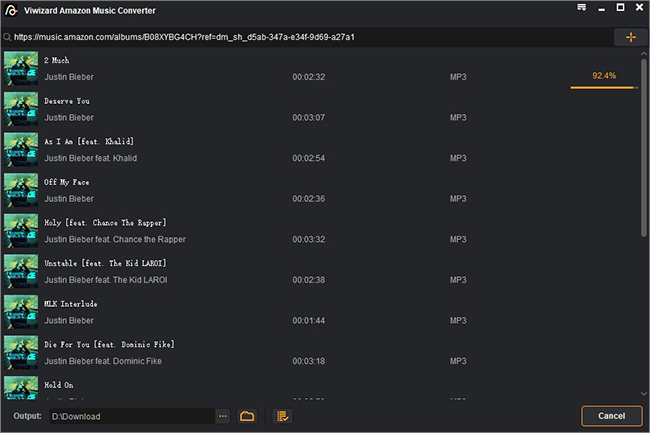 Conclusion
If Amazon Music won't download songs the next time, you know what you can do or how to download Amazon Music without limits - using ViWizard Amazon Music Converter. A click on the 'Download' icon can have it on your computer. Give it a shot!