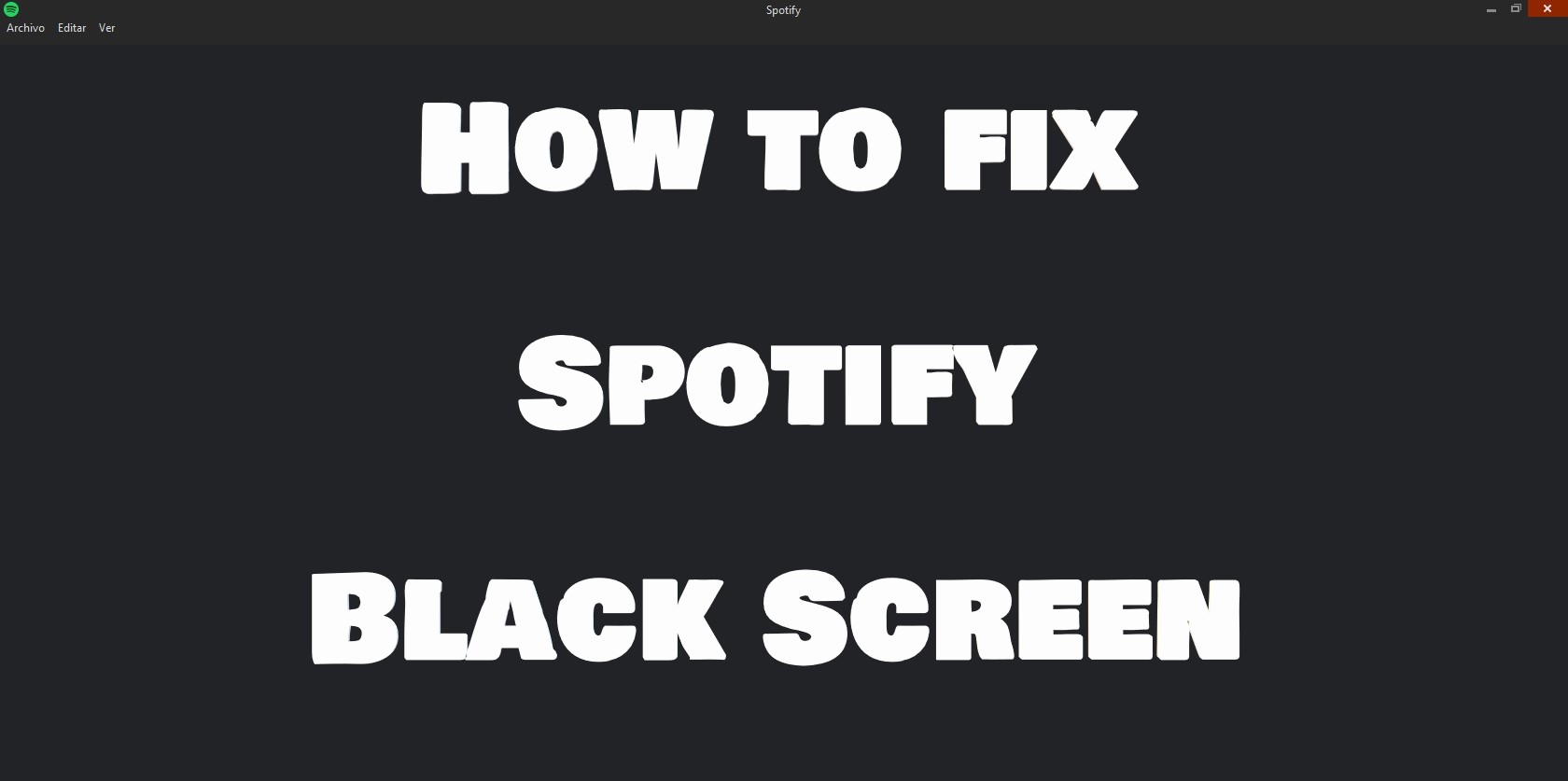 For a few weeks now I'm having a problem with my Windows Desktop version of Spotify: when I start it up, Spotify is just a black screen and the menu in the top left corner. It does nothing else so I can't use it. I've installed Spotify on a network computer by the way. Up until a few weeks ago it always worked so I'm guessing it has to do with an update of Spotify. Could anyone help me with this? - - Arthur from Spotify Community
Many Spotify users report that when they start the Spotify app, it only comes up with a black screen. They can do nothing with the malfunctioning software. And the Spotify team doesn't seem to have the perfect solution to troubleshoot this ongoing problem.
In the following sections, we've updated our instructions from useful fixes to alternatives for how to fix Spotify black screen issue on all devices and platforms.
Part 1. How to Fix Spotify Black Screen for all Platforms There're various causes when it comes to the existing black screen. And here're some useful troubleshooting fixes. Now pick up the device and follow these steps for how to fix Spotify black screen issue.
Hardware Acceleration
One of the causes of the Spotify black screen issue is the Settings in app. By default, Spotify will activate Hardware Acceleration on its app, this will can make the API run smoother. But it can also cause some graphic issues, so if you can't fix your Spotify black screen issue, turn the Hardware Acceleration off:
1. Open Spotify for desktop, go to Settings.
2. Scroll down to Compatibility.

3. See the Enable hardware acceleration tab and switch it off.
If the Hardware acceleration settings are tried with no luck - Spotify is just a black screen, there're more troubleshooting steps that can fix this Spotify black screen issue as expected for all platforms from app for desktop and mobile to web player.
1. Check Internet Connection
The most common Spotify black screen issue is the internet connection. You should check out these things based on the internet connection in use: Wi-Fi and mobile/cellular data connection.
For Wi-Fi connection:
Before restarting the Wi-Fi connection, feel free to have a simple test with other apps to see if the Wi-Fi in use work fine or switch to another available Wi-Fi to start the app.
Tips: if using home Wi-Fi, more help can be found on the router's support site.
1. In the device Settings, switch Wi-Fi off.
2. Wait 30 seconds, then switch the Wi-Fi back on.
This should reestablish a connection that work fine to fix the black screen.
Note: If in some shared or public networks, including schools or offices, chances are that there are restrictions to access to full performance of the app.
For mobile/cellular data connection:
Check that there are enough data allowance in the device's settings.
2. Run App as Administrator
Sometimes running an app as Administrator can make it work as expected without the issue like black screen.
Note: Before running Spotify app as administrator, make sure end the app process with the Task Manager.
1. On desktop, right-click the Spotify app icon, then scroll down to Run as administrator.
2. In the Use Account Control pop-up, click Yes to tun the app as administrator.
Now check if the issue has been fixed when running the app as administrator.
3. Delete Duplicate App Processes
If you open too many Spotify processes, that might cause a Spotify black screen issue. To delete duplicate processes:
1. Right-click on the taskbar on the bottom of the PC screen, then click Task Manager.
2. Find duplicate processes and delete them.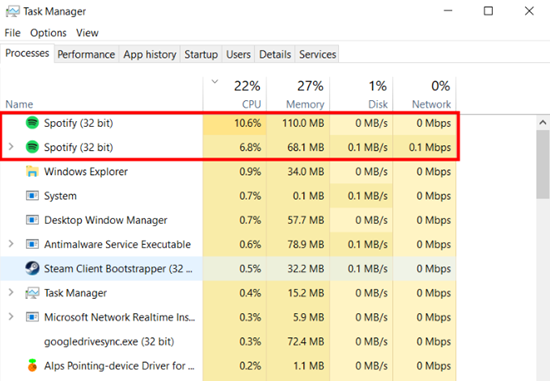 4. Allow App to Communicate through Firewall
In our test, this step to adjust some firewall settings can get Spotify back to working as expected.
For Windows:
1. From the Windows Start search bar, go to Check firewall status.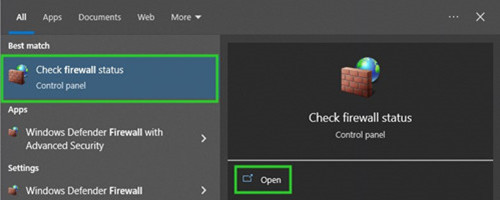 2. In the pop-up, click on Allow an app or feature through Windows Defender Firewall option in the side menu.
3. Also see the notification: "Block all connections to apps that are not on the list of allowed apps" next to Incoming connections.
4. In the lists, scroll down to the spotify.exe and allow it for Private and Public connections.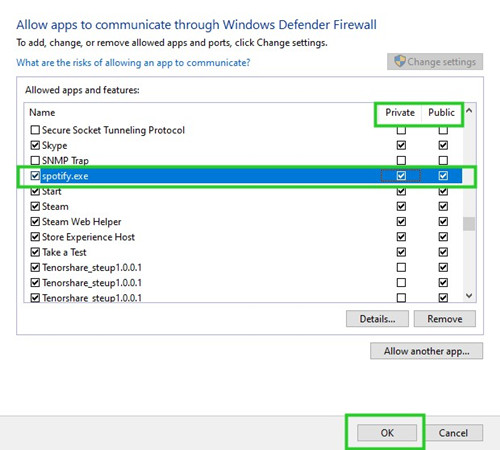 5. Click OK.
5. Allow App to Access Controlled Folders
If an app that is safe but identified as harmful, it'll be limited and cause issue.
For Windows:
1. From the Windows Start search bar, go to Settings.

2. In the pop-up, click on the Update & Security section.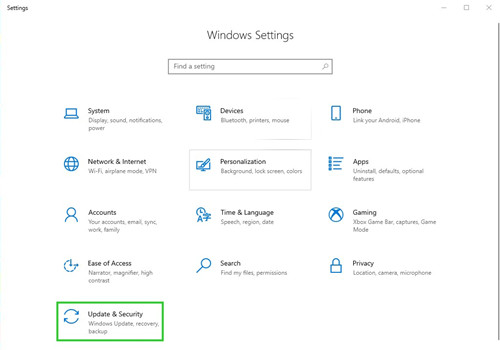 3. Click Windows Security in the side menu and then Virus & threat protection under Protection areas.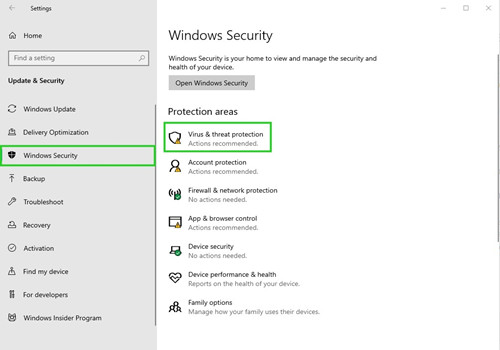 4. Under Virus & threat protection, scroll down to Virus & threat protection settings and click Manage settings.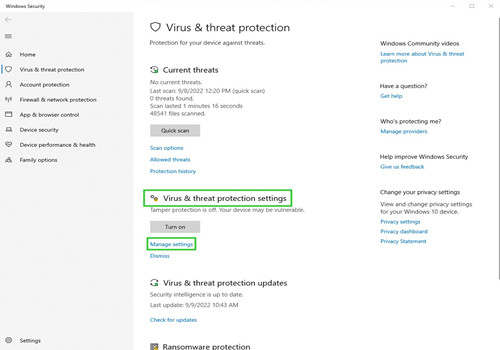 5. Scroll down to Controlled folder access and click Manage Controlled folder access under it.

6. If the Controlled folder access is on, switch it off.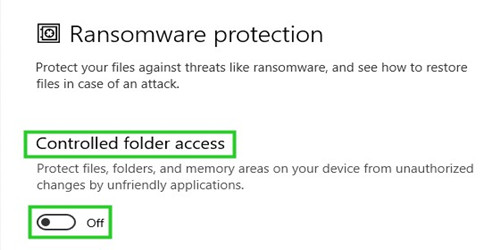 Note: If the issues still exists the app is made as an exception to the firewall and the anti-virus software, also make sure this address http://spclient.wg.spotify.com is added as an exception.
6. Perform a Clean Reinstall of App
I bet users can reach this step before reading this post to uninstall and reinstall the app with the black screen issue at hand, but chances are that the previous uninstallation is not clean enough to fix the issue.
Note: You'll need to redownload all the downloaded music and podcasts after reinstalling the app. Please make sure there's a backup or have screenshots of them before uninstalling the app. From here our software can help with a safe download - no Premium subscription requires!
Tips: Settings in the app will be reset to the defaults, also make sure to make screenshots.
From here to fix Spotify black screen issue, steps to clean reinstall the app are different on platforms.
For Android:
1. On Android, go to Settings.
2. Scroll down to the Apps & Applications, then Manage applications.
3. From the list of apps, scroll down to Spotify and tap it.
4. Tap Storage, then Clear Data.
5. Now from the Settings, go to Storage > Android > Data and delete com.spotify.spotify.music folder.
For Windows:
1. Close Spotify.
2. From the Start search bar / Start menu on desktop, click Settings to go to Control Panel.
3. In the pop-up, see Programs section and click Uninstall a program underneath it.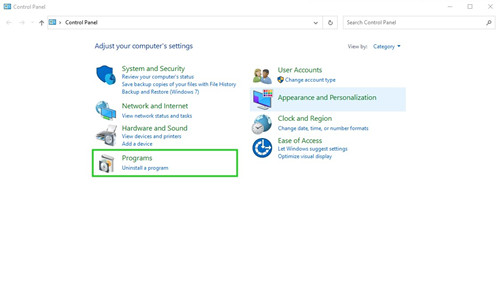 4. Scroll down to Spotify or use the search tool to locate it, click Uninstall.
5. Follow the instructions on the screen.
6. Back to the Start search bar, enter %AppData% and hit enter.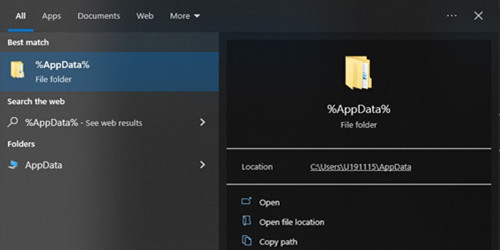 This should open up AppData\Roaming

7. Delete the Spotify folders.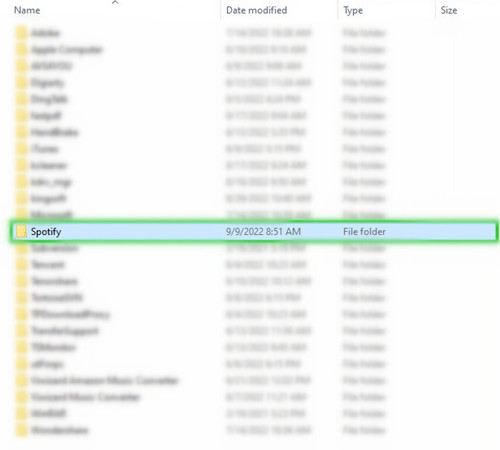 Or open AppData\Local or C:\Users\*USERNAME*\AppData\Local and delete and Spotify folders.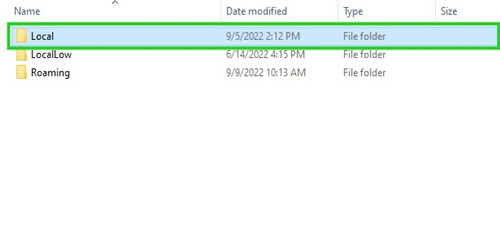 Tips: In the app's Settings page, also check out the Offline storage location and locate it on the computer.

Now restart the computer device and reinstall Spotify app to check if the issue has been fixed.
For Mac:
1. Close Spotify.
2. On desktop, go to Finder.
3. In the menu at the top, click Go then hold the Option/ Alt key and select Library.
4. Open Caches and delete the com.spotify.client and com.spotify.client.helper folders.
5. See and click the black arrow icon.
6. Open Application Support and the Spotify folder.
7. Delete the Spotify folders.
Part 2. How to Listen to Spotify Songs without Black Screen Issue
Normal case is that the issue has been fixed within the steps above. However, if the fixes from above are tried with no luck - the black screen issue is still existing on one or several platforms, there're other methods to listen to Spotify songs without Spotify black screen.
1. Switch to Another Platform
Leave the platform that introduce problems and switch to another platform. This can work for those experience Spotify web player black screen issue because most fixes work fine to desktop app, while seems useless to the web player.
If the service works with another platform, switch to that platform and wait until an availble update including fixes to black screen.
2. Switch to Another Device
If the Spotify blacks out on one device but works on another one, you can use the Spotify Connect feature to connect two devices and play songs on the one you want.
Tips: This feature requires an active Premium subscription.
1. Open Spotify on 2 devices.
2. Click the Connect Device button and choice a device to listen to songs.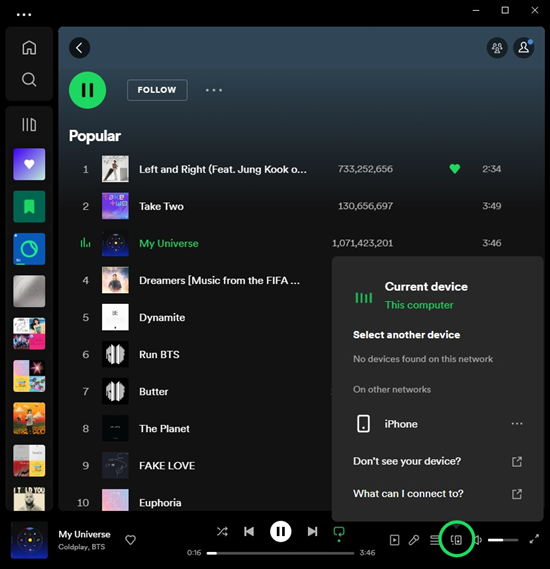 3. Download Spotify Songs across Devices
No matter on what platforms or devices, there's also the best alternative to fix the issue at hand - download songs to listen to offline. Once the music is downloaded for offline, it is made without the API.
Key Features of ViWizard Spotify Music Downloader

Download Spotify tracks, albums, playlists, artists, and podcasts with free accounts
Up to six popular audio formats like MP3, AAC, M4A, FLAC, M4B, and WAV for you
Remove the digital right managements and advertisements from all Spotify contents
Work at 5× faster speed and save Spotify audio with the original quality and ID3 tags
While the download service is for Premium subscribers, ViWizard Spotify Music Converter can download music songs for users without an existing subscription and convert it into 6 different formats, including MP3, AAC, M4A, M4B WAV and FLAC at a 5x super faster speed. Once the conversion completes, the black screen won't appear and the listening experience is even greater!
More Spotify Tips & Tricks