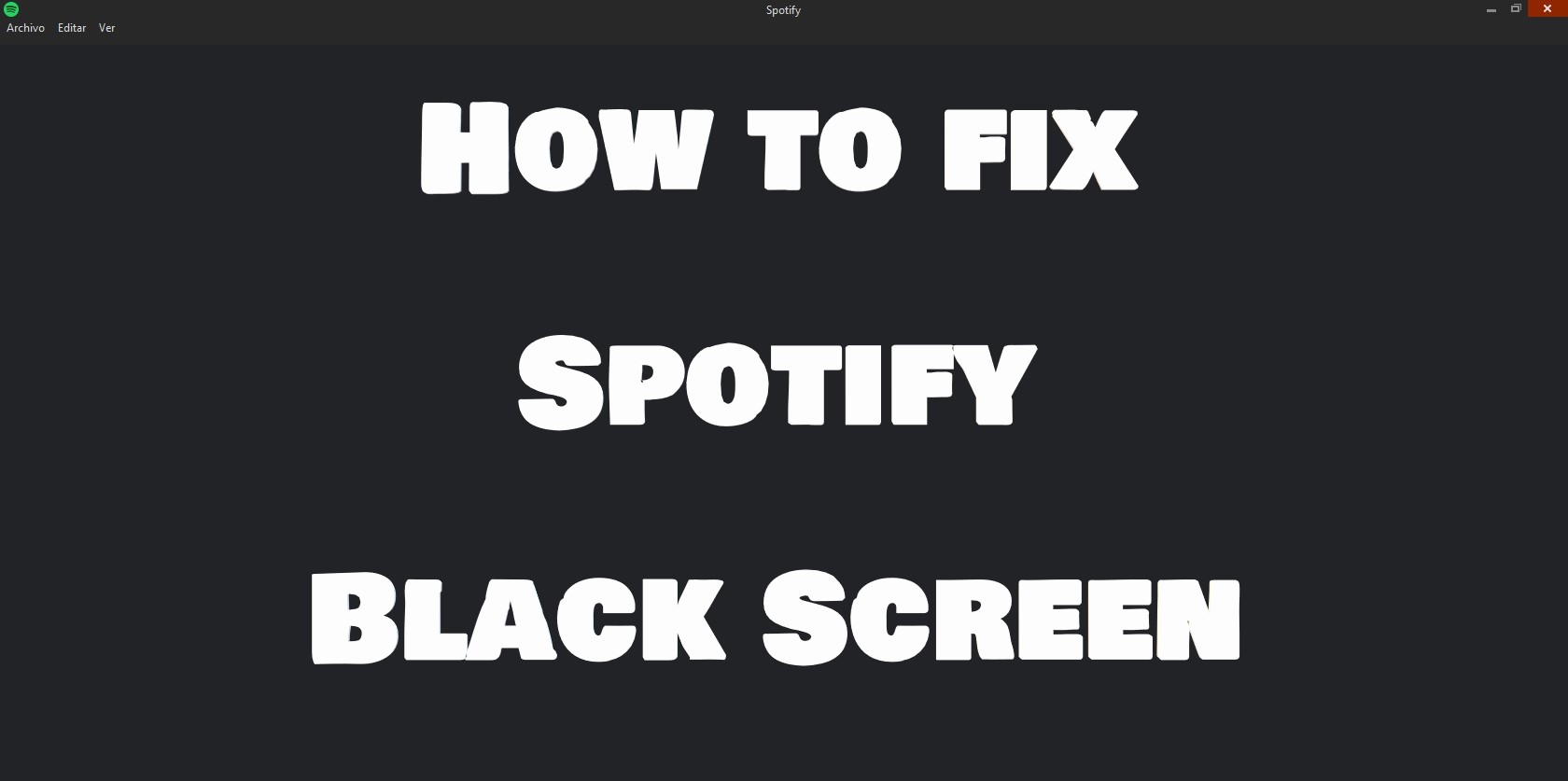 For a few weeks now I'm having a problem with my Windows Desktop version of Spotify: when I start it up, Spotify is just a black screen and the menu in the top left corner. It does nothing else so I can't use it. I've installed Spotify on a network computer by the way. Up until a few weeks ago it always worked so I'm guessing it has to do with an update of Spotify. Could anyone help me with this? - - Arthur from Spotify Community
Many Spotify users report that when they start the Spotify app, it only comes up with a black screen. They can do nothing with the malfunctioning software. And the Spotify team doesn't seem to have the perfect solution to troubleshoot this ongoing problem.
In the following sections, I'm going to show you how to fix Spotify black screen issue on your device and a workaround to completely solve the problem.
Solutions to Spotify Black Screen Issue
There're many reasons that can possibly cause Spotify black screen issue. And here're some of the solutions that you can do it yourself to fix the problem.
1. Check Internet Connection & Restart Spotify App
The most common cause of Spotify black screen issue is your connection. If the Spotify app can't detect internet on your device, then the API can not be loaded and it only displays with a blackout screen.
To fix your internet connection, right-click the internet icon on the bottom left corner of your computer screen and click Troubleshoot problems to fix your connection.

On your phone, check your cellular connection or if you're using Wi-Fi, restart your router to refresh your Wi-Fi.
2. Disable Hardware Acceleration
By default, Spotify will activate Hardware Acceleration on its app, this will can make the API run smoother. But it can also cause some graphic issues, so if you can't fix your Spotify black screen issue, turn the Hardware Acceleration off:
1. Open Spotify on your desktop and go to settings.
2. Scroll down and click SHOW ADVANCED SETTINGS.
3. Scroll down again and toggle the hardware acceleration to black to turn it off.

3. Delete & Reinstall Spotify App
If you still can't fix the black screen issue, you can delete the app on your device and reinstall the latest version of Spotify. Note that all the cache and downloaded songs will also be deleted along with the app.
4. Use Spotify Connect to Play Songs
If your Spotify blacks out on one device but works on another one, you can use the Spotify Connect feature to connect two devices and play songs on the one you want.
To enable Spotify Connect:
1. Open Spotify on two devices.
2. Click the Connect button and choice a device to play songs. (This feature requires Spotify Premium)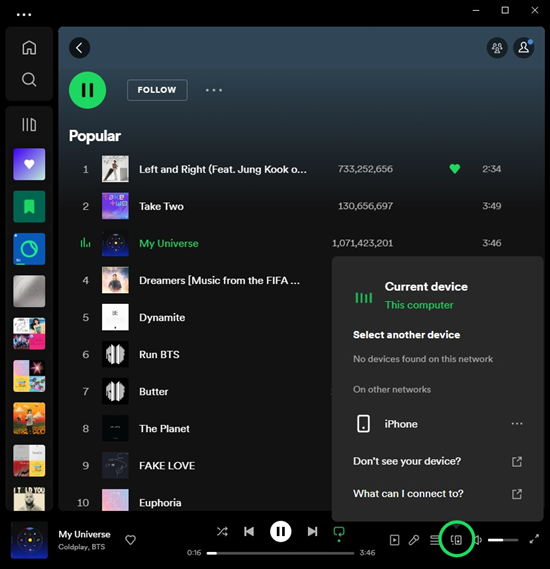 5. Delete Duplicate Spotify Processes
If you open too many Spotify processes, that might cause a Spotify black screen issue. To delete duplicate processes:
1. Right-click on the taskbar on the bottom of your PC screen, then click Task Manager.
2. Find duplicate Spotify processes and delete them.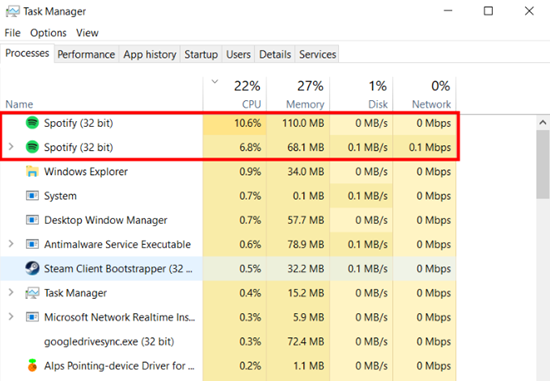 Ultimate Solution to Fix Spotify Black Screen Issue
If you have tried out all the solutions listed above and still can't fix your Spotify black screen issue, the next solution I'm going to show you can fix this problem permanently. No matter you have Spotify black screen on Mac, Windows 10 or your phone, this will work on all your devices.
Since Spotify hasn't provided an official solution to Spotify black screen issue, there's no other place you can resort to solve this problem. But if you still want to stream Spotify songs, you can definitely make it without the Spotify API.
With ViWizard Spotify Music Converter, you can download all your Spotify songs to your computer without Premium. All the downloaded songs can be played on any other media players without the Spotify app, so then you don't have to worry about Spotify black screen issue anymore.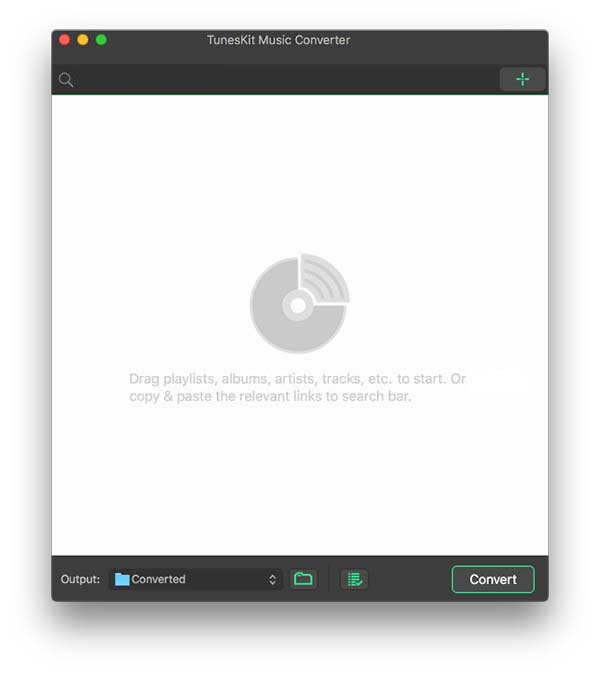 ViWizard Spotify Music Converter is designed to convert Spotify audio files into 6 different formats such as MP3, AAC, M4A, M4B, WAV and FLAC. Almost 100% of the original song quality will be kept after converting process. With 5X faster speed, it only takes few seconds to download each song from Spotify.

ViWizard Spotify Music Converter Key Features
Convert and download Spotify songs to MP3 and other formats
Download any Spotify contents at 5X faster speed
Play Spotify songs offline without Premium
Play Spotify without black screen issue
Save Spotify with the original audio quality and ID3 tags
1

Launch ViWizard and Import Songs from Spotify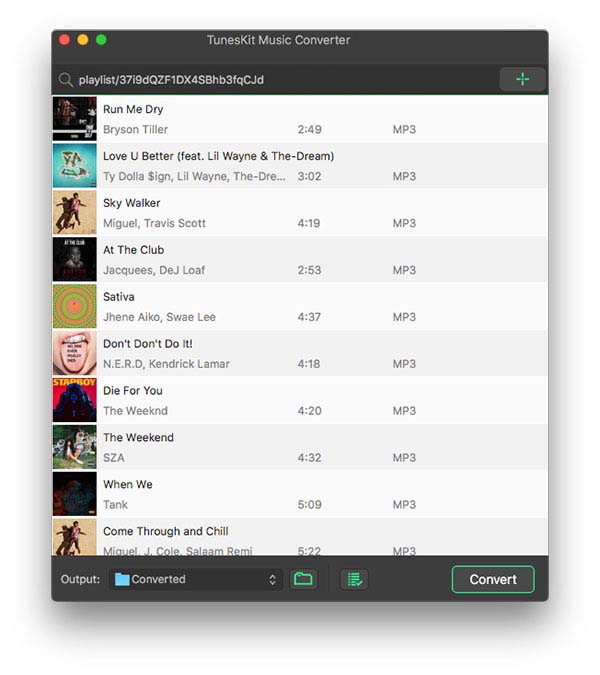 Open ViWizard software and the Spotify will be launched simultaneously. Then drag and drop tracks from Spotify into the ViWizard interface.
2

Set Up Output Parameters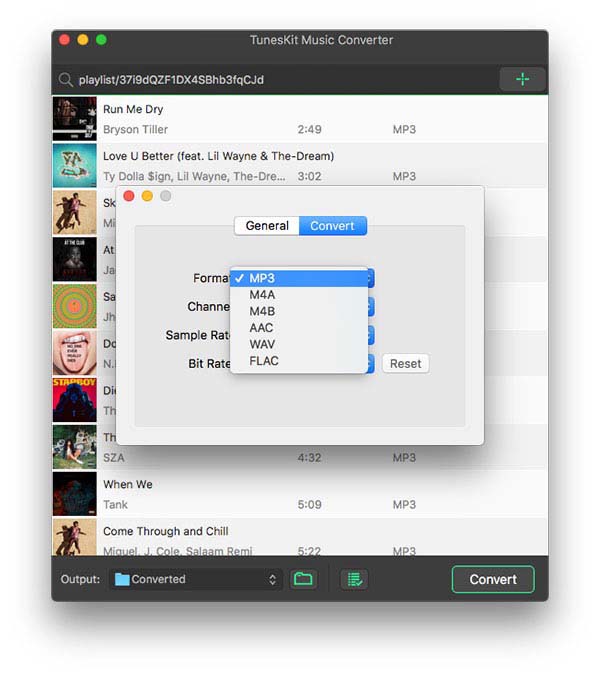 After adding music tracks from Spotify to ViWizard, you can choose the output audio format. There're six options including MP3, M4A, M4B, AAC, WAV and FLAC. And then you can adjust the audio quality by selecting the output channel, bit rate, and sample rate.
3

Start the Conversion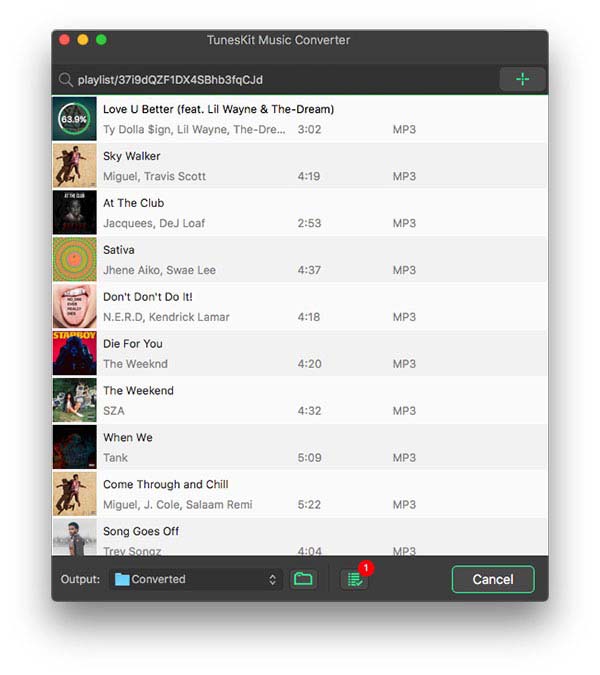 Once all the setting is finished, click the "Convert" button to start loading Spotify music tracks. After the conversion, all the files will be saved to your specified folder. You could browse all the converted songs by clicking "Converted" and navigate to the output folder.
4

Play Spotify Songs without Black Screen Issue

After downloading Spotify songs to your computer, you can then put them to any devices and play them without the Spotify app. No black screen issue will bother your smooth Spotify songs listening and you can enjoy Spotify for free forever.

More Spotify Tips & Tricks