Most big-name music-streaming services have a lot of features in common, while Tidal offers higher quality compared to the other big names. Of course, many people enjoy listening to music not only because of the sound quality and beautiful melodies but there are also many music lovers who do so that they can sing along with their favorite songs. Therefore, lyrics are especially important for those people. Thankfully, Tidal offers a feature to get lyrics to your favorite songs if you are a subscriber. You can get more details about Tidal lyrics in this post to get lyrics to your favorite songs.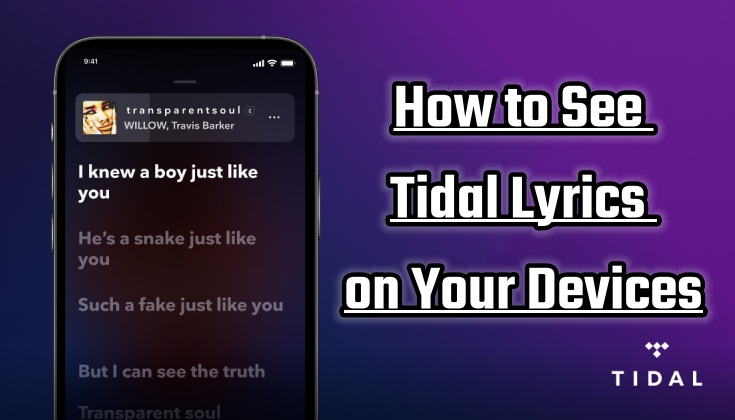 Part 1.

FAQs About Tidal Lyrics

Q1.Does Tidal have lyrics?

A1.Yes. You can deep into a Tidal song with its lyrics by tapping on the Lyrics icon. Just find the icon on the Now Playing screen of your app. And it is worth noting that you can enjoy time-synced lyrics of your favorite songs provided you subscribe to a tidal membership. If you are on the free version and want to view the lyrics, then tidal will prompt you to upgrade your subscription.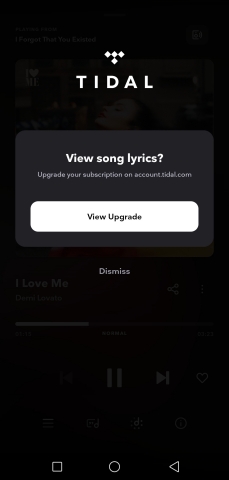 Q2.Can you see Tidal lyrics on the TV app?
A2.No. Unfortunately, you can only access Tidal lyrics on mobile phones and on desktops so far.
Q3.What languages are Tidal lyrics available in?
A3.Based on its availability, you can enjoy lyrics to your favorite music in 41 languages. This is shown below:
Afrikaans, Arabic, Azerbaijani, Bengali, Bulgarian, Chinese (Simplified), Chinese (Traditional), Croatian, Czech, English, Danish, Dutch, Filipino, Finnish, French, German, Greek, Hebrew, Hindi, Hungarian, Indonesian, Italian, Japanese, Korean, Malay, Mongolian, Nepali, Norwegian, Persian, Polish, Portuguese, Romanian, Russian, Serbian, Slovak, Spanish, Swedish, Thai, Turkish, Ukrainian, Vietnamese
Q4.Why does Tidal not show lyrics?
A4.This can happen if you don't have the latest version of the Tidal app. You can check the version of your tidal and update it to the latest version if available. If the lyrics do not show on a particular song, that means there is no lyric for this song in the Musixmatch database.
Q5.How to close the Tidal lyrics?
A5.You can tap the Lyrics icon again to close and go back to the Now Playing screen. If you are an Android phone user, you only need to tap the back button in the top left corner to close the lyrics.
Part 2.

How to Find Lyrics on Tidal

Like Spotify, Apple Music, Amazon Music, and other music services, Tidal imports lyrics from Musixmatch, too. And Musixmatch is the music industry that prefers provide to lyrics. The lyrics feature of Tidal is access available on mobile, desktop, and web player versions. Now you can get the specific steps to find lyrics on Tidal according to your devices.
1. How to See Tidal Lyrics on Mobile Phone
After you subscribe to a HiFi or HiFi Plus Premium account, just follow the steps below to see the lyrics of your favorite songs. These steps are applicable for both iOS and Android mobile users.
Step 1. Head to the Tidal of your device and log into your premium account.
Step 2. Choose a song that you want to see the lyrics, then tap it to play.
Step 3. Tap the playing view below to the Now playing screen.
Step 4. Find the Lyrics icon at the bottom and tap it, then you can see the lyrics of the songs you selected.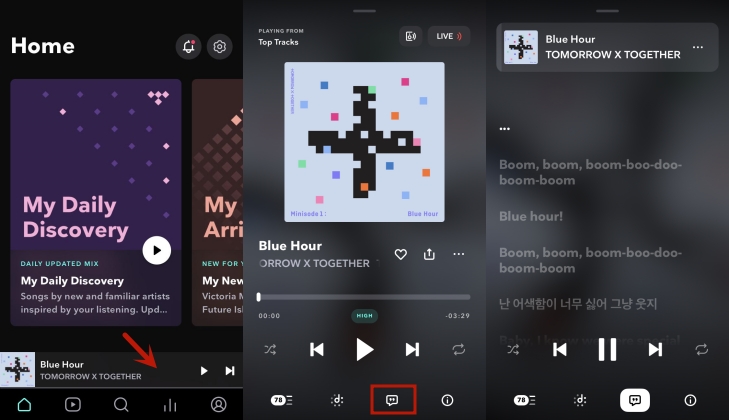 Step 5. You can also choose a specific line of lyrics and control it to play the part you want to hear.
2. How to Get Tidal Lyrics on Desktop
The following steps are for desktop Tidal users to get lyrics. You can practice them on your Mac, PC, and web player.
Step 1. Open Tidal on your desktop and select your desired song to play.
Step 2. Click the Now Playing at the bottom to come to the new screen.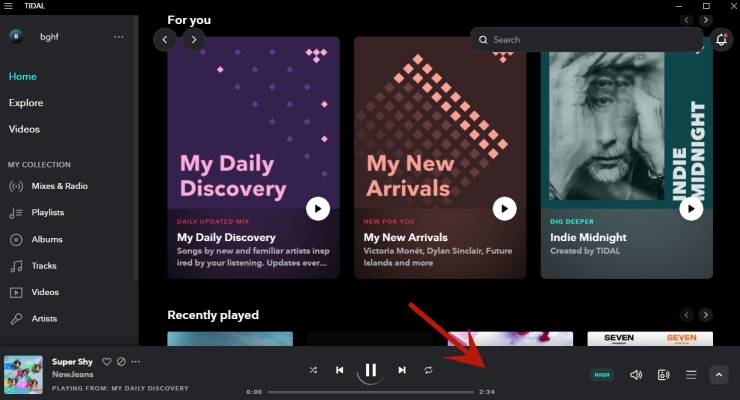 Step 3. Then click the Lyrics icon on the screen and you can enjoy the song's lyrics now.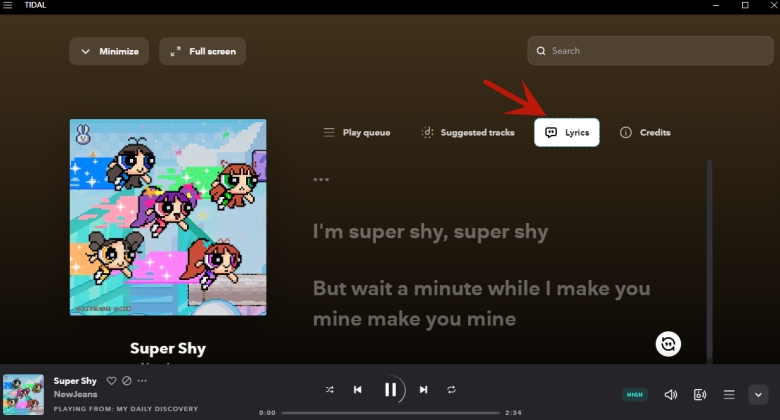 Bonus Tip:

Play Tidal on other Devices without Subscription

As mentioned earlier, you need to subscribe to a membership account so that you can access to see the lyrics. And if the Musixmatch that provides the lyrics doesn't have the lyrics for the song you want, then you won't be able to get the lyrics on Tidal either. Anyway, those who subscribe to a membership will have some exclusive benefits like seeing lyrics and enjoying high-quality sound. However, here is a bonus tip you can get without a subscription. The bonus is that you can play Tidal songs offline on other devices forever even if you are on the free version. You can convert and download Tidal music as MP3 or other files without a subscription, and all you need is a music converter.

ViWizard Tidal Music Converter is such a splendid converter that can help you download songs, albums, playlists, and audiobooks from Tidal to MP3, AAC, and other four popular formats at 5X speed. At the same time, the converted files you get still preserve the high quality and ID3 tags of the original tracks. Moreover, you can enjoy such high-quality music without ads even if you are on the Tidal free version. After conversion, you can play the converted music files on your phone or other devices freely. Now you just need a few clicks to download and convert Tidal songs to your devices locally. Have a try so that you can listen to Tidal music without a subscription even without the Tidal app.

Key Features of ViWizard Tidal Music Converter
Free Trial
Free Trial
* Security verified. 5, 481,347 people have downloaded it.
Download any Tidal content, including songs, albums, playlists, and artists
Support exporting Tidal music to MP3, AAC, FLAC, WAV, M4A, and M4B
Preserve a whole set of ID3 tag information in the downloaded Tidal songs
Handle the conversion of Tidal music up to 5× faster speed and in batch
Step 1

Add Tidal Songs to ViWizard

Install and launch ViWizard Tidal Music Converter, then select the songs you want to download and convert in the opened Tidal app. You can drag and drop the music tracks from Tidal to ViWizard's interface directly. If you want to batch download and convert at once, just add your playlists to the converter easily.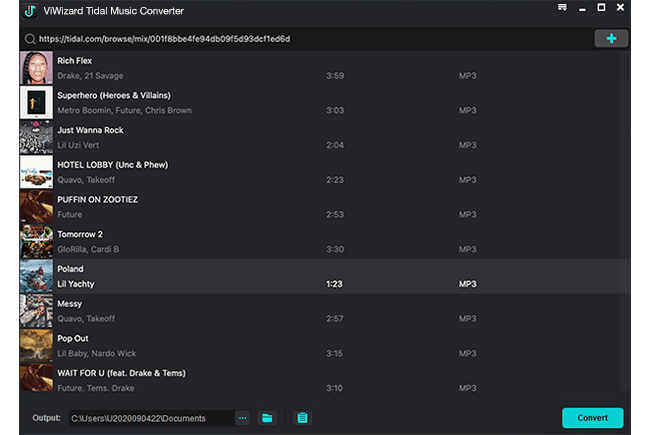 Step 2

Configure Output Format

After all the music tracks are added, then you can configure the output format and parameters. Just click on the menu icon given in the upper-right corner, then choose the Preferences and Convert button. On this page, you can choose MP3 as your output format and adjust the channel, sample rate, and bit rate. After that, save your settings by clicking the OK button.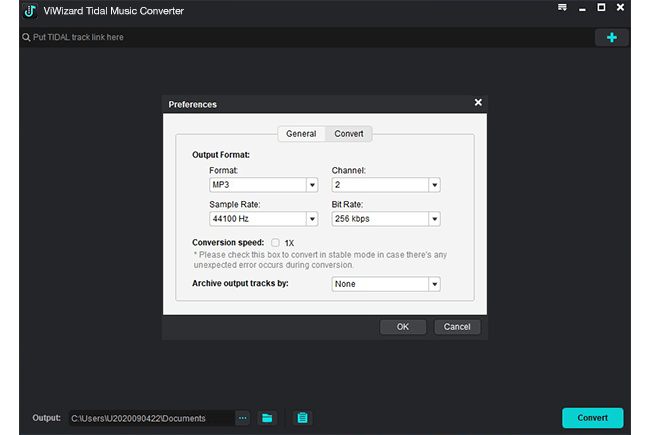 Step 3

Download Tidal Songs to Your Device

Browse and check down the list of songs you've added, then click the Convert button to start the conversion. Now you can get the converted files on your device after a few seconds. Just click on the OK button to open the folder that contains the downloaded Tidal music. Then you can use a USB cable to transfer them to the supported device that you want to play.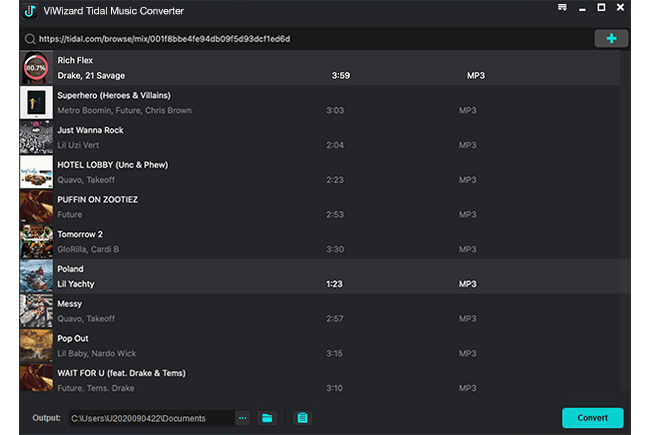 Bottom Line
In a word, you can see and find lyrics on Tidal simply and briefly, but only if you have a subscription. And even if you do, there are some songs whose lyrics you still can't access. However, if you only want to listen to Tidal music on other devices, try ViWizard Tidal Music Converter to convert music as files so that you can play Tidal music on other devices offline forever.