It is enjoyable to sing with lyrics while listening and the easiest way to do so is to grab a streaming service. Obviously, Amazon Music is one of the greatest platforms to show song lyrics. With a free account to stream Amazon Music, you have to put up with ads. As a part of Amazon membership, Amazon Music provides commercial-free 100 million songs without extra cost. The good news is that whether you subscribe to Amazon Music or not, Amazon Music enables you to see lyrics.
However, quite a few Amazon Music newcomers always have no idea about how the Amazon Music app show lyrics. If you are thinking of a similar situation and facing the same confusion, this article will tell you several ways to see Amazon Music lyrics on multiple devices.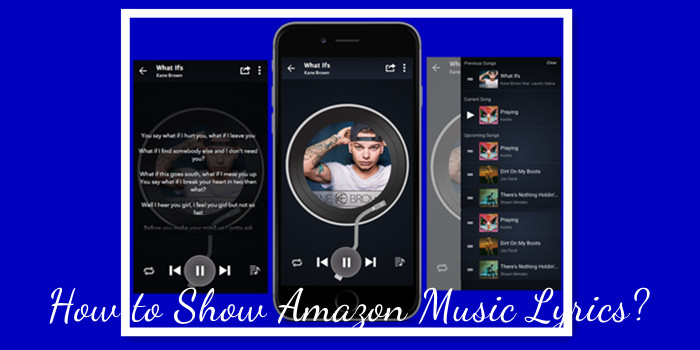 Part 1.

How to See Amazon Music Lyrics Android/iPhone

When it comes to the most-used Amazon Music app, there are several steps that need to go through to show lyrics on Amazon Prime Music or Amazon Music Unlimited lyrics. Reading on to learn how to view Amazon Music lyrics Android/iPhone.

Step 1. Open the Amazon Music app on your mobile device.

Step 2. Pick any song to start streaming.

Step 3. Open the Now Playing screen from the bottom music player.

Step 4. Under the cover, you can see 'Tap to view Lyrics' and tap it to show Amazon Music app lyrics.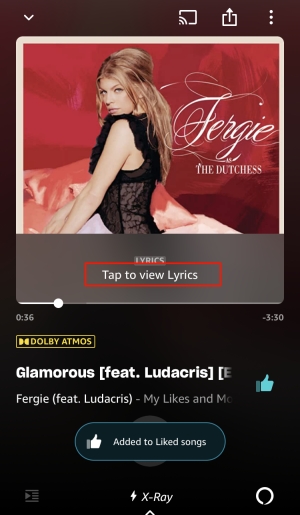 Note
To hide Amazon Music lyrics, tap on the lyrics once again on the Now Playing screen.
Part 2.

How to See Amazon Music Lyrics on PC/TV

It is easy to grab the Amazon Music lyrics on your computer whether through the Amazon Music desktop app or the web player. For Amazon Music TV users, please make sure you've installed the Amazon Music app before to show Amazon Music lyrics on TV. Noted that not all TV Amazon Music app has the "lyrics" option, such as Samsung Smart TV.
2.1 Show Amazon Music Lyrics on PC/Mac
Step 1. Launch the Amazon Music desktop app or visit amazonmusic.com.
Step 2. Select a song to play and hover your cursor on the mini-cover from the bottom. Alternatively, you can hit on the LYRICS button at the music player to show the Amazon Music lyrics.

Step 3. It will prompt you to open the player. After opening, a new window will display the album cover on the left side and the Amazon Music lyrics on the right.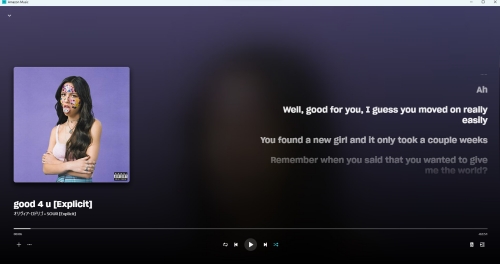 2.2 Show Amazon Music Lyrics on TV
Step 1. Open the Amazon Music app on the Smart TV.
Step 2. Stream a song from the Amazon Music app.
Step 3. From the Now Playing screen, select "X-Ray Lyrics".
Step 4. On the TV screen, Amazon Music will continue to show Amazon Music lyrics on Smart TV for subsequent songs.
Note
To go into the full-screen view, select the small "greater-than" pointing up when hovering over the circle of the streaming album.
Part 3.

How to Troubleshoot Amazon Music Lyrics Missing

But there are some things that don't quite feel right. The "lyrics" option button - which should show users the lyrics of Amazon Music, often does nothing. Some users reported issues such as Amazon Music lyrics missing or Amazon Music lyrics not working. This is because not all the accessible songs with Amazon Music services have lyrics.

If there's a song labeled a "LYRICS" sign below its title but remains in question, here we offer several workable solutions to troubleshoot the Amazon Music Lyrics Missing issue.
3.1 Check the Lyrics Availability
As stated, users using Amazon Music Web Player usually don't have the lyrics issue for the songs that do have lyrics in Amazon Music, so users can check the song in question on the Amazon Music Web Player.
On the browser, go to music.amazon.com to navigate the Amazon Music Web Player.
On the Amazon Music Web Player, search for the song in question with a specific title or a search term to bring up multiple results.
Find the song in question and stream it.
Check if there are lyrics on the right side.
If the song in question doesn't have lyrics, the right side will be empty. If there are lyrics to the right, then there is something wrong with the Amazon Music app. To solve the issue caused by the buggy Amazon Music app, you can try the following methods to check if the Amazon Music lyrics missing issue persists.
Even though caches can store your Amazon Music data, too-heavy caches have the ability to make conflict with your apps. Sometimes, clearing Amazon Music caches can resolve a lot of problems that Amazon Music occurs.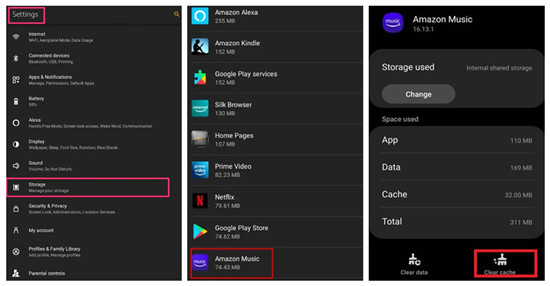 On Android, navigate to Settings > Storage > Amazon Music > Clear Cache.
On iOS, there is no option to clear app caches unless you uninstall the app. But you can sign out and sign back into the Amazon Music app to clear caches linked to your current account.
3.3 Update the Amazon Music App
Since you're not alone to encounter Amazon Music lyrics not working, some users may turn to Amazon Music support for help. Once they get the feedback and issues, developers will try their best to solve the issues. After that, they would give the latest version of the Amazon Music app with the issues fixed. Hence updating Amazon Music is a good choice to solve most errors.
Go to the app store where you installed Amazon Music.
Enter Amazon Music on the search bar.
On the results page, see if the Update button is available. If yes, hit on it to download the latest Amazon Music app.
3.4 Reinstall the Amazon Music App
Usually, updating can solve this issue. In case Amazon Music lyrics not working can't be fixed by an update, you'd better uninstall the Amazon Music app to get rid of the issue thoroughly.
Tap the Amazon Music app icon on the Home page.
Select Uninstall/Remove App from the list.
Go to the app store on your device to install the Amazon Music app again.
3.5 Restart the Device
If the above methods don't work well, then the issue might be with the device itself, not the Amazon Music app. So you should shut down your device to give it time to refresh and then restart it. Just hold the Power button and select Restart to reboot your Android device. For iOS users, long press the Volume Up button and the Power button simultaneously. And from the top, slide to power off. After that, hold the Power button for 10 seconds until the Apple logo appears, and the device will be booted.
Part 4.

How to Stream Amazon Music without Limits

The previous instructions still work for some Amazon Music users but, instead, it needs luck to show Amazon Music lyrics - users can't find a single song with the lyrics so to check the lyrics availability again and again. The truth can be that, most of the songs, no matter what kind of subscription services, don't include this feature. What's more, with an Amazon Music subscription, all downloaded songs are only accessible with the Amazon Music player, and you are not allowed to export Amazon Music for listening.

Hence, if you want to get out of the control of the platform and stream Amazon Music without limits, ViWizard Amazon Music Converter can offer the best help.

ViWizard Amazon Music Converter is a professional tool that enables Amazon Music users to download and convert music from Amazon Music to common formats. It supports the parameter settings of output format, channel, bit rate, bit rate, and sample rate. For more individual use, some universal formats like MP3, M4A, M4B, WAV, AAV, and FLAC can be set as the output format. For a better experience, the original audio quality will be kept after conversion even if you choose to input Amazon HD Music. For organizing, the ID3 tags can be retained.

Key Features of ViWizard Amazon Music Converter
Free Trial
Free Trial
* Security verified. 5, 481,347 people have downloaded it.
Download songs from Amazon Music Prime, Unlimited, and HD Music
Convert Amazon Music songs to MP3, AAC, M4A, M4B, FLAC, and WAV
Retain the original ID3 tags and lossless audio quality of Amazon Music
Support customizing the output audio parameters for Amazon Music
The two versions of ViWizard Amazon Music Converter for Windows and Mac can be downloaded with a click on the above button. Try to get Amazon Music smooth listening on any device without limits.
Step 1

Add Amazon Music to ViWizard

Launch the correct version of ViWizard Amazon Music Converter on your computer and the program will detect the pre-installed Amazon Music desktop app and launch it for conversion. On the pop-up Amazon Music, make sure you've signed in to your Amazon Music account with a subscription to Prime or Unlimited to access songs. A simple drag-and-drop can enable you to add Amazon Music tracks to ViWizard Amazon Music Converter. On ViWizard's center screen, all the added songs should be listed with some information such as title, artist, duration, and the most important output format.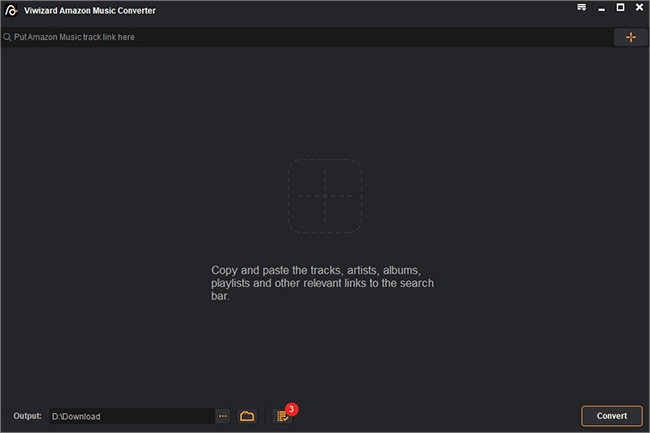 Step 2

Customize the Output Parameters

Noted the output format next to each song's duration. To enable the song for more individual use or for a better listening experience, click the menu icon and select Preferences. On the pop-up window, click Convert and all the supported output parameters can be reset here. For streaming Amazon Music without limits, MP3 is recommended. Also, the output tracks can be archived by None, Artist, Album, or Artist/Album for sorting out. Please click the OK button to save all the output settings.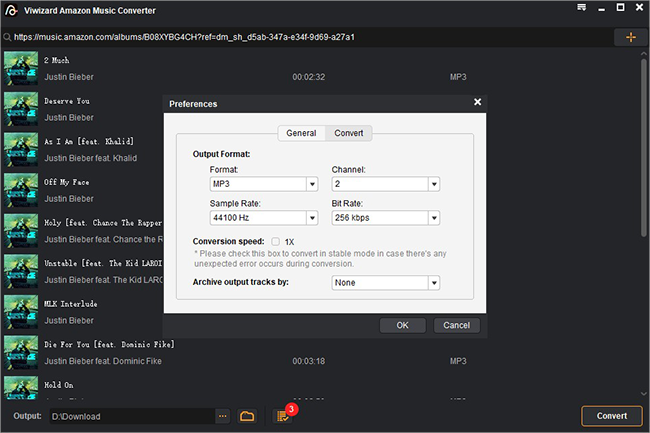 Step 3

Download and Convert Amazon Music

Now, a click on the title of a song will help rename the output file. After that, click the Convert button to start the conversion. At a 5x speed, the conversion should be done in a few moments. Once done, go to the Converted history list to view and check all converted songs. You can find all the Amazon Music tracks are saved to your computer locally with all the correct settings.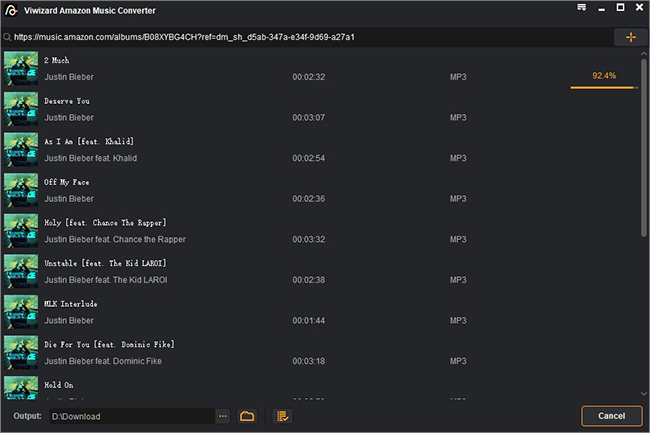 Done! Now, you can use a USB cable to transfer converted Amazon Music MP3 songs to any device for offline listening.
Conclusion
For now, you should have learned how to see Amazon Music lyrics on different devices and how to troubleshoot Amazon Music lyrics missing. If you want to get rid of the platform and stream Amazon Music without limits, you can always feel free to download ViWizard Amazon Music Converter, which helps you download Amazon Music locally and free of errors.