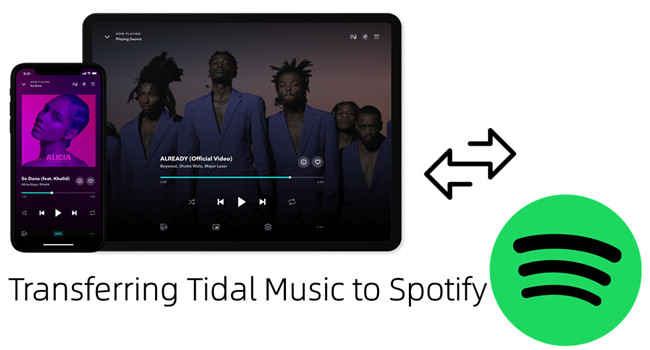 Want to switch from TIDAL to Spotify without losing your beloved music collection? I recently went through this process and found 2 fantastic ways to transfer my Tidal tunes to Spotify. In this post, I'll share my experience and guide you through the simple steps to either automatically or manually transfer your playlists and favorite tracks. Get ready to curated your Spotify library with all your favorited tracks on Tidal.
Transferring Tidal Music playlists typically requires a third-party service and tool. Services like Sounndiz or TuneMyMusic mainly transfer your Tidal playlists, albums, and artists that are matching with the Spotify platform. If you want to transfer your original loved-music from Tidal to Spotify, you should pick a Tidal to Spotify converter called ViWizard Tidal Music Converter, which ensures a more accurate transfer of your Tidal music collection. Or course, as an alternative, you can manually recreate your playlists and like songs on Spotify. Let's dive in!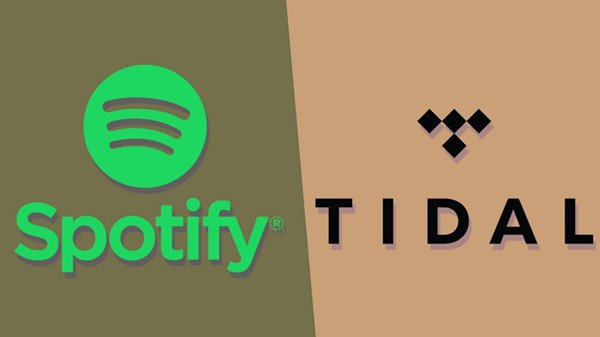 Way 1:

Move Tidal to Spotify via Soundiiz/TuneMyMusic

Start by using tools and services available online that can help you transfer your Tidal playlists to Spotify as metadata and information. Some popular options including TuneMyMusic, and Soundiiz. Such online tools allow you to export your Tidal playlists and then import them into your Spotify music library automatically.

It's important to note that although these tools offer their free versions, you may need to purchase a license or subscribe to a premium plan to unlock more advanced features and full functionality. If your music collection is large, paying for these services are necessary to transfer your entire library to iTunes.
Exporting Playlist to Spotify via Soundiiz:
Go to the official website of Soundiiz, and choose to sign in with a music service > Sign in with TIDAL. If you sign in with your Tidal account, your music collection be connected to Soundiiz automatically.

Once signed in, click on the Tidal option on the left sidebar > Connect.
Once connected, Soundiiz will display a list of your Tidal playlists on the screen. From there you can select the playlists you want to transfer to Spotify, and you can choose individual playlists or select them all.
After selecting playlists, click Convert.
Follow the on-screen instruction to confirm your playlist and the tracks in it.
Then, select Spotify as the destination.

Soundiiz will prompt you to log in to your Spotify account.
Once logged in, Soundiiz will start the conversion process. It will export the selected Tidal playlists to your Spotify music library.
Exporting Playlists/Albums/Artists to Spotify via TuneMyMusic:
Go to the TuneMyMusic website, and find "Tidal" on the homepage and choose it as the source platform from which you want to transfer your music. Or you can search for it in the search bar.

You'll be prompted to log in to your Tidal account to authorize TuneMyMusic to access your music. Log in to your Tidal account.
Once your Tidal account is connected to TuneMyMusic, you'll be able to select the playlists and music you want to transfer.
After selecting the music, click on "Choose Destination".
Find "Spotify" and choose it as the destination to which you want to transfer the selected music.

Similar to the Tidal authentication process, you'll need to log in to your Spotify account to grant TuneMyMusic access.
Once both your Tidal and Spotify accounts are connected to TuneMyMusic, the conversion will start.
Way 2:

Transfer Entire Tidal Collection to Spotify via ViWizard

The reliability and effectiveness of the online services to transfer music between streaming platforms may vary, and they all have some limitations, such as potential data loss or privacy concerns. Transferring your Tidal music collection to Spotify should not worry you as ViWizard Tidal Music Converter emerges as the best solution.

Spotify allows you to upload your own music to its app on supported devices, including computers, smartphones, and tablets by using its Local Files feature. With ViWizard Tidal Music Converter, you gain the ability to download your loved-music as transferrable music files. You can easily download and transfer your tracks, playlists, albums, artists, and more to Spotify anytime you want. The best part is the tracks are downloaded originally from Tidal platform, and lossless audio and metadata will be preserved by ViWizard. This will ensure your seamless experience within the Spotify app.

Key Features of ViWizard Tidal Music Converter
Free Trial
Free Trial
* Security verified. 5, 481,347 people have downloaded it.
Download any Tidal content, including songs, albums, playlists, and artists
Support exporting Tidal music to MP3, AAC, FLAC, WAV, M4A, and M4B
Preserve a whole set of ID3 tag information in the downloaded Tidal songs
Handle the conversion of Tidal music up to 5× faster speed and in batch
Downloading Tidal Tracks/Playlists/Albums/Artists with ViWizard
Make sure to download and install the correct version of both Tidal desktop app and ViWizard Tidal Music Converter. Get ready to download your favorite Tidal music.
Step 1

Select Tidal tracks/playlists/albums/artists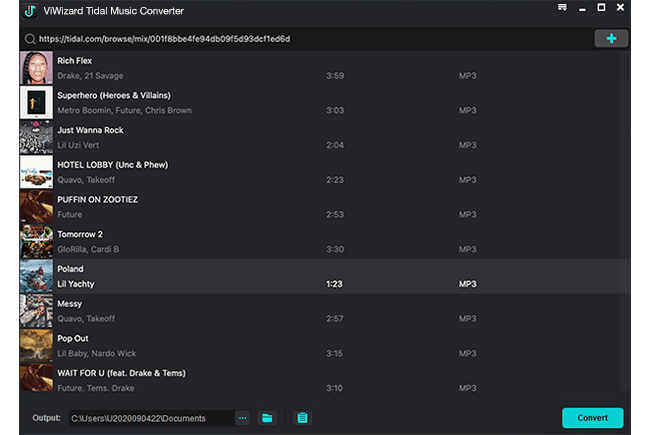 Launch the ViWizard Tidal Music Converter, and grant to launch or relaunch the Tidal desktop app. Navigate to the desired music with in the Tidal app. To add it to download, just drag and drop it to the converter app.
Step 2

Set output format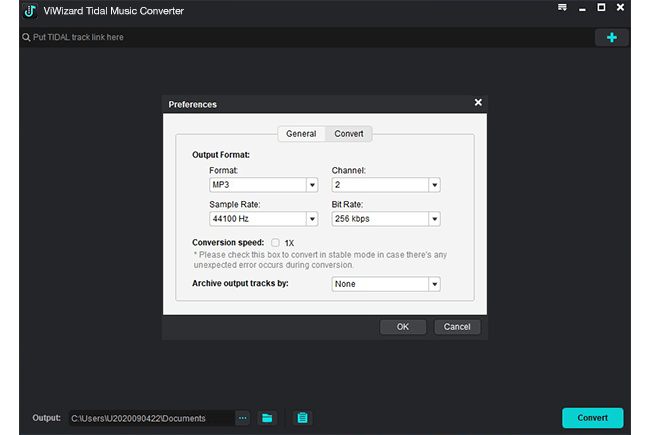 To adjust the output format of the added music tracks, click on the menu icon in the upper-right corner > Preferences > Convert > Format, and click on the chevron down icon on then select a desired format, such as MP3. After that, click OK to save the settings.
Step 3

Download Tidal music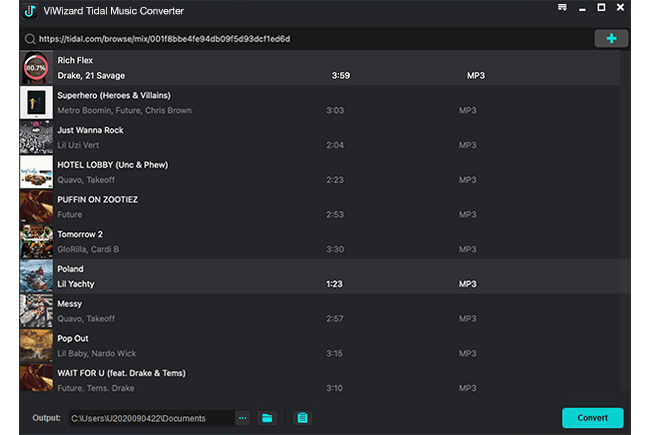 Back to the main interface of ViWizard Tidal Music Converter. To start downloading and conversion of the added music tracks, click on the Convert button. During the conversion, lossless audio and metadata will be kept with the downloaded music. Once done, open the converted menu to find specific or all downloads.
Importing Tidal Tracks/Playlists/Albums/Artists to Spotify
On your computer, open the Spotify desktop app.
Click on the profile icon in the upper-right corner, and select Settings from the context menu.
Scroll to "Show songs from", and click on the "Add a source" button under it.

Navigate to the downloaded Tidal folder or files stored on your computer, and select the desired music to open. Spotify will scan and upload all the compatible audio files to your music library.

To find the uploaded Tidal downloads, go to "Your Library" in the side menu and find a playlist called "Local Files" under it.

Go into the "Local Files" playlist and you can play your Tidal music there offline.
Conclusion
Congratulations, you've successfully transferred your favorited Tidal music to Spotify! Now, with your personalized playlists and favorited tracks at your fingertips, your musical adventure on Spotify awaits! Take advantage of our ViWizard Tidal Music Converter to maintain control over your music collection.