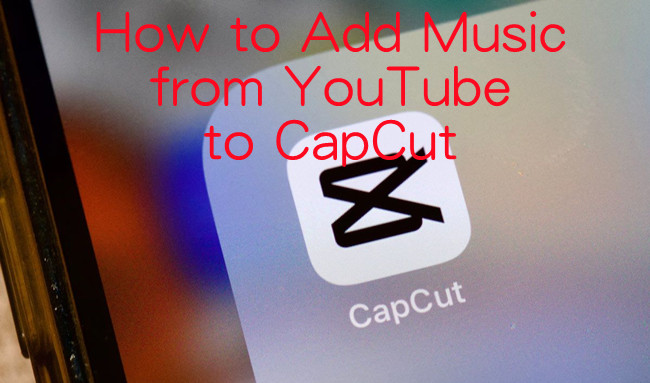 Music has the power to transform ordinary videos into captivating cinematic experiences. Whether you're creating vlogs, short films, or tutorials, finding the perfect soundtrack can take your CapCut projects to the next level. YouTube, with its vast library of music, is a goldmine of potential audio enhancements. However, integrating YouTube music seamlessly into your CapCut projects may seem like a challenge.
In this guide, we will walk you through the steps to add YouTube music to your CapCut projects with ease. Let's dive in and elevate your CapCut projects with the perfect soundtrack!
Part 1.

How to Add Music from YouTube to Capcut

If you're a YouTube Premium subscriber, you might assume that downloading music is a breeze. While premium subscriptions offer a range of benefits, they do not grant you unrestricted access to YouTube music for use in unauthorized apps like CapCut.

Most music on YouTube, even with a Premium subscription, is protected by digital rights management (DRM). This protection is designed to prevent direct usage of the music, such as adding music from YouTube to your CapCut projects.

However, there's a more significant challenge: CapCut, like many video editing software, can't handle encrypted audio or video files and has limitations when it comes to file formats. We don't stop at removing DRM from the YouTube music tracks, but also convert them into supported format files.
| | |
| --- | --- |
| Format Type | Supported Formats |
| Audio | MP3, WAV, WMA |
| Video | MP4, VOB, VRO, ASF, WMV, WMV HD, MOV, MOD |
| Image | JPEG, TIFF, BMP, GIF |
Tool Required: ViWizard YouTube Music Converter
If you try to import DRM-protected YouTube Music directly into CapCut, it won't function as intended. This means the CapCut won't recognize or process the file correctly in your video projects. To work around these limitations, you'll need a YouTube Music downloader called ViWizard YouTube Music Converter, which helps you convert music from the YouTube platform into a format compatible with CapCut and remove DRM protection.
Whether you're a YouTube Premium subscriber or a free user, this tool levels the playing field, allowing you to create usable audio files from YouTube or YouTube Music, such as MP3 or WAV. Here's how it works: the software records audio playback directly from your computer's soundcard. This method guarantees high-quality recordings from the YouTube platform. By doing so, you ensure that your favorite YouTube Music tracks seamlessly integrate with your CapCut projects, maintaining the highest quality and fidelity.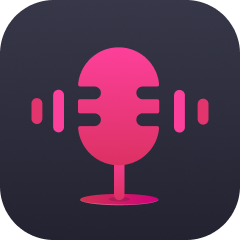 Key Features of ViWizard YouTube Music Converter
Free Trial
Free Trial
* Security verified. 5, 481,347 people have downloaded it.
Convert YouTube Music to MP3, WAV, FLAC, AAC, and more
Record songs, albums, playlists, podcasts from YouTube Music
Support splitting, merging, cutting, and editing YouTube Music
Detect ID3 tags automatically and allow manual editing of ID3 tags
Part 2.

How to Download Music from YouTube for Capcut
Step 1

Set up ViWizard Audio Capture on Your Computer

Start ViWizard Audio Capture on your Mac. Upon opening the software, you'll see a list of programs displayed on its interface. Check if your preferred web browser is listed among the programs. If it's not, you can easily add it by dragging and dropping your browser icon into ViWizard's main interface.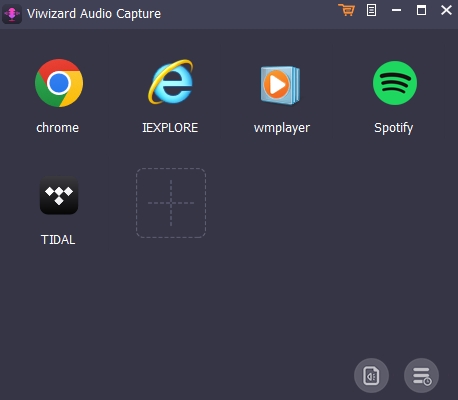 Step 2

Configure YouTube Music Output Parameters and Formats

Click on the Format icon within ViWizard to configure the output audio parameters. Among the available formats, choose MP3, or WAV. These formats are compatible with CapCut. After that, click the "OK" button to confirm your selection.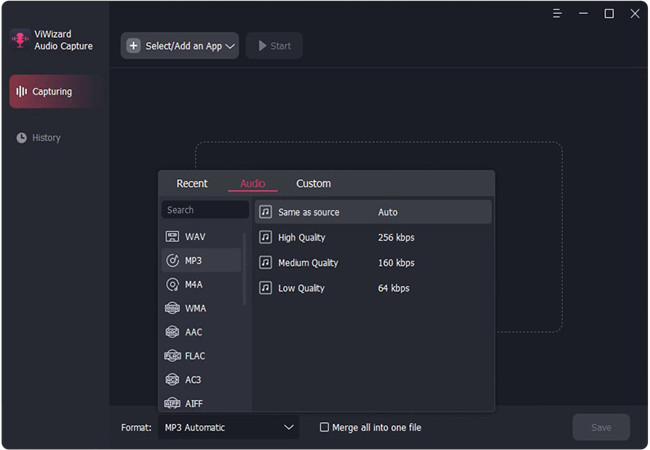 Step 3

Download and Convert YouTube Music

Launch the web browser from within ViWizard and navigate to the YouTube website. Start playing the desired YouTube Music track. As the music plays, ViWizard will seamlessly download the YouTube Music track. Allow a few moments for the download to complete. If needed, you can click on the "Stop" button to halt the capturing process.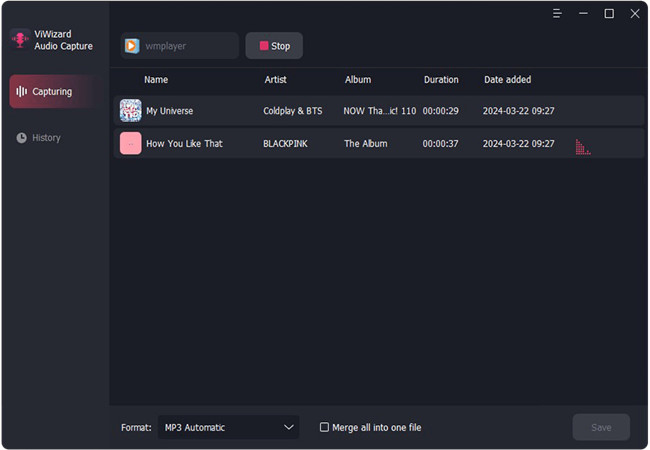 Step 4

Edit Recorded YouTube Music (Optional)

The recorded YouTube music will be listed in the Capture section of ViWizard. To enhance your captured tracks, click the "Edit" button located behind each track. Here, you can trim, merge, and edit ID3 tags of the downloaded YouTube music to your preference.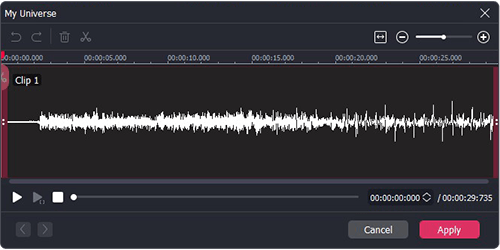 Step 5

Save Recorded YouTube Music after Customization

After making the necessary edits, hit the "Save" button to preserve all the edited YouTube music tracks on your Mac computer.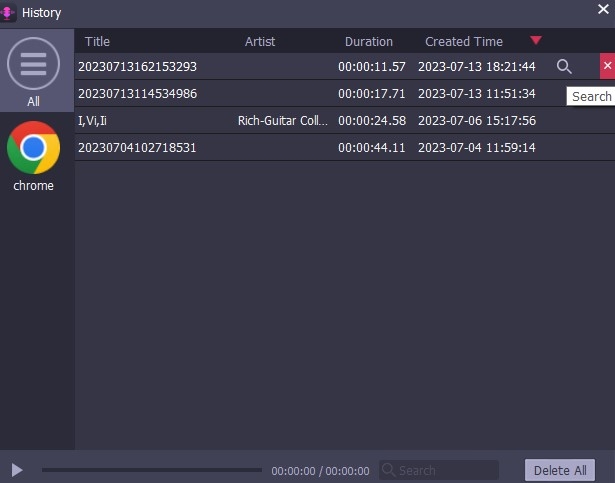 Part 3.

How to Put YouTube Music on Capcut

Before you begin editing with CapCut, it's essential to get your music onto the device you'll be using for the project. Here's how to do it:
1. Transferring YouTube Music to Your Devices
Make sure your device, whether it's a smartphone, computer, or tablet, is connected and accessible for transferring files.
Find the YouTube Music files you downloaded earlier on your computer.
If you're using a smartphone or tablet, you can transfer music through a USB cable. Connect your device to your computer via USB, then copy and paste the music file directly into your device's music folder.
2. Adding YouTube Music to Your CapCut Project
Computer:
Open CapCut and either create a new project or load an existing one.
To load an existing project, look for the "Import" button within CapCut's interface. To create a new project, look for the "Menu" > "File" > "New project" buttons.

Find the music file you downloaded on your computer and select it.
Click "Open" to bring the music into your project's library.
In your media library, find the music you imported. Click on it, then drag and drop it onto your project's timeline where you want the music to begin. Or you can click "Add to track."

To fine-tune the music, move it along the timeline for timing, adjust its length by dragging the edges, and set the volume so it complements your video.

Before you finish, play your project to make sure the music fits well with your video.
Smartphone (iOS/Android):
Launch the CapCut app on your smartphone.
Tap "New Project" on the screen.

Choose the video or photo from your device that you want to add background music to.
Tap "Add" to create a new CapCut project.

In the Tracks area, tap "Add audio."

Select "Sounds" from the menu.

Tap on the file icon, then choose "From device."

Find the iTunes music file that's already on your device. You can preview the music by tapping it. To add it to your project, tap the "+" icon.

Now you have the music in your project, and you can edit it to fit your video as needed.
3. Exporting Your CapCut Video
Click the export button in CapCut to save your video project. Choose the export settings you prefer, including video quality and format.
Start the export process, and CapCut will merge your video with the YouTube music. Once it's done, save your final video to your computer.
Additional Tip:

Can I Use Capcut Music on YouTube?

If you're considering using CapCut music for your YouTube channels, here's a valuable tip that can help you enhance your videos and avoid copyright issues:
CapCut Music Library:
CapCut offers a comprehensive music library featuring a diverse collection of royalty-free tracks. These tracks are available for you to use in your videos without worrying about copyright issues. Here's how to access and utilize this resource:
Adding CapCut Music to Your CapCut Project:
Launch the CapCut app on your device.
Click on the "Music" or "Audio" tab within the app. This will take you to CapCut's music library.
Browse through the extensive selection of tracks available in the library. You can filter the tracks by mood, genre, or style to find the perfect match for your video's theme.
Once you've found a track that suits your video, simply select it and add it to your project.
Conclusion
Now, armed with the knowledge of how to add YouTube music to your CapCut projects, your creativity knows no bounds. Whether you're producing stunning visuals for social media, telling compelling stories, or crafting educational content, the power of music is in your hands with ViWizard YouTube Music Converter.