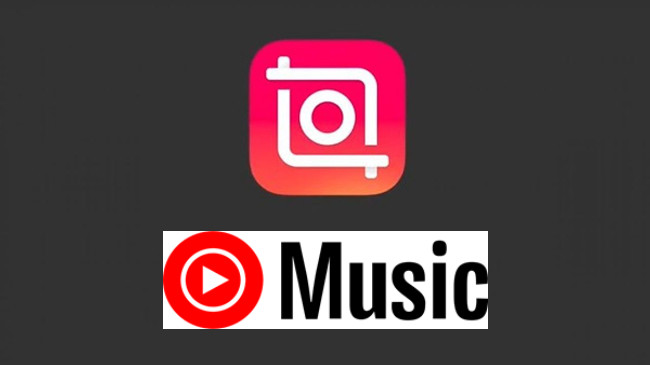 InShot is a versatile and user-friendly video editing app that enables you to transform your raw footage into captivating videos. However, video editing isn't just about visuals; audio plays a crucial role in creating an immersive and engaging experience for your audience. This is where adding YouTube music to InShot becomes invaluable.
In this post, we'll explore the best solution to incoporate YouTube music into your InShot projects.
Part 1.

Can I Add Music from YouTube to InShot?

InShot, known for its versatility in video editing, presents a significant challenge for users seeking to incorporate music directly from YouTube. While it boasts its own music library, the absence of direct YouTube integration restricts the seamless import of YouTube videos or their accompanying audio tracks. Moreover, InShot's limitations extend to its handling of encrypted audio files from various streaming platforms, including YouTube.

However, the availability of unique and exclusive audio content on YouTube might inspire you to integrate these distinct tracks into your InShot projects. While InShot doesn't offer direct access to your YouTube account for music sourcing, it does support the incorporation of locally stored music files. This feature allows you to manually add music from your device to your video projects. To achieve this, you'll need a reliable method to extract your desired audio from YouTube videos and save it as a compatible local music file.

Whether you're a YouTube Premium subscriber or a free user, ViWizard offers you the ability to create usable audio files from YouTube or YouTube Music, such as MP3. It empowers you to transform YouTube's vast audio library into a versatile resource for your creative projects.

ViWizard YouTube Music Converter employs a sophisticated method to capture audio playback directly from your computer's soundcard. It seamlessly records audio playback, converting it into easily accessible audio files and maintaining the essence and fidelity of your favorite YouTube Music tracks. The resulting audio files can then be seamlessly integrated into your InShot projects, ensuring that your videos are not only visually compelling but also musically captivating.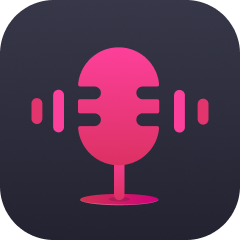 Key Features of ViWizard YouTube Music Converter
Free Trial
Free Trial
* Security verified. 5, 481,347 people have downloaded it.
Convert YouTube Music to MP3, WAV, FLAC, AAC, and more
Record songs, albums, playlists, podcasts from YouTube Music
Support splitting, merging, cutting, and editing YouTube Music
Detect ID3 tags automatically and allow manual editing of ID3 tags
Part 2.

How to Convert Music from YouTube to InShot

Begin by downloading and installing ViWizard YouTube Music Converter using the provided button. With ViWizard, seizing your desired YouTube Music tracks becomes incredibly simple and convenient, just a click away.
Step 1

Set up ViWizard Audio Capture on Your Computer

Launch ViWizard Audio Capture on your computer. Upon opening the software, you'll find a list of compatible programs displayed on its interface. Ensure your preferred web browser is included. If it's not listed, you can effortlessly add it by dragging and dropping your browser icon into ViWizard's main interface.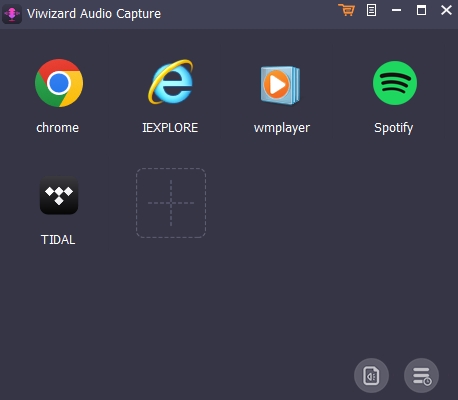 Step 2

Configure YouTube Music Output Parameters and Formats

Within ViWizard, click on the Format icon to configure the output audio parameters specifically for InShot. Choose MP3 or WAV as the preferred format. These formats are compatible with InShot. Once you've made your selection, click the "OK" button to confirm your settings.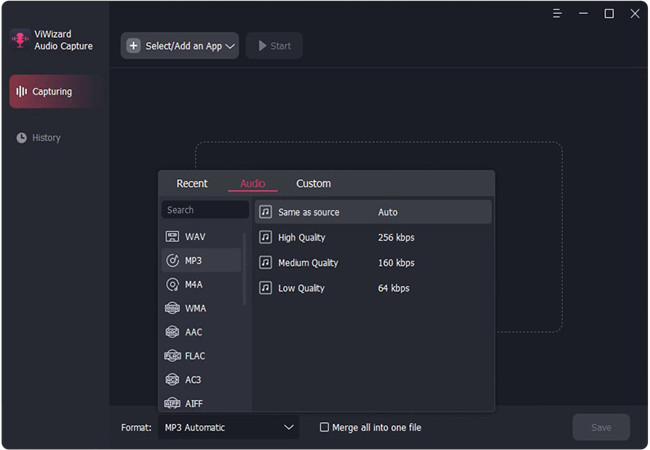 Step 3

Download and Convert YouTube Music

Access your web browser from within ViWizard and navigate to the YouTube website. Start playing the desired YouTube Music track. As the music plays, ViWizard will smoothly download the YouTube Music track, ensuring high-quality audio conversion. Allow a few moments for the download to complete. If necessary, you can click on the "Stop" button to halt the capturing process.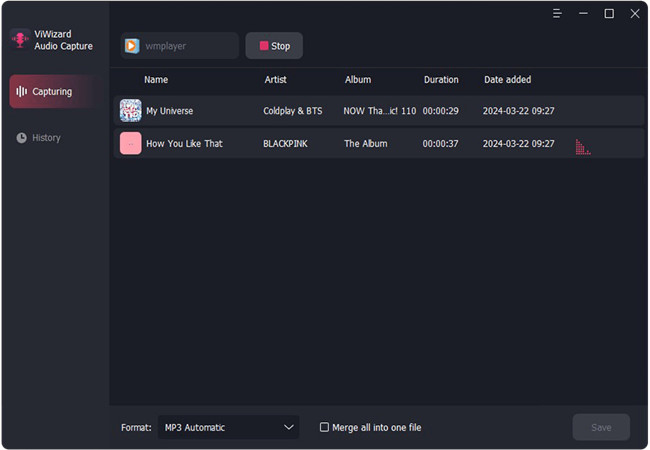 Step 4

Edit Recorded YouTube Music

The recorded YouTube music will be listed in the Capture section of ViWizard. To refine your captured tracks, click the "Edit" button located alongside each track. Here, you can trim, merge, and customize the ID3 tags of the downloaded YouTube music according to your InShot project requirements.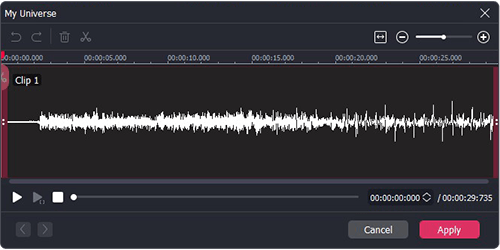 Step 5

Save Recorded YouTube Music after Customization

After applying the necessary edits, save all the modified YouTube music tracks on your Mac computer by clicking the "Save" button. Ensure that the edited tracks are stored in a location easily accessible for integration with your InShot projects.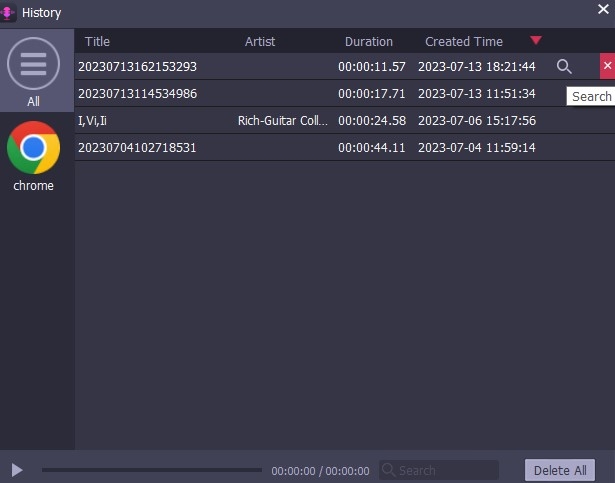 Part 3.

How to Import YouTube Music to Your InShot Projects

Now that you've successfully captured the YouTube Music tracks using ViWizard, it's time to seamlessly integrate them into your InShot projects.
Step 1

Transfer YouTube Music to Your Device
For iOS:
Connect your iPhone/iPad to your computer using a USB cable and open iTunes. If you haven't put your captured YouTube Music files into iTunes, select "File" > "Add File/Folder to Library" and navigate to the files.
Click on your device in iTunes and select "Sync Music" > "Entire music library."
Click "Apply." Wait until the syncing is done, click "Done."
For Android:
Connect your Android device to your computer using a USB cable and set it to file transfer mode (MTP).
Open your Android's storage and create a folder if needed.
Copy and paste the captured YouTube Music files into that folder on your Android device.
Step 2

Import YouTube Music to InShot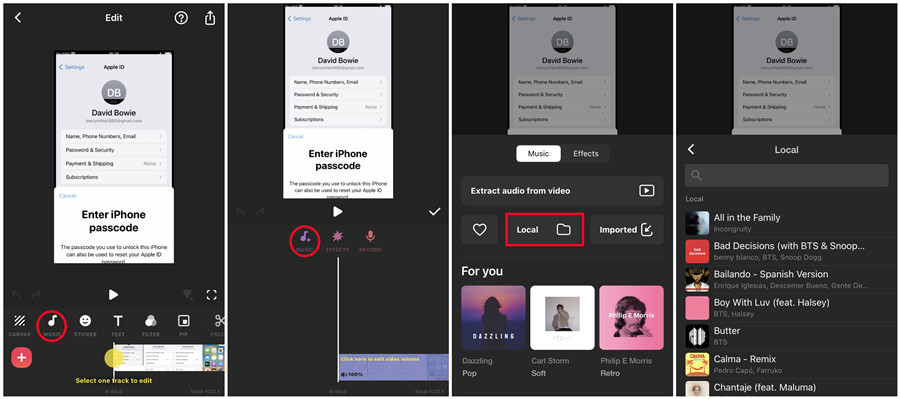 Open the InShot app on your mobile phone and start a new project or open an existing one.
In the InShot editor, tap "MUSIC" along with other options like STICKER, TEXT, FILTER.
Tap the "Add Music" icon.
Select "Local" to access your device's music collection.
Scroll through your music tracks and choose the one you want.
Go back to the video editor and tap "EDIT" to adjust the music's volume and add fade effects if desired.
Once you're happy with the changes, tap the checkmark (√) to save your edits.
Conclusion
ViWizard YouTube Music Converter empowers you to make the most of YouTube's diverse music library, opening doors to new possibilities for your video projects. So, why wait? Start exploring the world of YouTube music and elevate your InShot creations with ViWizard today. Your audience is sure to appreciate the audio enhancements that breathe life into your videos.