GarageBand is popular since the day Steve Jobs initially launched it in 2004. As a line of digital audio workstations special design for macOS and iOS, GarageBand allows you to record audio, edit songs, mix rhythms, and add sound effects. You don't have to be a Pro since anyone who has iOS devices such as Mac, iPhone, or iPad can easily use GarageBand to make cool music.
As for the music resource, GarageBand allows you to use the purchased music from iTunes but that's an ideal choice. As there are too many songs you would like to mix with GarageBand but buying all of them is too pricey. Apple Music supposes to be a good source for music remixing. However, Apple Music songs are all protected so we can't play them or use them elsewhere than the Apple Music app. GarageBand is no exception. But no worries. Here we will tell you how to import a song from Apple Music into GarageBand. Just read the later parts to find how to add Apple Music to GarageBand.

Part 1 - How to Convert Apple Music to GarageBand
Apple Music is a great place to get new music. With an Apple Music premium account, you can easily download the Apple Music songs. However, Apple Music songs are protected in M4P formats but GarageBand only supports AIFF, CAF, WAV, AAC (except protected AAC files), Apple Lossless, and MP3. How can we convert Apple Music songs to formats that are supported by GarageBand?
We have ViWizard Audio Converter to help you with this problem. ViWizard can convert Apple Music songs to MP3, AAC, WAV, and other formats that are supported by GarageBand. With the advanced technology, this tool can keep the lossless audio quality after the conversion. To improve the listening experience, you can adjust some parameters like codec, channel, bit rate and sample rate and so on. And it works at a 30X faster speed. So, you will spend less time on the conversion. Below we will show you how to convert Apple Music to GarageBand.

ViWizard Audio Converter Key Features
Convert Apple Music songs to GarageBand
Losslessly convert Audible audiobook & iTunes audiobooks
Convert audios at the 30X faster speed
Retain 100% original quality and ID3 tags
Convert between common audio file formats
Step 1. Add Apple Music to ViWizard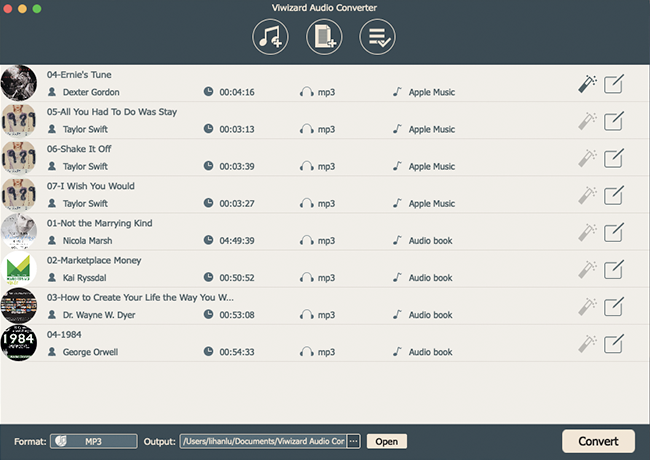 First, download ViWizard Audio Converter from the above link and please confirm that Apple Music works well and Apple Music songs you want to convert could play well on your computer. Otherwise, you should authorize to play those audios in advance. Launch the converter and Apple Music both and you will see three icons on the central top of the ViWizard main screen.
1)

This button is for importing Apple Music songs, Audible audiobooks, or iTunes audiobooks to ViWizard.
2)

This one is to add common audios to ViWizard.
3)

This is the "Converted History", when the conversion is done you can find your converted files under this catalog.
Most of the Apple Music songs are protected, so you can use the first button to import Apple Music songs to the converter or directly drag files from the Apple Music media folder to the ViWizard as well.
Step 2. Adjust Output Settings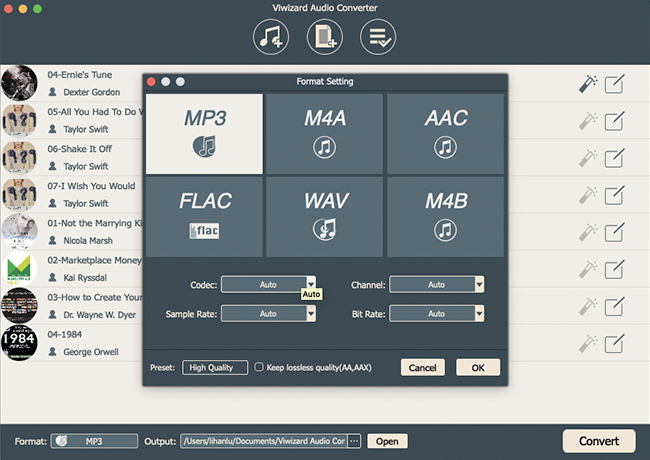 When you finish step 1, open the Format panel to select an output format for your audio files. GarageBand supports file types including MP3, WAV, AAC, CAF, and AIFF. So, you can choose MP3, WAV, or AAC as the output format. Right next to the Format is the Output Path option. Click on

to select a file destination for you converted songs.
Step 3. Edit the Songs with the Built-in Audio Editor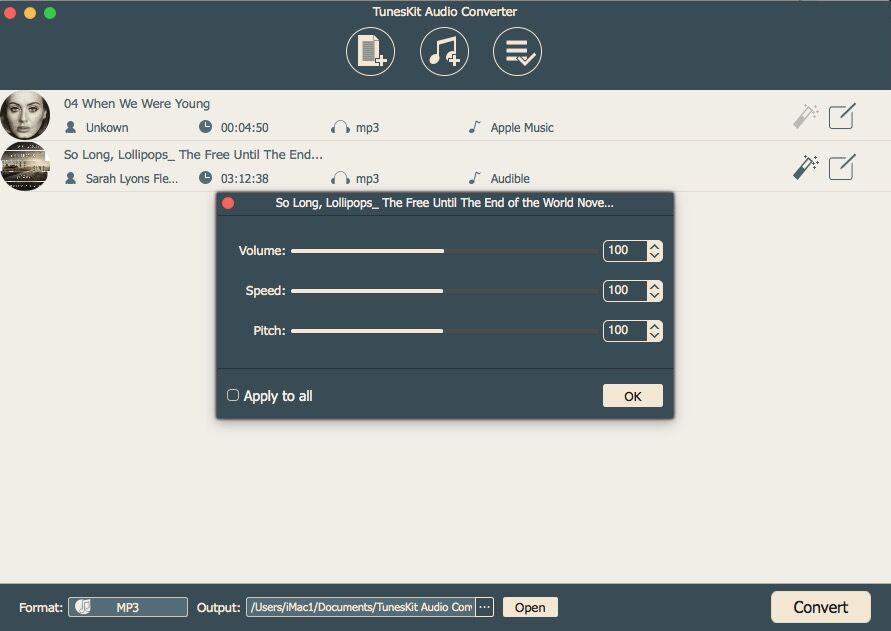 Format and Output Path are the basic settings. For GarageBand users, you probably will ask more. ViWizard has many extra features for you to dig up.
1) Under the Format panel, you can adjust the codec, channel, sample rate, bit rate, and quality of the audio files
2)

This icon on the right of each column is to change the volume, speed, and pitch of the converted audios.
3)

This icon on the right of each column enables you to tailor the tags and split the audios.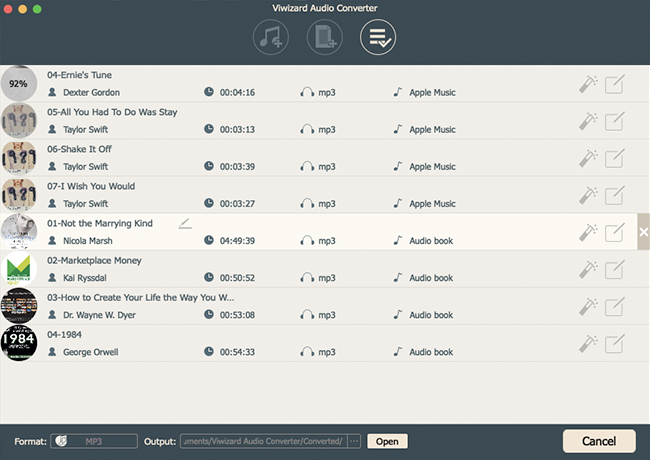 Once you are done with all the settings and editing, you can take up the conversion by pressing the Convert button. Wait for a few minutes until the conversion finishes, then you can locate the converted audio files in the folder you selected. If you don't remember which folder you choose, you can go to the Converted History and use

to find them.
Video Tutorial: How to Import Apple Music to GarageBand for Mixing
In the following video, you'll learn how to use ViWizard Apple Music Converter to download Apple Music songs and save them as MP3 format. Then you can easily add them to GarageBand for mixing.
Part 2 - How to Upload a Song to GarageBand
Now all the converted songs are saved to the local. You can add them to GarageBand and use them to mix music. GarageBand has a desktop application and mobile app. With the help of iCloud, you can edit Apple Music on with an iOS device, and continue to edit them with another one later. Here we will introduce both methods to import Apple Music to GarageBand on iPhone/iPad and Mac for you.
How to Import a Song from Apple Music into GarageBand on Mac
Here are the steps to add Apple Music to GarageBand desktop application and to use Apple Music on GarageBand with a Mac computer.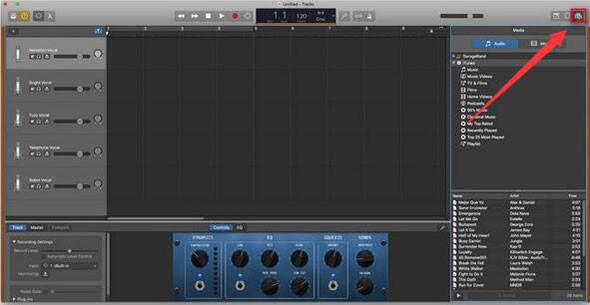 1. Launch GarageBand on Mac, you will see the main interface.
2. Click the Media Browser on the top-right corner. GarageBand will scan and show you the sources from iTunes or local files on your PC.
3. Click Local Computer Folder option and then import the converted songs to GarageBand.
How to Put Songs from Apple Music into GarageBand on iPhone or iPad
The GarageBand mobile app is for iPhone and iPad use. To transfer Apple Music to GarageBand mobile app on iPhone or iPad, you need to turn to iTunes or Files app for help.
How to Edit Apple Music Songs on GarageBand with iTunes
Because the converted files are on your computer so you need to sync them to iTunes first and then you can import them into GarageBand from iTunes.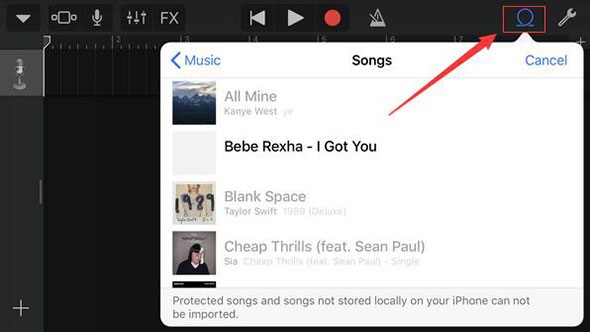 1. Launch iTunes on your computer and add the converted songs to iTunes. Go to Menu bar > File > Add Library to import the converted songs.
2. Launch GarageBand on your iPhone or iPad, tap to open Tracks view. Tap

to open Tracks view. Tap

(Loop Browser) in the control bar, and then tap the Music tab to preview the songs you are going to import.
3. There you can find the song list to import. Select those you want to mix and confirm to add. Or directly drag and drop the songs to Tracks view. Then you are free to remix Apple Music in GarageBand.
How to Upload a Song to GarageBand with Files app
You can use the Files app to import Apple Music to GarageBand. Before we start to learn how to add songs from Apple Music to GarageBand, transfer Apple Music to Files app first.
1. To import the entire song, set the length of the song section to Automatic. Tap the Tracks View button to get a list of tracks.
2. Choose the Loop Browser button in the control bar. Then opt for the Files app.
3. Tap the Browse items from the Files app button to locate the audio you want to add to GarageBand. By taping it in the list, you can preview the audio.
The Final Words
Since the Apple Music files are in protected format, so to edit Apple Music songs on GarageBand, you need to convert Apple Music to MP3 with ViWizard Audio Converter first. This professional tool can convert Apple Music from encrypted M4P format to MP3, WAV, AAC and others with lossless quality. When the conversion is finished, you can add Apple Music to GarageBand without limit.