Q: I am a big fan of Spotify and often listen to music on Spotify. I want to download my Spotify playlist to my Mac and add my Spotify music to GarageBand. But can I use Spotify with GarageBand? How can I add Spotify music to GarageBand? I'm looking for a good solution, if anyone has one, please leave a comment below.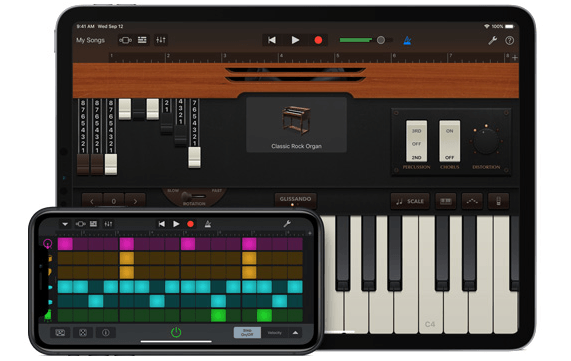 Can I import music from Spotify to GarageBand? How can I edit Spotify music with GarageBand? Why I cannot directly import Spotify songs to GarageBand? More than one person is involved in these issues. All Spotify and GarageBand users are extremely concerned about whether there is any solution.
Here we would talk about why you cannot directly use Spotify in GarageBand. And also, we introduce a detailed method to guide you on how to download music from Spotify to GarageBand. Just as easy to solve the question.
Part 1. Can I Import Spotify Songs to GarageBand?
GarageBand is a line of digital audio workstations for macOS and iOS devices that allows users to create music or podcasts. The music and podcast system of GarageBand enable users to create multiple tracks with pre-made MIDI keyboards, pre-made loops, an array of various instrumental effects, and voice recordings.
GarageBand is developed by Apple for macOS. And it accepts various unprotected audio files including MP3, AAC (except protected AAC files), WAV, CAF, AIFF, and Apple Lossless. However, all songs from Spotify are encoded in the format of Ogg Vorbis with Digital Rights Management protection.
So, the answer to that question is that you cannot directly add Spotify music to GarageBand. On one hand, GarageBand does not support the format of Spotify music. On the other hand, GarageBand does not work for streaming music from Spotify.
Part 2. How to Convert Song from Spotify to GarageBand
As we all know, all Premium uses have the right to download music from Spotify. But all music files downloaded from Spotify are still streaming music which cannot be used in GarageBand. So, what should you do? One way is to download music from Spotify and convert Spotify to GarageBand supported audios with the help of ViWizard Music Converter for Spotify. Then you can use GarageBand to play and edit Spotify music freely.
Best Spotify to GarageBand Converter You'll Need
ViWizard Music Converter for Spotify is a brilliant DRM removal tool for Spotify users. It is specially designed to download and convert all songs, albums, and playlists from Spotify to many popular formats like MP3.

ViWizard Spotify Converter Key Features
Download as many Spotify songs as you want to
Breaks all DRM protection from Spotify music
Listen to Spotify music without the distraction of ads
Play Spotify music on numerous editors besides Spotify
Customize the audio format and music preference as you like
Follow the detailed tutorial to learn how to download music from Spotify to MP3.
Step 1

Drag songs, albums and playlists from Spotify to the tool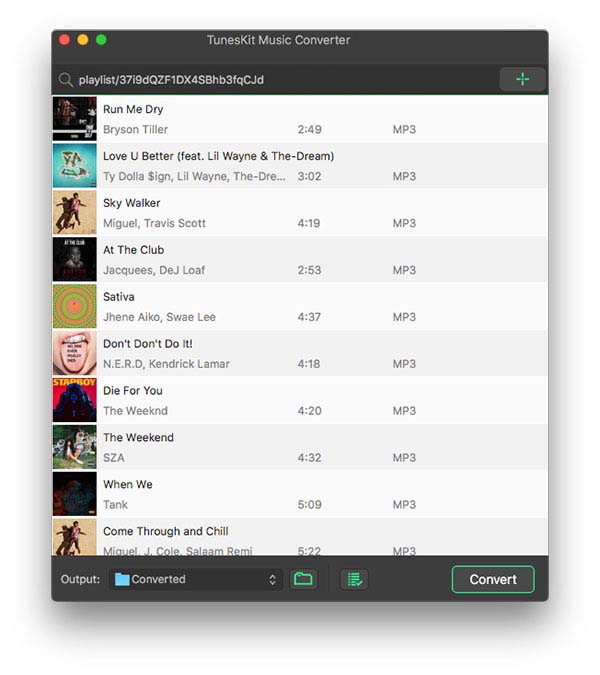 Launch ViWizard after you successfully install it on your personal computer. Spotify will be opened automatically. Search and find all playlists and songs on Spotify you want to apply to GarageBand. Drag those playlists and songs to the main page of ViWizard Spotify Music Converter directly.
Step 2

Customize audio format and music preference as you like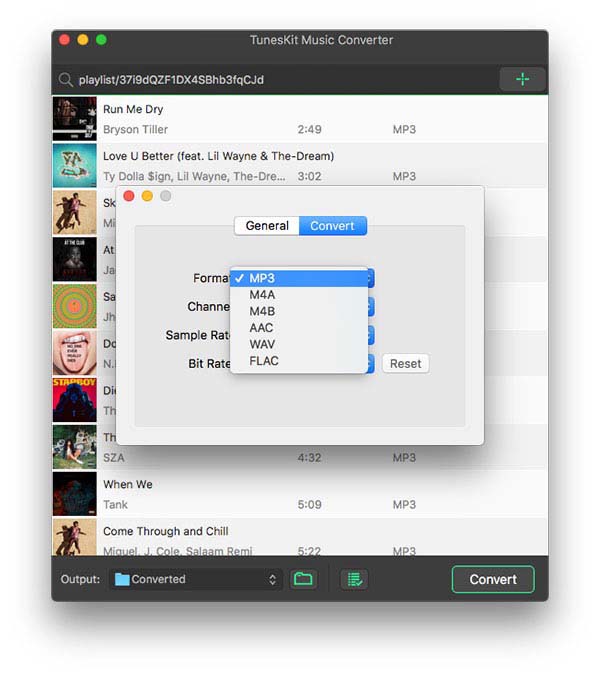 After successfully adding all playlists and songs to ViWizard, you can set the output audio format for GarageBand such as MP3. Then you can also adjust the music preferences like audio channel, bit rate, sample rate, and others according to your demand.
Step 3

Begin to download music from Spotify in bulk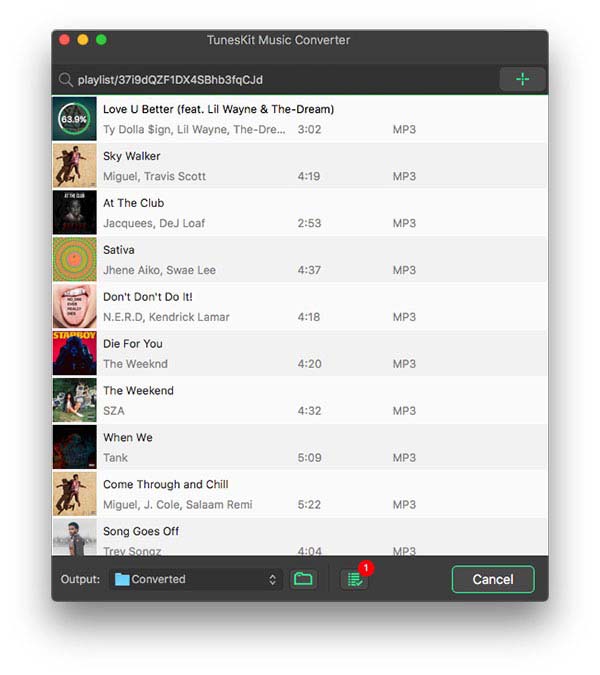 Once all music preference has been set up, you can start the conversion by clicking the "Convert" button in the bottom right corner. Wait for a while until all the Spotify music files have been converted. You can check the downloaded DRM-free Spotify music in the local folder and transfer them to GarageBand for creating new music.
Video Guide: How to Download Spotify Music to GarageBand with ViWizard
Part 3. Tutorial on How to Add Spotify Songs to GarageBand
Now all Spotify songs have been downloaded to the local folder on your Mac computer. Then you can directly add Spotify songs to GarageBand on your Mac or freely transfer them to your iPhone or iPad for use in GarageBand. Here we would show you how to compose new Spotify music with GarageBand.
Use Spotify Music in GarageBand on Mac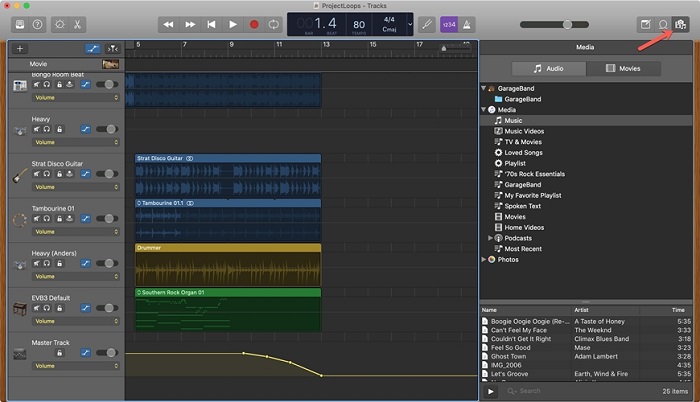 Step 1. Open GarageBand. Click the GarageBand app icon which resembles a guitar. The app may be on your dock. Or you can search GarageBand in the spotlight feature.
Step 2. Import Music. Click on the small Media Browser button at the far bottom right of the GarageBand window.
Step 3. Drag Music. When the browser opens, choose either Audio at the top. Then expand the category and drag your Spotify music files onto the portion of the screen in the middle where it shows Drag Apple Loops here.
Step 4. Output songs. Click the Play button to begin editing the song you have dragged onto the loop. Before splitting, make sure that the track with the song in it is selected. Click on the little music note button and select the GarageBand cursor around to any second of the song. Or go to add some effects and edit the track with other effects. Finally, output your customized music.
Add Spotify Music to GarageBand on iPhone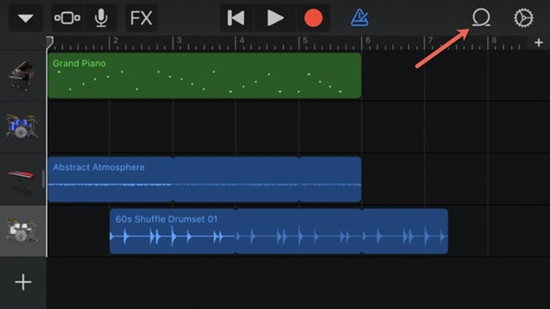 Step 1. Sync Spotify Music to iPhone. Open a Finder window and connect your iPhone to your computer using a USB cable. Then find your device appears in the sidebar of the Finder window and go to sync Spotify songs to your iPhone using the Finder.
Step 2. Launch GarageBand. After opening GarageBand on your iPhone, go to Tracks View > Loop Browser > Music to preview the songs that you'd like to import.
Step 3. Add Spotify Music. When choosing Files or Music at the top, you can navigate to browse your Spotify music and choose the ones you want to add then confirm the action. Or you can directly drag and drop the songs to show Tracks view.
The Bottom Line
With the assistance of the ViWizard Spotify Music Converter, you can freely compose music downloaded from Spotify in GarageBand to create your personal music and set Spotify music as ringtone iPhone. We need to remind you that the trial version of ViWizard only can output one-third of each Spotify song. For downloading the full version of each Spotify song, you need to purchase the official version to lock all functions of the software. Maybe you are interested in the topic "How to Add Apple Music to GarageBand".