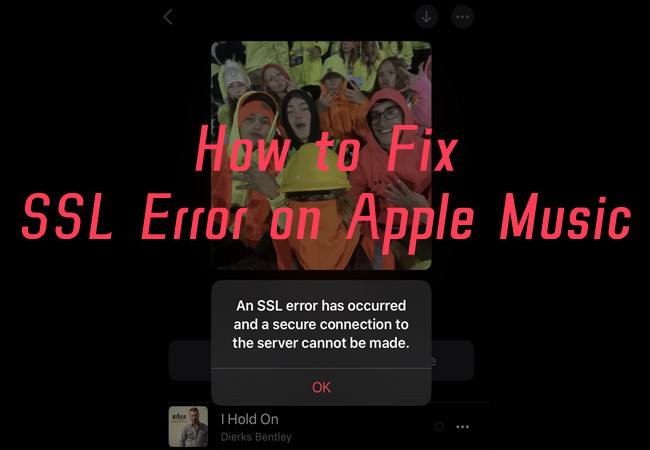 Encountering SSL errors while enjoying your favorite tunes on Apple Music can be frustrating. These errors stem from failed authentication between your device and Apple's servers due to various reasons. However, fear not - we've got your back!
In this guide, we'll uncover the primary causes behind SSL errors and share simple solutions to restore your music streaming bliss. Whether it's a network glitch, outdated certificates, or app-related issues, we'll walk your through the steps to troubleshoot and fix the problem. Let's dive in and get your streaming experience back on track!
Part 1.

What Causes SSL Error on Apple Music
1. Incorrect Date and Time Settings
SSL certificates are time-sensitive, and if your device's data and time are incorrect, it can cause SSL errors. Make sure your device's date, time, and time zone are set correctly.
2. Outdated Operating System
If your device's operating system is outdated, it might lack necessary security updates and root certificates, leading to SSL errors. Check for and install any available system updates.
3. Network Connectivity Issues
In some cases, network connectivity problems can interfere with SSL connections. You may need to test the current internet connection with other applications, especially the streaming music services. If your internet connection is unstable, try accessing Apple Music over a different network.
If you are using third-party VPNs or proxies, they may also cause SSL errors. Try disabling them temporarily and see if that resolves the issue.
4. Firewall or Antivirus Interference
Certain firewall or antivirus settings or software might interfere with SSL connections. You'll need to temporarily disable these security programs on your device, and check if the SSL error persists.
5. Server-Side Issues
Sometimes, SSL errors can be caused by problems on the server-side. In such cases, you'll need to go check Apple Music server by visiting Apple's System Status to see if there are any known issues with Apple Music. In such cases, you'll need to wait for Apple Music to address the issue.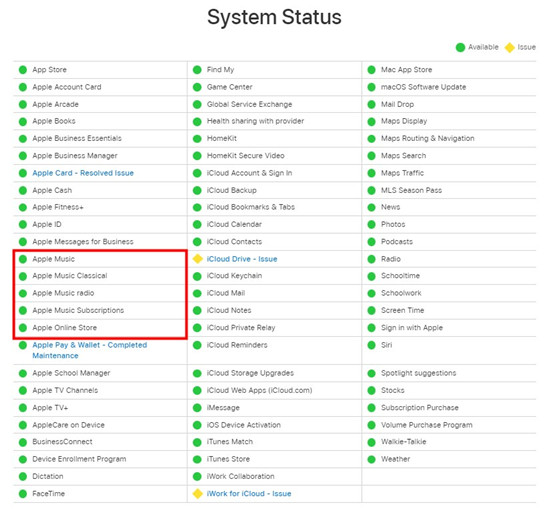 Part 2.

How to Fix SSL Error on Apple Music

You can try these solutions to get rid of the SSL error on Apple Music to be back on track!
1. Check internet Connection
A poor network connection can indeed be a common cause of SSL errors in Apple Music or any other online service. You can try checking Wi-Fi or cellular connection, clearing DNS cache to rule out network-related issues that might be causing the SSL error.
To clear DNS cache:
On your iPhone, open the Settings app.
Go to "Wi-Fi" or "Cellular".
Tap on the "i" icon next to the connected network.
Scroll down and tap "Renew Lease", then confirm.
Alternatively, if you're using a VPN or proxy service, disable it temporarily to see if it's causing the SSL error.
To turn off VPN and Proxies: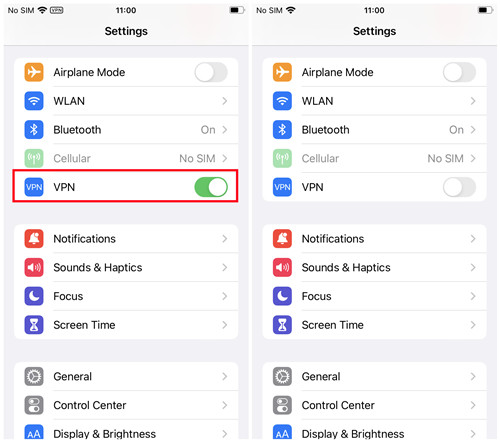 On your iPhone, go to Settings.
Go to the "VPN" option if configured and toggle it off.
2. Restart the Device
Restarting the device is indeed a simple and effective troubleshooting step for various issues, including SSL errors. It can help refresh system processes and connections, potentially resolving minor glitches that may be causing the "SSL error has occurred" prompt in Apple Music.
For iPhone X or newer models:
Press and hold the side button and either volume button simultaneously.
Drag the slider to power off your iPhone.
Wait for a few seconds, then press and hold the side button again until the Apple logo appears to turn your iPhone back on.
For iPhone 8 or earlier models:
Press and hold the top or side button until the slider appears.
Drag the slider to power off your iPhone.
Once your iPhone blacks out, press and hold the top or side button again to turn your device back on.
3. Check the date and time settings
Incorrect date and time settings can cause SSL errors. To verify and adjust the date and time settings on your iPhone, follow these steps: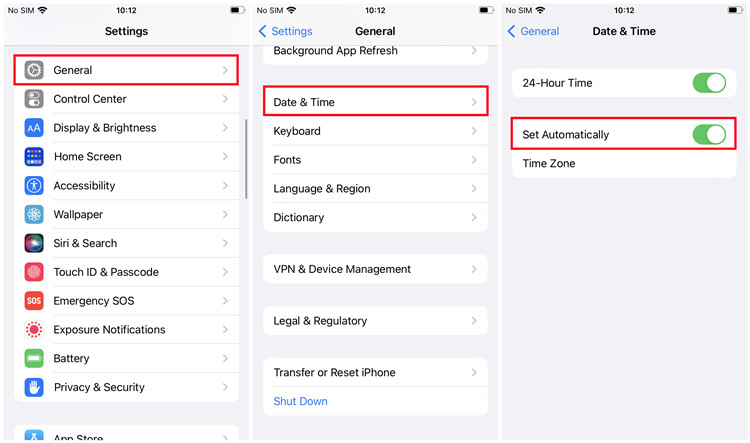 On your iPhone, open the Settings app.
Go to General.
Go to Date & Time.
Enable the "Set Automatically" option to ensure your device fetches the correct date and time from the network.
4. Update your device
Outdated iOS versions may lack important security updates, including root certificates. However, recently Apple Music's beta version of iOS 17 has bugs and errors, and can be troublesome. This can be a prominent factor in causing the SSL error in Apple Music. You can restore to a previous stable backup or update iOS.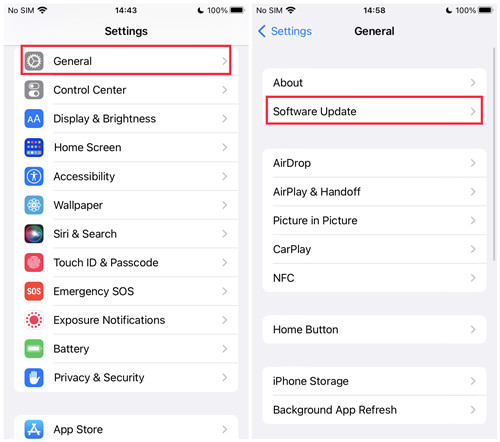 On your iPhone, open the Settings app.
Go to General.
Go to Software Update.
Find and select the "Download and Install" option if available, and follow the on-screen instructions to finish the update.
5. Reset network settings
Resetting network settings is also a potential solution to resolve network-related issues with SSL errors.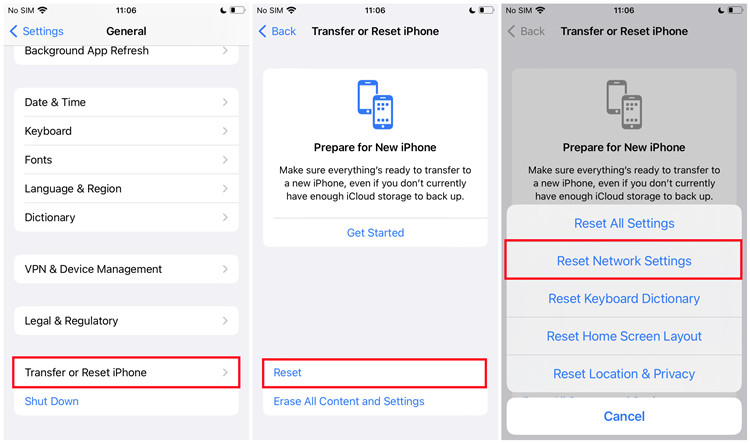 On your iPhone, head over to Settings.
Tap General.
Tap Transfer or Reset iPhone.
Select Reset.
Select the "Reset Network Settings" option.
6. Reinstall the Apple Music app
Indeed, reinstalling the Apple Music app can be practical approach to address SSL errors caused by issues with digital certificate verification process. By removing the Apple Music app and then installing it again, you are essentially starting with a fresh copy, which can help resolve any potential certificate-related problems.
From the home screen of your iPhone, find the Apple Music app icon.
Press and hold the Apple Music app icon until the app icons start jiggling.
Tap the "X" button on the top-left corner of the Apple Music app.
Select the "Remove" option to confirm the removal.
7. Contact Apple Support
If none of the above solutions resolve the SSL error, of if you believe it's a specific account-related issue, it's best to contact Apple Support for personalized assistance. Of course, as an alternative way, you can try downloading music from Apple Music into playable files on your device, then you can play the desired music with ease.
Part 3.

Alternatives to Fix SSL Error on Apple Music

To play your Apple Music unlimitedly on any device, ViWizard Apple Music Converter emerges as the best solution, as it allows you to convert and download various types of content into transferrable music files. Then you gain the ability to take your music files to your devices, including your iPhone, iPad, or iPod touch. Even without the Apple Music app, you can play Apple Music on any media player on your device effortlessly.

ViWizard Apple Music Converter is designed for both Windows and Mac users for downloading and conversion of Apple Music contents. It supports Apple Music, iTunes music, podcasts, audiobooks, Audible audiobooks and even the local files you put on Apple Music. For the output format, you can choose MP3, M4A, M4B, WAV, AAC, and FLAC. When the ViWizard program converts and downloads the music, lossless audio and metadata will be kept with the downloaded music.

Key Features of ViWizard Audio Converter
Free Trial
Free Trial
* Security verified. 5, 481,347 people have downloaded it.
Convert songs, albums, and playlists from Apple Music to MP3
Remove DRM protection from Apple Music, iTunes, and Audible
Save the converted audios with the original quality and ID3 tags
Support the conversion of up to 100 audio formats to others