Compared with going out to exercise, more and more people choose to do some exercise at home by exploring treadmills or other fitness equipment. And Peloton bike is, of course, one of them.
Peloton is an indoor exercise bike with a large touch screen display and built-in speaker. It is great to listen to music while exercising. If you have a selection of "Liked" songs during a Peloton workout, you can sync them to music services such as Spotify or Apple Music easily. But if you wish to play music in your library from Apple Music, you'll want a workaround.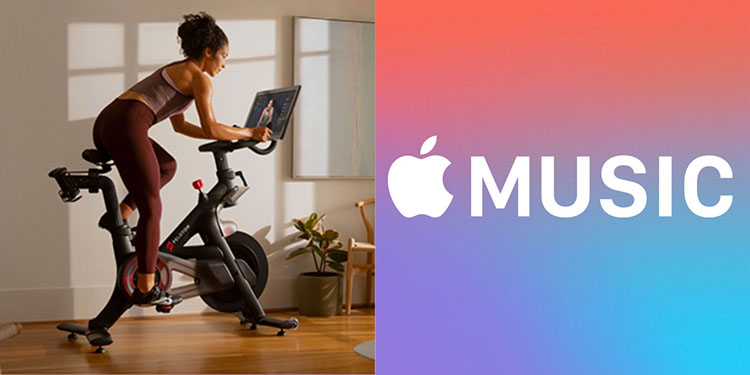 Part 1. How to Sync Peloton Music with Apple Music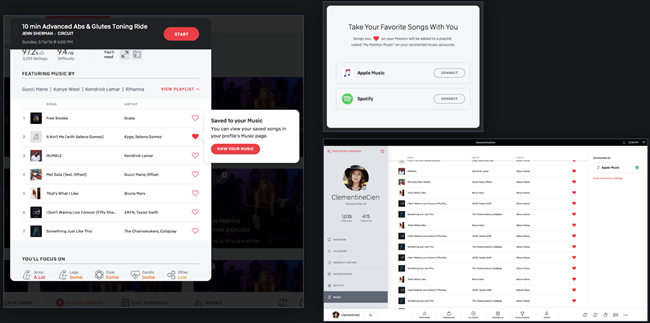 Peloton has launched a new feature named Track Love. This feature will let you save any song that you hear during classes, so you can add them to your own playlist for listening anywhere. A new Music section is added on your profile page and you can see the whole tracks that you've saved.
We also understand that you wish to sync the music that you've liked to your Peloton during a Peloton workout. In face you have the ability to do so. Once you start liking music during a workout, those songs will populate into a Peloton curated playlist. You can try syncing the Peloton music with Apple Music, so that you can organize those well in your Apple Music library.
HOW TO ACESS THE LIKE FEATURE ON PELOTON MUSIC
You should already have access to this "Track Love" feature when activating for the first time or under profile settings, post activation. Just tap the heart icon to like that song, and you're good to go.
Step 1. Choose the Music button on the Peloton screen. You will see a Heart icon next to the songs.
Step 2. Click that heart next to the song you like and it will be saved to your personal playlist. To review it, you can visit your profile page on the bike, and then go to Music > My Peloton Music by [your_username].
HOW TO CONNECT APPLE ID TO PELOTON
Step 1. On the lower left corner of the Peloton interface, tap on your username.
Step 2. In the left-hand panel, select Music.
Step 3. From the right-hand panel, select Connect.
Step 4. From the pop-up box, select Connect next to Apple Music.
Step 5. Enter your Apple ID and password to log in.
Step 6. Enter your two-factor authentication code then select Allow.
HOW TO ACESS PELOTON MUSIC ON APPLE MUSIC
When you have connected the Peloton to your Apple ID, now you can get your Peleton playlist on Apple Music app.
Step 1. Launch the Apple Music app.
Step 2. At the bottom, click the Library tab.
Step 3. Select Playlists.
Step 4. Scroll down to find My Peloton Music. Submitted by [your Peloton username].
Step 5. Tap it to view all of your stored Peloton tunes.
PELOTON MUSIC WITH APPLE MUSIC
2 Removing songs from your personal Apple accounts will not influence the Peloton playlist.
2 If you share the Peloton playlist with others, they will get a copy of this playlist.
Part 2. How to Fix Peloton Music Won't Sync with Apple Music
If you perform the sync process properly but fail to find them the that Peloton curated playlist, there're some possible situations:
PELOTON MUSIC NOT SYNCING WITH APPLE MUSIC?
1 If you don't have an Apple Music account of you use Apple Music with a different Apple ID, the playlist will remain on your Peloton profile playlist.
2 A song can take several minutes to appear on the third-party sites (ex: Apple Music) due to their caching process.
3 If your Peloton profile has been set to private, then your playlist is hidden. And those Apple Music tracks you liked during a Peloton workaround will follow the same logic as your Peloton profile when synced to Apple Music. By default, your profile is set to public and is visible as well as your Peloton playlist.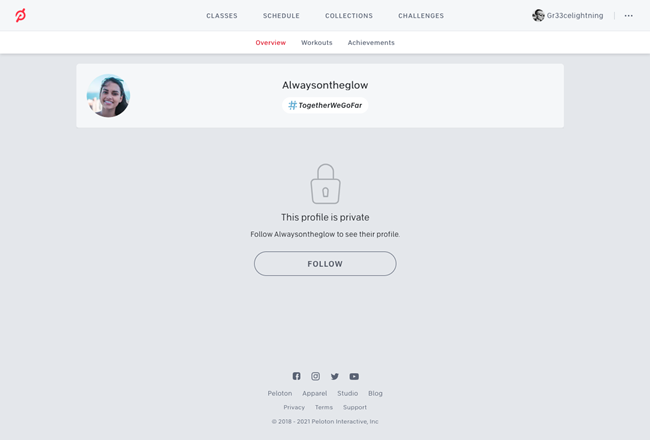 4 If an Apple Music song is unavailable in the iTunes Store, the title will show on your playlist, but it will be greyed out and inaccessible in your Apple Music library.
If you notice that Apple Music songs won't sync to your Peloton playlists represented by an error, you'll want to fix it by trying these steps to perform a factory reset.
HOW TO PERFORM A FACTORY RESET AND RECONNECT PELTON GUIDE
Note: Preforming a factory rest your Peloton Guide will restore the device to its original settings, erasing all data and detaching your Membership.
Step 1. Navigate to Settings > Systems > Factory Reset.
Step 2. Once you have completed a factory reset, you'll need to reconnect your Peloton Guide remote and go through the activation process again to use it.
Step 3. To reconnect your Peloton Guide remote, remove the batteries from your remote and then press and hold the center button for 15 seconds. Next, place the batteries back into the remote. Now check if the remote is in pairing mode now, and then follow the on-screen instructions and you're done.
Part 3. How to Play Apple Music Audio Files on the Peloton
Or you'll want some workarounds to play the audio files instead from either iTunes Store or other sources on your Peloton. You can try upload those Apple Music audio files to Google Drive and stream them via a WebView Browser on your Peloton. If you don't have any, don't hesitate to download some free MP3 audio files of your favorite Apple Music playlists with a third-party tool called ViWizard Audio Converter.
BEST APPLE MUSIC TO PELOTON CONVERTER
With ViWizard Audio Converter, even the Peloton doesn't have Apple Music integration, you can enjoy your Apple Music library during a Peloton workout. All can try to do is to download and convert your favorite Apple Music playlist to some unprotected audio files with ViWizard, then after the conversion, the audio files can be uploaded to your Google Drive, which should be accessible after you set up the Webview license.
In addition to Apple Music songs, iTunes files, iTunes podcasts, iTunes audiobooks and even Audible audiobooks you sync with iTunes can be downloaded into a selection of audio files. Pick either Windows or Mac version of ViWizard, and you're officially ready to go.

ViWizard Apple Music Converter Key Features:
Easily listen to Apple Music songs on Peloton offline
Convert iTunes songs, audiobooks, and Audible audiobooks
Convert Apple Music to MP3, WAV, AAC, etc.
Convert Apple Music tracks at 30X speed losslessly
Preserve ID3 tags and metadata info of your music files
Easy to operate with clear interface
HOW TO DOWNLOAD APPLE MUSIC AUDIO FILES WITH VIWIZARD:
Next, I will show you how to convert Apple Music to Peloton and how to listen to Apple Music on peloton for playback step by step.
Step 1

Import Apple Music to ViWizard

First of all, please click the link above to download and install the ViWizard Audio Converter application on your Windows or Mac computer. Then click the Load iTunes Library button on the ViWizard interface to load the Apple Music tracks from the library to the program. You can also drag and drop the local Apple Music files to the converter directly.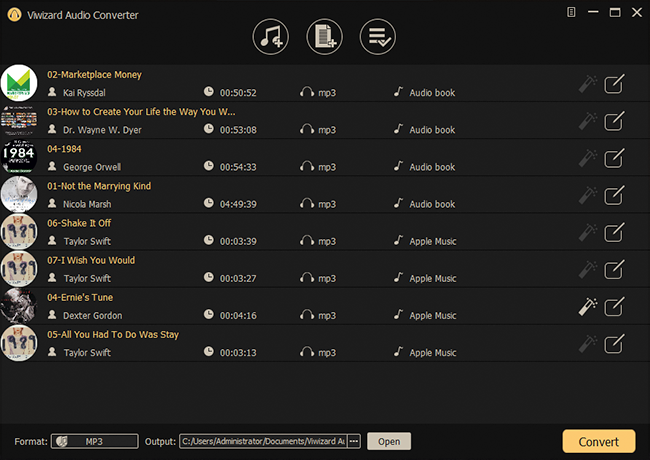 Step 2

Set Output Format and Preferences

Press the Format button at the lower-left corner of the interface to select an output format for your Apple Music songs, among MP3, AAC, FLAC, WAV, M4A, and M4B. Here we recommend you choose MP3 as output format, which is supported by Peloton. If you want to get higher quality output audio files, you can change the codec, channel, bit rate, and sample rate, etc.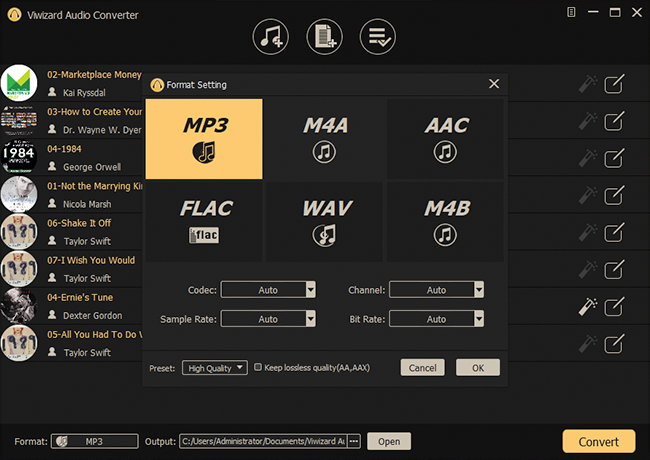 Step 3

Start the Conversion

Afterward, hit the Convert button to let ViWizard start to convert Apple Music to the common format you set. Wait for a few minutes until the process ends. Then you can locate all converted files by clicking the Converted icon on the interface.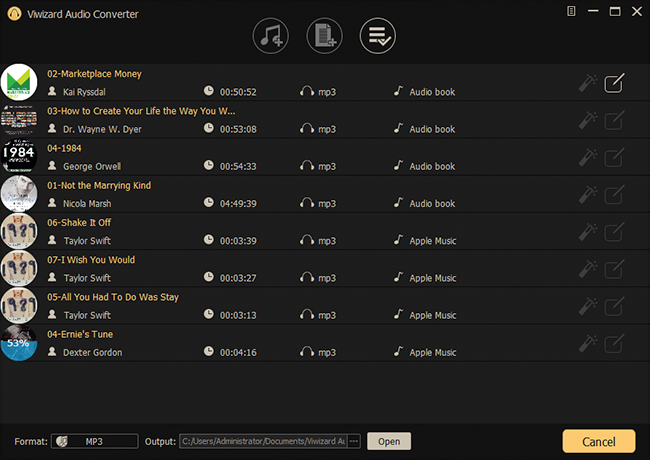 HOW TO UPLOAD APPLE MUSIC AUDIO FILES TO GOOGLE DRIVE
Step 1. Head to the Google Drive site with a browser on your phone, tablet, computer to sign in. If you're using a mobile device, you should transfer those audio files to it previously. But we suggest you to complete the uploading on a non-separate computer device.
Step 2. Once signed in, click the New button > File/Folder upload.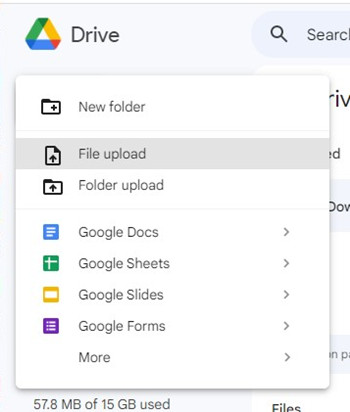 Step 3. Browse for the file or folder in the Windows Explorer or Finder to upload.
Step 4. Now you can access those audio files in your Google Drive.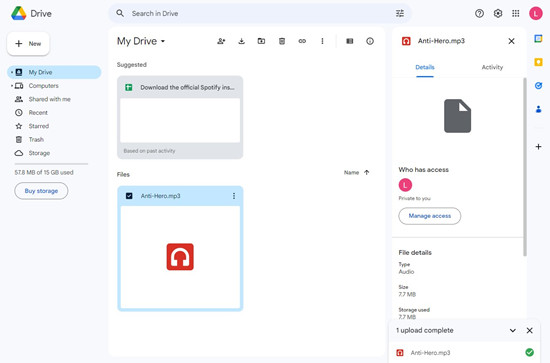 HOW TO ACCESS APPLE MUSIC AUDIO FILES ON PELOTON
Step 1. Choose your Peloton profile.
Step 2. Select Settings in the upper-right corner of the screen, and then scroll all the way to the bottom of the menu and choose Device Settings > System > About tablet > Legal information > Webview license.
Step 3. A list of licenses will be shown on the screen. Chose "Homepage".
Step 4. You may now use the browser to access those added audio files in Google Drive by heading to https://drive.google.com/drive/ to sign in.
Extra Tip: How to Connect an Apple Device to the Peloton [Apple Watch/AirPods]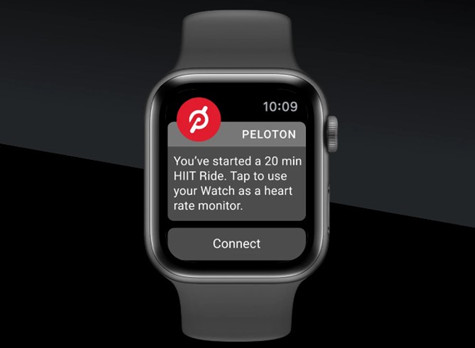 HOW TO CONENCT APPLE WATCH TO PELOTON GUIDE, BIKE, BIKE +, TREAD OR APP
Step 1. For starters, make sure you have the Peloton app downloaded on both your phone or tablet and your Apple Watch. To download the Peloton app to your Apple Watch, press the Digital Crown to see the Home screen > App Store, and then search for "Peloton" and download it through the App Store.
Step 2. Next, open the Peloton App and select More > Apple Watch > Set Up > Connect to Health App. This will open the Health app on your Apple Watch.
Step 3. In the Health app, tap "Turn on All" to let the Peloton app access your health data. Then, back to the Peloton app and press "Done".
Step 4. On your Apple Watch, open the Peloton app.
Step 5. Tap "Allow" if it asks for your permission to send notifications.
HOW TO PAIR APPLE AIRPODS TO PELOTON TOUCHSCREEN
Step 1. Make sure your AirPods are not connected to any other device at this second. If you connect them to your iPhone, iPad, Mac or a non-Apple device, disconnect them from the device. Also make sure the Bluetooth option is enabled on your AirPods.
Step 2. Once confirmed, place your AirPods in their case, and you should keep the lid open at this time.
Step 3. From here you need to reset your AirPods. Hold the button on the back of the case for 3-5 seconds until the amber light blinks three times.
Step 4. Once your AirPods are reset, put them back into pairing mode. From here you should try to pair them with the Peloton touchscreen.
Step 5. Now close the case's lid. On your Peloton touchscreen, select "AirPod" or the customized AirPod name on the "Available Devices" list. Once selected, wait for the status to change to "Paired".
Step 6. Tap the Peloton logo in the bottom-center of the touchscreen or return to the "Featured" page.
Step 7. Now the pairing should be successful. You can test a ride to ensure the sound is playing through your AirdPods.
Summary
Now you should learn how to sync Peloton Music to your Apple Music library. If you wish to play Apple Music during a Peloton workout, you must have a selection of audio files that you downloaded with ViWizard Audio Converter, and then upload them to your Google Drive, so you can access them via a Webview license. Next time you wish to play other contents like iTunes audiobooks or podcasts, just make use of ViWizard and you're good to go!