As a technical standard announced by the International Digital Publishing Forum (also short for IDPF), ePub is one of the most popular eBook formats with the extension of .epub. This powerful e-book format is compatible with various devices, including smartphones, tablets, computers, as well as e-Readers. But if you are an Amazon Kindle addict, you must know that eBooks supported by Amazon Kindle should be encoded in formats like Mobi, AZW3, PDF, etc. Obviously, you are not allowed to read .epub e-books on Kindle unless you convert this stunning ePub format to Amazon Kindle compatible formats like AZW3 in advance. Therefore, is there an effective way to transfer ePub to AZW3 files with lossless quality preserved?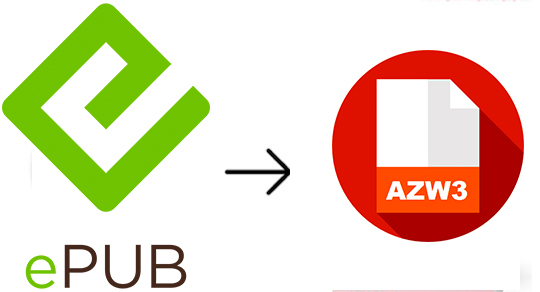 Everything You Should Know about ePub
With the development of conversion technology, it's not a difficult task to convert one e-book format to the other, since there are varieties of professional eBook converters for paid or free in the market. How about converting ePub to Kindle AZW3 files? Nowadays, when talking about the ePub format, we need to add a new understanding of this format. Most eBooks purchased and downloaded from iBooks store are encoded in .epub format, but these .epub files can be recognized by Apple ecosystem only, such as iPhones, iPad, iPod Touch, and more due to FairPlay DRM technology. Put it another way, iBooks ePub e-books can't read on multiple eBook e-readers, such as Amazon Kindle, Kobo e-Reader and Nook Tablet. With the purpose for reading .epub eBooks on Kindle, we should discuss the solutions in two kinds of condition, called respectively common ePub to AZW3 and DRM ePub to AZW3. In the article, we will give the detailed tutorial to help you make any ePub eBooks readable on Amazon Kindle by converting ePub to AZW3 effectively.
Part 1. How to Convert DRM-free ePub to AZW3
In order to convert non-DRM .epub eBooks to Kindle AZW3 format, you can find out some eBook converters or eBook converter applications for paid or free through the search engine. If you think it's too troublesome to install a third-party software, a free online e-book converter app seems the best choice for you. Zamzar is such an eBook converter freeware. With the help of Zamzar, you just need to import the unprotected ePub eBooks, define the output format, and tap the "Convert" button, and then you will get the eBooks that are supported by Amazon Kindle. On the other hand, you can choose some paid eBook converters. As one of the most excellent eBook converters, Epubor eBook Converter is an ideal option, which can work on a number of eBook formats, like ePub, AZW3, PDF, Mobi, AZW3, TXT, HTML and so on.
Part 2. How to Transfer DRM-ed ePub to AZW3
From what we mentioned above, we all know that there are some special and unique ePub eBooks, such as DRM iBooks. In order to prevent unlicensed sharing, Apple applies FairPlay DRM copyright protection in iBooks eBooks, which can't be supported by many common e-book converters so that you are not able to transfer DRM ePub files to non-Apple e-Readers directly. For the DRM-protected iBooks ePub files, you should remove DRM limitation from eBooks purchased from iBooks store firstly with a powerful iBooks DRM removal tool.
When it comes to the best iBooks DRM removal to get rid of DRM restriction from iBooks eBooks, here, we'll highly recommend TunesKit iBook Copy for Mac, one of most extraordinary iBooks DRM crackers, which can break the DRM lock at nearly 100% original quality and copy DRM-ed iBooks ePub e-books to DRM-free files at a 30X faster speed. Now, you can follow the complete guide to strip DRM from iBooks ePub content.
Step 1

Add iBooks DRM ePub files to TunesKit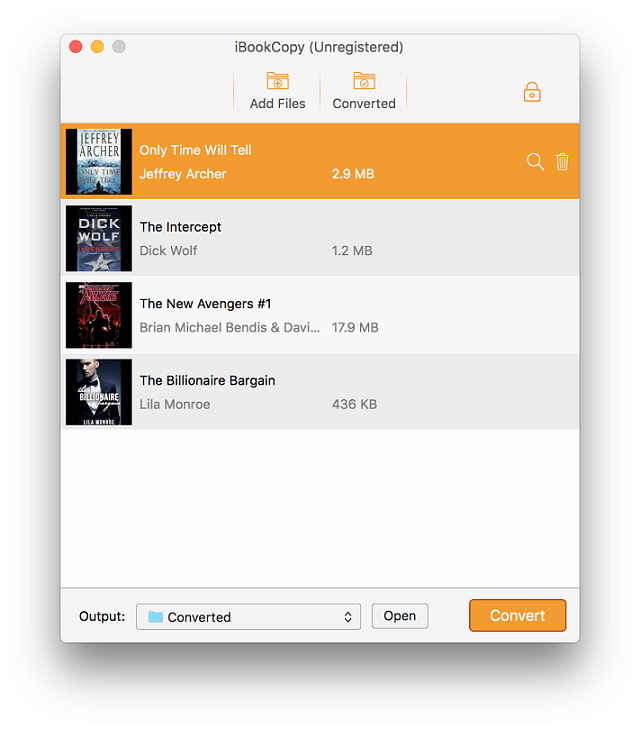 After you launch iBook Copy for Mac by double click, there are two methods for you to add DRM iBooks to TunesKit. One is to touch the "Add Files" button to choose your wanted iBooks ePub eBooks. The other way is as easy as dragging and dropping.
Step 2

Start to remove DRM from iBooks ePub files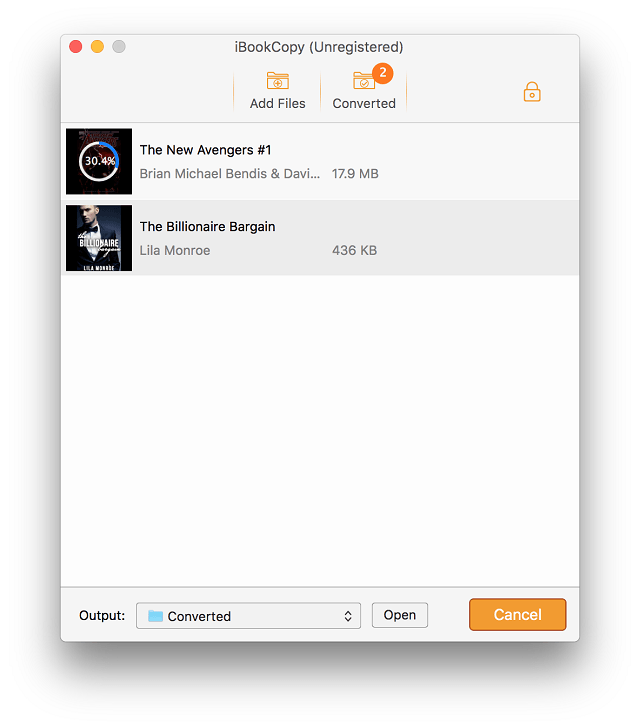 In this step, you can customize the output formats, such as book author, cover, destination folder and so on as you like. Once all settings are OK, you just need to click the "Convert" tab to start removing DRM from iBooks.
Step 3

Convert DRM-free ePub to AZW3 with Calibre

Once the conversion process finishes, you can find out the DRM-free ePub eBooks on the target folder. Then, the only thing you should do is to convert DRM-free ePub eBooks to AZW3 by using the above two solutions. What's more, we will introduce one of the most well-known free and open-source eBook converters for you to transfer ePub to AZW3 easily, called Calibre. You can get this free eBook converter and management software on its official website: www.calibre.com. And there is a detailed guide for you to convert unprotected iBooks ePub eBooks to AZW3: How to Convert DRM-free iBooks ePub with Calibre.