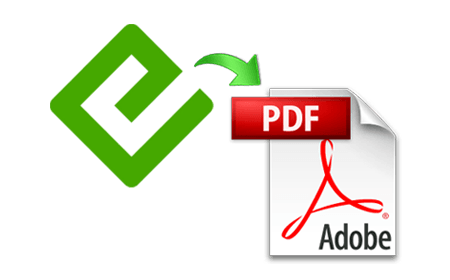 If the eBooks you collected are in ePub format but the eReader you are using doesn't support ePub, then you may have to convert the ePub eBooks to PDF, a more common format compatible with more eBook reading devices. As you can see, although ePub is one of the most popular eBook formats in the world, it's not so widely used as PDF which is supported by almost all eBook reading devices. The PDF files can not only be digitally signed and locked against copying, printing, even opening, but also keep the original layout of any document which has all kinds of data, including text, multimedia, video, maps, full-color graphics and photos. Besides, PDF is an ideal file format for sharing the eBooks with family members and friends. So if you happen to look for a solution to convert your eBooks in ePub format to PDF, then you can read the following article to find out the complete ePub to PDF conversion guide.
How to Convert DRM-free ePub to PDF
For the non-DRM-protected ePub books, there are two common solutions to convert the ePub to PDF format, including some free online eBook converter apps, and the well-known free and open-source eBook converter and management software, Calibre. In this part, we'll introduce those two ways to convert the ePub books to PDF format step by step.
Convert ePub to PDF with Online Free eBook Converter
This method is perfect for users who don't like to install any third-party software on your computer. Currently, you can find a lot of online free ePub to PDF converter apps available to help you directly convert ePub files to PDF through the Internet for free. One of the best online eBook converter freeware could be Zamzar. You can visit the official website to test it by yourself. It takes 3 steps only to complete the online ePub to PDF conversion, including loading the ePub files, selecting output format and clicking "Convert" button.
Convert ePub to PDF with Calibre eBook Converter
As one of the most well-known free eBook converter, Calibre is a great option to convert among a variety of eBook formats, including ePub, Mobi, PDF, HTML, TXT, etc. Now, let's see how it works to convert ePub books to PDF in details.
Step 1

Import ePub Files to Calibre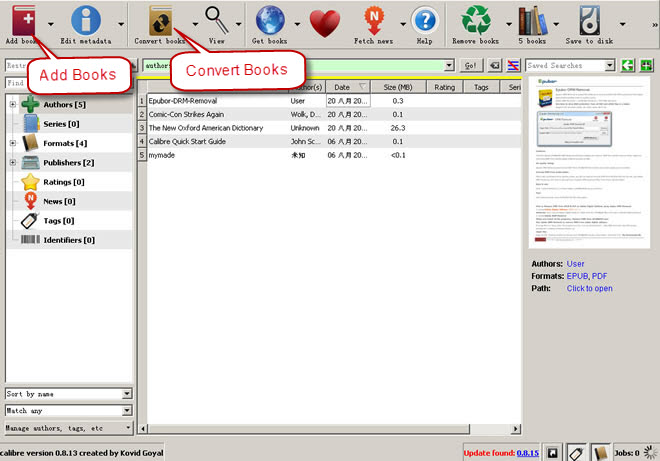 Launch Calibre ePub to PDF converter and drag your ePub files to its main interface. Or you can click "Add books" button on the top left corner of the software to add the ePub books.
Step 2

Select Output Format as PDF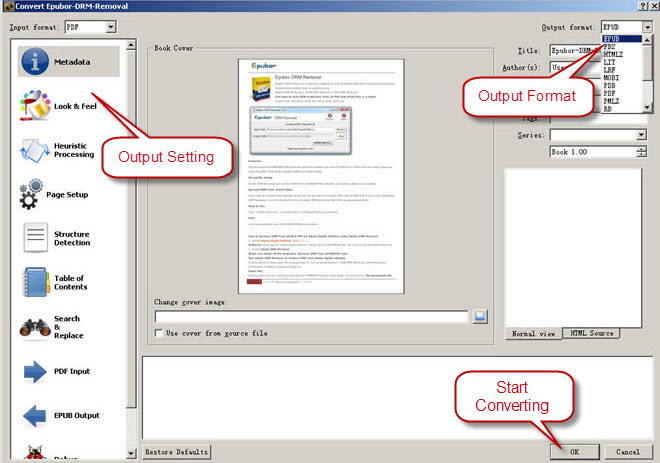 Select all the ePub files you need to convert and click "Convert books" at the top navigation bar. Then a window will pop up to let you choose output eBook formats. You should just choose PDF here.
Step 3

Start Converting ePub to PDF

Now click "OK" button to start converting your ePub eBooks to PDF format. Then you can see a conversion process at the bottom right corner. When the number turns to "0", it means all your ePub books have been converted successfully to PDF.
How to Convert DRM-ed ePub to PDF
As you may know, aside from those common ePub eBook files, there are some specially encrypted ePub books, such as the ones you purchased from iBooks store. Apple uses FairPlay DRM technology to protect the copy right of the ePub files so that you are not allowed to transfer or convert those DRM-ed ePub files to non-Apple eBook readers. That's to say, you can't directly convert the DRM-ed ePub to PDF with eBook converter either. In this case, you need to use a special DRM removal tool for iBooks ePub files before converting the ePub to common PDF.
Best DRM Removal Solution for Protected iBooks ePub Files
TunesKit iBook Copy for Mac is such a smart and easy-to-use iBook DRM remover developed to help you completely remove DRM lock from ePub books downloaded from iBooks app. It's able to work at 30X super fast speed while reserving the original metadata info for the ePub books, including the book author, publish date, book cover, etc. It's fully compatible with the latest iBooks app and OS X 10.11, 10.10, 10.9 and 10.8.
To view the complete guide to convert the DRM-ed ePub to PDF with TunesKit iBook Copy, please visit this article: How to Convert DRM iBooks ePub to PDF >>