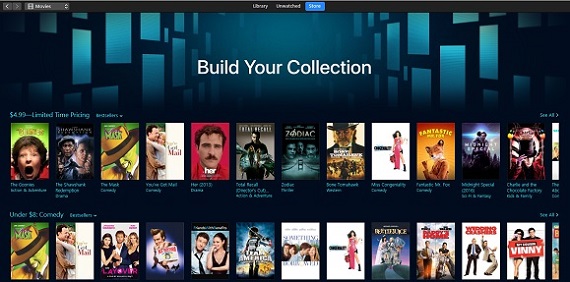 As the year of 2017 is coming to an end, we are now meeting the biggest shopping season of the whole year. There are big discounts being applied to almost all products, including the digital media content. For instance, Apple just launched its year-end movie sales in iTunes store, with biggest discounts on some popular movies and TV shows, including the 4K titles.
Build Your iTunes Movie Collection with $4.99 Limited Pricing
The biggest end-of-year iTunes sale starts with $4.99 movies and TV seasons, $1 rentals, and movie bundles. For movies, we can see some well known titles like The Shawshank Redemption, The Mask, You've Got Mail are being listed for sale. For the detailed discounted prices, you can follow our top picks as below.
$4.99 Movie Deals
The Goonies, The Shawshank Redemption, The Mask, You've Got Mail, Her, Total Recall, Zodiac, Bone Tomahawk, Miss Congeniality, Fantastic Mr. Fox, Midnight Special, Charlie and the Chocolate Factory...
$4.99 TV Seasons
The Office Seaons 1-9, House Seasons 1-8, The O.C. Seasons 1-4, Monk Seasons 1-8
$1 Movie Rentals
A Walk to Remember, Flight, Wedding Crashers, Gravity, Two Weeks Notice, J. Edgar ...
In addition to the under $5 movie deals, iTunes also offers some other movies under $8. You can easily find those titles in iTunes "Build Your Collection" section.
Collect 4K HDR Library with Specially Priced Movie Bundles
To make the movie sale even more attractive, Apple also introduced special bundles of some 4K HDR movies starting at $19.95. Each 4K HDR bundle contains three movies produced by the same studios, including Warner Brothers, Sony Pictures, 20th Century Fox, Universal Studios, and Lionsgate. Movies like Bad Boys, The Professional, Life, Starship Troopers, Passengers are included in the 4K sale.
Extra iTunes Tips: Save More on iTunes Movies & TV Shows
The yearly iTunes movie sale is time limited. So don't miss the chance if there's any film you really love to get. If you want to even save more on iTunes movies and TV shows, you are suggested to get some extra discounts by using iTunes gift cards which are being discounted as well. You can get those discounted gift cards from online stores like Amazon, eBay, etc. To learn more about iTunes gift card and how to gift iTunes movies, you can visit this post: How to Gift Movies and TV Shows in iTunes.
Quick Solution to Play iTunes Movies on Any Device
Once you downloaded those movies or TV shows from iTunes, you may find it's difficult to watch them on devices running Android OS. In fact, that's because iTunes movies and TVs are locked by Apple's FairPlay DRM with which only Apple's own devices could recognize the videos properly. But don't worry. If you want to watch those DRM-protected iTunes videos on non-Apple devices, you can use ViWizard DRM Media Converter to delete the DRM lock once and for all. For more details, you can download the free trial version as below and follow the tutorial here: How to Convert iTunes Movies to MP4.

Rick Lee has written about business and consumer technology for nearly 25 years. He is the author of more than a dozen books.