'All I Want For Christmas Is You' Tops Holiday Songs Chart Globally
As a classic Christmas song written over 27 years ago, the American singer Mariah Carey's All I Want for Christmas Is You is reported to top Spotify, YouTube, and other holiday songs chart this December again.
According to YouTube, this 27-year-old Christmas classic received over 7.3 million views so far, becoming the most-viewed holiday song in the United States and worldwide, while that number is still rising every day. Carey has performed All I Want for Christmas Is You during numerous live television appearances and tours throughout her career. In 2011, Carey also re-recorded the song as a duet with Canadian singer Justin Bieber, known as the "SuperFestive!" version.
All I Want for Christmas Is You is also the highest-charting holiday hit in 50 years on the Billboard Hot 100, reports said. To nobody's surprise, this track reclaims the crown on the Global 200, as it followed four weeks atop the tally last holiday season. It's time to listen to this classic Christmas song again.
Stream Mariah Carey's 'All I Want for Christmas Is You' on Spotify
In the mood for Mariah's catchy tune now? Simply open Spotify to search this song or directly hit the Play button below to get into the spirit of the holy season immediately. Or you can download this classic directly from YouTube Music, Apple Music, Pandora, Deezer, and iHeart Radio if you are subscribing to those streaming services. But before let's enjoy this soundtrack now.
All I Want for Christmas Is You Lyrics
I don't want a lot for Christmas
There is just one thing I need (And I)
Don't care about the presents underneath the Christmas tree
I don't need to hang my stocking there upon the fireplace (Ah)
Santa Claus won't make me happy with a toy on Christmas Day
From the first verse, you can view several familiar typical of Christmas time: the Christmas tree, the presents underneath the tree, Santa Claus bringing toys to kids, and the stockings hung on the fireplace. All I Want for Christmas Is You is really a love song set in the Christmas context. This soundtrack is pretty suitable for listening at Christmas.
All I Want for Christmas Is You MP3 Free Download from Spotify
Take Spotify as an example, here we'll show you how to free download All I Want for Christmas Is You MP3 with no Premium subscription, while preserving the original 320kpbs bitrate and removing ads from this song.
Tool: 'All I Want to Christmas Is You' MP3 Free Download
To download All I Want for Christmas Is You from Spotify, you'll need a Premium account. But with the help of Spotify DRM removal like ViWizard Spotify Music Converter, you can not only remove DRM from this track but also save it into the MP3 format, as DRM is the main reason that prevents free users to download Spotify music offline. With such a Spotify downloader, you're able to free download any Spotify track and playlist as MP3 losslessly with ID3 tags kept, no matter whether you are using a Premium or Free account of Spotify.

Key Features of ViWizard Spotify Music Converter
Download Spotify songs, albums, playlists, podcasts with Free account
Convert Spotify music to MP3, AAC, WAV, FLAC, M4A, and M4B losslessly
Keep Spotify music with ID3 tags and 320kbps bitrate after conversion
Handle the conversion of Spotify at up to 5× faster speed and in batch
Guide: 'All I Want to Christmas Is You' MP3 Free Download
Now the following guide will show you how to download the most streamed Christmas song All I Want for Christmas Is You as MP3 from Spotify step by step. Make sure that you have ViWizard Spotify Music Converter and Spotify installed on your computer.
Step 1

Locate 'All I Want for Christmas Is You' on Spotify

Open ViWizard Spotify Music Converter and wait for a while till it launches the Spotify app. Go to your Spotify account and search for 'Maria Carey', or 'All I Want for Christmas Is You'. You can simply find it from the homepage of Spotify under 'Christmas Hit' playlist. And then drag the song to ViWizard main window.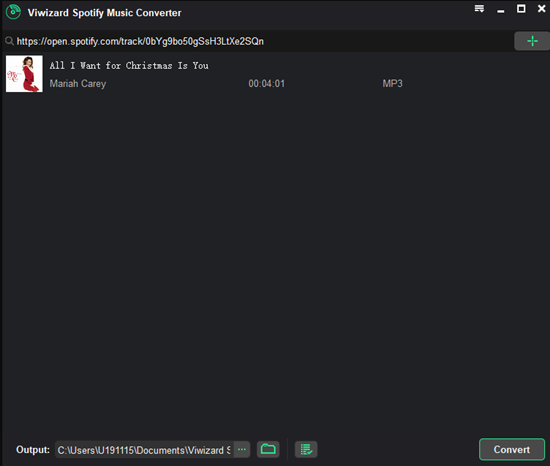 Step 2

Define output profile as MP3

Go to the top menu of ViWizard Spotify Converter and click on "Preferences" option. Then select the output format as MP3. You can also customize the other parameters like audio channel, bit rate, sample rate based on your requirements. Click "OK" to save the changes.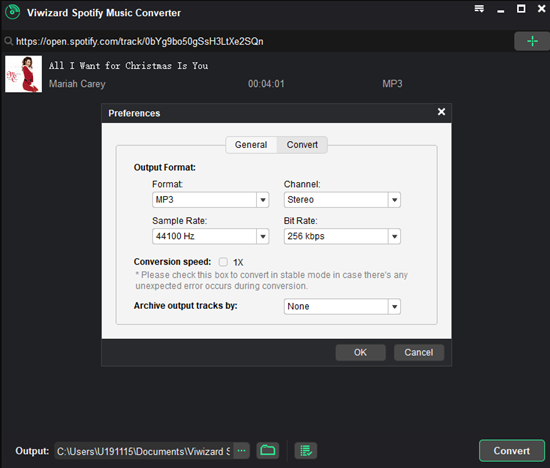 Step 3

Begin downloading Mariah's songs

Now you can start the downloading process by simply clicking the "Convert" button. Then it will automatically extract and download the 'All I Want for Christmas Is You' from Spotify at up to 5× speed. Once done, you can find the MP3 file from "converted' folder and share it to any MP3 player for offline playback.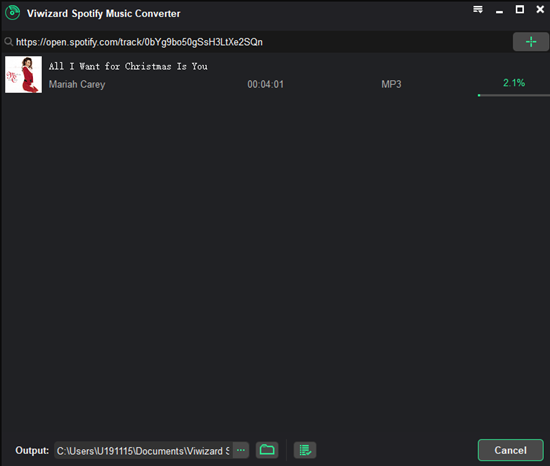 Some Interesting Facts You Never Know about 'All I Want for Christmas Is You'
You might have played this song many times. But you probably don't know the stories behind it. There are top 4 unknown things about 'All I Want for Christmas Is You'.
1. Mariah Carey didn't like to record a Christmas album
Recalled by Tommy Mottola, Mariah Carey's husband, when Carey saw the cover of the "Merry Christmas" album which features her on a sleigh, she began to exclaim, "What are you trying to do, turn me into Connie Francis?" Because at that time, Christmas albums or songs were considered to be for older artists who had been put out to pasture.
2. The carol was written in just 15 minutes
Carey and Afanasieff, the song's co-writer worked together for 'All I Want for Christmas Is You' in 1994. And all the chords, structure and melody of the song were carved out in just 15 minutes.
3. The song is loved by goats
In 2010, a British farmer discovered that his goats produce more milk when 'All I Want for Christmas Is You' is played on a loop.
4. Carey and Afanasieff never contacted since 1997
After the cooperation of 'Butterfly' album in 1997, Mariah Carey decided to explore a more R&B-influenced direction. So she never contacted Afanasieff since then, said the co-writer.
More Useful Tips to Download Carey's Christmas Songs from Other Services
If you are subscribing to Apple Music instead of Spotify, simply go for ViWizard Apple Music Converter. With this converter, you can download and convert Mariah Carey's Christmas songs to MP3 for you, as well as, other top Xmas songs on Apple Music. Or you can use TunesKit Audio Capture to record this Christmas classic losslessly if you are using other music streaming services like YouTube Music, Deezer, Pandora, and iHeart Radio.