Spotify is without doubt one of the most popular music streaming services in the world. It offers millions of songs that you can listen to no stop. In addition, it is available on a wide of ranges of devices such as smartphones, home speakers, and wearables. This means that you can listen to your favorite Spotify songs when at home, when in office on your computer, or when in any other environment that allows you to have your speakers with you.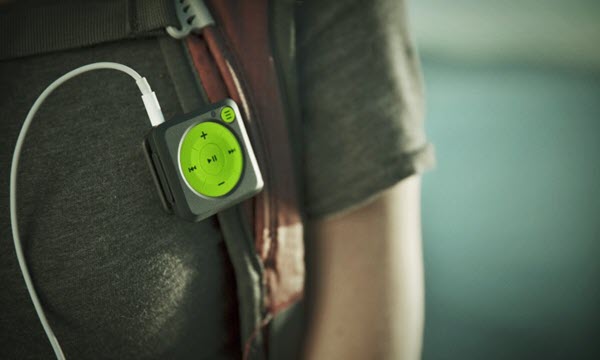 Unfortunately, for most of us, we often engaged in various activities where we cannot carry our smartphones such as when running or working out in the gym. The good news is that there are lots of portable music players you can use in such situations to enjoy Spotify songs even offline. We've spent time with plenty of the best Spotify portable player on the market and have put together this guide to help you choose the player that's right for you.
5 Best Portable Music Player for Spotify
What if you're tired of dumping more music downloads onto your already-loaded phone? Fortunately, there are still a bunch of Spotify portable music player available for you to take the load off your mobile device. Some of the best Spotify portable player for Spotify to consider are as below.
1. Mighty Vibe
Mighty Vibe is a small wireless music streaming devices, letting you bring with your favorite Spotify songs to wherever you go. This is a great improvement on the portable device you use since that you don't need to deal with cables and the often-bulky smart phones. Mighty Vibe has revolutionized the playback of Spotify songs as it has the same design as iPod shuffle. It can store up to 1,000 tracks enabling you to play your Spotify playlists without Internet connection when you don't have your phone.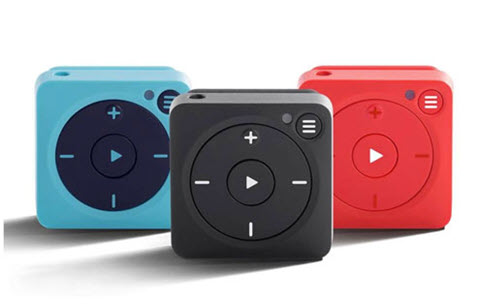 Mighty's battery lasts longer than most of your workouts, which gives ample time to listen to all your best songs. You can stream music directly to the device or you can sync your playlists from Spotify. Once your music is synced, Mighty can be completely offline. Then you can enjoy songs quite easy with a wireless headphone when running or engaged in any other activities where you need to put your phone down.
How It Works with Spotify:
1) Download and install the Mighty app on your phone.
2) Launch the Mighty app and choose Spotify under Music Service.
3) Log into your Spotify Premium account and tap Sync Now to sync your playlists.
4) Once done, start to play your Spotify songs on Mighty and put your phone down.
Why we choose Mighty Vibe:
1. Offer large storage space for saving songs
2. Support to download songs for offline listening
3. Work perfectly when without Internet connection
4. So small and light for you to carry around with ease
Those who want to find a simple, durable, and affordable portable music player for Spotify could take Mighty Vibe into consideration. But you cannot ignore that it is just a music player and nothing else.
2. Fitbit Sense
All series of Fitbit watches can be compatible with Spotify, and therefore this should not come as a surprise to you that Fitbit Sense supports playing Spotify music. Fitbit has added Spotify to its list of supported music clients, thus making it easy to pair your Spotify account with your watch for listening to songs. So, you can control Spotify from your wrist, then use Spotify to stay motivated with curated playlists specifically made for your favorite workouts.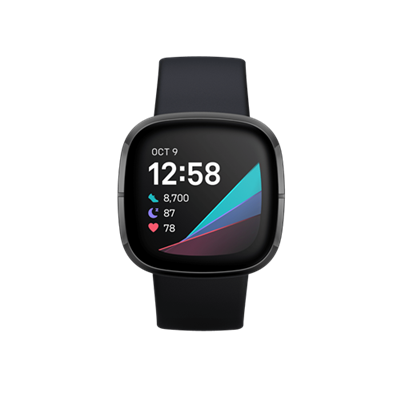 Except for music experience, Fitbit Sense is the advanced health smartwatch that helps you tune in to your body with tools for stress management, heart health, SpO2, skin temperature, and more. With this smartwatch, you can choose from up to 20+ exercise modes to get real-time stats during your workouts or let SmartTrack™ automatically recognize and record your exercises.
How It Works with Spotify:
1) Open the Fitbit app on mobile and tap your profile icon then your Fitbit device.
2) Tap Apps and find and install Spotify under All Apps on your watch.
3) Go to My Apps, and tap the gear symbol next to Spotify to log into your Spotify account.
4) Start to browse Spotify's catalog and choose an album or a playlist to play on the watch.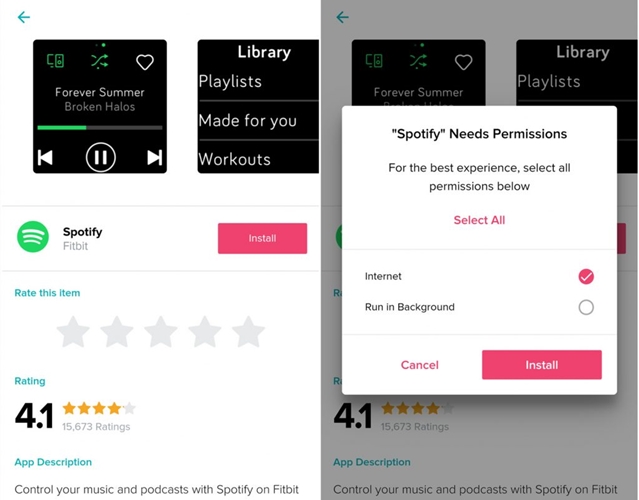 Why we choose Fitbit Sense:
1. Track your morning, night & everything in between with 6+ day battery life
2. Support to play music, playlists, and podcasts from Spotify, Deezer, and Pandora
3. Offer various modes to monitor your health and understand your body
4. Get notifications for calls, texts, calendar events and apps like Gmail and Facebook
Sport enthusiasts cannot refuse this Spotify portable player for Sports. Fitbit Sense can not only deliver the best sound but also detect your daily activities and boost your energy with better rest. The only drawback is that it doesn't support offline playback of Spotify.
3. Apple iPod Touch
Coming with up to 256GB of storage, iPod touch enables you to keep more songs than ever. With a subscription to Spotify, you can sign into your Spotify account and sync your playlists and songs from Spotify to the device for listening. It is designed with a touchscreen play, so you can browse Spotify's catalog and select any track to play with ease. Since Spotify is available on iPod touch, it would be easy for you to download and install Spotify.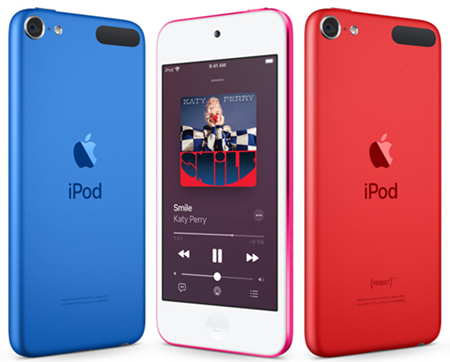 iPod touch gives you an amazing gaming experience, thanks to the A10 Fusion chip. It also gives you a beautiful canvas for your messages, photos, videos, and more. And you can hold various digital services in hand. What's more, you can explore amazing, immersive augmented reality experiences on your iPod touch.
How It Works with Spotify:
1) Launch Spotify on your iPod touch and sign into your Premium Spotify account.
2) Find the songs or playlists you want to download then go to download them to your iPod.
3) Click the Available Offline at the top of any song, and it will sync the tracks for offline use.
4) Open Spotify Offline Mode by going to the Library > Settings > Playback > and toggle on Offline.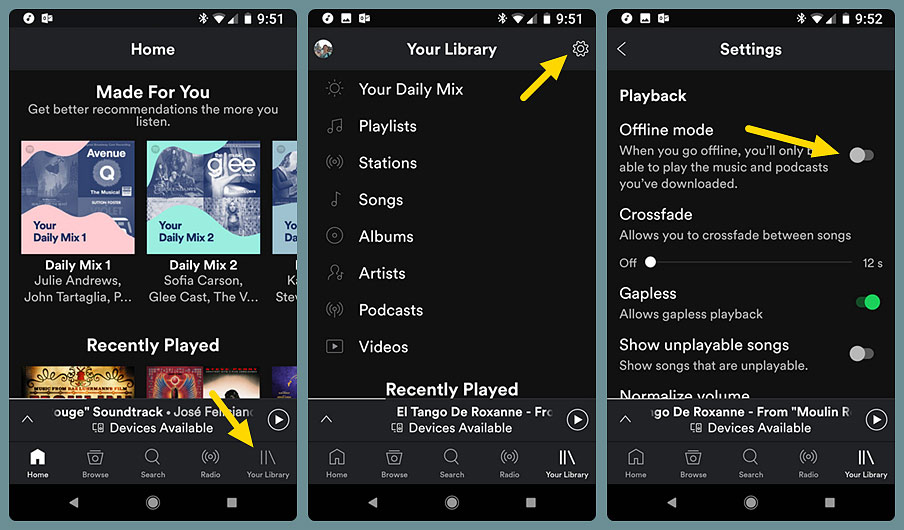 Why we choose Apple iPod touch:
1. Give you the ability to store up to 128 GB of your favorite tunes
2. Make it easy to browse things with a gorgeous retina display
3. Compatible with various music streaming services like Spotify
4. Support a full work week of listening with up to 40 hours of battery life
If you're an Apple devotee, you prefer the iPod family. iPod touch is just the ticket for those who want to have a great listening experience with their music streaming services. But it is a little experience for you to buy a just music player.
4. Garmin fēnix 6
Garmin fēnix 6 is not your typical portable MP3 player with Spotify but works find when it comes to the ability to listen to your Spotify songs while on the go. In fact, it is one of the best smart watches on the market that you should have. It not only integrates with Spotify but also supports several other music streaming services such as Deezer and Amazon Music. Therefore, you can access your playlists, albums, and podcasts for listening anywhere.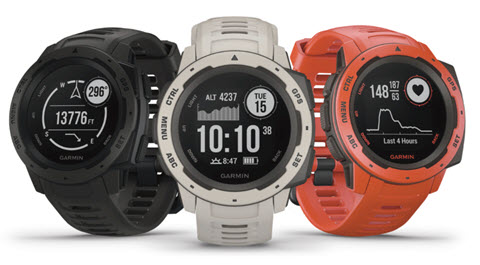 Garmin fēnix 6 has a music storage that allows you to download a wide range of songs for listening anywhere, even without Internet connection. To make the deal even sweeter, the device Spotify enabled making it easy for you to download and listen to your favorite songs via the Bluetooth headphones. With a strong Bluetooth connectivity, it enables you to easily transfer songs and even connect it to other devices in your home. Besides, it offers other important features for running other than listening to music.
How It Works with Spotify:
1) Download the Spotify app from the Connect IQ Store onto your Garmin device.
2) On your Garmin watch, open Spotify and tap Your Library, then Add music & podcasts.
3) Find Recently Played, Playlists, Made for you, Workout, and Podcasts.
4) Tap on the Add icon to download Spotify songs to your Garmin watch for offline listening.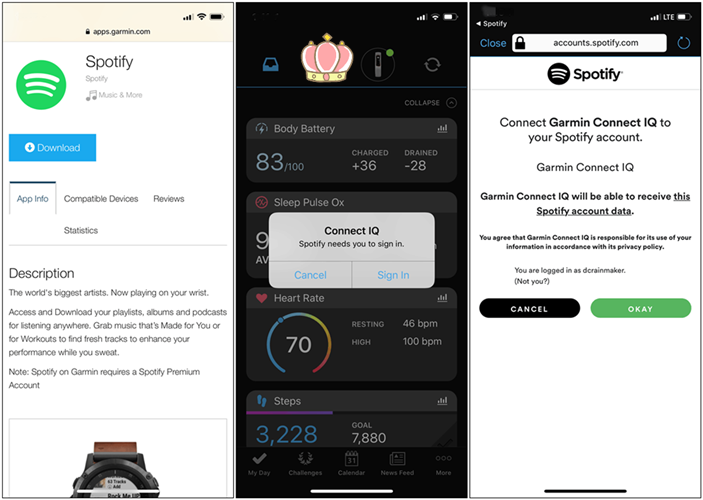 Why we choose Garmin Fenix 6
1. Store a large catalog of songs for you to listen to offline.
2. Connect to your phone or other electronic devices for playing Spotify.
3. Bring cutting-edge design and performance to your fast-paced lifestyle.
4. Offer lots of great features like a built-in navigable map for outdoor activities.
Anyone looking to listen to music while they work out can try to buy Garmin Fenix 6. Combining the best features of our fitness and outdoor watches, fēnix 6 will bring lots of surprise to you, but you need to have an iPod-level budget.
5. Samsung Galaxy Watch
The other great Spotify player you can use when on the move and do not want to carry you phone around is the Samsung Galaxy watch. You should expect this to be a great device. With this device, you can download playlists and songs directly from your Spotify to your watch for listening to while offline. This allows you to enjoy your favorite songs while doing outdoor activities such as running, dog walking or even when taking a short walk.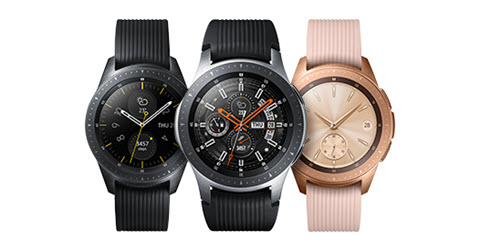 In addition to a large storage space for your Spotify songs, Samsung Galaxy watch also comes with several other great features that makes it a great gadget to have. It is stylish yet sturdy at the same time making it perfect for use outdoors. It has tracking capabilities for tracking fitness parameters such as heart rate, calories, and sleep among others.
How It Works with Spotify:
1) Download the Spotify app from the Connect IQ Store onto your Garmin device.
2) On your Garmin watch, open Spotify and tap Your Library, then Add music & podcasts.
3) Find Recently Played, Playlists, Made for you, Workout, and Podcasts.
4) Tap on the Add icon to download Spotify songs to your Garmin watch for offline listening.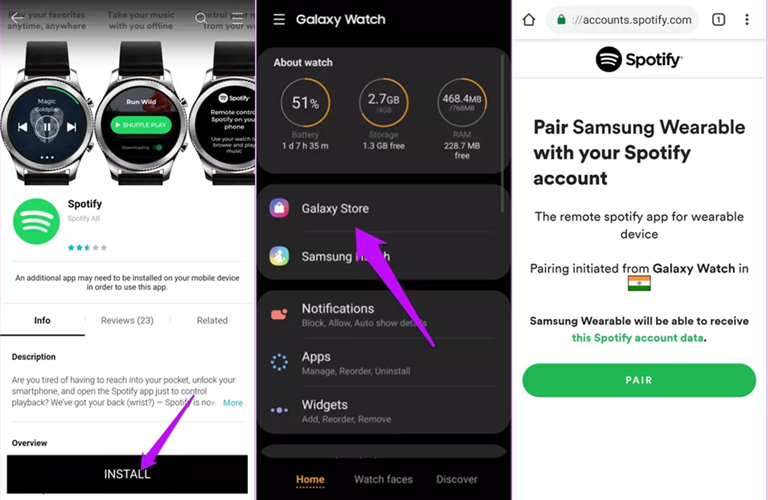 Why we choose Samsung Galaxy Watch:
1. Store many music tracks for you to listen to for several days
2. Enjoy compact, sleek, and light in weight making it easy to carry it around
3. Guarantee you great entertainment while outdoors with a longer battery life
4. Come with amazing Bluetooth headphones that makes it easy to listen to songs as you run
Music lovers who would rather just use portable music player for Spotify can buy this watch. You can enjoy both music and sport features on this watch but you need to stand up with the Bluetooth headphones issues at times.
Part 2. How to Play Spotify with Any Portable Music Player
If you are a runner or you love outdoor activities then you know that listening to Spotify music on your phone with cable headphones during such activities can be a headache. However, with these portable music players with Spotify, you can easily listen to your favorite Spotify playlists while on the move.
But it's a bit difficult to find a portable MP3 player with Spotify. You may be questioning why you cannot play your favorite Spotify songs and playlists on those MP3 players such as Sony Walkman and SanDisk MP3 player. That's mainly because Spotify songs are only authorized to be played within the Spotify app due to the encryption technology.
In order to listen to any Spotify music track on all types of MP3 players, you should use some 3rd-party Spotify converter such as ViWizard Spotify Music Converter. It is an excellent audio converting tool for Spotify to download and convert Spotify songs to MP3 or other common formats. And this is really only one way you can effectively play Spotify on any portable music player without hassle.

Key Features of ViWizard Spotify Music Downloader
Download any track and playlist from Spotify without premium subscription
Remove ads and DRM protection from Spotify music tracks, albums or playlist
Convert Spotify songs, artists, album, and playlist to common audio formats
Work at 5× faster speed and preserve original audio quality and full ID3 tags
More Spotify tips & tricks