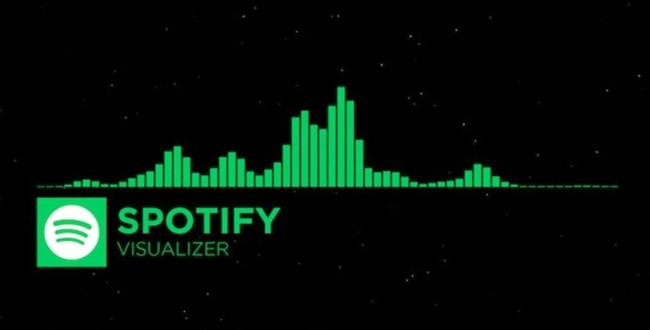 Playing music on your computer or even Smartphone without visualization can be quite boring. Music visualization is the generation of animated imagery displayed on the screen as the audio music plays along. This adds life, color, and energy to the music being played. Music visualizer is thus an important feature in the current age where a majority of us stream music from online streaming platforms, such as Spotify and Apple Music.
Unfortunately, Spotify, which is the most popular music streaming service in the world, does not have a native music visualizer. They did an experiment with one desktop music visualizer a few years ago but pulled it down for some reason. This means that you have to find other ways to visualize music tracks you stream from Spotify. Luckily, there are a number of third-party music visualizers that support Spotify music. Here are the 5 best visualizer for Spotify available for use in 2023.
Part 1. Top 5 Spotify Music Visualizers
1. Monstercat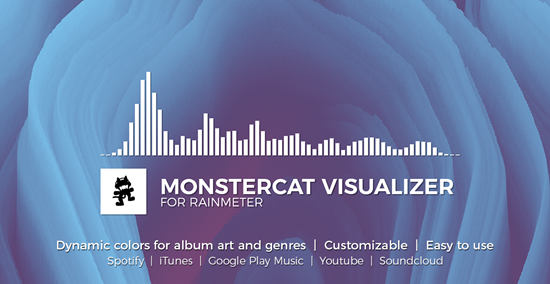 Monstercat Visualizer is a real time audio visualizer for Rainmeter similar to the ones used in the Monstercat videos. It supports all major media players, including Spotify and Chrome/Firebox Spotify Web Player support for the amazing plugins in this skin. You have some excellent features like live visualization of the audio output, customizable colors and fonts, genre-based colors, cover-based colors, media controls & progress bar, setting skin for easier customization/configuration. With the full Spotify desktop and web player, you can make a difference with Monstercat. On Windows 7 or higher, all you have to do is to open the Monstercat visualizer Github Release page and follow our guides to connect it with the Spotify desktop app or Spotify Web Player. Learn how to make rainmeter visualizer work with Spotify Support.
2. Kaleidosync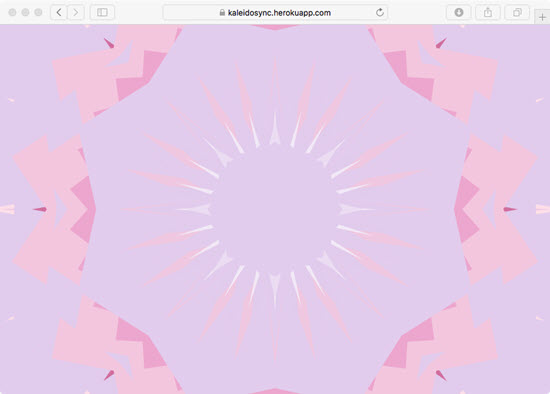 This is a web based Spotify music visualizer that allows you to play and visualize your Spotify audio tracks while connected to the Internet. It is a very simple tool for you to visualize your Spotify songs. If you play Spotify music on computer directly from the platform, you will love this amazing music visualizer. To enjoy the great visual for your Spotify tracks, all you have to do is open the site for this visualizer. You will then be directed to log into your Spotify account. From there you can start playing the music tracks you love and the visualization will start immediately. This visualizer for Spotify is sound sensitive and thus will react to each individual song producing unique visuals based on the rhythm and tempo of the song you are playing. If you love to see the sound of the songs being played then this is your best bet.
3. Synesthesia Visualizer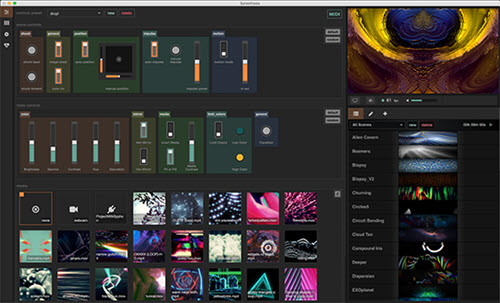 Synesthesia is a powerful visualizer for Spotify tacks that you should start using if you haven't already. It prides itself for having over 50 high quality scenes that will give you an extremely mind blowing music visualization experience. It can visualize all the Spotify audio content with no problem at all. It has a great user interface that makes visualizing Spotify songs supper easy.
The Synesthesia Spotify visualizer is created with advanced algorithms that will automatically turn your audio files into wonderful visuals. It uses mid mappable controls and lets you integrate it with other plug-in in order to create amazing real time visuals. This helps in improving your experience and giving you a great time watching Spotify music files.
4. PotPlayer Visualizer
This is another great music visualizer for Spotify that will turn all your Spotify audio tracks into awesome visuals in no time. It is made up of powerful algorithms that use the music tempo and loudness to create mind-blowing real time visualization for Spotify music. If you love playing Spotify songs offline, you will love this visualizer. It has a simple design and is quite easy to use. It is also quite powerful giving the best experience ever.
The biggest advantage of PotPlayer visualizer is that it is an advanced alternative to the popular VLC media player. What this means is that in addition to creating visualization for your Spotify playlists, you can use it to play a lot of other non-Spotify songs. This gives a lot of freedom when selecting music sources and especially if you are subscribed on two different music-streaming services or for playing songs that are not available on Spotify. It is a relatively small software and will not take too much of your space. Its visualization are quite unique and will literary enable you see to tones and rhymes of the songs you listen to.
5. Plane 9 Visualizer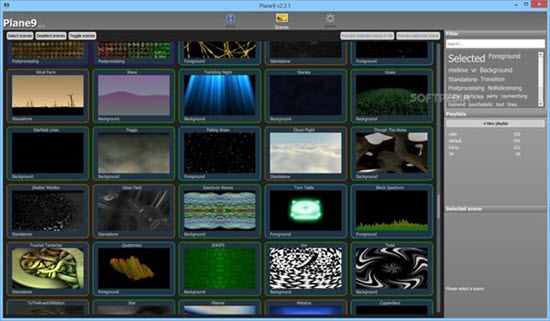 This is one of the best Spotify visualizers you can use. It is a 3D visualizer that is dedicated to giving you the best visual experience ever. This Spotify music visualizer prides itself with having over 250 scenes options that you can select from. It also gives you the capabilities to combine different scenes in order to generate unique visual effects for your Spotify songs. It can also be used as a screen saver thus giving you more usage. The Plane 9 Spotify Visualizer is sound sensitive and will give you uniquely amazing visuals for every song you listen to.
Part 2. How to Use Spotify with Visualizer through Other Media Player Options
You may have confusion when you connect Spotify Music to visualizer for actual use, like you won't get the Now Playing of Spotify to see the title, artist, album and more. If you want to have this for your visualizer, you can actually use your favorite Spotify music on visualizer through some common media players support, such as iTunes or Windows Media Player. Then the visualizer can retrieve Spotify song information on widget. But for starters you must convert your Spotify music to those media players. All you need is a powerful third-party tool called ViWizard Spotify Music Converter.
ViWizard Spotify Music Converter is designed for all Spotify users to have the access of the actual files to put into other media players. With no Premium subscription required, a Spotify account can enable Spotfiy users download and convert all the desired Spotify music tracks from the desktop app. Then you can set the default player as the player you're using to play the Spotify MP3 music, then you should see the difference.
Media Player Supported Formats:
| | |
| --- | --- |
| Windows Media Player: | WAV, MP3, M4A, AAC, FLAC |
| iTunes: | MP3, AIFF, Apple Lossless, WAV, AAC |
| ViWizard output: | MP3, M4A, M4B, AAC, WAV, FLAC |
| Spotify audio: | DRM-protected |
Just pick either the Windows version or Mac version of this ViWizard software from the download box below. And we'll let you through the guide to convert Spotify Music to MP3.

ViWizard Spotify Music Converter Key Features
Convert and download Spotify songs to MP3 and other formats
Download any Spotify contents at 5X faster speed
Play Spotify songs offline without Premium
Best AllToMP3 alternative: download Spotify songs hassle-free
Save Spotify with the original audio quality and ID3 tags
Step 1

Select Spotify Music Contents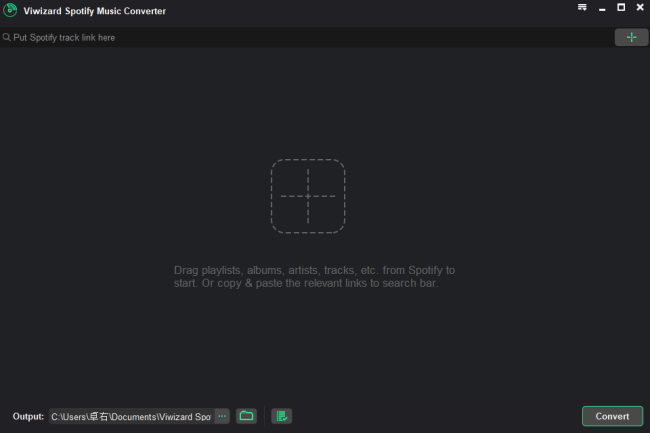 Launch the ViWizard Spotify Music Converter on Mac or Windows. Head to your library on the desktop application and use the old drag and drop to add the music tracks to ViWizard.
Step 2

Adjust Output Audio Format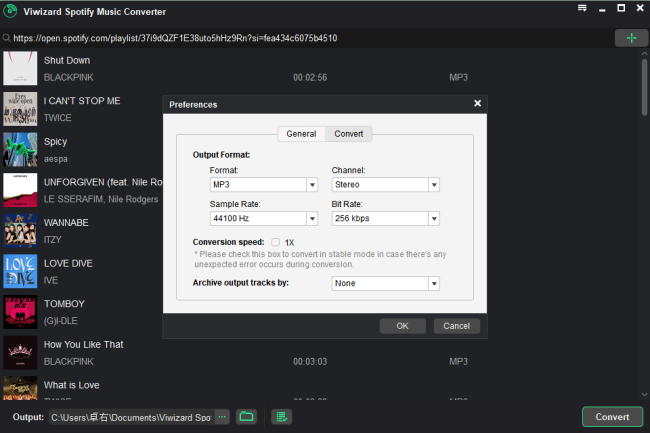 To make the selected Spofify music tracks compatible with other media players, click the menu icon > Preferences. Then select the Convert tab and open the drop-down menu of Output format and select MP3. When it's done, click the OK button to save this setting.
Step 3

Convert Spotify Music Contents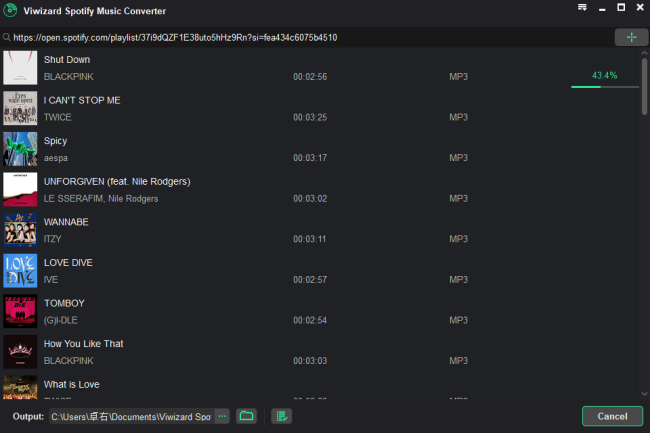 Click the Convert button to start the conversion at a 5x super faster speed. When it's finished, the MP3 version of the Spotify Music are stored under the music folder that's automatically open up.
Step 4

Put Spotify Music Files to other Media Players

Now you can put the compatible Spotify Music files to the media player (ex: iTunes or Windows Media Player) that's supported on the visualizer you use. You can now start playing the Spotify music files in that media player, and connect with the visualizer. And the visualizer will activate the feature you want.
Conclusion
Music visualization is the best thing you can do for Spotify music you play on your computer or TV. However, Spotify does not have its own native music visualizer. For this reason, it is important that you use a third part visualizer that supports Spotify like the ones listed above.
Alternatively, you could download your Spotify music and remove the DRM protection using third party DRM removal software such as the ViWizard Spotify Music Converter. Then you can play the songs on your usual player such as Windows media player or even the VLC that has built-in visualizer. This is quite a long process but will make it easy for you to keep using your favorite player to visualize the songs that you love from Spotify without having to download and install a Spotify compatible visualizer.