If you're getting bored listening to the same track, you might want to change it a little bit and give some sauce to it. And this is what Spotify DJ Mode has been working on. Under this mode, you can blend songs with an equalizer and get a smooth transition by using the Crossfade feature.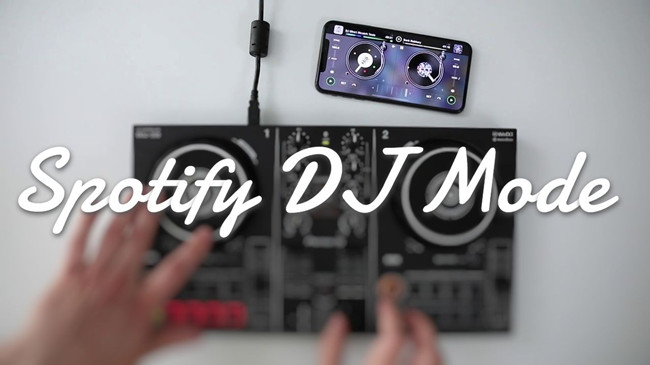 Or you can apply Spotify songs to a third-party DJ app and do everything you want to customize the playback of your favorite songs on these DJ apps. But recently Spotify has ended supporting these DJ apps. Never mind! After reading this post, you'll know how to DJ with Spotify in those DJ apps.
Part 1. Top 3 DJ Settings to Use DJ Mode on Spotify
Spotify provide some great settings for users to use the DJ mode on all Spotify's platforms. There're top 3 settings you may need to know to DJ with Spotify while you're alone or with friends.
1. Automix/Auto DJ
Some exclusive Spotify playlists blend and auto-mix content, allowing seamless transitions between tracks. You can listen with Automix on both desktop and mobile. However, this Automix features is not known to all and may be neglected as a general playback setting, but now it's here, and it's good!
Where can you find automix/auto dj playlists on Spotify?
It's exciting to enjoy Spotify's Automix feature with playlists here. However, no every playlist supports Automix. In our experience, Automix only works on a select few and generally have a distinct visual style. There's no way to enable this feature on random playlists. But there's the solution to find Automix playlists on Spotify. If you're interested, you can try to follow these steps to discover your love on Spotify.
How to find automix/auto dj playlists on Spotify?
For Mobile: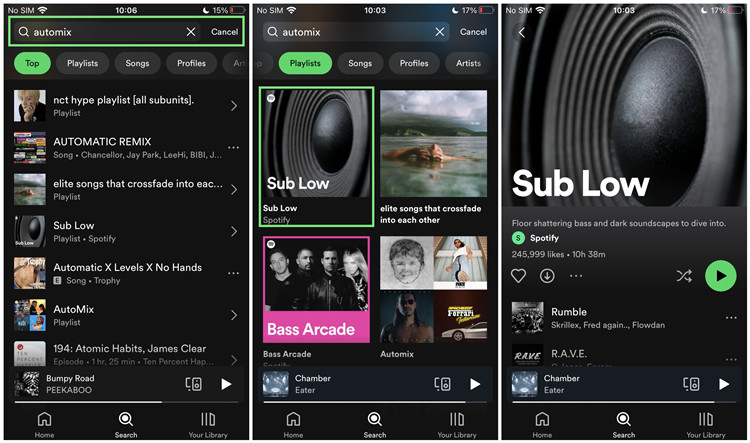 1. On iOS or Android, open the Spotify app.
2. Go to Search.
3. Type "automix" in the Search field.
4. From the top search options, select Playlists.
5. Scroll to one playlist here that has "Spotify" or "Playlist * Spotify" under its album art. This kind of playlists are Automix playlists.
6. Pick the one you like for playback.
For Desktop:
1. On Windows or Mac, open the Spotify app.
2. In the side menu, select Search.
3. In the Search field, enter "automix" and search for it.
4. Spotify will display various options here. Limit the search results to the "Playlists" option here.

5. Scroll to any playlists here that're marked as "By Spotify", such as Sub Low. All the similar ones here are Automix playlists made by Spotify.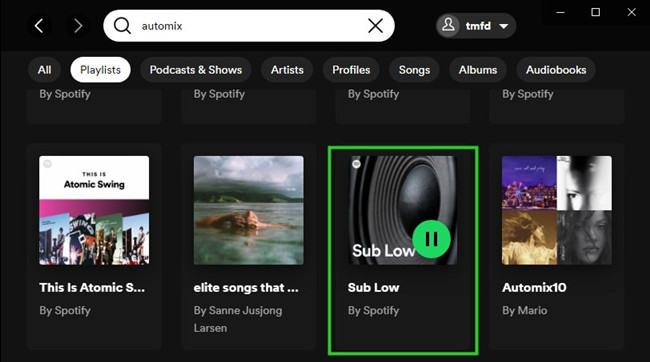 6. Go into the Automix playlist you want and you're now able to enjoy it with the Automix feature.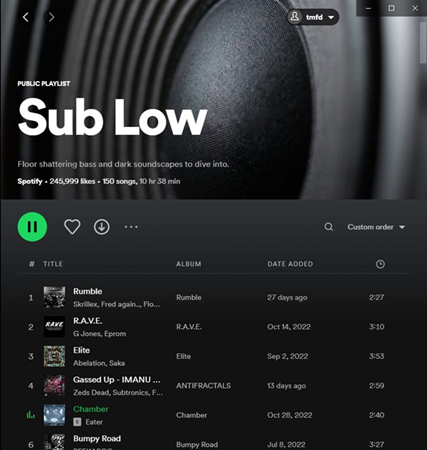 During our exploration, we've set out to find out several playlists that support Automix:
How to enable/disable Automix on Spotify?
Make sure the playlist you're playing supports Automix and your device is used to consume the selected playlist (at this time you're listening on your device). On either desktop and mobile, you're able to turn it on or off to make a difference.
For Mobile: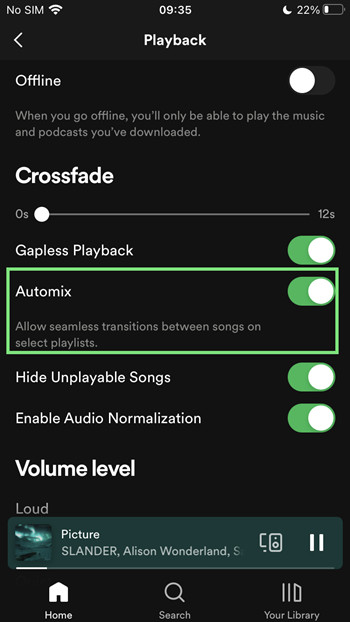 1. On iOS or Android, open the Spotify app.
2. Head to Home > Settings > Playback.
3. Toggle "Automix" to enable or disable this feature.
For Desktop:
1. On Windows or Mac, open the Spotify app.
2. Hover over your profile to go to Settings.
3. Scroll to Playback.
4. Toggle "Automix - Allow seamless transitions between songs on select playlists" to enable or disable this feature.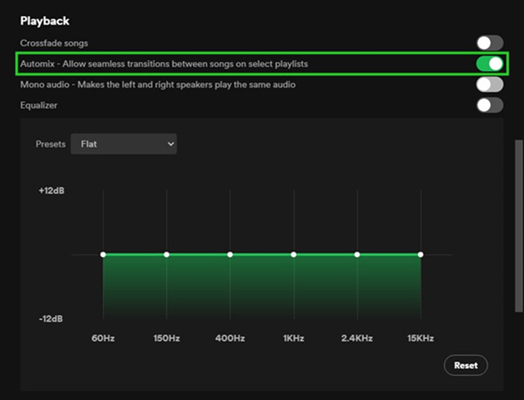 2. Crossfade/Blend
If you wish to get rid of the awkward pause that happens at the end of any Spotify song before the next one starts to play, you must need the Crossfade feature. Spotify's Crossfade feature is designed for all users to make for a seamless listening experience. Even if the playlists you favorited don't have the convenient Automix feature, you can still make the full use of the Crossfade feature to let songs fade out as another fade in.
How to enbale/disable Crossfade on Spotify?
For Mobile: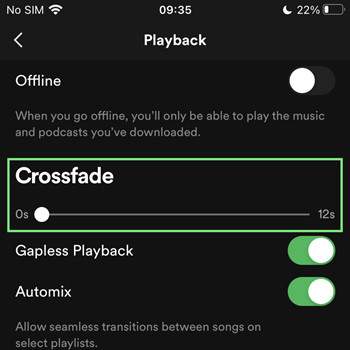 1. On iOS or Android, open the Spotify app.
2. Head to Home > Settings > Playback.
3. Under Crossfade, drag the slide to adjust the transition time.
For Desktop:
1. On Windows or Mac, click the Chevron down icon > Settings.
2. Scroll to Playback > Crossfade songs.
3. Toggle the Crossfade songs to enable or disable this feature.

4. Once it's enabled, drag the slider to adjust the transition time.

3. Equalizer
For music fans prefer more hands-on with how the bass and treble come across each contents, Spotify Equalizer must be the best option. Spotfy's Equalizer settings are available for all Spotify users on both destkop and mobile experience. With this in-app feature, you're able to adjust the levels of bass and treble in most Spotify contents, such as music or podcast. All you need is to use Spotify Equalzier settings more and you'll discover the ones you love.
How to enable/disable Equalizer on Spotify?
For Mobile: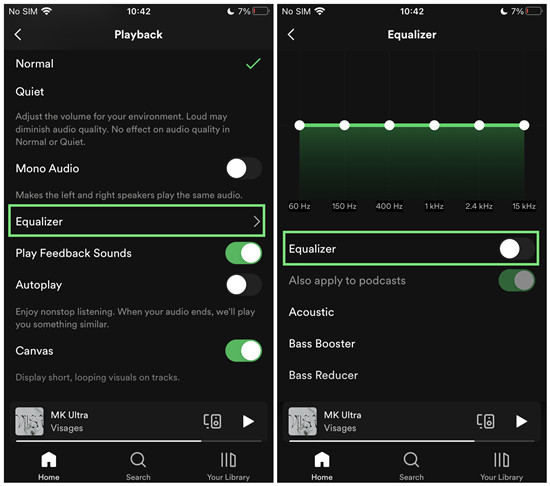 1. On iOS or Android, open the Spotify app.
2. Head to Home > Settings > Playback.
3. Scroll to Equalizer.
4. Toggle "Equalizer" to enable or disable this feature.
5. If you choose to use Equalizer with your favorite podcasts, also ensure to turn on "Also apply to podcasts". You can now select the desired preset to apply it to your music and podcasts.
For Desktop:
1. On Windows or Mac, open the Spotify app.
2. Click on the Chevron down icon > Settings.
3. Scroll to Playback > Equalizer.
4. Toggle "Equalizer" to enable or disable this feature.
5. To use Equalizer with music and podcast, open the Presets menu to select the desired preset to apply it.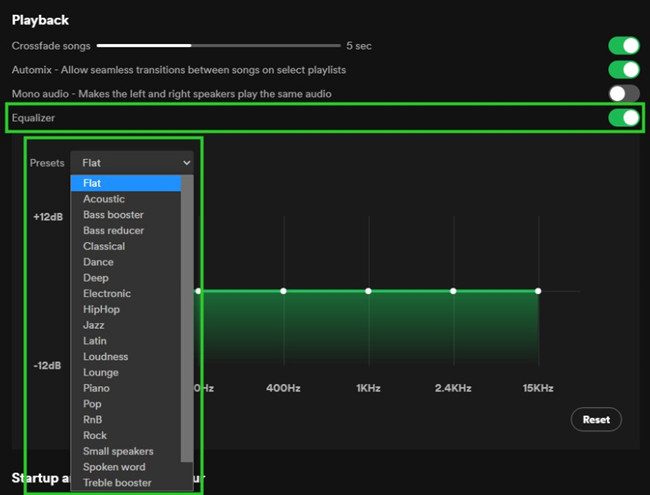 Extra Tip: How to Start a Party Like Mode on Spotify
If you wish to enjoy a Party Like mode on Spotify to listen to your favorite songs or playlists with your friends, especially when you're not physically with them, you can choose either to start a Group Session to listen together on Spotify, or create a Blend to mix a new playlist with them.
Part 2. Top 5 DJ Software that Works with Spotify
On some of the DJ apps, you can directly log into your Spotify account and access Spotify songs within the app right away. However, so far, there are a few DJ software that works with Spotify. Here we've collected some leading DJ apps on the market.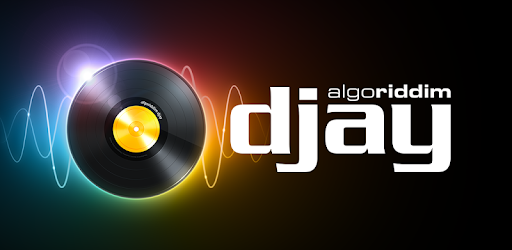 djay Pro is an award-winning DJ software. Its unique, intuitive interface is built around a sophisticated integration with your music library, giving you instant access to your favorite Spotify music. Pristine sound quality and a powerful set of features including high-definition waveforms, four decks, audio effects, video mixing and hardware integration give you endless creative flexibility to take your sets to new heights.
It provides a 15-day free trial for new users and you can use this app 30 minutes unlimitedly each time your firing it up.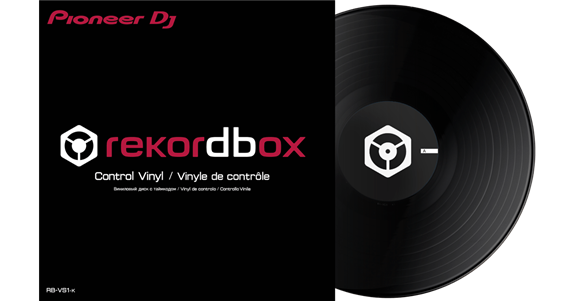 With Pioneer DJ's Rekordbox music management and DJ performance software, you can keep your prep your music files from multiple devices, sync changes seamlessly in the cloud, and hook up your set's tracks from an iPhone to CDJs to perform.
This apps provides "Core" and "Creative" plans which are paid subscription, but both of them come with a 30-day free trial.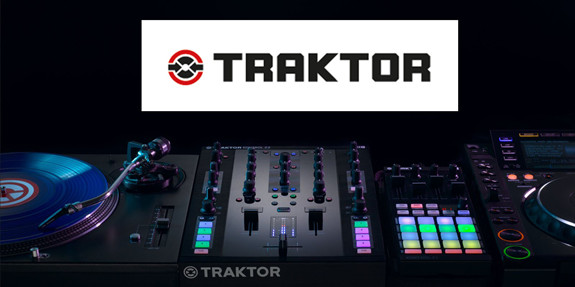 Native Instruments' Traktor Pro is one of the industry standards when it comes to DJ software. It's flexible and powerful and can be a complete performance tool in its own right.
Just as importantly, it's also incredibly stable and offers a large selection of plug-and-play hardware for all budgets. And when you're ready to step into the booth, Traktor integrates with high-end Pioneer equipment already installed in most clubs around the world.
The full version of Traktor Pro costs $99, but you can also get a free demo version on this one.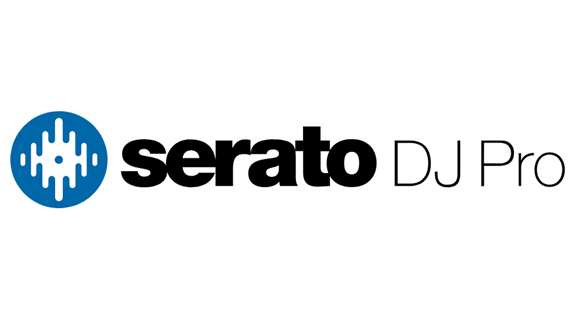 Serato DJ boasts itself the world's best DJ software. It has the lowest latency in the whole industry, brings a lot of performance features (basically everything you need to DJ) and works with a wide range of hardware. It offers 8 colored hot cues per deck and track, 8 saved loops, auto looping, manual looping, key shifting, Slip mode, the already above-mentioned effects, and sampler and much more. All of these functions can be fully mapped to any MIDI controller.
Serato offers a Lite version which is totally free but limited in many features. The pro version provides all the features and it costs 9.99$ per month.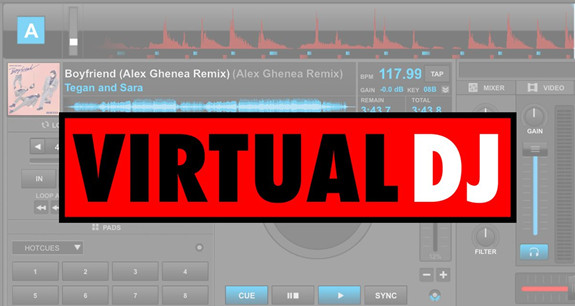 While Virtual DJ is a strong tool throughout, it's an exceptionally useful tool for beginners. The software automates a lot of the setup and "grunt work" of being a DJ which allows beginners to focus more on the mixing and create DJ sets that make the crowd go wild.
Virtual DJ is free for non-professional use at home. Starter DJs can work on their craft using this DJ software without having to pay for it.
But Spotify doesn't support third-party DJ apps anymore
As of Jul 19, 2022, Spotify has ended supporting most of third-party DJ apps which means all the former DJs who use Spotify as the music source will have to move to other music providing platforms. Currently, only Pacemaker and JQBX supports accessing Spotify's music library.
Part 3. Top 3 DJ Controller that Works with Spotify
As well as compatible DJ software, you would want to know whether there is any DJ controller compatible with Spotify. In fact, there are lots of famous and leading DJ controllers for mixing music at party or at the music festival. So, here's a few Spotify compatible hardware options.
1. Reloop MIXTOUR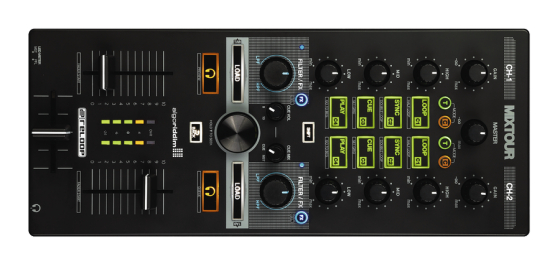 Reloop MIXTOUR is a portable cross-platform DJ controller developed for the award winning app djay from Alogoriddim. Designed from the ground-up to offer a compact, two-channel DJ controller layout, Mixtour allows you to hold a party anywhere, anytime. Reloop MIXTOUR supports iOS, Android, PC, and Mac. Reloop MIXTOUR is fully compatible with various DJ software like Traktor or Virtual DJ. But you cannot directly use it to control your playback of Spotify songs from your device.
2. Reloop Beatpad 2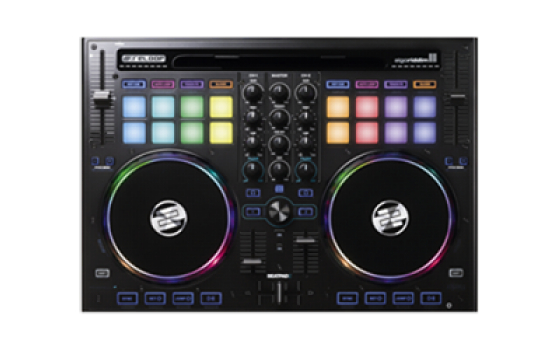 Beatpad 2 is the first controller on the market that can directly control your mixing software across all platforms. Whether you're using djay on your iOS or Android device, or using the djay version on Mac – the integration is seamless and completely stress-free. Beatpad 2 allows you to instantly mix millions of tracks from Tidal, SoundCloud, Beatport Link, and Beatsource. However, it is not compatible with Spotify at present.
3. Numark iDJ Pro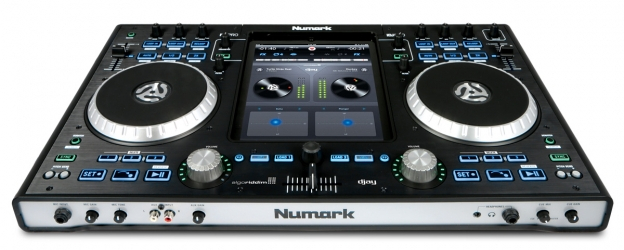 iDJ Pro from Numark is a professional DJ controller that expands your iPad's  interface, seamlessly integrating with djay app for iPad to form a completely new DJ experience. With this controller, you can access and mix your iTunes library, as well as, millions of songs from Spotify integration through djay app. But since Spotify ends the cooperation with djay app, you are not able to mix your Spotify songs by using this controller directly.
But Spotify doesn't support DJ controller anymore
As of Jul 19, 2022, Spotify doesn't support any DJ controller. Because there is no DJ software that works with Spotify. So, you cannot use DJ controller to control the playback of music from Spotify directly.
Part 4. Best Alternatives to DJ with Your Spotify Music with ViWizard
As Spotify doesn't provide tracks online for DJs anymore, you can't log into your Spotify account on DJ apps as you used to. So, the basic idea of this trick is that you'll need to download all the songs you want to DJ with on Spotify and then upload them into your DJ app as an offline source. To make Spotify music playable in DJ apps, you need a Spotify music downloader.
Here you can use ViWizard Spotify Music Converter. This tool is designed to help all Spotify users download songs from Spotify and save them into several popular audio formats like MP3. ViWizard software only takes a few seconds to download songs from Spotify, so it won't matter a lot even you have a large library to DJ with. Let's see how to download Spotify songs via ViWizard software.

Key Features of ViWizard Spotify Music Converter
Convert and download Spotify songs to MP3 and other formats
Download any Spotify contents at 5× faster speed
Play Spotify songs offline without Premium
DJ with Spotify offline with third-party DJ apps
Save Spotify with the original audio quality and ID3 tags
1

Import Songs from Spotify to ViWizard

Open ViWizard Music Converter and it will automatically load the Spotify music player on your computer. Then in Spotify, find and select songs, albums, or playlists you want to download. Now copy the music link and paste it into the search bar on the converter. And click the + button to load the songs into the converter.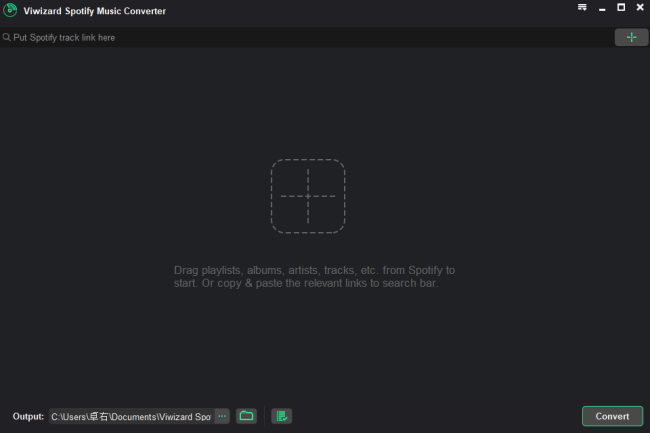 2

Set up the Output Parameters for Spotify

After successfully importing Spotify songs to the conversion list, you can start setting the output audio preferences. Click the menu bar at the top right corner of the converter, select the Preferences option, and there will pop up a window where you can select MP3 as the output format. In addition, you can change the bit rate, sample rate, and channel.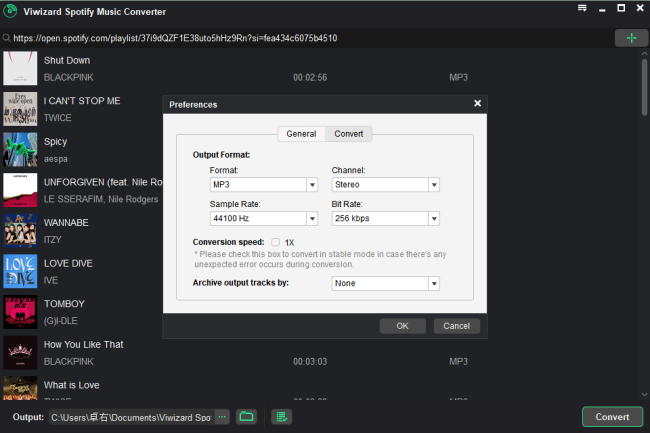 3

Download and Convert Spotify to MP3

Once all the setting is finished, click the Convert button to start downloading and converting Spotify songs to MP3. After the conversion, all the converted music files will be saved to your specified folder. You could browse all the converted songs by clicking the Converted icon and then navigate to the output music folder.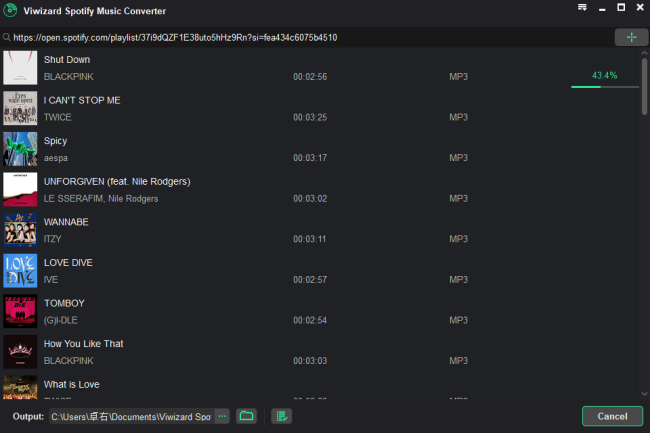 4

Start to DJ with Spotify in Any DJ Program

With the help of ViWizard Music Converter, you can successfully remove DRM from Spotify and save Spotify songs into those audio formats compatible with DJ apps for mixing. Now you can upload them to your DJ app and start noodling.
Conclusion
Since Spotify stop the cooperation with many DJ apps, all music lovers are not able to directly access their music library in Spotify even with a paid subscription. However, ViWizard Spotify Music Converter can break this limitation. By using ViWizard software, you can download Spotify songs for mixing and create your own unique music tracks.