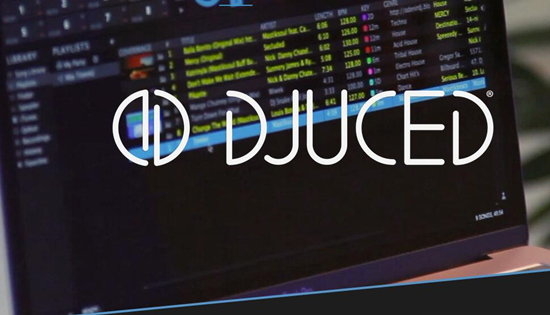 DJUCED is a powerful but simple to use DJ software that offers audio track mix, remix, PAD performance, scratch, and music recording features. It is designed to make mixing easier and more enjoyable, thanks to a unique graphical interface and ergonomic features. With its audio decks and effects, DJUCED is perfectly cut for the mix.
Spotify – a dominant force in streaming music distribution – offers a large music library for you to listen to, and so you might want to create your personal music tracks with DJUCED. It is possible to link Spotify to DJUCED? Spotify doesn't offer its service to DJUCED. Here we will share a good solution to mix Spotify music with DJUCED.
Part 1. Spotify Music to DJUCED: How to Convert Spotify for DJUCED
1.1 DJUCED: Streaming Music Services Supported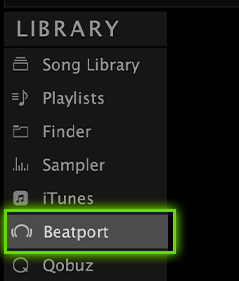 Compatibility with Streaming Services in DJUCED: Beatport LINK, Beatsource LINK, SoundCloud Go+, Mixcloud and Tidal.
Since Spotify is not included in the compatibilities, to continue mixing with the streaming music services above comes with an extra cost on the subscription fee. But on Spotify Premium or Spotify Free, it's possible to enable Spotify on DJUCED, but there're one more precaution: audio formats supported with DJUCED.
Audio Formats Supported with DJUCED: MP3, AAC, M4A, WAV, FLAC, AIFF, MP3 and OGG.
Audio about Spotify: DRM protected.
As it stands now, audio files above can be mixed with DJUCED from the Windows Files Manager or the Finder. However, regarding the audio format supported with DJUCED and the DRM-protected music from Spotify, there's a method that can help you make the full use of Your Library in Spotify Music - with or without Premium. All you need is a powerful Spotify Music converter to save your efforts and money.
1.2 Spotify Music to DJUCED: Audio Formats Supported
Audio Formats Supported with ViWizard: MP3, M4A, AAC, FLAC, WAV and M4B.
Spotify Music to DJUCED with ViWizard: MP3, M4A, AAC, FLAC and WAV.
1.3 Spotify Music to DJUCED: What You Need
While streaming music from Spotify is not enough, a powerful Spotify Music converter like ViWizard can help you keep and putt Spotify music tracks on other platforms you want - like DJUCED. ViWizard Spotify Music Converter ensure Spotify users on Free or Premium the full access to their libraires by downloading and converting music tracks for personal uses - like mix Spotify Music with DJUCED. What's more, the lossless Spotify music with ID3 tags is also available on Spotify Free!

Key Features of ViWizard Spotify Music Converter
Download music, playlists, albums, artists from Spotify without premium
Convert Spotify music to plain audio formats such as MP3, AAC and more
Support the playback of Spotify on DJ software like Traktor, Virtual, Serato, Deckadance, djay Pro and Pioneer
Work at 5× faster speed and preserve lossless quality audio and ID3 tags
Part 2. Spotify Music to DJUCED: How to Transfer Spotify to DJUCED
With the help of ViWizard Spotify Music Converter, you can get Spotify music as MP3 files or other common audio formats. Here's how to convert and download Spotify music to MP3 so you can play Spotify music somewhere like DJUCED other than Spotify.
2.1 ViWizard Spotify Music Converter: How to Convert Spotify Music into MP3s
Step 1

Add Spotify Music to ViWizard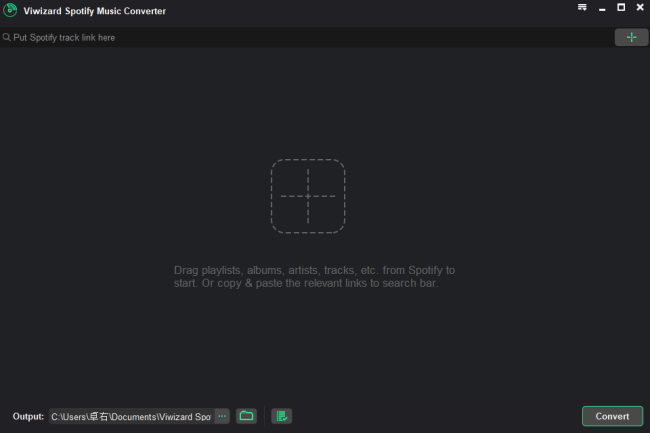 Fire up ViWizard software on your computer and then your Spotify program will be automatically opened. Head to your library on Spotify, and then select the desired Spotify music you wish to convert and download. You can drag and drop Spotify music tracks to the interface of ViWizard for downloading.
Step 2

Customize Your Output Settings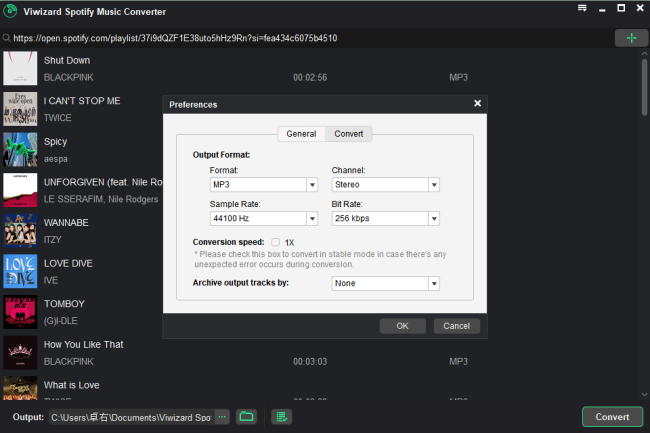 Once you've selected your file, you'll need to configure the output audio parameters. Click on Menu > Preference > Convert, and select the MP3 option or other from the list of audio formats. In addition, you could also improve the audio quality by adjusting the bit rate and sample rate and changing the audio codec.
Step 3

Download Spotify to DJUCED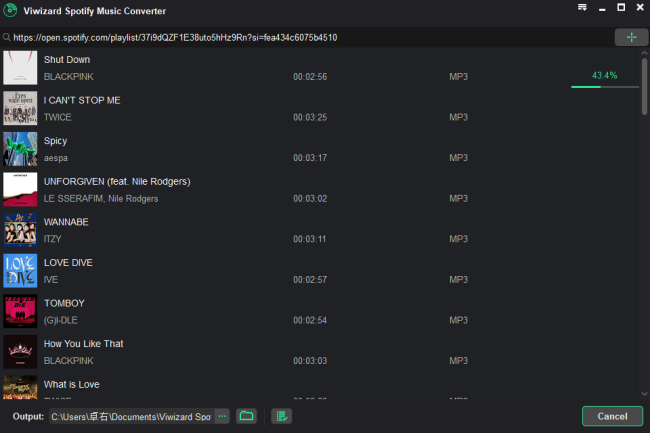 Once you're satisfied with your settings, click the Convert button and your Spotify music file will be saved in your required downloads folder. If you want to browse all the converted Spotify music tracks, you can click on the Converted icon to open the converted list where you can find all the converted Spotify music.
2.2 Spotify Music to DJUCED: How to Add Spotify to DJUCED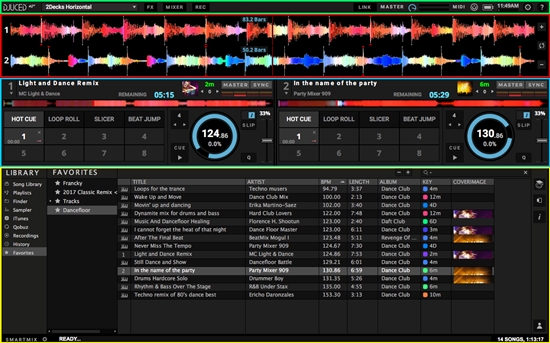 Now, all music tracks from Spotify have been converted and downloaded. You can prepare to add Spotify music to DJUCED for mixing. You have 2 choices to upload Spotify to DJUCED. Transfer Spotify directly or use iTunes. You can upload Spotify music into iTunes first and then open Spotify music on DJUCED from your iTunes library. Don't forget to allow library sharing in iTunes settings. Follow the detailed guide to transfer Spotify to DJUCED.
1. How to Import Spotify to DJUCED Directly
Step 1 Launch DJUCED on your computer and tap the Finder button.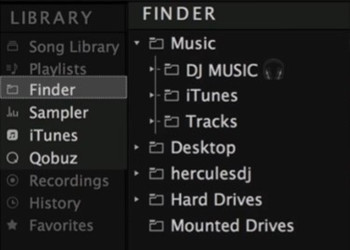 Step 2 Reach the converted Spotify music and simply drag them to DJUCED window.
2. How to Add Spotify to DJUCED with iTunes
Step 1 If you want to use iTunes to add Spotify songs, you need to add Spotify music to iTunes first.
Step 2 Then open DJUCED on your computer. Go to Library > iTunes to load the iTunes library.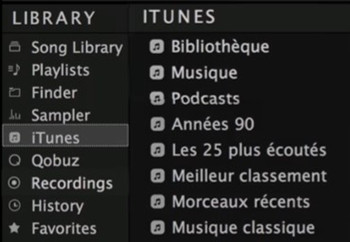 Step 3 Select the Spotify songs in the iTunes library to add to DJUCED.
Part 3. Spotify Music to DJUCED: How to Use Spotify with DJUCED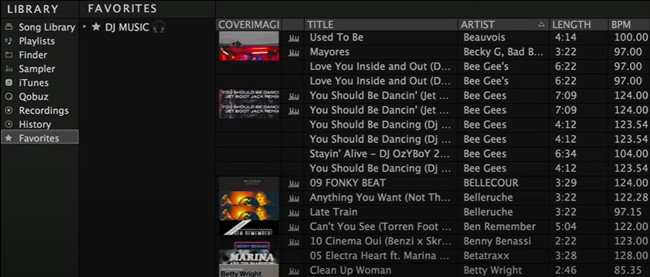 These are the basic navigation in DJUCED, where you can find and use Spotify in DJUCED with the imported files.
Song Library: This is where you'll find all the music you have imported inside of DJUCED database, including the converted Spotify music with ViWizard.
Playlists: The playlists you made based on the imported Spotify music.
Finder: There're the different sources of music - like MP3s you have on your computer.
iTunes Library: This is where you'll find your iTunes Library, including the added Spotify Music in MP3, AAC or WAV to DJUCED with iTunes.
Summary
To use Spotify music in DJUCED, you have to get your Spotify music converted first. ViWizard Spotify Converter is a good choice. After you convert Spotify to common formats, you are able to mix Spotify music with DJUCED easily.