In today's media-driven world, music streaming has become a hot market. One of the big names in the music streaming industry, Spotify boasts a library of over 70 million songs and adds about 30,000 tracks to this library every day. It's easy to pick the song you like and create personalize playlists. For music lovers, their requirement is not just about what they listen to on Spotify, but what they are content to create.
However, TRAKTOR is a good DJ software for creating and personizing all types of music. If you are eager to play music at ease, you can make use of all functions on TRAKTOR to arrange your personal music. At this point, Spotify can be a good helper for providing all kinds of music resource. Here we'll get over how to add Spotify music to TRAKTOR DJ for mixing with the assistance of a great tool.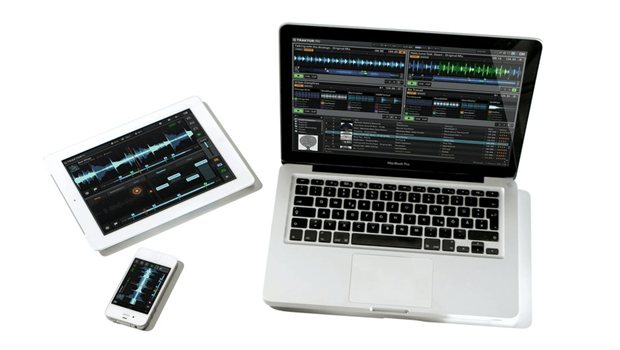 Part 1. Know More about TRAKTOR DJ Software
As one of the best DJ software, TRAKTOR DJ gets popular among countless professional worldwide. Compared with other DJ applications like Virtual DJ and Serato DJ, TRAKTOR DJ is more professional, buitl to move dancefloors. Dive into the industry-leading DJ software, Traktor delivers up to a range of audio effects and brings to life a wealth of traktor hardware designed for pro performance.
There are all sorts of TRAKTOR DJ software like TRAKTOR PRO 3, TRAKTOR DJ 2, and TRAKTORLE 3. Meanwhile a vast range of virtual instruments and effects like synths, sampled instruments, studio and creative effects, samplers and more are offered on Traktor for every DJ to arrange each track. You can mix on-the-go with all your own music using TRAKTOR DJ software. Then you can get lots of unique tracks.
Part 2. Why Couldn't You Mix Spotify with TRAKTOR DJ
Is it possible to DJ Spotify with TRAKTOR DJ? In fact, it is impossible to access Spotify's music library within TRAKTOR DJ. In part, this is because DRM-protected files are not supported by TRAKTOR DJ software. For another, TRAKTOR does not work with any music streaming services such as Spotify or Apple Music.
However, all the music from Spotify is streaming media which is protected by the digital rights management. Therefore, those DRM-locked tracks are not compatible with TRAKTOR programs. Fortunately, the coming of music converter successfully resolves the problem. The application enables you to download and convert Sptoify music to TRAKTOR supported format files.
Part 3. How to Convert Spotify Music to TRAKTOR DJ
ViWizard Spotify Music Converter is a professional and wonderful DRM removal tool for Spotify usres. It can not only download Spotify music to MP3, AAC, WAV, M4A, and M4B losslessly but also offer you the chance to adjust the audio quality by configuring all sorts of parameters like the channel, bit rate, and sample rate.
Since TRAKTOR supports the audio formats including MP3, WAV, AIFF, Audio CD, FLAC, Ogg Vorbis, and AAC, you can use ViWizard software to download and convert Spotify music to MP3, WAV, AAC, or FLAC for mixing with TRAKTOR DJ programs. Just follow the guidance on how to convert and download Spotify music to the format compatible with TRAKTOR DJ.

ViWizard Spotify Music Converter Key Features
Losslessly preserve original quality and metadata of Spotify music
Download all soundtracks from Spotify to MP3 or other plain formats
Get rid of all digital rights management protection from Spotify music
Configure all sorts of audio parameter like channel, bit rate and more
Step 1

Drag Spotify Music to the Converter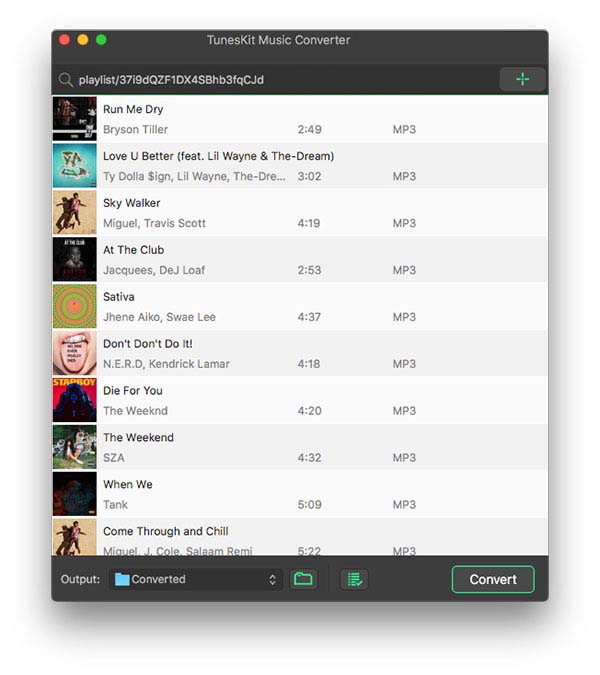 Simply launch Spotify music converter after you have it installed on your computer. Wait for a second and Spotify will be automatically opened on your computer. Locate the playlist or the track you have saved to your library on Spotify, and then directly drag and drop them to the interface of the converter.
Step 2

Set the Parameter for the Spotify Music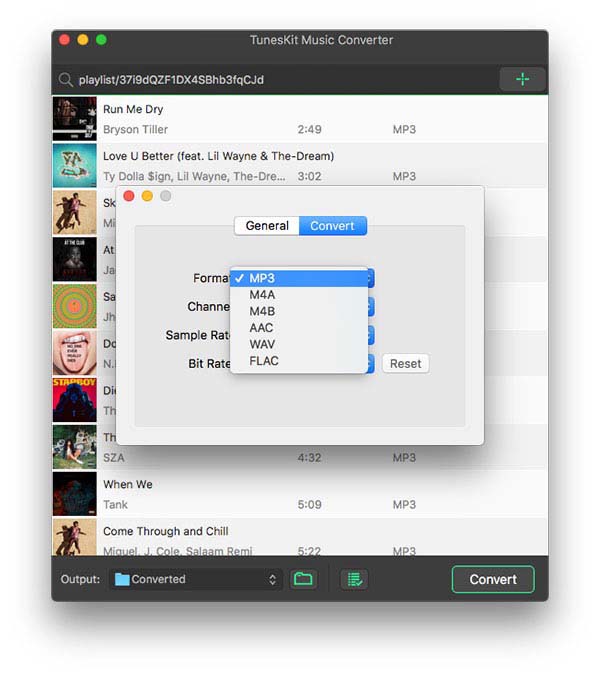 After uploading the track you want to play on Traktor to the converter, choose the "Preference" to configure a collection of settings like the audio format, sample rate, bit rate, channel and more by clicking the "Menu" button. All the setting should be configured based on the demand of Traktor.
Step 3

Begin to Convert Spotify Music for Traktor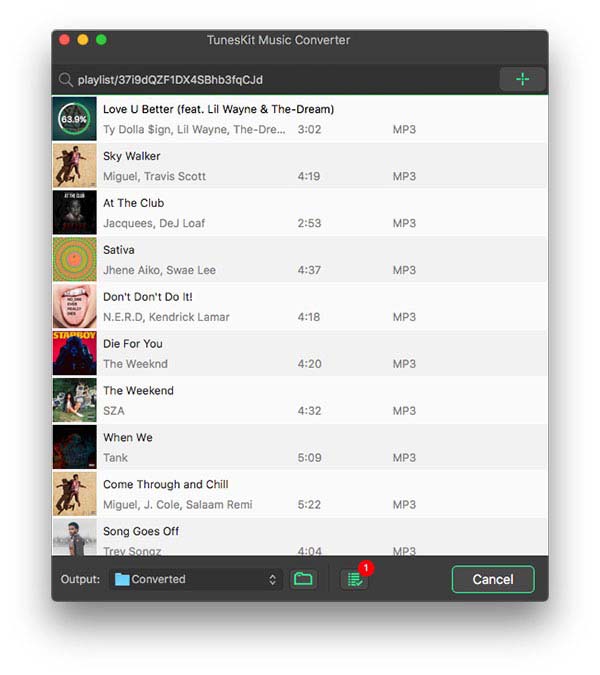 Once all is completed, start converting and downloading Spotify music to Traktor supported format files by clicking the "Convert" button. Then all DRM protection from Spotify music are removed and you can freely take control of your converted Spotify music not only for Traktor but also for any device or player.
Part 4. How to Upload Spotify Music to TRAKTOR DJ
After the conversion is done, you can locate the folder where you save the converted Spotify music tracks and choose to transfer Spotify music to TRAKTOR DJ. To browse your music in TRAKTOR DJ software, you can upload music to iTunes library first. If you don't know how to add Spotify music to TRAKTOR DJ, simply follow the below detailed tutorial.
Option 1: Import Music from Music Folder
1) Open the Preferences menu and select the File Management option on the left sidebar.
2) Under Music Folders, click the Add button to browse the folders on your computer.
3) Navigate to the destination on your hard drive which contains the music files you want to add.
4) Select the directory where you save the converted Spotify songs and click Choose.
5) Close the Preferences window and right-click Track Collection in the track browser.
6) Choose Import Music Folders then music tracks will be added to the list immediately.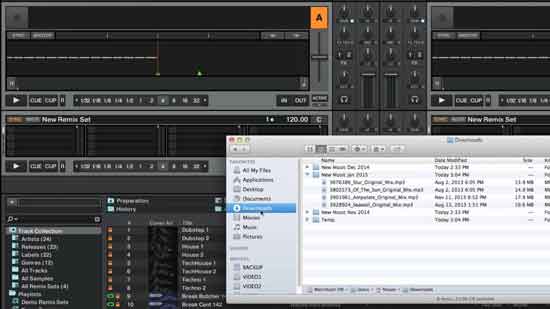 Option 2: Import Music from TRAKTOR's Explorer
1) Select Explorer in the browser then browse the contents of all your hard drive.
2) Browse and choose the folder which contains the music tracks you want to import.
3) Right-click the folder and choose Import to Collection then start selecting songs.
4) Right-click the folder and choose Import as Playlist to enter a name for it.
5) Choose music tracks you want to use and right-click them then choose Import to Collection > as Tracks.

Option 3: Import Music from iTunes Library
1) Launch the iTunes Preferences option from the iTunes menu bar.
2) Go to the Advanced Preferences tab and uncheck the box next to Keep iTunes Media folder organized.
3) Check the box next to Share iTunes Library XML with other applications.
4) Add your iTunes Music Library path to the TRAKTOR Music Folders under Preferences > File Management.
5) Check the option Import Music-Folders at Startup then close the iTunes progam.
6) Choose music tracks you want to add and righ-click them then click Import to Collection > as Tracks.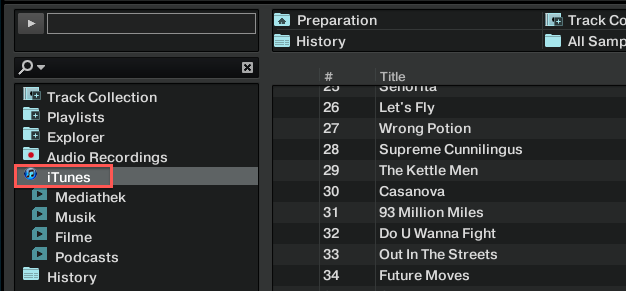 Alternatively, you can click New File Folder to browse the music files on your computer then directly drag them into TRAKTOR DJ software.
Bottomline
For more details, you watch the video -- How to Import Music into Traktor Track Collection. It will take few minutes to import Spotify music to Traktor. After all Spotify music files are added to your TRAKTOR DJ, you can listen to Spotify music on Traktor. Otherwise, you can mix and edit Spotify music with TRAKTOR DJ at ease..
More Spotify Tips & Tricks