djay Pro is a digital music mixing software for all users who use Windows, Mac, Android, and Apple mobile devices like iPhone, iPad, and iPod touch. The DJ software seamlessly integrates with your local music, streaming services, and videos, giving you instant access to millions of tracks. It is the perfect DJ software for both casual DJs and professional DJs. With this DJ software, you can perform live, record mixes on-the-go, or enable Automix mode.
Some folks would ask for advice about how to use Spotify with djay Pro. However, since Spotify stops offering its streaming service to djay Pro, it's not possible to integrate Spotify with djay Pro for mixing even though you are subscribing to a Premium Plan on Spotify. So, what is the way you can import Spotify music to djay Pro? In this article, we'll introduce the best way to get Spotify music to use in djay Pro. Here's how to add Spotify to djay Pro on your computers and mobile.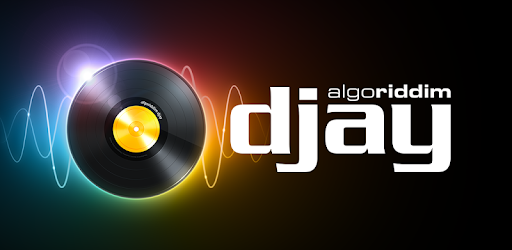 Part 1. djay Streaming FAQs: What You Need to Know
Here we have collected some frequently asked questions and present some answers. You can find the answer to the question you're concerned about.
Q1. Does djay work with Spotify?
A: No, Spotify is not integrated with djay Pro. As of July 1, 2020, Spotify is no longer playable through any third DJ software. So, you are not able to directly play songs from Spotify on djay Pro even though you are using a Premium account.
Q2. What streaming services options are available in djay Pro?
A: Currently, those partnering streaming services include TIDAL, SoundCloud, Beatport, and Beatsource. This means that you can mix more than 200 million of tracks from SoundCloud, enjoy the extensive range of high-quality music and videos from TIDAL, and stream millions of electronic and open format tracks from Beatport and Beatsource.
Q3. How to cancel djay subscription?
A: There are lots of methods available for you to cancel djay subscription. You can cancel subscription directly on djay's website. Simply go to http://www.algoriddim.com and log into your account. Then go to your profile and click Subscriptions to cancel your subscription.
Part 2. Spotify to djay Pro: Minimum Requirements
You can run djay Pro on your Windows, Mac, Android and iOS devices that have install size for the software, plus space for you music. All you need to bring is your music.
When you first load into the djay Pro software, you can find the library browser in the lower half of the window, which give you access to all your music, from your own collection as well as the TIDAL and SoundCloud streaming services, but there's no Spotify. As stated, Spotify is no longer playable through any third-party DJ software. So you'll need other software to help.
You can choose to use service like TuneMyMusic or Soundiiz to transfer your Spotify playlists and tracks over to compatible music services with djay Pro, such as TIDAL or SoundCloud. It may be great but it's not that convenient. For starters you'll need an account to a new music service and, while you can access your Spotify playlists in them, if you don't have the subscription to them the access to your music is not available in djay Pro.
From here we'd like to introduce the best solution to activate your favorite Spotify Music contents in djay Pro. With your Spotify account that you use either with or without Premium subscription, you are able to bring your favorite Spotify Music to djay Pro for mixing.
Part 3. Best Solution to Add Spotify Music to djay Pro
The simplest method to add Spotify Music to djay Pro is the 'Explorer' folder button, which enables you to browser your music by adding folders from your hard drive, external drives and USB sticks through the Explorer tab of the library browser in djay Pro. In other words, if you have Spotify Music files, you can simply click Add Fodler and find where your music files store is stored and you are able to use Spotify Music with djay Pro! All you'll need is a Spotify Music downloader to get the actual files of any music tracks from Spotify catalog.
Best Spotify to djay Pro Converter - ViWizard Music Converter
ViWizard Music Converter is the best solution for all Spotify users to use Spotify Music with djay Pro. Getting this software for either Windows or Mac computer, and you can start to select your favorite Spotify Music tracks to add to ViWizard for conversion. Then you're able to access compatible music files with djay Pro such as MP3, AAC, WAV or others on a device that works for you.
There are two version of ViWizard Spotify Music Converter. You can choose to install a Mac version or Windows version to your computer for use. Here's a guide on how to download and convert Spotify music to MP3 through ViWizard software.

ViWizard Music Converter for Spotify Key Features
Download songs, albums, artists, and playlists from Spotify free
Convert Spotify music to MP3, AAC, FLAC, WAV, M4A, and M4B
Work at 5× faster speed and preserve Spotify with lossless quality
Support the integration of Spotify with DJ programs like djay Pro
Step 1

Import Spotify Music to ViWizard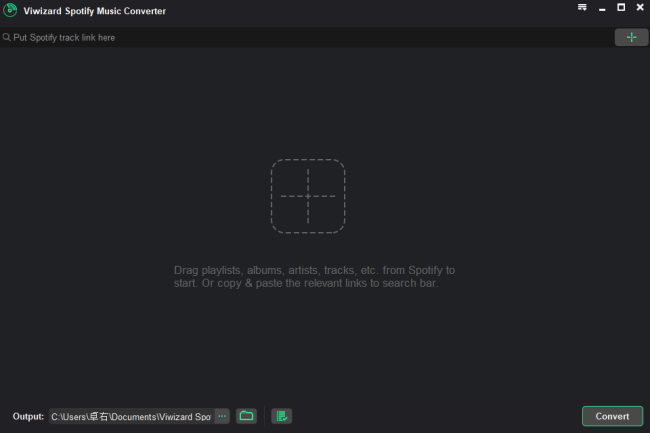 Launch ViWizard Spotify Music Converter once you have ViWizard software installed on your computer. Then it will automatically load the Spotify app and log into your Spotify details to choose your required Spotify songs. You can add Spotify music to the converter for downloading by drag-and-drop. Or you can use the music link to load the songs.
Step 2

Configure the Audio Parameters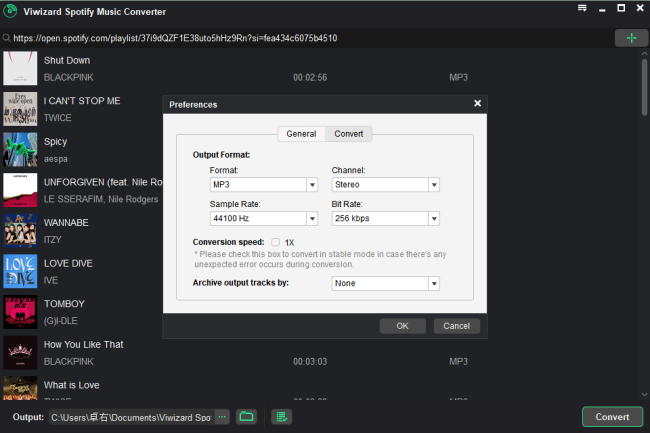 Now you could prepare to set the output parameters by clicking menu > Preference. There will pop up a window and switch to the Convert tab. You can choose the output format and adjust the bit rate, sample rate, and channel in this option to make the music more personalized. Here you can set MP3 as the output format as djay Pro supports MP3 format.
Step 3

Begin to Download Spotify Music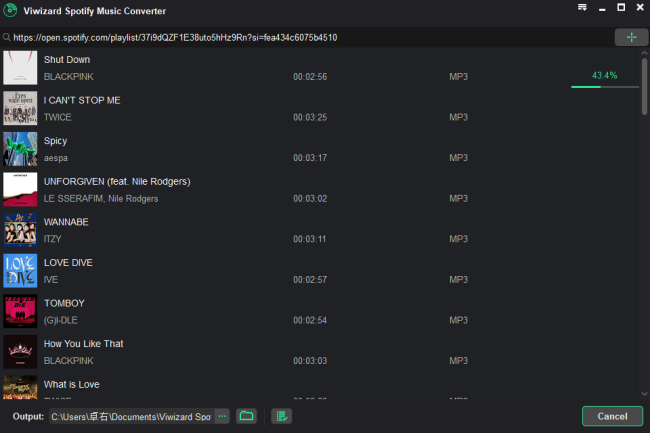 Once the settings are customized, simple click the Convert button to let ViWizard Spotify Music Converter download and convert Spotify music to MP3. Once the conversion is over, you could find those converted Spotify songs to be supported by any DJ application like djay Pro and rekordbox. Locate the music folder by clicking the Converted icon.
Part 4. How to Add Spotify Music to djay Pro for Windows/Mac
You can buy djay Pro via the Windows Store at $49.99. You can also sign up for djay Pro to start a 15-day free trial. Just make sure you get the correct version depending on your device OS. Then don't hesitate to add your own Spotify Music folder to it.
To add Spotify Music to djay Pro for Windows:
Built specifically for Windows 10, djay Pro seamlessly integrates with your music library, giving you instant access to all your favorite songs and playlists. In the Library tabs, you have the ability to switch between Music, iTunes, TIDAL and SouldCloud, History, and Explorer browser tabs. From here you're suggested to upload your Spotify Music folder to iTunes and combine all the tracks with your own iTunes files, or add the entire folder to it directly.
1. Head to iTunes > File > Add Folder to Library > Spotify Music folder to open it. Now all the tracks are added to iTunes under the Recently Added tab.
2. You should also check if iTunes is enabled to share with other applications, such as djay Pro. Head to iTunes > Edit > Preferences > Advanced. Now check Share iTunes Library XML with other applications and click OK to confirm.
3. Now launch the djay Pro and djay Pro will load all the compatible music files stored in iTunes. Under iTunes playlists in Library tab you should see djay Pro bring your Spotify music tracks.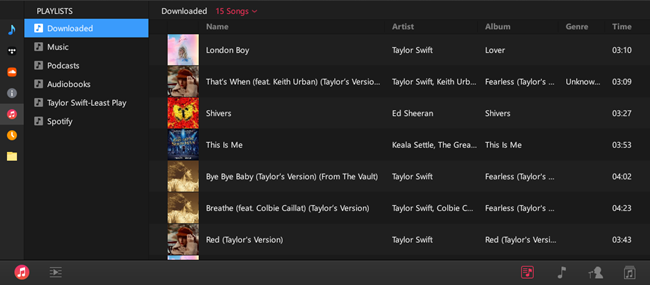 4. Pick the one you want for Djing.

Or you can add Spotify Music to djay Pro directly via 'Explorer' folders.
1. Launch the djay Pro.
2. Go to the Explorer tab of the library browser, simply click Add Folder and find where your Spotify Music folder is stored. Click Select Folder to add it to djay Pro.
4. Now the library browser tree will display the playlist trees, with the added Spotify folders.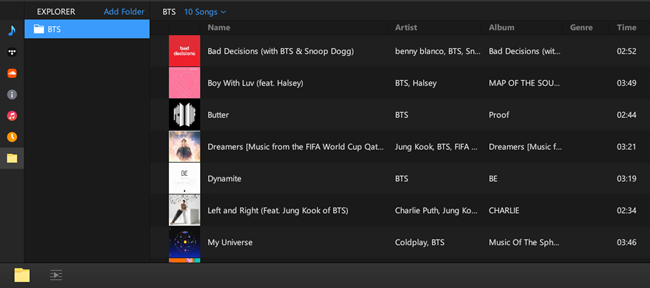 To add Spotify Music to djay Pro for Mac:
1. Run djay Pro on your Mac computer and go to the library browser.
2. Click the Finder tab of the music library in the left sidebar of the screen.
3. Simply click the Add Folder button and find where you save the converted Spotify songs.
4. Start picking music you want to use and directly drag them to your library in djay Pro.
To access music from your local music folder on the computer, you can also use the search feature to find your Spotify music files from Music Playlists.
Part 5. How to Add Spotify Music to djay Pro for Android/iOS
To import Spotify music to djay Pro for Android or iOS device, you need to transfer Spotify songs from your computer to your device by using a USB cable. After transferring your music to your device, you can automatically play it with djay for Android.
To transfer Spotify Music to Android/iOS:
1. Connect your Android or iOS device with your Windows or Mac computer. If you use the MacOS computer to move your own files to an Android phone, please ensure to have Android File Transfer application for transfer.
2. Now open the device in either File Explorer (for Windows) or Android File Transfer (for Mac).
3. Directly copy / drag & drop your Spotify Music folder into the "Music" folder (or similar) on your phone device.
4. Disconnect your phone from your computer. Check the music files stored in the Files app.
To add Spotify Music to djay for Android: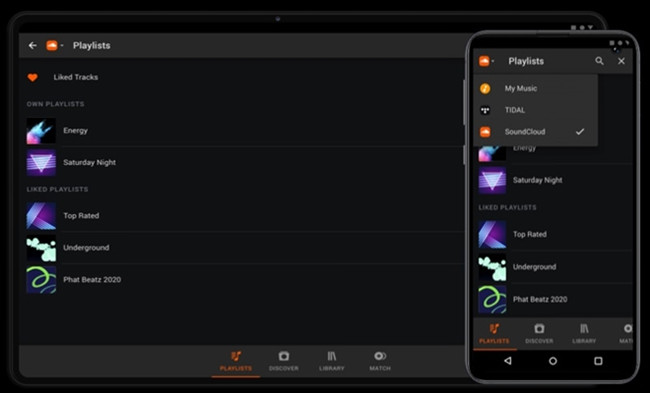 1. Connect your Android device to your computer using a USB cable.
2. Then choose Media device when you need to select a USB connection option.
3. Locate the converted Spotify music files on your computer and drag them into your device.
4. Run djay Pro on your Android device and start playing songs from Spotify within djay.
To add Spotify Music to djay for iPhone/iPad:
djay Pro AI for iOS allows you to access your music from several sources. These include accessing your music stored in external media, iCloud Drive or the Files app, and accessing music stored in other cloud services, such as OneDrive, Google Drive, Dropbox and more.
1. Select the Files tab in the music library in djay, then tap the "+" in the upper left corner.
2. Select whether you'd like to add individual songs with "Add Files", or if you'd like to add a folder with "Add Folder".
3. Navigate to "On My iPad" in the pop-up window, and select the files or folder you'd like to add to djay.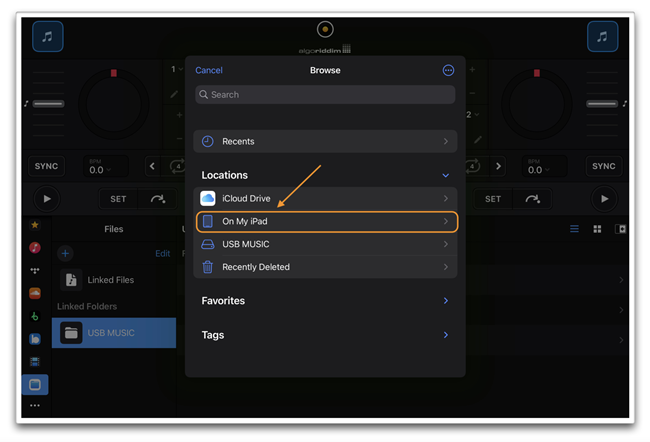 Conclusion
Mix recording will not work when you use tracks from Spotify directly, due to licensing agreements. This is because that recording a mix disables the Spotify tab and using Spotify disables the mix recorder. However, ViWizard can help you save Spotify music for mixing on djay Pro directly. Now, though, that's no longer the case.
What's more, keep Spotify music forever for mixing again and again even though you stop the Spotify service. You could also transfer Spotify music from your computer to your mobile device. After transferring, you can automatically play it with djay for Android or iOS. So, if you are looking to play songs from Spotify within djay Pro, just have a try and you'll find it out.