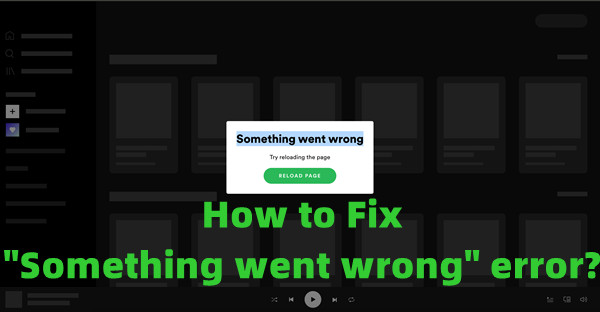 It's never a good thing when uses are in the mood for some favorite Spotify contents but to find the application is crashed with the "Something Went Wrong" error message. On Premium or Free, this frustrating error might come up to the desktop when trying to listen to the exclusives to Spotify.
In the following parts, feel free to have a look at the checklist to know the possible causes of the "Something Went Wrong" error. Of course, we've found 5 useful fixes to this issue.
Part 1. Checklist: Causes to Spotify "Something Went Wrong" Error
Among all Spotify errors, the "Spotify something went wrong" error can be the most fatal because it pause all its operation to load Spotify, play a song, download a song on the application, which used to be a smooth process. What's more, the "RELOAD" button is supposed to restart all the activities with the Spotify, but seems to be useless in almost all the cases.
Before we led you through the fixes, here's the checklist of the possible causes to this "Something went wrong" error. You can start to check these things.
1. Check Your VPN
For security, apps like Spotify will protect their servers from VPNs. If you are using a VPN at a system level, Spotify will make the content you are trying to play as "not available" in the country you are connected with.
You need to disable your VPN or change the IP address to your home country. For a more, you can even switch to a new and better VPN service.
2. Check Internet Connection
When in an online mode, Spotify requires a stable and solid internet connection for streaming music. If the internet is unstable, it will cause Spotify to crash like "Something went wrong".
You can test the internet with other applications, reestablish it or switch to a different connection between Wi-Fi and cellular. On the device, switch it off and back on after 30 seconds, then the internet should be reestablished for good.
3. Check Spotify Services
In most cases, Spotify works fine as a streaming music service, but its app can be infected with a bug or corruption and cause inconvenience.
Besides, there're times then the service is under official maintenance or the server is down. You can search for an online website monitor to check if Spotify is not available and show "Something went wrong".
Part 2. Fix: Spotify "Something Went Wrong" Error
Now the possible causes above should be checked for the "Something went wrong" error. In this part, we'll show 5 troubleshooting steps and 1 bonus tip to help fix this issue.
1. Update the App
As stated, the "Something went wrong" error might come with the corrupt application. To start with, we should update the app to have the included fixes.
1. On desktop, click the Profile icon > Update Spotify now. If an update is available, this option will have the application updated.
Or
2. On desktop, use the More (horizonal 3 dots) > Help > About Spotify. This will automatically download the new version to desktop in a few seconds, click Please restart to install to finish this short update.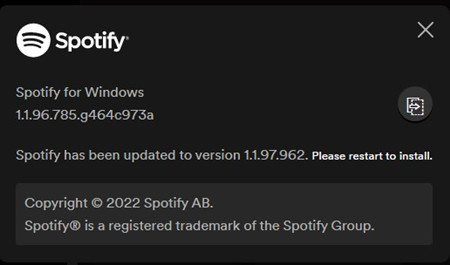 2. Sign Out and Sign Back In
When you encounter the "Something went wrong" error on Spotify, use sign out and sign back in the app or go to the Account overview to sign out everywhere, this means to sign Spotify out of all the devices at once.
1. On desktop, click the Profile icon > Log out.
2. After you are logged out, wait for a couple of seconds and then sign back in again using the exact account.
Or
1. On desktop, click the Profile icon > Account. This will redirect you to the Account overview page.
2. On the new page, scroll to Sign out everywhere > "Sign out everywhere" to confirm.

Another fix that worked for users was the Private session on Spotify. Private session is a feature that allows users to listen to music contents in a private mode, where your followers or friends on Spotify won't see your listening activities.
Regarding the "Something went wrong" error, a private session can fix a culprit application glitch behind this error.
1. On desktop, click the Profile icon > Private session. This will enable Private session.
2. Once the Private session is enabled, a padlock will appear next to the profile icon.

You can now try playing the problematic contents in the application to see if the issue is now fixed.
4. Reinstall the App
We understand that this should be tried to fix "Something went wrong" error on the application, but we're afraid that a common uninstall of the application is now powerful enough to fix it. You need a clean uninstall of the Spotify app before you reinstall it to your computer.
A clean uninstall of the application is to clear the app cache, files and data before a common uninstall. Pick up your Windows or Mac device to go through this fix.
To Clear Cache on Spotify:
1. On Windows, use Windows Search Box > %AppData% > AppData\Roaming, find the associated Spotify folders to delete.
2. On Mac, use Go and hold the Option / Alt Key > Library > Caches, then find the com.spotify.client and com.spotify.client.helper folders and delete them from the device.
To Uninstall Spotify:
1. On Windows, use Windows Search Box > Settings > Control Panel > Programs > Uninstall a program > Spotify > Uninstall.
2. On Mac, use Go > Utilities > Activity Monitor > Spotify processes > Quit Process. After that, open Finder > Applications > Spotify > Move To Trash.
To Reinstall Spotify:
On desktop, go to Spotify's download webpage to download for Windows or Mac.
5. Download Spotify Contents
We're confident that the Spotify "Something went wrong" error should be cleared with one or a few fixes above. However, chances are that the error will returned to you with the "RELOAD" button. Check this article for regular and new updates to fix this error can work, but sometimes you just need to download the Spotify contents to listen to offline.
While it's frustrating to be against with this error to lose all the Spotify downloads, we'd like to introduce the best Spotify music converter - ViWizard Spotify Music Converter to help keep the downloads with ease - no Premium subscription required.
ViWizard Spotify Music Converter is designed to ensure the full control of all Spotify contents and Spotify downloads. With one free account, you can download and convert the Spotify tunes into 6 different formats - like MP3, AAC, M4A, M4B, WAV and FLAC - with 100% of the original audio quality kept.

ViWizard Spotify Music Converter Key Features
Convert and download Spotify songs to MP3 and other formats
Download any Spotify contents at 5X faster speed
Play Spotify songs offline without Premium
Free from "Something went wrong" error
Save Spotify with the original audio quality and ID3 tags
1

Launch ViWizard and Import Songs from Spotify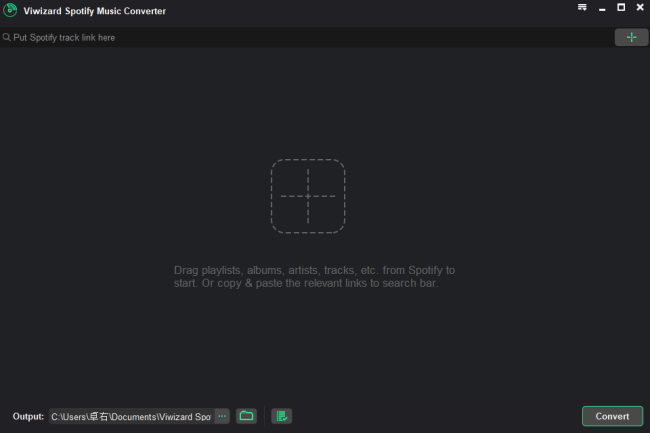 Download this powerful tool with a click on the Download button from above. Once the app is open, wait until the program launches Spotify app for desktop, from where drag and drop contents into ViWizard's main interface.
2

Set Up Output Parameters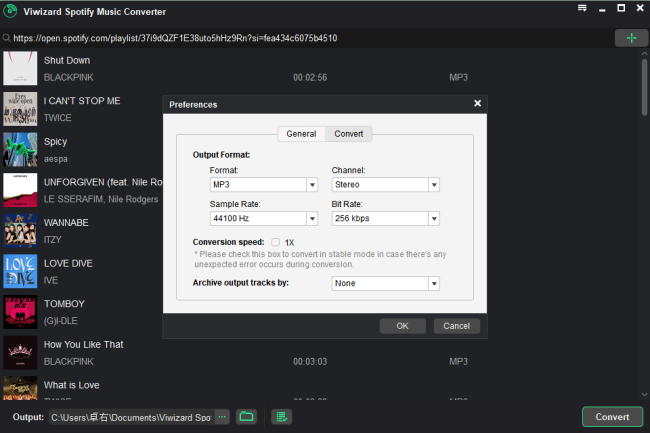 For better keeping, we also recommend customizing the output settings before downloading. Click the menu icon at the top and select Preferences to have more supported output settings, including Format, Channel, Sample Rate, Bit Rate and more.
3

Start the Conversion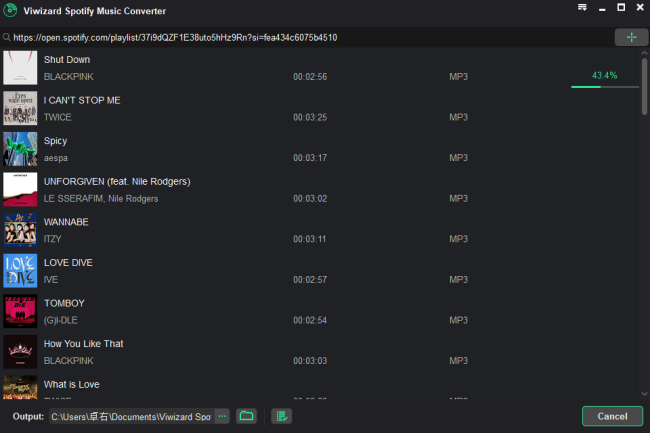 Once the settings are saved with a click on the OK button, click the Convert button to start the conversion at a 5x super faster speed. All the files will be saved to a output folder. Click on the Converted button or the file icon at the bottom to navigate to browse all the downloaded files.
4

Stream Music Files

You have the direct access to music files now. Even without the app, it's convenitent to stream them on the most common music tools.

More Spotify Tips & Tricks