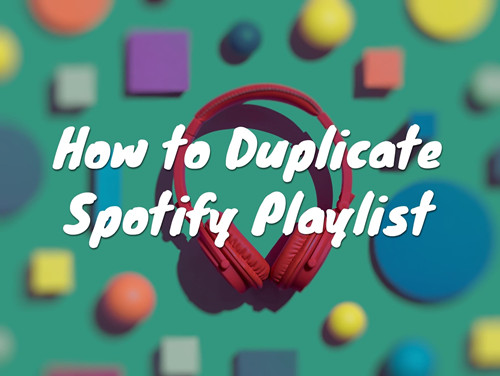 Q: "Hi, wondering if anyone knows a way to duplicate a personal playlist? I created a playlist for my 30th Birthday party, that has a running order, and a friend wants to use it as a base for his own party playlist."
Q: "I want to keep my original as it is, but was hoping there is a way I can copy my playlist, then make the new one collaborative with him and he can change it as he wants. Anyone know a way of doing this?"
As one of the most popular music streaming services, Spotify allows users to customize their playlists and library to a large extent. You can create, name, and delete your own playlist. However, there are times when you want to duplicate a playlist and do other things else on the other one. How you can do this? So, next up we are going to cover how to copy a Spotify playlist and keep both of the same playlist in your music library of Spotify.
Part 1. How to Copy a Playlist on Spotify Mobile/Computer
Technically, you can't immediately duplicate a playlist on Spotify, but you can get the same playlist by copying a Spotify playlist. Here are a few easy steps to copy a Spotify playlist on your computer and mobile.
1.1 How to Copy a Spotify Playlist on iPhone/Android
1. Launch Spotify on your mobile phone and locate the playlist you want to copy.
2. Tap the three-dot icon underneath the title of the playlist, then tap Add to other playlist.
3. Press the New Playlist button at the top of the next page. Then you will get a copy of a Spotify playlist.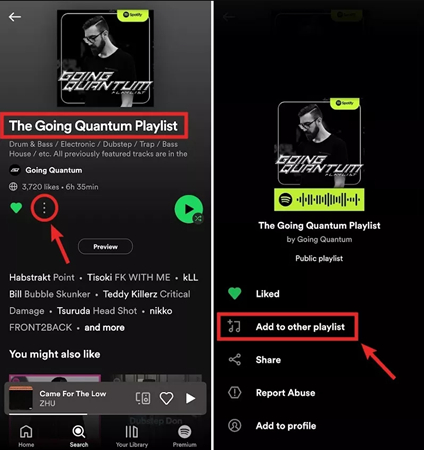 1.2 How to Copy a Playlist in Spotify on PC/Mac Computer
1. Open Spotify on your desktop and click Create Playlist in the side menu.
2. Edit the name and other details then click on the Save button.
3. Go to the playlist you want to duplicate and select all the songs by pressing Ctrl + A.
4. Drag the selection to the newly created playlist. Or you can choose Add to new playlist by right click.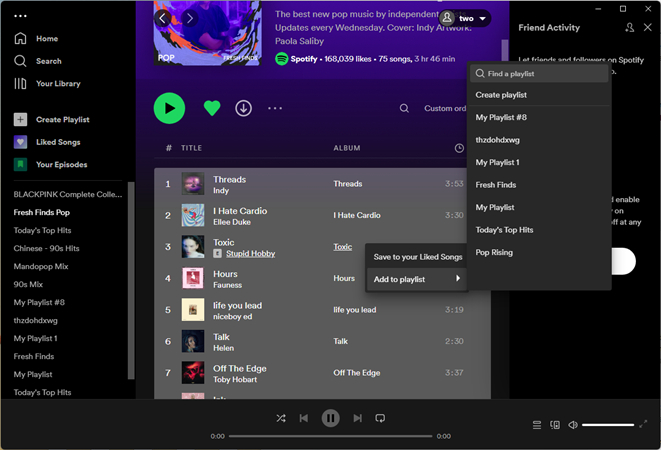 Now you have duplicated a playlist on Spotify. This new playlist has the exact same songs as your original playlist. If you want it looks the same as the original playlist, you can rename it with the same name and add the same preview image to your new playlist.
Part 2. How to Download Spotify Playlist to MP3 Without Premium
It's pretty easy to duplicate playlist on the Spotify desktop app, but sometimes you might mess up the duplicated playlist with the original one. To better manage them, how about downloading Spotify playlist and getting all your Spotify playlists on your file manager? Here you need the help of a Spotify playlist downloader like ViWizard Spotify Music Converter.
ViWizard Spotify Music Converter is a robust music downloader and converter for all Spotify users. With ViWizard Spotify Music Converter, you can directly download all the songs in your playlist to your computer without a Premium subscription. After downloading Spotify playlists to your computer, you can manage them on your file manager or with other media players like iTunes. What's more, you can play those downloaded Spotify songs anywhere.

ViWizard Spotify Music Converter Key Features
Convert and download Spotify songs to MP3 and other formats
Download any Spotify contents at 5× faster speed
Play Spotify songs offline without Premium
Play Spotify playlists anywhere
Save Spotify with the original audio quality and ID3 tags
1

Launch ViWizard and Import Spotify Playlist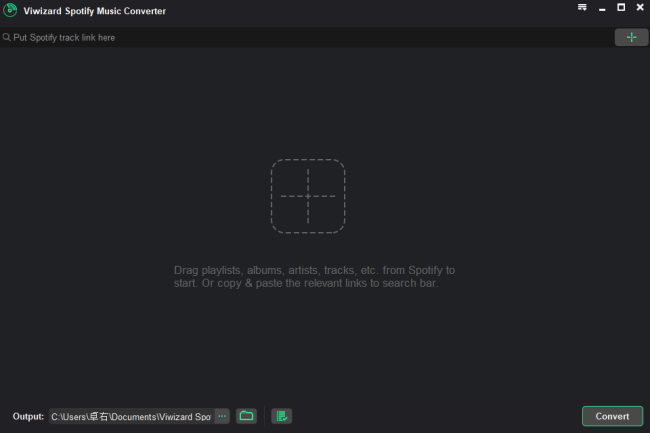 Start by opening ViWizard Spotify Music Converter on your computer, then you'll find that the Spotify app is loaded automatically. In Spotify, find a playlist you want to download and copy the playlist link. Go back to ViWizard software and paste the copied link into the search bar then click the + button to import songs into the conversion list.
2

Change the Audio Format for Spotify Music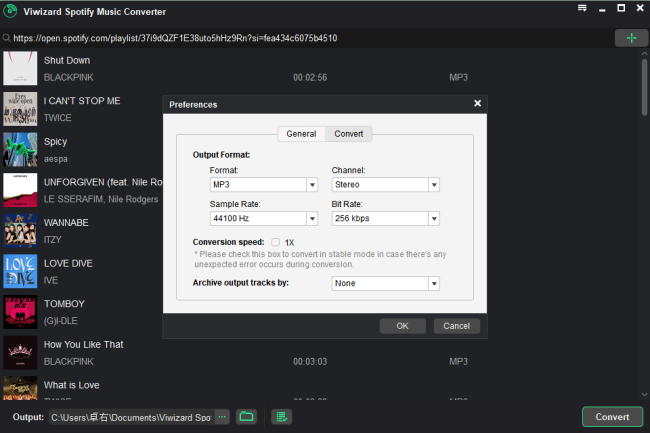 After that, you can choose to download Spotify playlist. The default output format is MP3, but if you want to change the output audio format, you can go to the menu bar and select the Preferences option. In the settings window, you can choose the audio format and set the other parameters like the bit rate and sample rate.
3

Download and Convert Spotify Playlist to MP3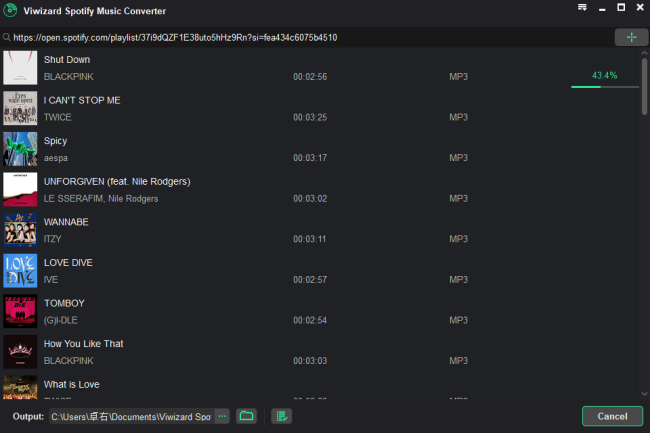 Once completing all the settings, you do click the Convert button to initiate the conversion of Spotify playlist. After the conversion, all the songs will be saved to your specified folder. You could browse all the converted songs by clicking on the Converted icon. Then navigate to the output folder where you can find Spotify songs.
4

Manage and Play Spotify Playlist without Premium

After downloading Spotify playlists to your computer, you can access them on your computer freely. No matter how Spotify changes, it will not affect these songs lying on your computer. You can play Spotify playlist anywhere you want even without the Spotify app. And you also can copy Spotify playlist to Apple Music, Amazon Music, or any other streaming platforms.
Part 3. More Tips about How to Make a Copy of a Spotify Playlist
Instead of telling you how to copy a playlist in Spotify, here we will also share some other tips for you when you prepare to duplicate Spotify playlist.
Can you duplicate playlists made by Spotify?
When you browse for the new playlists, you may find that some of them are curated by Spotify. By doing the steps above, you also can duplicate those playlists made by Spotify and edit it as your own playlist. Similar to duplicating, you can right-click the playlist to Create Similar Playlist to extend your music map. But this feature is only available for those Premium users.
How to copy someone's playlist on Spotify?
To duplicate Spotify playlist from someone, you'll need to go to their playlist page first. Then you can do the exact same steps above to copy this playlist. If there are songs you don't want to listen to in the playlist, you can right-click the song and then click Remove from this playlist. Or if you want to add more songs to this playlist, right-click the song and hover your mouse to Add to Playlist. Then choose the playlist you want this song to be added to.
How to delete duplicate Spotify songs?
In Spotify, there's no delete duplicate songs option in each playlist. So, to delete duplicate songs, you'll have to resort to other methods. Here you can choose to manually delete duplicate songs or go to www.spotify-dedup.com to remove those duplicate songs.
1. Manually Delete Duplicate Songs
To manually delete duplicate songs on Spotify, you'll have to sort the songs in your playlist by title. Just click the Title on the top of the first song in your playlist, then all the songs will be sorted by name. And then you can delete the duplicate songs.
2. Go to Spotify Dedup Website
You can also go to www.spotify-dedup.com where you can go through your playlist and library after logging into your account. Then all the duplicate songs will be listed. You can delete them on the web page directly.
Conclusion
That's it! Now you have known how to copy a Spotify playlist on your mobile and computer. And you can duplicate those playlists you like in Spotify. For better listening and management, you can use ViWizard Spotify Music Converter to download Spotify playlist on your computer. Then you can freely play them anywhere and anytime.
More Spotify Tips & Tricks