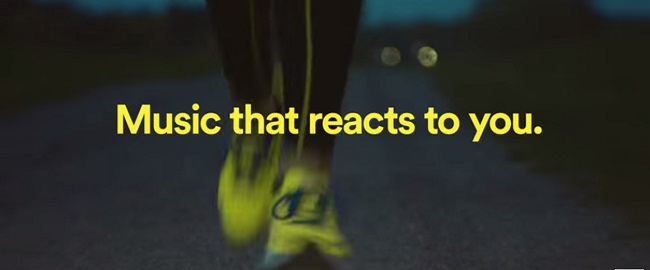 Runners who use Spotify Music must be familiar with the Spotify Running, a Running channel inside of Spotify app that finds your tempo and gives you a non-stop mix of running music to match when you are working out. If you are new to Spotify and would love to try its running feature, you can take a few minutes to browse the complete guide of Spotify Running in this post, including some best features, how it actually works, compatible devices, etc.
Spotify Running: What's It & How Does It Work
To help you run harder and further, the music streaming giant Spotify started to take a great position in the segment of sports and "workouts" by releasing its running solution called "Spotify Running" back to the year of 2015. This service is set to matches songs you love to the tempo you're running to. Once you downloaded Spotify app, you'll get a non-stop mix of your favorite running music, as well as all brand new music that's made for running in the Running section within the dropdown menu on the app's main homescreen.
The first thing you'll need to do is work out your running tempo. In the Start Running mode, the app will prompt you to run at a steady pace. It'll then use the accelerometer built into your phone to track the motion. The running tempo is then turned into beats per minute, which then helps build playlists based on that data. If you adjust the pace of your run, Spotify will automatically adjust the music to match it.
What Running Tracks You'll Get from Spotify Running
Tracks used by Spotify Running are taken out of Spotify's existing catalogue and is mixed with human and computer curation. To make sure you don't end up with a playlist full of music you hate running to, it'll base selections on previous listening history.
In addition, Spotify is introducing something called Running Originals. These are songs that dynamically adapt to your running tempo. There'll be six Running Originals tracks at launch and house DJ Tiesto is one of the first to contribute a tempo-changing track.
What Devices Does Spotify Running Support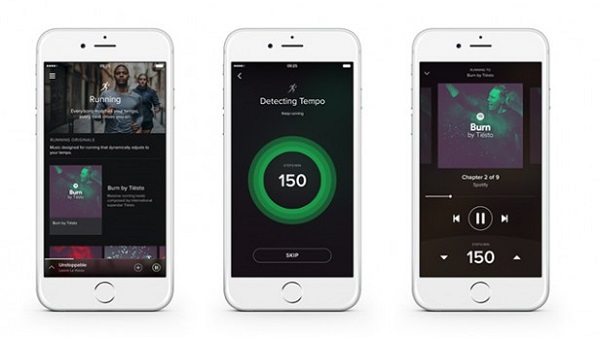 Spotify Running was initially made for iPhone only. Now it supports both iOS and Android devices. If you got an iPhone and want to test out the Spotify Running, you can follow the simple steps below:
Step 1. Open Spotify app on your iPhone. Tap Browse.
Step 2. Scroll down to GENRES & MOODS and select Running.
Step 3. Select a playlist. Tap START RUN.
Step 4. Start running!
Tips: Spotify will automatically detects your tempo and plays music to match it. You can use the up and down arrows to manually adjust the tempo.
More Tips: Convert Your Spotify Playlists for Any Player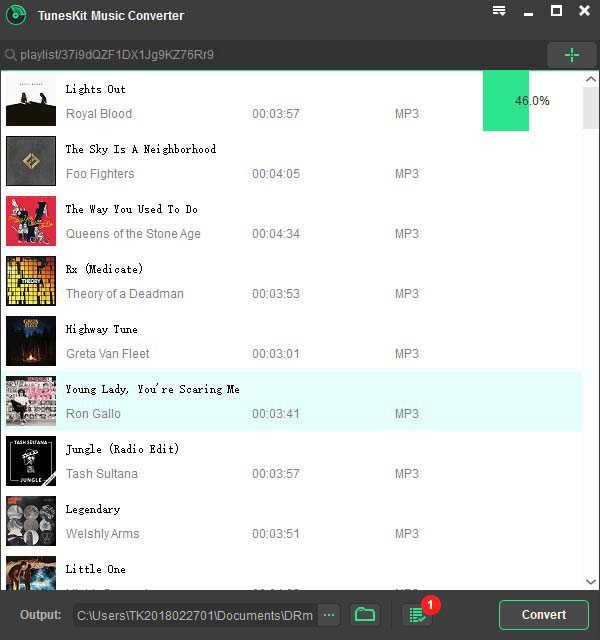 It's easy to enjoy Spotify Running feature if you have an iPhone or Android phone. But things become complicated if you prefer to iPod as it's no easy job to stream Spotify playlist to iPod for offline listening. In this case, we'd recommend ViWizard Spotify Music Converter for you, with which you can easily download and convert any Spotify songs and playlists to popular audio formats supported by all media players. For more details, you are suggested to download the free trial version of this smart app as below and follow this guide: How to Convert Spotify Music to MP3 Format.
Key Features of ViWizard Spotify Music Converter
Bypass DRM lock from Spotify songs, albums, playlists
Convert Spotify music to MP3, AAC, WAV, FLAC, etc.
Keep 100% lossless audio quality for Spotify music
Keep ID tags and support up to 5X faster speed
More Spotify tips & tricks