In the world of digital music streaming, Spotify has emerged as a powerhouse, offering a vast library of tracks for users to enjoy. However, sometimes you might want to take your favorite tunes offline for uninterrupted listening. This is where SpotifyMate Spotify Downloader comes into play. In this post, we'll explore what SpotifyMate is, its legitimacy, how to use it, and also introduce an alternative option, ViWizard Spotify Music Converter.
Part 1.

What Is SpotifyMate?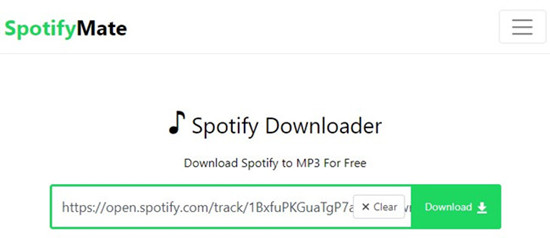 SpotifyMate is a versatile tool designed to allow users to download their favorite songs, albums, and playlists from Spotify's vast music collection. It's a free online tool that allow users to download songs, albums, and playlists from Spotify in MP3 format. It provides the ability to save Spotify songs with the best quality as MP3 files. It's a simple and user-friendly solution for those who want to enjoy their music offline without any restrictions. By using this downloader, you can have your favorite tracks ready to go, even when you're not connected to the internet.
If you're using a computer, you can access SpotifyMate by visiting its website and download music from Spotify without the need to install any apps or browser extensions. However, if you're using a mobile device, you have to experience the SpotifyMate with the help of Progressive Web App (PWA), which supports Android and iOS operating systems.
Key Features of SpotifyMate:
Stable and user-friendly.
Continuously updated for an improved user experience.
Doesn't require the installation of browser extensions. Instead, it offers a PWA feature for a seamless experience.
Support a wide range of browsers and personal devices including computers, phones, and tablets.
Designed to be easy and fast to download favorite songs for free.
Part 2.

Is SpotifyMate Legit to Use?

Once of the common concerns when using such tools like SpotifyMate is the legality of downloading content from Spotify. It's important to exercise caution when using third-party tools or websites that claim to offer free downloads from streaming services like Spotify. While SpotifyMate's description makes it seem like a convenient way to download music, it's worth noting that downloading copyrighted material without proper authorization may against Spotify's terms of service and could potentially infringe on copyright laws. This is where you may want to find the best alternative to it.

Compared to SpotifyMate, there're other standalone applications designed to provide users with the ability to record and convert music from the Spotify desktop client into various audio formats, such as ViWizard Spotify Music Converter.

As a third-party service, Soundloaders may have limitations in terms of additional features or support compared to dedicated Spotify downloader application, such as ViWizard Music Converter, which provides you with features of accessing and customizing music. Unlike online tools, ViWizard operates as a dedicated software application, allowing both Prermium and free users to download and convert music and podcasts directly from the Spotify desktop client. With a host of impressive features and customization options, ViWizard offers a comprehensive solution for those who seek the best quality, flexibility, legitimacy in their music downloads.

Using both SpotifyMate and ViWizard Spotify Music Converter before making a final decision can be a reasonable approach, especially if you're trying to determine which tool better suits your needs and preferences. In the following sections, we'll introduce how to use both SpotifyMate and ViWizard Spotify Music Converter. From here you can try ViWizard Spotify Music Converter for free: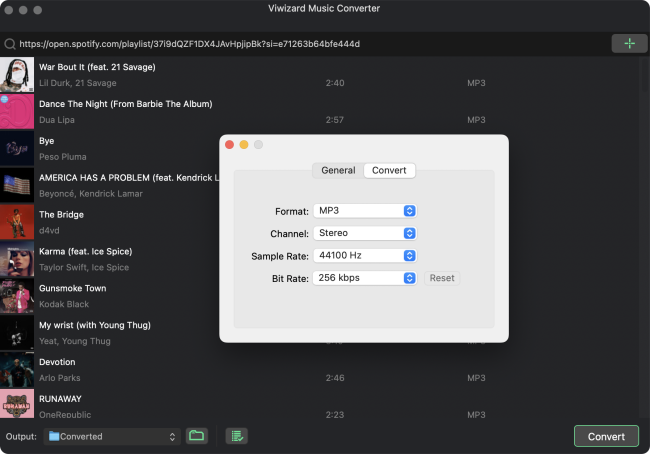 Part 3.

How to Use SpotifyMate Spotify Downloader

The process of downloading Spotify songs with SpotifyMate is designed to be easy and fast, providing a way to download favorite songs for free.
For Windows, macOS: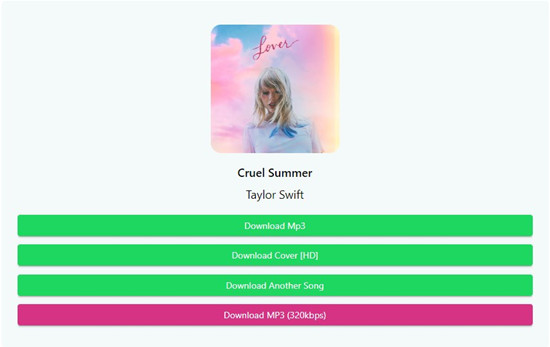 Open the Spotify app or website in your browser.
Navigate to the playlist, album, or track you want to download.
Click the three dots (…) to access the options menu and click on the "Share" button.
Choose the "Copy Song/Album Link" option for an individual song or album or "Copy Link to Playlist" option for a playlist.
Visit the SpotifyMate website and paste the copied link into the provided input field labeled "Paste URL from Spotify." Alternatively, click on the "Paste" button.
Click on the "Download" button to start the download process.
Choose the desired MP3 quality for the downloaded Spotify music.
SpotifyMate is said to apply Progressive Web App (PWA) technology. This means that the app supports Android and iOS operating systems. Unlike for Windows and macOS, the installation process is described separately for each operating system.
For Android OS:
Use Google Chrome to access SpotifyMate.com.
Tap on the "Add to Home Screen" button located in the corner of the screen.
Tap on the "Install" button to install the SpotifyMate app on your Android device.
For iOS:
Use Safari to access SpotifyMate.com.
Tap on the "Share Extension" button located in the toolbar.
Select "Add to Home Screen" to install the SpotifyMate app on your iOS device.
Part 4.

How to Fix SpotfiyMate Not Working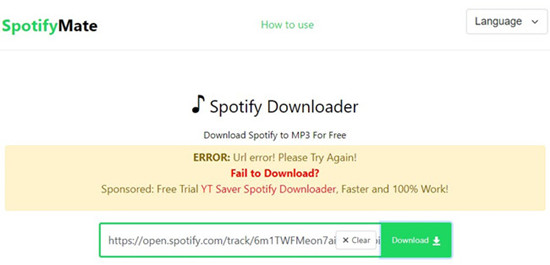 SpotifyMate Not Working and Fail to Download?
If you're encounter issues with SpotifyMate where it's failing to download the URLs you've provided and displaying the error message, there could be several reasons for this problem:
Incorrect URL: Make sure you're copying the correct Spotify link.
Supproted Content: Some content might not be downloadable on SpotifyMate.
Stable Connection: Make sure your internet connection is stable.
Contact Support: Seek help from the tool's support or check their website for assistance.
Alternative Tools: If you're consistently experiencing issues with SpotifyMate, you might want to explore alternative tools like ViWizard Spotify Music Converter, as previously mentioned, or other online Spotify MP3 downloaders that offer similar functionality.
Part 5.

Best Alternatives to SpotifyMate Spotify Downloader

If you're seeking a powerful and reliable solution for downloading and converting music from Spotify, ViWizard Spotify Music Converter emerges as the ideal choice. Whether you hold a Spotify Premium subscription or use a free account, ViWizard guarantees seamless music access and conversion from your Spotify library.
Why Choose ViWizard Music Converter?
ViWizard Music Converter stands out as a comprehensive Spotify downloader app that caters to the needs of both Premium and free users. Its commitment to quality, diverse audio formats, and the ability to capture various types of Spotify content makes it an exceptional choice for enhancing your music collection.

Key Features of ViWizard Spotify Music Converter
Free Trial
Free Trial
* Security verified. 5, 481,347 people have downloaded it.
Download Spotify songs, albums, playlists, podcasts, audiobooks
Convert Spotify music to lossless MP3, AAC, FLAC, WAV, M4A, M4B
Support playing offline Spotify music on any device at any time
Compatible with Windows and macOS, as well as, the latest Spotify
For a superior Spotify downloading experience that supports your Premium or free account, ViWizard emerges as the definitive choice to download various types of content from Spotify, including songs, playlists, albums, artists, episodes, and even audiobooks. Besides MP3, you can also choose WAV, AAC, FLAC, M4A, or M4B. It also provides the option to configure audio settings such as bit rate, sample rate, and channel settings. Its versatility, ease of use, and dedication to retaining audio quality set it apart as the preferred alternative to SpotifyMate.
Step 1

Select Spotify Music or Podcast

Get the appropriate version of ViWizard Spotify Music Converter for your Windows or macOS computer. Install the application. Launch ViWizard and wait for the Spotify desktop app to open on your computer. In Spotify, select the music tracks or podcast episodes you want to download. Simply drag and drop them onto the main interface of ViWizard.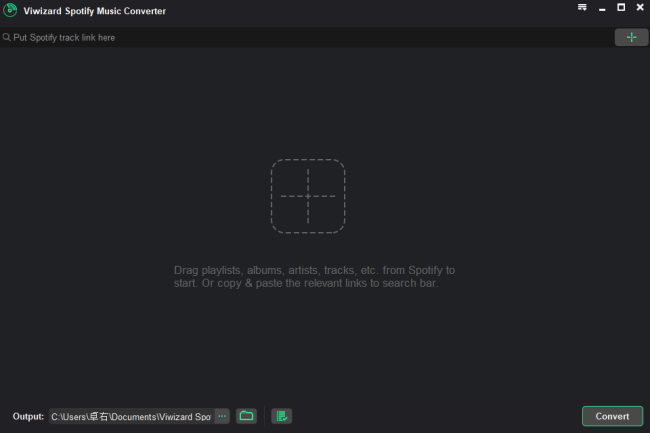 Step 2

Adjust Output Format

Click the menu icon located in the upper-right corner of the ViWizard app. In the menu, find and select "Preferences." With in the Preferences window, locate the "Convert" section. Here, you can adjust various parameters, including the output format. After configuring the output format and any other desired parameters, click the "OK" button to save your settings.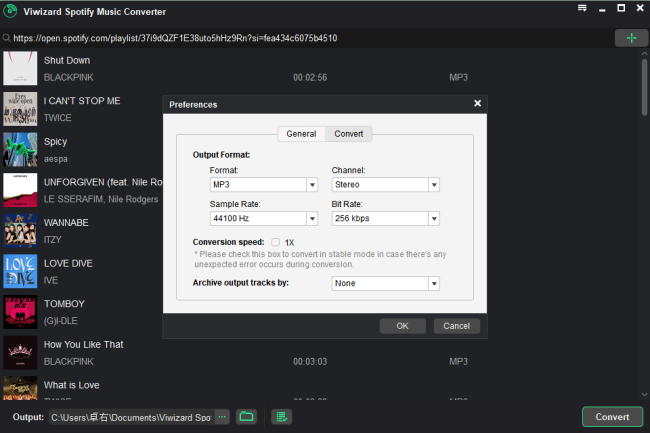 Step 3

Download Spotify Music

Return to ViWizard's main interface by closing the Preferences window. On the main interface, you'll find a "Convert" button. Click this button to initiate the conversion process. ViWizard will proceed to convert and downlaod the selected Spotify content. Once the conversion is complete, navigate to the output location on your computer where the downloaded music files are saved. You can open this folder to access and enjoy your downloaded Spotify content.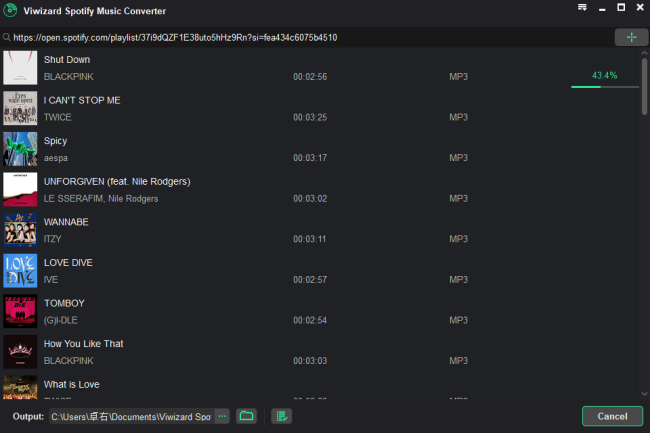 Conclusion
While SpotifyMate is a convenient way to download Spotify music, it has several limitations such as showing a download error when attempting to download the URLs. By opting for ViWizard Music Converter, you're ensuring a seamless and reliable method to build an offline music library that's tailored to your preferences. With a straightforward approach to recording and converting, ViWizard empowers you to enjoy Spotify content on your terms.