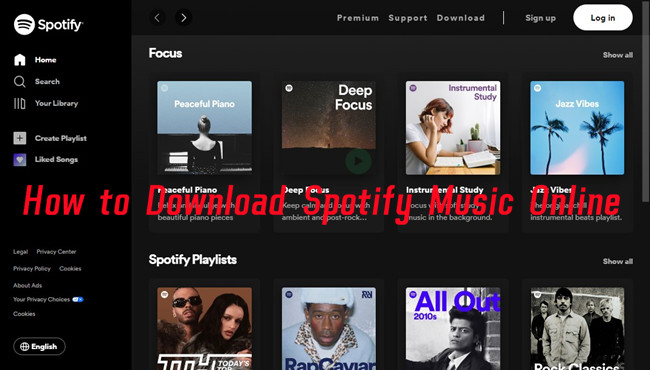 Spotify is a popular music streaming service that allows users to listen to millions of songs and podcasts online. While Spotify does not offer an official option to download music directly from their website (the Spotify Web Player), there're various third-party websites that claim to allow you to download any song, playlist, album from Spotify, regardless of the subscription plan you're currently using.
During our exploration, we've collected various Spotify online download websites for you to download Spotify music as MP3 audio format file. If you want a third-party Spotify downloader instead, we'd also like to introduce the best one to you. Go ahead.
Part 1. What You Need to Know about Spotify Music Online Download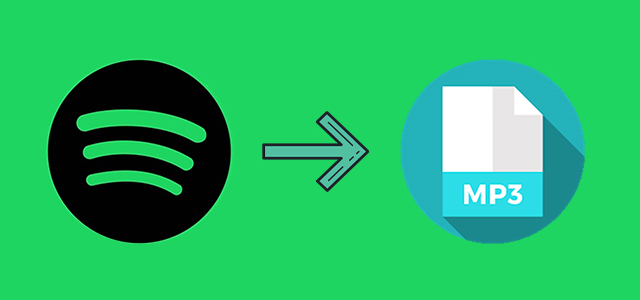 While users are officially set up to download any music tracks from the Spotify application for desktop and mobile, these third-party websites work by using software that extracts the audio from the Spotify track and saves it as a default MP3 file.
Before getting started, you may want to know how those online websites work to download the correct music tracks you request for. Typically, you're required to enter the Spotify URL of your selected songs, playlists or albums in the text field ("Enter link"). Once you confirm the listed items are the ones you wish to download on the online website. Just click the Download button and the online website will download the selection in ZIP format with the audio files for you.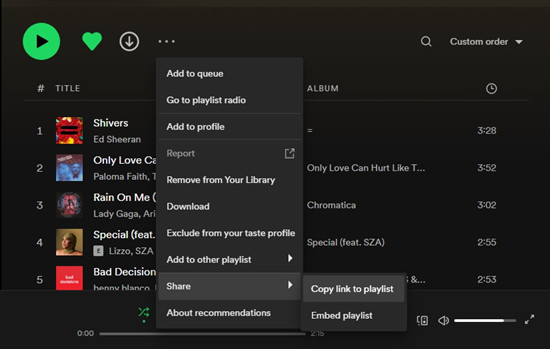 Is it legal to download Spotify Music by using third-party online websites?
It's important to note that downloading music from Spotify using third-party websites is generally considered to be a violation of Spotify's terms of service, and could potentially result in legal action. Additionally, these websites may contain malware or other harmful software, so users should proceed with caution when downloading music from unofficial sources.
If you wish to find a legal way to download music from Spotify, you're highly recommended to pick a third-party software called ViWizard Spotify Music Converter instead for your own personal use only. It's more powerful than any one of the third-party websites below since it allows you to adjust more preference settings such as output format, channel, sample rate, bit rate and more for the music tracks. Then you can have the backup or your personal collection of the Spotify downloads offline. Go ahead to Part 3 to meet our ViWizard Music Downloader.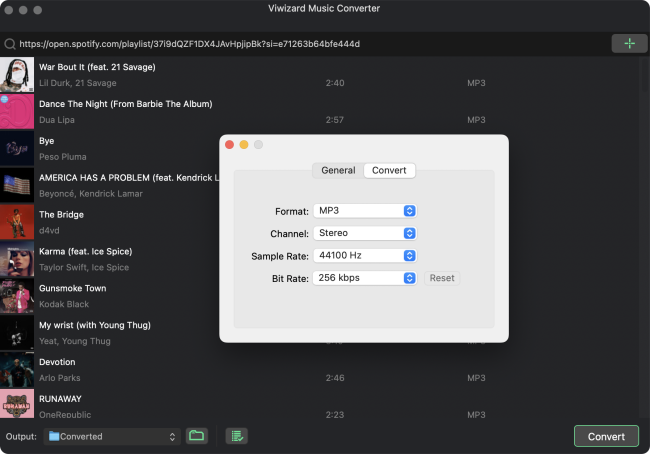 Part 2. Download Spotify Online for Songs, Playlists, Albums
If you haven't decided which online website should you visit to download your favorites from Spotify to your computer, you've come to the right place. We've set out to find some of the best online download website that works with Spotify for free. Just pick the one you like and you're officially set up to download your favorite songs, playlists and albums to MP3 audio files. If you desire for more like podcasts or audiobooks (yes, Spotify now has audiobooks), you're highly recommended to pick the third-party software in Part 3 instead.
So you should have a bunch of playlist, song, or album URLs from the Spotify official - https://open.spotify.com/, or the applications you're currently using on your device. Basically, you can have the URL by selecting the Share option for the item > Copy Playlist/Song/Album Link. Then the URL is copied to your clipboard and you should be ready to download the items with it.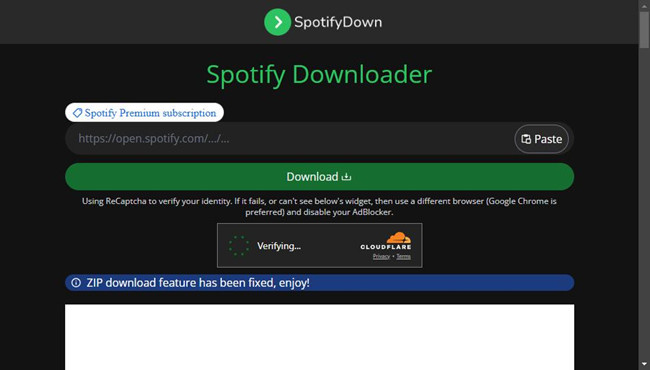 Spotify Downloader is an online tool lets you quickly and easily download any song, album or playlist from Spotify. All you need to do is to enter the URL of the song, album, or playlist you want to download, and the Spotify Downloader will take care of the rest. You can then save the songs to your computer or mobile device for offline playback. Since the music track is downloaded to mp3 format.
How to use Spotify Downloader:
Step 1. On your computer or mobile device, open a compatible web browser to enter "https://spotifydown.com/" in the address bar.
Step 2. Hit Enter.
Step 3. Spotifydown.com will need to review the security of your connection before proceeding. Just hit "verify you are human".
Step 4. Once you're one Spotifydown.com, head to copy the link to a song, playlist, or album on Spotify.
Step 5. Click Paste next to the text field.
Step 6. Click Download.

SpotifyMate is a free tool helping you to download Spotify songs in MP3 online. SpotifyMate Spotify Downloader is completely free to use. To use Spotify Mate, you only need a Spotify track, playlist, album link to paste in the input filed on the website and download MP3 file format.
How to use SpotifyMate:
Step 1. On your current device, visit https://spotifymate.com/ using a web browser.
Step 2. Head to the Spotify application or web player to copy the link to a track, playlist, or album from Spotify.
Step 3. Return to SpotifyMate, then paste the URL from Spotify.
Step 4. Click the Download button to the right of the input field. SpotifyMate will load all the included music tracks from the URL.
Step 5. Click the Download button on the right of the track you wish to download to your device.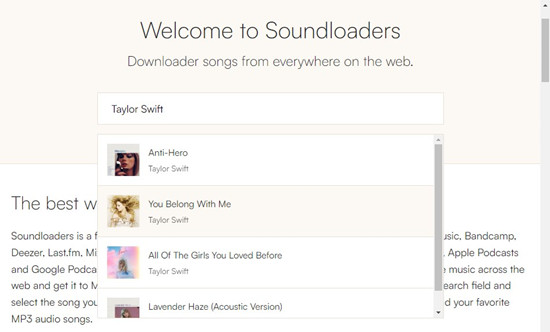 Soundloaders is a free website that allows you to download songs in MP3 format from various music services, and Spotify is one of them. Different from the website above, you use Soundloaders as a search engine to find your favorite music from Spotify. Once Soundloaders display the search results, you're allowed to download the desired ones to MP3 audio files. A URL of a track, playlist or album from Spotify won't be necessary.
How to use Soundloaders:
Step 2. Once you're there, you will see a search bar on the Soundloaders website.
Step 3. Type the name of the song, artist or album in the Search filed.
Step 4. Select the search result from the drop-down.
Step 5. To download the item from Soundloaders, choose Download song.
As stated, these third-party websites are unsecure and unstable for users to download music tracks from unknow sources. For starters these online download websites are down frequently for no reasons. And you may find the downloaded items are not 100% matched. When you play the MP3 audio file using a media player, the audio quality is not good as expected, since the Spotify Web Player provides a different option from the current application you are using on your device.
If you want or need to download the matched music tracks from Spotfy, you're highly recommended to pick a third-party software instead. There're a variety of third-party Spotify Music downloaders in the market. With the access to your Spotify account (of course you'll need to log in to Spotify yourself), they connect your Spotify library with either the Spotify desktop app or the built-in browser for the Spotify Web Player. Then you can head to anything in the most familiar Spotify platform to download. What's more, it can download your selected Spotify contents in various file formats than just MP3, in a fast, secure, stable and legal way.
If you're intertest in these Spotify Music downloaders, go ahead and you can start to benefit from the best one in the market.
Part 3. Download Spotify on Desktop for Songs, Playlists, Albums, Podcasts, Audiobooks
If you choose to pick a third-party Spotify downloader instead of a website regarding the legality, all you need is to bring your Spotify library that you build up with your Spotify account. Unlike those third-party websites, third-party softwires such as ViWizard Spotify Music Converter functions as the most common recorders on your device to make recordings of the music tracks that're playing in the background, but works with Spotify music tracks only.
If you download Spotify music by using a third-party tool, you typically need the access to Spotify's music service with your free or Premium account, so as to select the available music tracks to record with a third-party tool. Now with your permission and the access to your account, the third-party tool starts to record the music tracks for you and will automatically export the recordings to the preset audio file format.
Best Spotify Music Downloader - ViWizard Spotify Music Converter
If you're looking for a secure third-party Spotify downloader, look no further than our ViWizard Spotify Music Converter. ViWizard Spotify Music Converter features the best Spotify music tracks recorder to works with any requested items on Spotfiy including songs, playlists, albums, radio stations, podcasts, audiobooks and more. All the downloaded music tracks with ViWizard are DRM-free, and you have the ability to adjust the output settings for your own preferences.
For output format, you can choose MP3, AAC, M4A, MAB, WAV, and FLAC. The best part of it is the lossless audio quality will be kept and the full ID3 tags will be embedded to each downloaded songs after the conversion. Then you can transfer them to all your devices for offline play. ViWizard Spotify Music Converter is now available for both Windows and Mac computers. Designed with a clean and intuitive interface, it is easy-to-use. You can also follow this step-by-step guide to get some free MP3s!

Key Features of ViWizard Spotify Playlist Converter
Download and convert Spotify playlist to MP3 in a few clicks only
Work at 5× faster speed with 100% original quality
Support multiple output audio formats including MP3
Preserve ID3 tags and metadata info after conversion
Easy to operate with an intuitive interface
Step 1

Select Spotify music tracks for songs, playlists, albums, podcasts

For staters you should have the ViWizard Spotify Music Converter on your computer device. If you haven't, the correct version of ViWizard is available on the download box above. Launch ViWizard, and then head to the Spotify desktop application to select any music tracks you can access with your Premium or free account to use.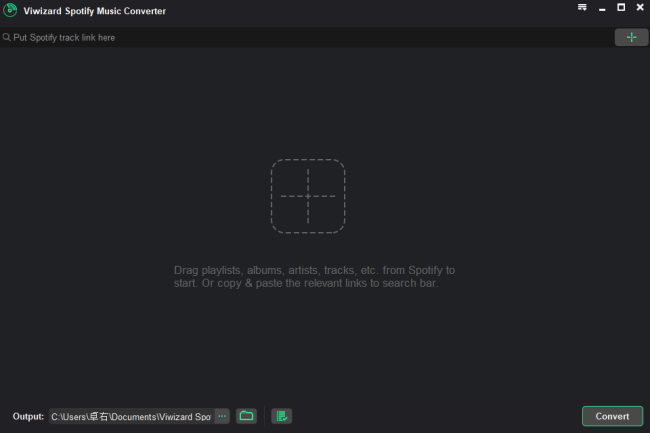 Step 2

Adjust format settings for Spotify music tracks

Once added, you'll want to select a compatible audio file format for these items for your devices. Click the menu icon in the upper right corner and choose Preferences from the drop-down. Choose the Convert tab, and then use the options menu for Output format to choose MP3, M4A, M4B, WAV, AAC or FLAC. Then click the OK button.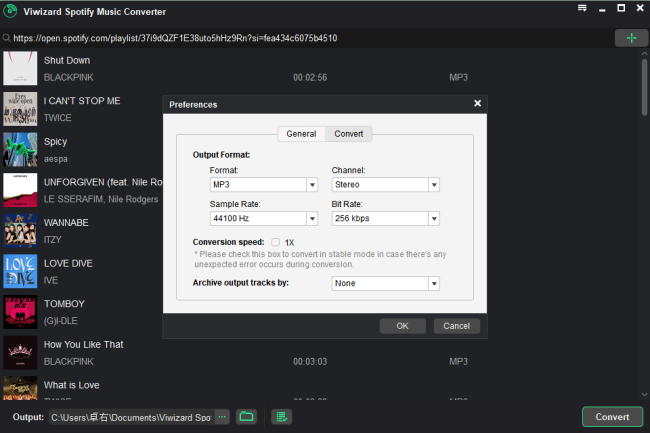 Step 3

Download and convert Spotify music tracks

To start the conversion, click the Convert button in the lower right corner and ViWizard will take care of the rest. Once the conversion is complete at a 5x super faster speed, all the audio files will be downloaded to the hard disk.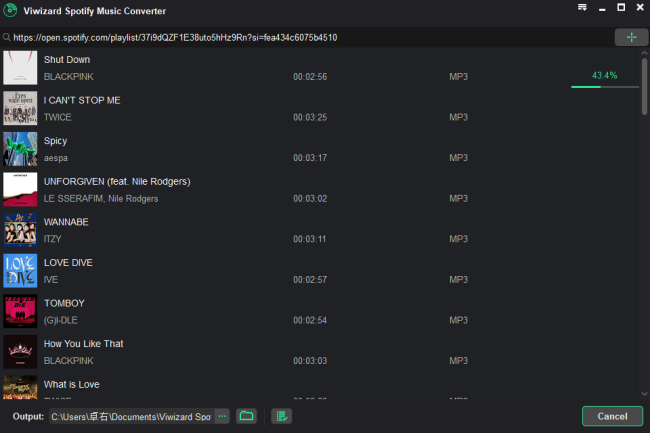 How to transfer Spotify downloads to mobile device:
Now it should be easy for you to transfer your Spotify downloads to all your devices for offline play. You can follow these steps to transfer them to your Android or iOS devices.
For Android devices:
1. Use a USB cable to connect your Android device to your computer. While Windows users can transfer the downloaded audio files directly to the device's storage, Mac users need the Android File Transfer app to do the transfer.
2. For Windows, drag the files or folder to the device's storage. For Mac, select and open the device's storage under "Use USB for" in the Android File Transfer app, and then drag your selected files to the Android's Files app.
3. Once the transfer is done, open the Files app on your Android device and browse for those audio files.
For iOS devices: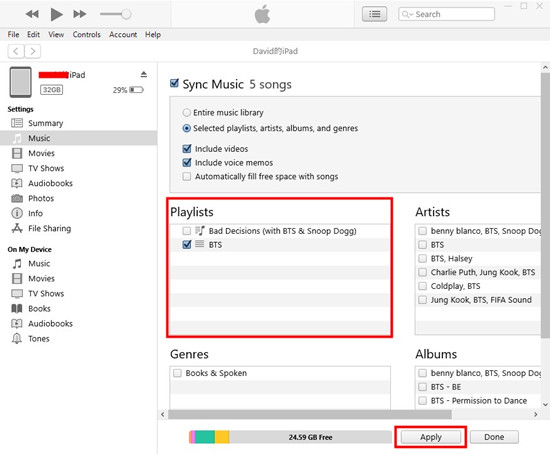 1. Use a USB cable to connect your iPhone, iPad or iPod touch to your computer.
2. When prompts in iTunes, you can start to sync the entire music library to your device. If you haven't, use the Files > Upload Files/Folder to Library to add your Spotify downloads.
3. To do the syncing of your music library with those Spotify downloads, select your device next to the Apple Music contents menu, and use Music > Entire music library or selected playlists, artists, albums and genres to include your Spotify downloads > Apply.
4. Once the syncing is done, click Done, and open the Music app on your iPhone, all the Spotify downloads will appear under the Downloaded tab.