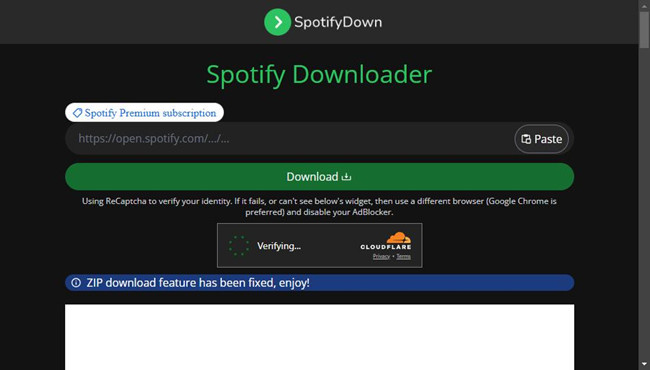 If you've ever wanted to download music from your favorite streaming services, you're likely aware of the convenience that third-party tools can offer. Online download websites, accessible through web browsers across various devices, have become popular options for music enthusiasts seeking to convert their favorite Spotify tracks into playable MP3 files.
In this post, we'll take a closer look at one of the standout online Spotify downloaders, known as SpotifyDown.com. We'll guide you through how to harness its power to effortlessly download Spotify music files from SpotifyDown.com and make your favorite tunes available on your device, anytime you desire.
Part 1.

Reviews of SpotifyDown.com

SpotifyDown is an online tool that offers a convenient way to download music from the popular streaming service Spotify, allowing users to enjoy their favorite tracks offline. The tool boasts a simple process and various features to enhance the music downloading experience:
Key Features:
Provides a user-friendly interface.
Promises quick and easy conversion of Spotify links into various audio formats.
Eliminate disruptive ads that often play during music streaming on Spotify.
Maintains the original quality of the music during the conversion process.
Supports advanced audio settings, different audio formats like FLAC to MP3 and WAV to MP3.
How does SpotifyDown.com work to download Spotify music?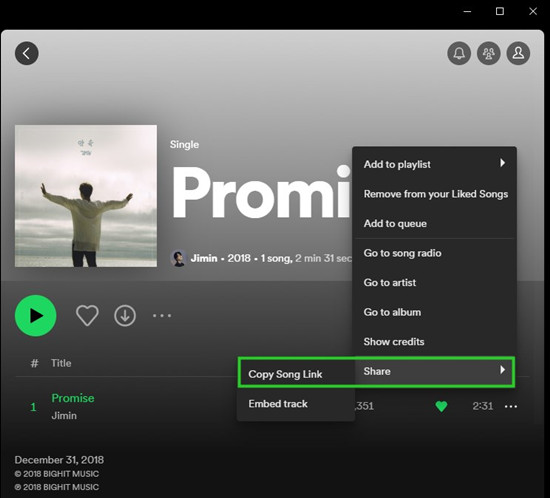 The Spotify downloader available on SpotifyDown.com offers a way for users to download Spotify music using a link. When using the Spotify app or the Spotify web player, users can access the desired song, album, or playlist they wish to download. They can locate the "Share" option, usually represented by three dots or a share icon, often found next to the song title. Upon copying the unique URL of the selected music content and pasting it to the designated filed on SpotifyDown.com, the built-in Spotify downloader then processes the link and extracts the relevant music data from the shared link and download the Spotify music in a preferred format, such as MP3.
It's important to note that while SpotifyDown.com provides a seemingly straightforward way to download music from Spotify using shared links, you should be cautious of the presence of excessive advertisements. And the website's reliability, security, and the quality downloaded tracks may vary, so you may consider using a dedicated Spotify music downloader, such as ViWizard Spotify Music Converter.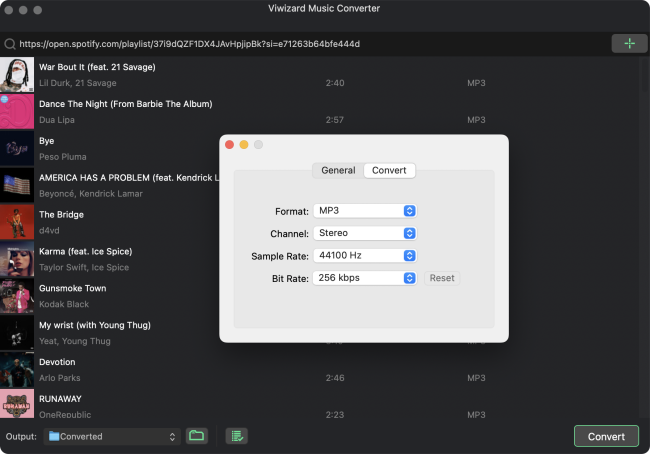 Part 2.

How to Download Spotify Music from SpotifyDown.com

Here's a step-by-step tutorial on how to use the service provided on SpotifyDownload.com:
Launch the Spotify app on your device.
Locate the specific song or album from Spotify that you want to download.
Look for the "3 dots" button next to the song or album title. Click on it to reveal more options.
In the options menu, click on "Share" to access the sharing options.
From the sharing options, choose "Copy Link." This copies the unique Spotify link for the selected music content.
Open your web browser and go to the SpotifyDown website (SpotifyDown.com). You may need to complete a CAPTCHA, which is a common security measure implemented on websites like SpotifyDown.com.

On the SpotifyDown website, locate the provided field for pasting the copied Spotify link. Paste the link into this field.
After pasting the link, click the "Download" button on the SpotifyDown website.

Wait for SpotifyDown to process the link you provided. Once the processing is complete, you'll see a "Download" button or link displayed on the SpotifyDown website.
Click on the "Download" button, and the selected Spotify music will be downloaded to your device. Now, you can enjoy your music offline for free!
Part 3.

Best Alternatives to SpotifyDown Spotify Downloader Not Working

If you encounter an error message on SpotifyDown.com stating that "something went wrong" when trying to download music after pasting a unique link and clicking "Download," the issue may be with your own internet connection or network settings. Ensure that you have a stable internet connection and try accessing the website from a different browser or device.
ViWizard Spotify Music Converter is your go-to tool for downloading and converting music, podcasts and audiobooks from Spotify's desktop app. It works flawlessly for both Premium and Free Spotify users, swiftly downloading your favorite music. With ViWizard, you can choose from various output formats to tailor your music collection, including MP3, M4A, M4B, WAV, AAC, and FLAC.
It goes beyond downloading, storing your music on your device, so you can enjoy it offline anywhere. Reliable and user-friendly, ViWizard ensures a smooth experience for your own personal use. In simple words, ViWizard offers compatibility, reliability, and versatility, empowering you to create a personalized, offline music collection from Spotify's vast library.

Key Features of ViWizard Spotify Music Converter
Free Trial
Free Trial
* Security verified. 5, 481,347 people have downloaded it.
Download Spotify songs, albums, playlists, podcasts, audiobooks
Convert Spotify music to lossless MP3, AAC, FLAC, WAV, M4A, M4B
Support playing offline Spotify music on any device at any time
Compatible with Windows and macOS, as well as, the latest Spotify
Step 1

Select Spotify Music/Podcast/Audiobook

Download and install the appropriate version of the ViWizard app on your computer. Launch the application and wait for the Spotify desktop app to open. Navigate to the Spotify music, podcast or audiobook you want to download. Simply drag the music tracks or podcast episodes from Spotify and drop them onto ViWizard's main interface.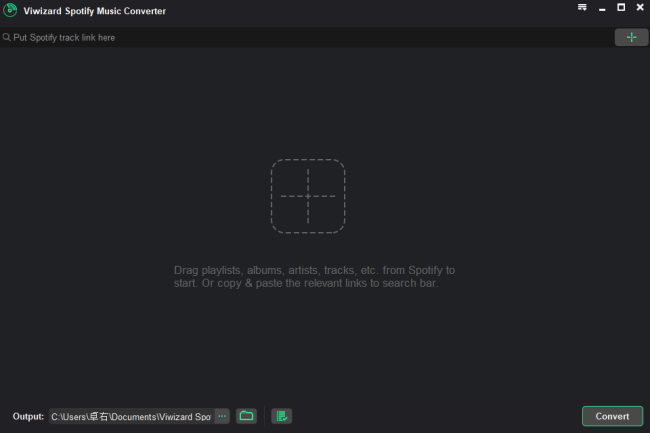 Step 2

Adjust Output Format

To customize the output format and other settings like bit rate, sample rate, and channel, click on the menu icon located in the upper-right corner of the ViWizard app. In the Preferences menu, select "Convert." From the format drop-down menu, choose your preferred audio format, such as MP3. Once you've made your selections, click "OK" to save the settings.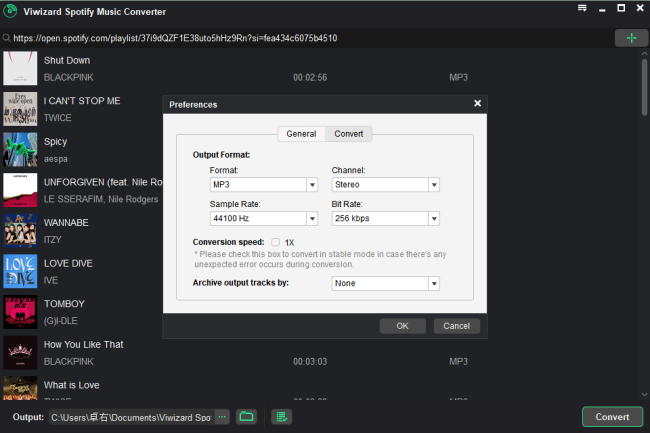 Step 3

Download Spotify Music/Podcast/Audiobook

Return to ViWizard's main interface, and you'll find a "Convert" button. Click on it, and ViWizard will swiftly download the selected Spotify music, podcast episodes, or audiobook chapters at a significantly faster speed. The downloaded audio files will be saved to the specified output location on your computer. To access the downloaded songs, click on the file icon next to the output location. This will open the music folder containing your downloaded tracks.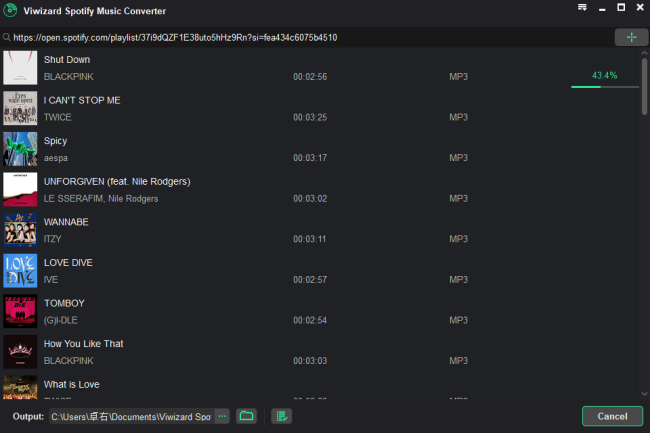 Conclusion
Both SpotifyDown Spotify Downloader and ViWizard Music Converter are great options if you are looking for the best Spotify downloader. Whether you have a Spotify Premium subscription or not, ViWizard Music Converter aims to enhance your music listening experience by giving you the freedom to enjoy your tracks offline and on the go.