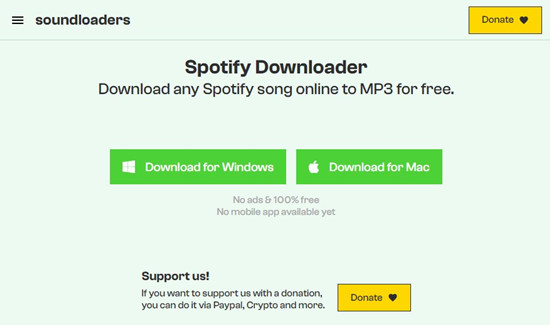 If you want to download music from your favorite music services, one of the popular ways is to use a third-party tool, and an online one may provide you with more convenience, as it is accessible via a web browser across devices.
There're many online download websites that allow you to download your favorite Spotify music into playable music files, most of them are MP3s. In this post, we will introduce one of the best Spotify online downloaders called Soundloaders, and how you can use it to download MP3 from Spotify to your device.
Part 1.

Review of Soundloaders Downloader
What Is Soundloaders Downloader?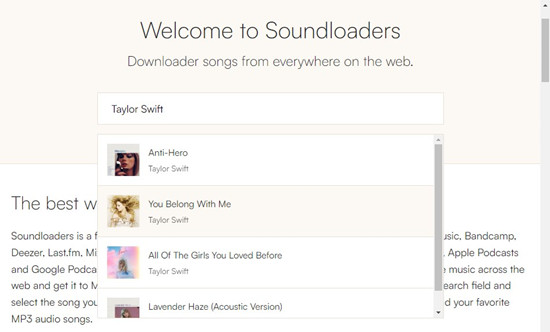 Soundloaders is an online tool that allows users to download songs as MP3 files from various streaming music services, including Spotify, Apple Music, and more. It is compatible with both desktop and mobile browsers, making it accessible across various devices online. If you prefer using a desktop application, it can be exciting to download and install either Windows or Mac version from its official website (No mobile app available yet). It's user-friendly and aims to provide a convenient way to extract music files from a music service, if supported.
One notable feature of Soundloaders is its ability to automatically include metadata such as cover image, artist, and release date in the downloaded songs, if available.
How does Soundloaders work for downloading Spotify music?
Soundloaders for Spotfiy Music is specially designed for Spotify users to download Spotify music via a link, which is accessible across Spotify platforms, including Spotify app, Spotify web player when you are trying to share the music content to others or another platform.
Pros

Provides an easy and user-friendly way to download Spotify songs as MP3s without the need for additional software or complicated procedures.
Compatible with both desktop and mobile browsers.
Includes metadata such a cover image, artist, and release date in the downloaded songs.
Free and fast.
Values user privacy and does not require personal information or account creation.
Cons

Lacks of control over audio quality.
Limited features and support as an online tool.
Lacks of control over audio format, MP3 only.
Uncertain music source.
What are the limitations of Soundloaders downloaders?
As a third-party service, Soundloaders may have limitations in terms of additional features or support compared to dedicated Spotify downloader application, such as ViWizard Spotify Music Converter, which provides you with features of accessing and customizing music.
ViWizard Spotify Music Converter is powerful than any online tools as it comes as an application. You can download any music and podcasts including songs, playlists, albums, artists, episodes and even audiobooks. Meanwhile, you can configure the bit rate, sample rate, channel during the program. Using ViWizard Spotify Music Converter guarantees the availability, reliability, and security as it records and convert the music directly from the Spotify desktop client into various audio formats.
Before deciding to use Soundloaders or ViWizard Spotify Music Converter, you are highly recommended to try both to make informed choices that align with your preferences. You can scroll down to meet the ViWizard app and learn how to use it to download your favorite Spotify music for your own personal use.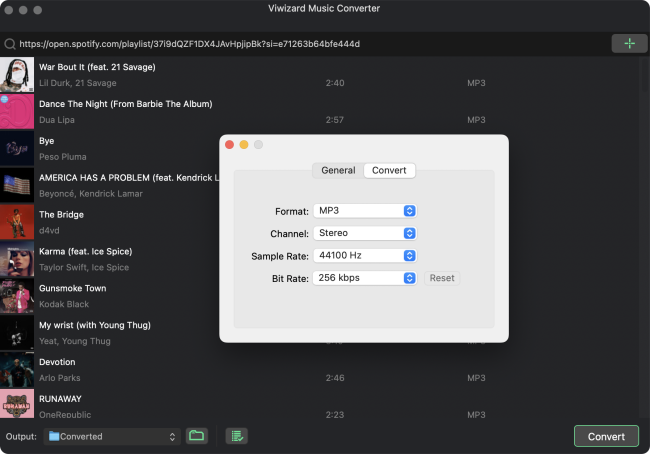 Part 2.

How to Use Soundloaders Spotify Downloader Online

As stated, Soundloaders is accessible on web or compatible desktop devices. Before getting started, please access Soundloaders using a web browser or download it from its official website. Soundloaders provides a built-in search tool to search for the desired contents via link or other related information, such as title, or artist name. Once Soundloders showed a list of search results, just pick what you'd like to download to MP3 audio files. If you search for the content directly in Soundloaders, a URL of a Spotify music content from Spotify, such as playlist, won't be necessary.
Downloading Spotify music with Soundloaders:
Step 1. To access Soundloader Spotify Downloader online, visit https://www.soundloaders.com/. If you want to try the Soundloaders app, go to https://www.soundloaders.com/spotify-downloader/ instead and download either the beta version for Windows or macOS there. Currently the mobile app is not available.
Step 2. Once set up, you will access its built-in search tool in Sounloaders. If you are using the Soundloaders app, scroll down to select "Spotify" along with other Soundloaders music downloaders and search for music specially in Spotify.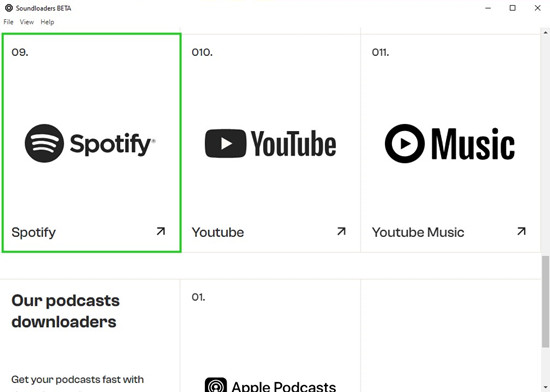 Step 3. From there you should enter the link to the desired Spotify music content. If you haven't got the link, turn to the Spotify web player (https://open.spotify.com/) or desktop app and go to a playlist or an album page. Click on the More button on the page, and choose Share > Copy link to playlist/album. Alternatively, right-click on a song > Share > Copy Song Link.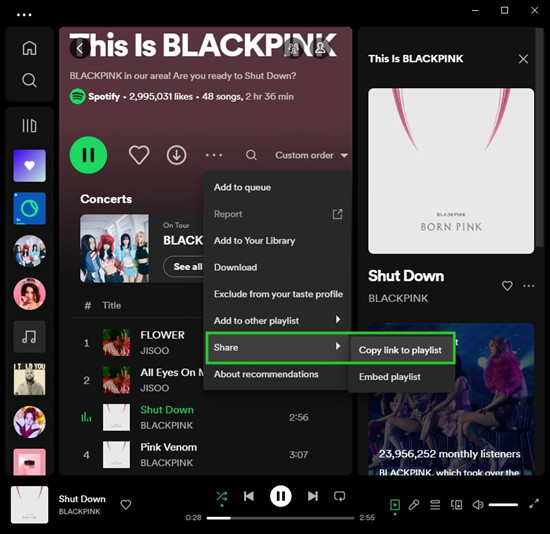 Step 4. Once the URL is copied to your clipboard, return to Soundloaders and paste it to the search field.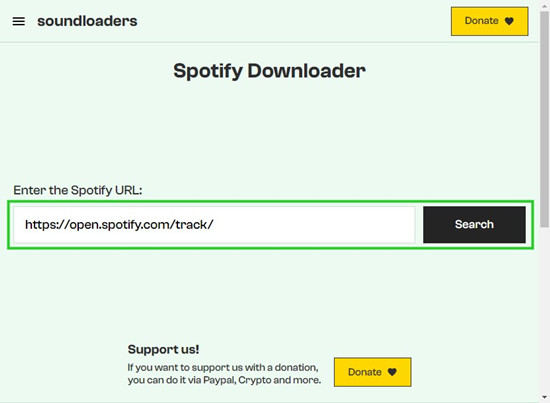 Step 5. Click Search.
Step 6. Select the search result from the list, and click the Download button next to it to start the downloading of the MP3 file(s).
Once the download is complete, the songs will be saved to your device and can be accessed without an internet connection, meaning you can play the song offline with any media player you use.
Part 3.

Best Alternative to Fix Soundloaders Spotify Downloader Not Working

When using Soundloaders, the download may fail or the downloaded songs are wrong. The algorithm of such third-party download websites online may not be able to retrieve the song you are seeking. And according to Soundloaders, this is an unsolved problem, and this is where you want to use an alternative to it:

We apologize if our alogorithm is unable to retrieve the song you are seeking on occasion. Unfortunately, there is no current solution for this issue and reaching out to use will not resolve the problem. We are constantly working to improve our algorithms and we appreciate your understanding.

- Soundloaders

If you choose to pick ViWizard Spotify Music Converter instead of Soundloaders regarding the accessing music, all you need to bring is your Spotify library that you build up with your Spotify account. ViWizard Spotify Music Converter will never fail to download any requested music and podcast from the Spotify desktop app, no matter you have Premium subscription or not. It will continue recording the music tracks playing in the background from Spotify, and saved the converted music files to your device after then.

If you are looking for the best Spotify downloader app, look no further than our ViWizard Spotify Music Converter. With ViWizard, you can use your Premium or free account to download songs, playlists, albums, artists, podcasts, and even audiobooks to some commonly-used audio format. You can choose MP3, M4A, M4B, WAV, AAC, and FLAC as the converted format for your device. During the conversion, full metadata and lossless audio will be kept with the downloaded music. Then you can transfer the downloaded songs to all your devices for offline play.

Key Features of ViWizard Spotify Music Converter
Free Trial
Free Trial
* Security verified. 5, 481,347 people have downloaded it.
Download Spotify songs, albums, playlists, podcasts, audiobooks
Convert Spotify music to lossless MP3, AAC, FLAC, WAV, M4A, M4B
Support playing offline Spotify music on any device at any time
Compatible with Windows and macOS, as well as, the latest Spotify
Downloading Spotify music with ViWizard:
Designed with a clean and intuitive interface, ViWizard Spotify Music Converter is easy-to-use for both Windows and macOS users. Spotify desktop app is required to allow you to access your music library or Spotify's music catalog originally.
Step 1

Select Spotify music or podcast

Download and install the correct version of the ViWizard app to your computer, launch it and wait for the Spotify desktop app to open. You can head over to what you want to download from Spotify, and drag the music tracks and drop them to ViWizard's main interface.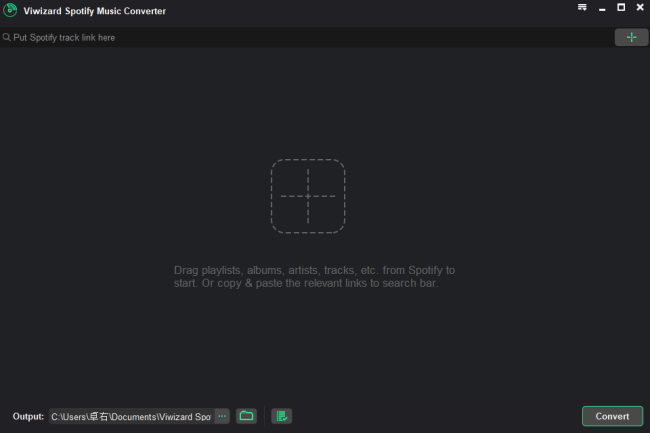 Step 2

Adjust output format

Then you will want to adjust the output format and other parameters, such as bit rate, sample rate, and channel. Click on the menu icon in the upper-right corner of the app > Preferences > Convert. From there you can open the drop-down menu of format, and choose the desired audio format, such as MP3. Once done, click OK to save.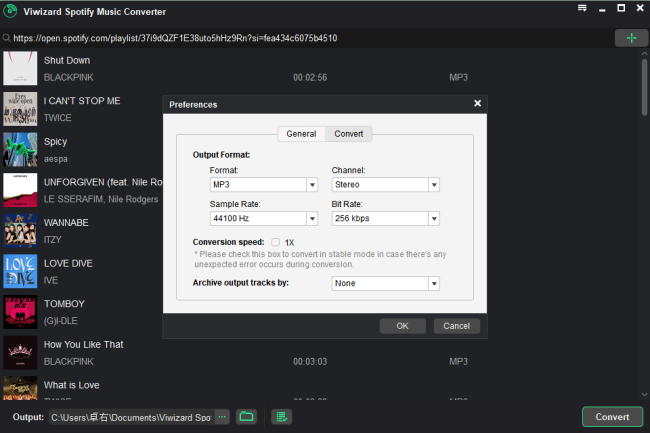 Step 3

Download Spotify music

Back to ViWizard's main interface, and click on the Convert button to start the conversion. Wait for the batch downloading to complete at a super faster speed, and the downloaded music is saved to the output location on your computer. Click on the file icon next to the output location, and the music folder that contains the downloaded songs will open.