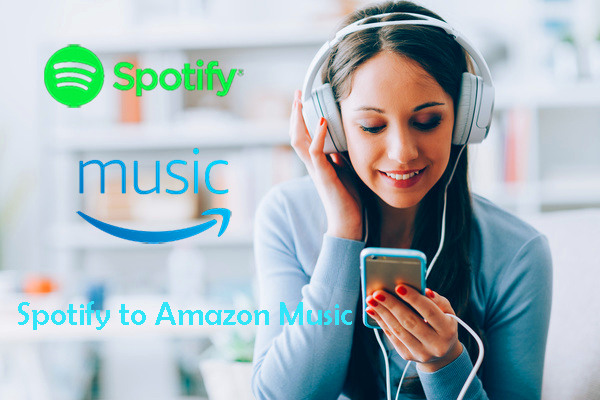 When it comes to music streaming, Spotify may be the first one you think of, since it has become one of the most excellent streaming music services for its powerful functionality. In addition, Spotify cooperates with smarter devices or speakers as well as integrates tons of services for purpose of improving the user experience.
For the reason that Spotify has dominated the music streaming industry for more than ten years since its release in 2008, the Amazon Music, however, is a new to join the intense competition. The reason why Amazon Music can stand out among many music service providers mainly lies in the X-ray lyrics as well as the Amazon Echo and Alexa compatibility. Therefore, it is necessary to export Spotify playlist to Amazon Music when you've determined to use the Amazon Music instead of Spotify.
Please choose one of the following apps to move your music from Spotify to Amazon Music. TuneMyMusic is available for web. ViWizard Spotify Music Converter is available for both Windows PC and MacBook, and you're able to import the actual music files of your Spotify playlists songs to AM.
Part 1. Use TuneMyMusic to Move Your Spotify Playlists Data to Amazon Music
TuneMyMusic is a 3rd-party tool that helps transfer the data and information of the playlist songs to supported music services like Amazon Music, Spotify, TIDAL, SOUNDCLOUD, iTunes, Deezer and more. To transfer your Spotify playlists to your Amazon Music Library, please follow the instruction to select your Spotify playlists and TuneMyMusic will configure the selected playlists for export.
Step 1

Select Spotify Playlists

1. Go to tunemymusic.com/?mode=amazon. Click on "Let's Start".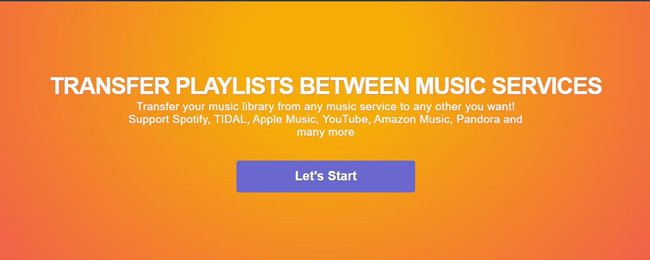 2. Select Spotify as your source music platform. When prompted, log in to your Spotify account to give the access of your account to TuneMyMusic.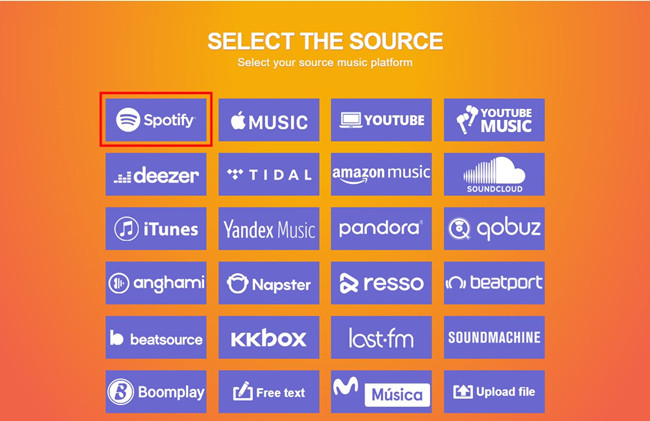 3. Returns to TuneMyMusic and start to select your Spotify playlists to move.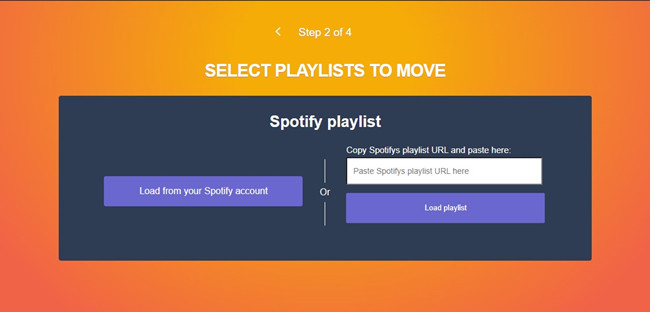 To select your Spotify playlists, your options are as follows:
Load from your Spotify account: Click the "Load from your Spotify account" button and TuneMyMusic will load the entire Spotify Music Library of yours. Find the playlist you wish to transfer to Amazon to select.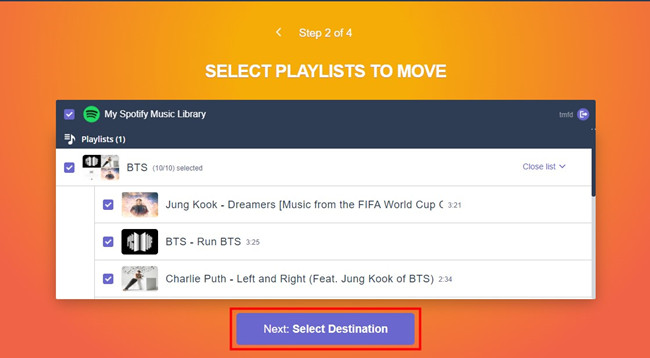 Copy Spotify playlist URL and paste in the blank field: Open the Spotify app and go to the Spotify playlist's profile. Hit the More button > Copy link to playlist. Then back to TuneMyMusic to paste the link. Click Load playlist.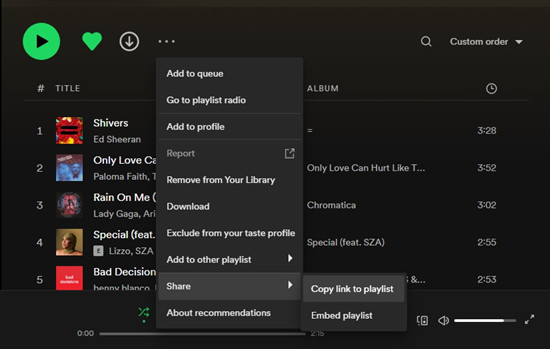 Step 2

Transfer Spotify Playlists to Amazon Music

1. Click on Next: Select Destination. Choose Amazon Music as your destination. When prompted, use your Amazon credentials to sign in and allow the access of your account to TuneMyMusic.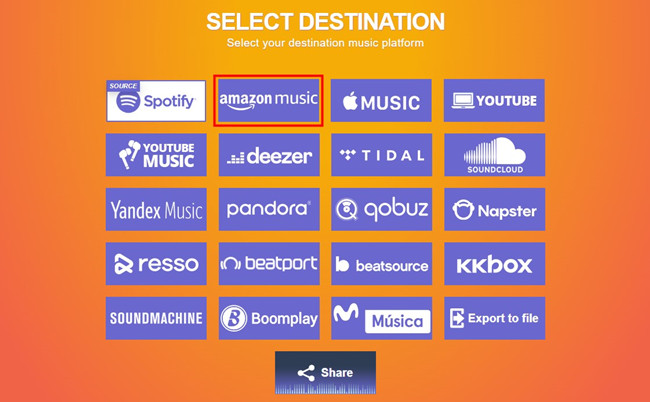 2. Click on Start Moving My Music.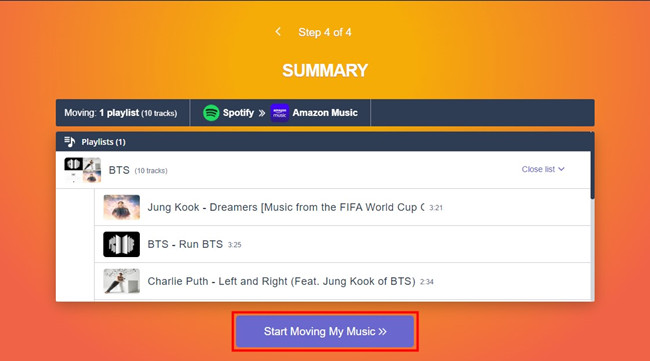 Now TuneMyMusic starts the conversion. Once the transfer is completed, you can now open the Amazon Music app to find your Spotify Music playlists.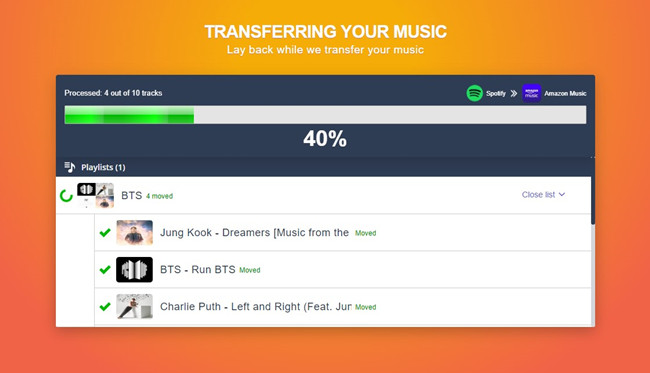 Step 3

Find Imported Spotify Playlists on Amazon Music

1. Go to Amazon Music Web Player to log in.

2. On Amazon Music Web Player, choose LIBRARY > Music > PLAYLISTS.

3. You can now view your Spotify playlists in your Amazon Music Library.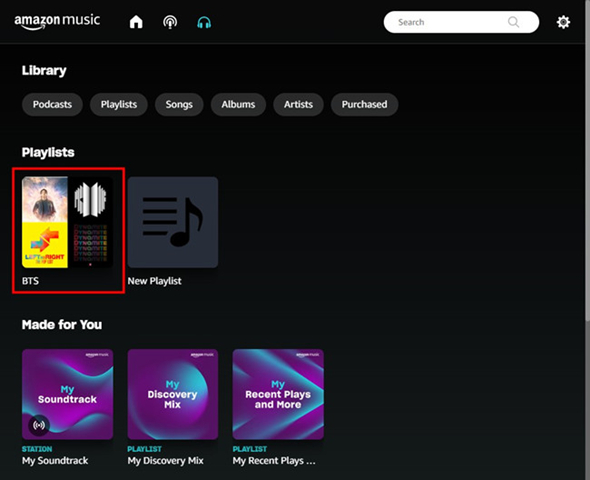 Part 2. Use ViWizard to Import Spotify Playlist Songs to Amazon Music
Moving your Spotify playlists to Amazon Music via serval clicks may be great, but's not always convenient. For starters you'll need a solid internet connection and, after you move your playlists to Amazon Music, you may find the playlists are not synced to all Amazon Music platforms. Since the services above only transfer the data and information of your Spotify playlists. To transfer your Spotify playlist songs to Amazon Music, all you need is a Spotify Music downloader.
Using a Spotify Music downloader makes sense for a number of reasons. The Spotify downloads are yours to keep on all your devices, and you're able to import the files to a music service like Amazon Music. ViWizard Spotify Music Converter is the best Spotify Music downloader for both Premium and Free users to have the DRM-free Spotify Music downloads. This ViWizard software can help crack the DRM from your Spotify playlist songs. You're able to adjust the output format of selected playlist songs in MP3, M4A, M4B, WAV, AAC and FLAC.
For Amazon Music, what your need to do is to convert Spotify playlist songs to Amazon Music supported format before you start to import them to Amazon Music. Asides from Spotify playlists, you can also download any music tracks from Spotify Music, such as albums, artists, podcasts and more for free.

ViWizard Spotify to Amazon Music Converter Key Features
Download Spotify songs, playlists, albums, and artists for free
Convert Spotify music to MP3, M4B, FLAC, WAV, AAC and more
Transfer Spotify music to Amazon Music without audio quality loss
Download and convert Spotify music at 5× faster conversion speed
Step 1

Select Spotify Playlists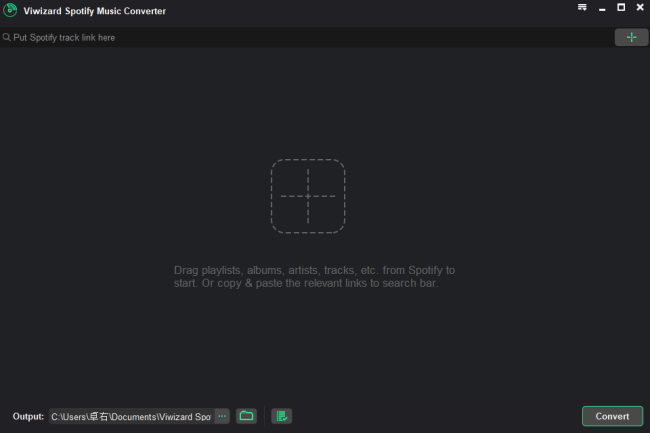 1. Depending on your computer device, download the correct version of ViWizard Spotify Music Converter from the download box above. Please also ensure to have the latest version of Spotify desktop app.
2. Launch the ViWizard program and it will open the Spotify desktop app. Head to your library to drag your playlist to ViWizard via drag-and-drop. This should add all the music tracks included to ViWizard.
Step 2

Convert Spotify Playlists for Amazon Music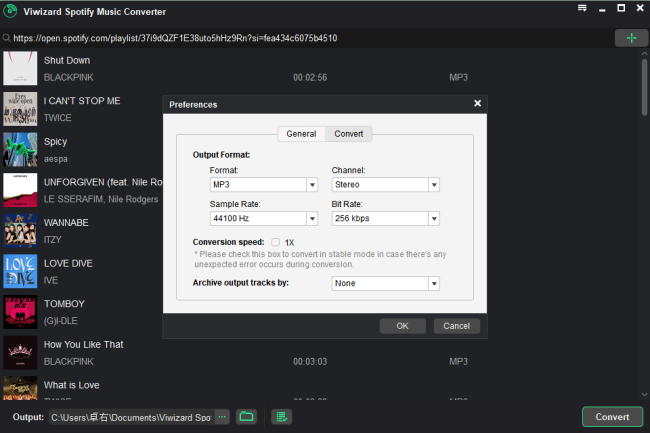 1. On ViWizard, click on the menu icon from the top menu.
2. Select Preferences.
3. Select the Convert tab.
4. Under Output Format, open the drop-down Format menu to select MP3. You can also customize channel, sample rate and bit rate here to make a difference. Click OK to save the changes here.
5. Back to ViWizard's main interface and click on the Convert button to start the conversion. For multiple Spotify playlists, you're also suggested to choose a different output location for a different Spotify playlist. Just click on the 3 dots icon next to Output at bottom.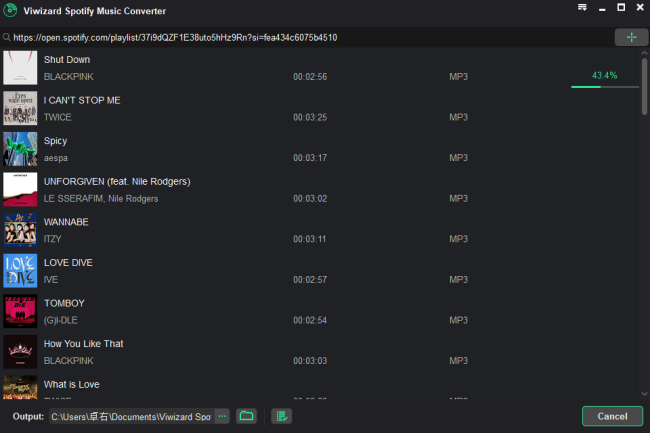 6. Click on the File button at bottom to open the output folder. All the Spotify music files of your playlist songs are here.
Step 3

Import Spotify Music Files to Amazon Music

1. Open the Amazon Music desktop app.

2. To import your Spotify music files to Amazon Music app, head to your profile > Setting.

3. Scroll to MUSIC MANAGEMENT > Automatically Import Music From.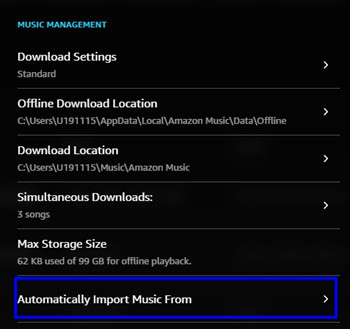 4. Click on Select Folder. Go to your music source location and open the folder or file to import.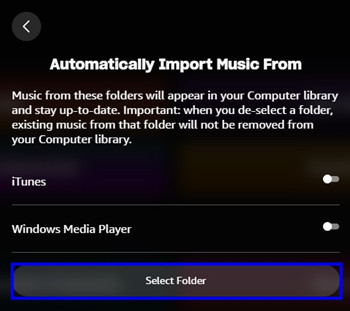 5. Once added, please make sure the added music location is enabled.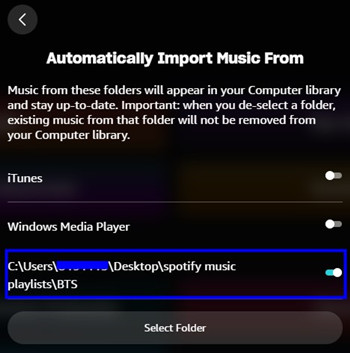 6. To view the imported Spotify Music songs, choose LIBRARY > Music from the top menu. All the imported songs are under the SONGS tab, and the status is downloaded. You can now choose to create a new playlist based on them on Amazon Music.
Conclusion
Thanks to this smart music solution, you can not only achieve Spotify to Amazon Music but also enjoy lots of amazing services. With its help, Spotify subscribers are able to freely download and play any Spotify music track, album, or playlist on any popular device and player, including Apple Watch, iPod, Sony Walkman and other common MP3 players.