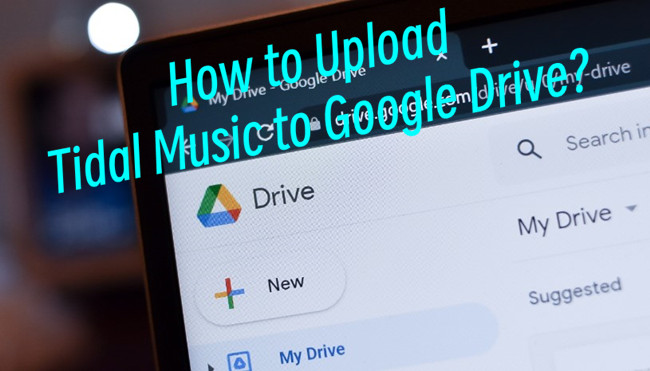 Are you a die-hard Tidal fan, but find yourself longing to access your curated playlist on different devices or share your favorite tracks with friends? We've got great news for you! In this post, we'll walk you through the step-by-step guide to transfer your Tidal music collection to Google Drive for a permanent backup!
Part 1.

Tidal Music to Google Drive - What You Need

While Tidal has undoubtedly impressed with its high-fidelity audio and exclusive content, the platform's limitation in cross-device accessibility might leave some feeling tethered to a single device. If you are a Tidal member of Tidal HiFi or HiFi Plus, you can download music from Tidal mobile app to your mobile device, such as Android or iOS device. However, your downloads are encrypted by Tidal in digital rights management, which means you won't be able to transfer them to your other devices and platforms, such as Google Drive.
Tool Required: ViWizard Tidal Music Converter
Fear not! Our goal here is to break these barriers and empower you to take your beloved tunes on to go. ViWizard Tidal Music Converter emerges as the best solution, which allows all Tidal users to download Tidal music to transferrable music files. As an alternative for Tidal users to access Tidal's offline mode on computer devices, ViWizard helps download Tidal tracks, albums, artists, and playlists. To make your Tidal downloads supported by Google Drive, you can set the audio format as MP3, WAV, or FLAC.
For music management, ViWizard is designed to preserve metadata from Tidal as title, album, artist name, and more. The best part is the lossless audio is kept with the downloaded music, ensuring the seamless listening experience. Downloading Tidal music using ViWizard creates a permanent backup on Google Drive. Let's dive in! We'll show you how easy it is to transfer your favorite Tidal music to Google Drive.

Key Features of ViWizard Tidal Music Converter
Free Trial
Free Trial
* Security verified. 5, 481,347 people have downloaded it.
Download any Tidal content, including songs, albums, playlists, and artists
Support exporting Tidal music to MP3, AAC, FLAC, WAV, M4A, and M4B
Preserve a whole set of ID3 tag information in the downloaded Tidal songs
Handle the conversion of Tidal music up to 5× faster speed and in batch
Part 2.

How to Download Tidal Music to Google Drive

To start with, make sure to download both the correct version of Tidal desktop app and ViWizard Tidal Music Converter from the official websites. This ensures the access to Tidal's music catalog.
Step 1

Select Tidal music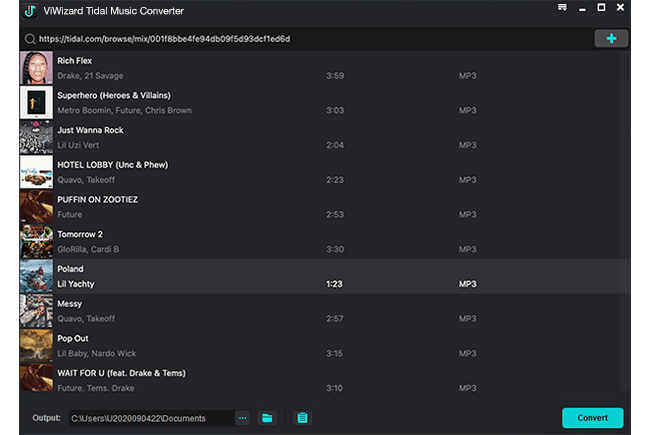 To select music from Tidal, launch the ViWizard program and then agrees to open the Tidal desktop app. Now navigate to the desired music, and drag and drop them to ViWizard's main interface.
Step 2

Set output format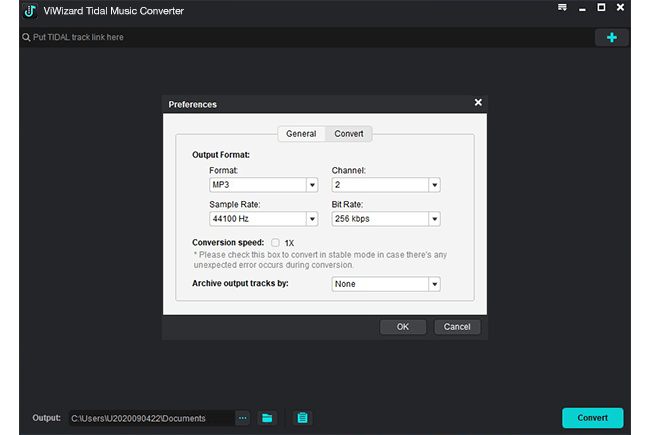 To adjust output format, click on the menu icon to open preferences settings. Go to Convert > Format, and choose a supported format by Google Drive, such as MP3, WAV, or FLAC. After selecting a format, click OK to save this change.
Step 3

Download Tidal music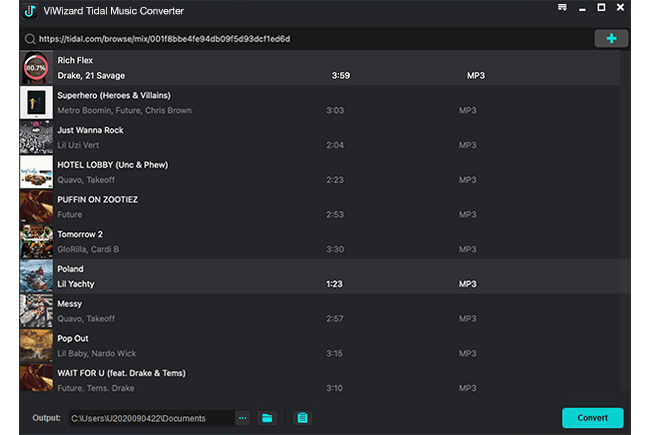 To download the added music tracks, return to ViWizard's main interface and click on the Convert button from the lower-right corner. Wait until the conversion to complete, and open the converted menu to view all the downloads.
Part 3.

How to Upload Tidal Music to Google Drive from Desktop

To upload the downloaded Tidal music to Google Drive, follow these steps on computer:

Step 1. Go to Google Drive on a web browser and sign in to your Google Drive account.

Step 2. Within the Google Drive, create or open a folder to which you want to upload your Tidal music. To create a new folder, click on "New" from the upper-left corner and name it.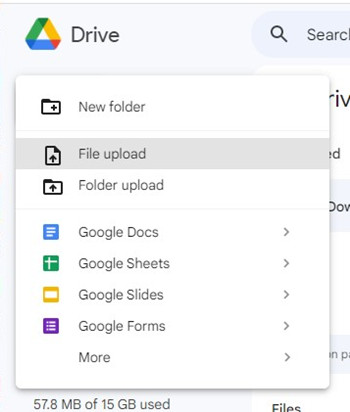 Step 3. Select a folder, and click on the "New" button > File upload to upload files. Or choose folder upload to upload the entire folder.
Step 4. Navigate to the Tidal downloads stored on the computer, and select files or folder.
Step 5. Click "Open", and wait for the files to finish uploading.
Step 6. After the files are uploaded, you can access them on your drive from any device with internet access, such as your mobile device. Moreover, you can share them with others.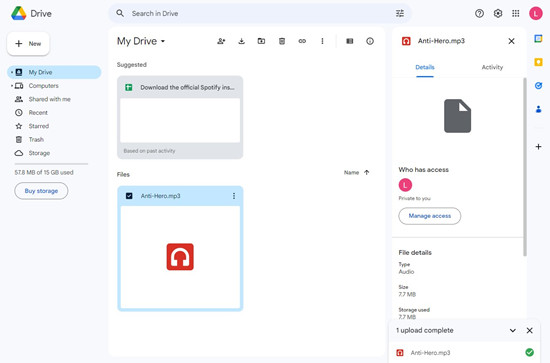 Part 4.

How to Access Tidal Music in Google Drive on Mobile

To access your Tidal downloads in your drive on a mobile phone or tablet, follow these steps: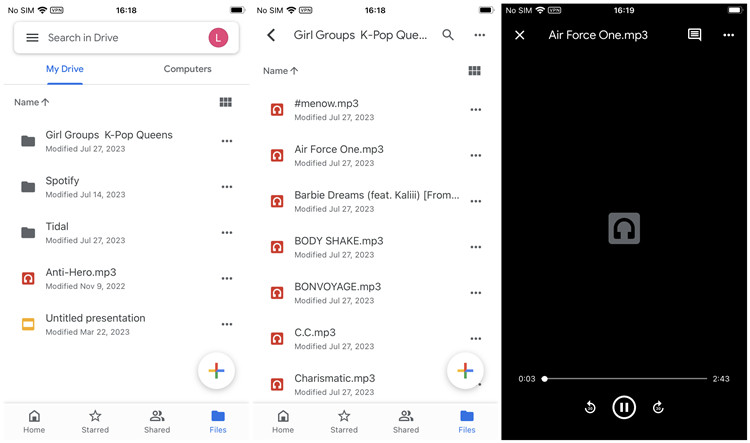 Step 1. Install the Google Drive app on your mobile device from App Store (iOS) or Google Play Store (Android).
Step 2. On your iOS or Android device, open the Google Drive app and use your Google account to sign in to it.
Step 3. Once you're signed in, navigate to the Files tab from the lower-left corner.
Step 4. Navigate through your Google Drive folders to find the folder where you uploaded your Tidal downloads.
Step 5. To play your music files, tap on the file you want to listen to.
Conclusion
We've reached the crescendo o of our musical escaped, where Tidal's exclusive tunes have found their way into harmonious realm of Google Drive's cloud storage. By downloading your favorite Tidal music to Google Drive with ViWizard Tidal Music Converter, you've unlocked a world of possibilities.