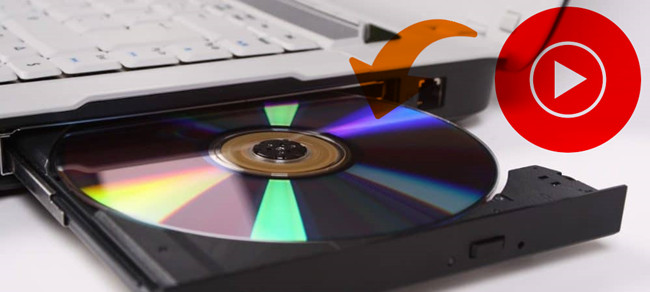 With a vast library of tracks readily available at our fingertips, YouTube Music listeners can curate personalized playlists and discover new artists effortlessly. However, there's a nostalgic allure to having music on tangible mediums, and many individuals still find joy in creating physical collections of their liked tracks.
In this guide, we'll delve into the process of transforming of your carefully curated YouTube Music playlists into a timeless format: the compact disc (CD). Burning YouTube Music to a CD allows you to bridge the gap between the convenience of digital streaming and the tangible satisfaction of owning a physical collection.
Part 1.

How Can You Convert YouTube Music to A CD?

The idea of creating a personal music collection on physical media like CDs might seem nostalgic and appealing. However, when it comes to burning YouTube Music directly onto a CD, you'll encounter significant limitations due to Digital Rights Management (DRM) protection.
Can I burn YouTube Music into a CD?
YouTube Music, like many other online music platforms such as Spotify and Apple Music, employs DRM protection to ensures that the music you stream or play offline remains within the platform's ecosystem and can't be easily downloaded or transferred to other devices, even with a YouTube Music Premium subscription.
As a result, attempting to directly burn YouTube Music tracks to a CD becomes challenging. However, there are alternative approaches to obtaining and burning DRM-free music from YouTube to a CD, such as using a YouTube Music to CD Converter called ViWizard Audio Capture.
In the following sections of this guide, we'll instruct on how to use ViWizard Audio Capture to obtain DRM-free YouTube Music songs and burn them into a CD using popular software. Let's dive in!
Part 2.

How to Convert YouTube Music to CD

If you're determined to create a personal music collection from YouTube Music tracks and wish to bypass DRM restrictions, third-party tools offer a legal and efficient solution for your personal use, including burning YouTube Music to a CD. One such tool is ViWizard Audio Capture, which allows you to record audio from your computer's sound output and save it as common audio files, such as WAV.
Tool Required: ViWizard Audio Capture
ViWizard Audio Capture is a versatile application designed to capture and record audio from various sources on your computer, including streaming music services like YouTube Music. Whether you are YouTube Music Premium subscribers or not, ViWizard can record the sound output and convert it into accessible audio files like MP3, WAV, AAC, FLAC, M4A, and M4B. This is how the captured YouTube Music audio can be saved and played back as standard audio files.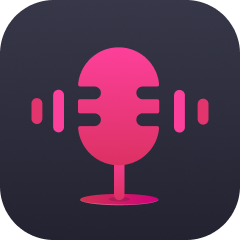 Key Features of ViWizard YouTube Music Converter
Free Trial
Free Trial
* Security verified. 5, 481,347 people have downloaded it.
Convert YouTube Music to MP3, WAV, FLAC, AAC, and more
Record songs, albums, playlists, podcasts from YouTube Music
Support splitting, merging, cutting, and editing YouTube Music
Detect ID3 tags automatically and allow manual editing of ID3 tags
Step 1

Download and Install ViWizard Audio Capture

Begin by downloading and installing ViWizard Audio Capture compatible with your operating system. Launch ViWizard and access serval applications running in the background. Make sure a web browser such as Google Chrome is accessible on ViWizard's main interface.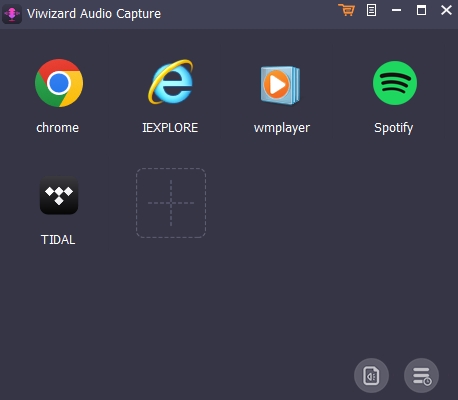 Step 2

Configure the Capturer Settings

Click on the "Format" button to access the settings then configure the output format (MP3, AAC, WAV, etc.) and other preferences according to your needs. After that, click on the "OK" button.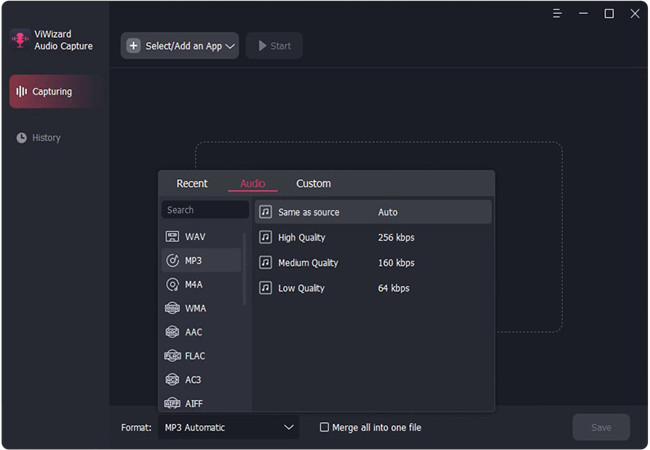 Step 3

Capture Audio from YouTube Music

Open a web browser on ViWizard's main interface and navigate to YouTube Music. You can either create a playlist of the tracks you wish to download or navigate to an existing one. Play the playlist and ViWizard will start capturing the audio from YouTube Music's web player in real-time.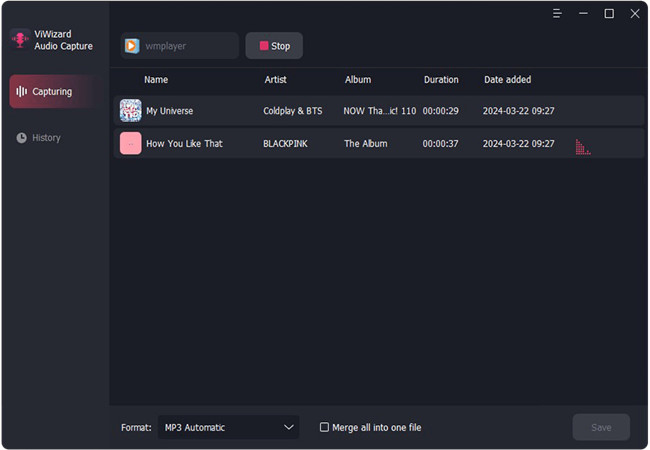 Step 4

Edit Captured Audio Files

Once you've captured the desired tracks, you can edit the captured audio files within ViWizard if necessary. Click on the "Stop" button when reaching the end of the playlist, and trim, cut, or organize the audio as you see fit.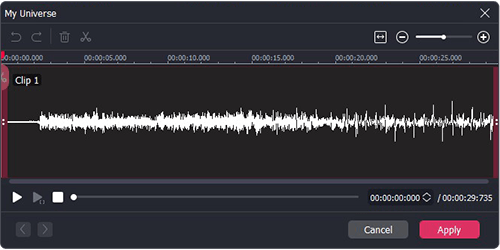 Step 5

Save Captured Audio Files

Finally, click on the "Save" button to save the captured audio files to your computer's storage in the chosen output format. With your music now captured and save as standard audio files, you can proceed to the next step: burning them to a CD using popular software like iTunes.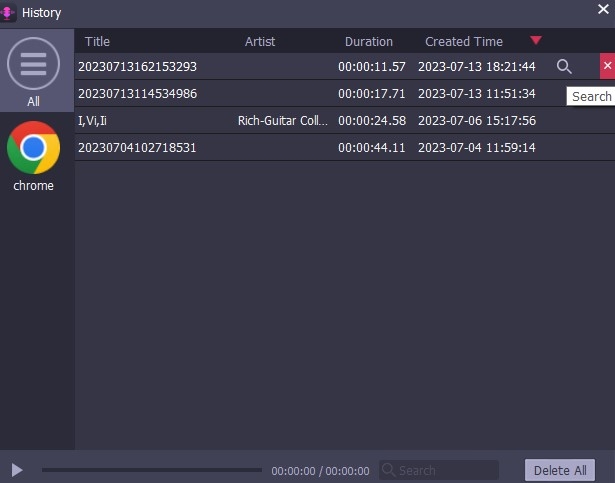 Part 3.

How to Burn YouTube Music to CD

By using either iTunes or Windows Media Player in combination with ViWizard Audio Capture, you can bypass the DRM protection on YouTube Music and create a personalized CD collection of your favorite tracks.
Way 1. Using Windows Media Player
Windows Media Player not only serves as a media player for Windows users but also offers the functionality to create audio CDs from your captured audio files.
Using Windows Media Player for YouTube Music CD Burning: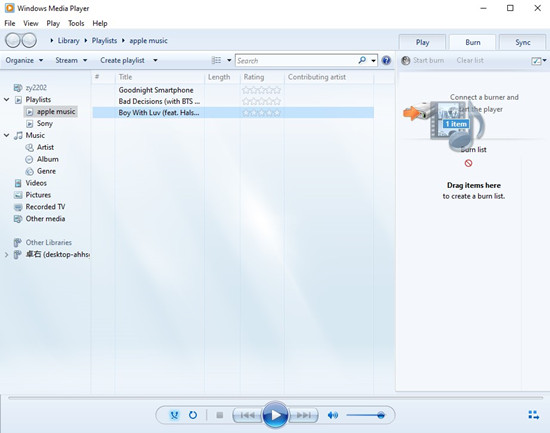 Open Windows Media Player on your computer. You can typically find it by searching for "Windows Media Player" in the Start menu.
Click on the "Library" tab in Windows Media Player. Navigate to the "Playlist" and the specific playlist containing the captured audio files that you want to burn to the CD.
Drag and drop these files into the "Burn" panel on the right side of the window.
Insert a blank, writable CD into your computer's CD/DVD drive.
Click on the "Burn options menu" at the top of the "Burn" panel and choose the appropriate settings.
Then, click the "Start burn" button to initiate the CD burning process.
Way 2. Using iTunes
iTunes, Apple's renowned media player and library manager, offers a straightforward method to organize and burn your captured audio files to a CD. iTunes not only allows you to manage your music library but also facilitates the process of creating physical copies of your favorite tracks through CD burning.
Using iTunes for YouTube Music CD Burning: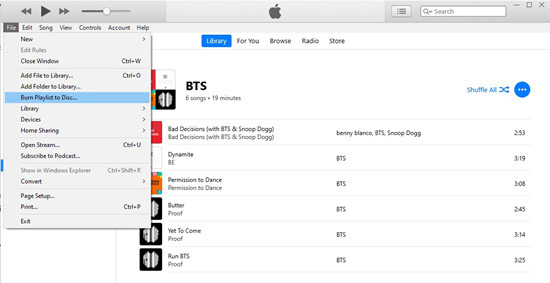 Launch iTunes on your computer and import the captured audio files by clicking on "File" > "Add File/Folder to Library." Select the files you wish to burn to a CD.
In the iTunes sidebar, create a new playlist specifically for the CD you're planning to burn. Name it appropriately to keep your YouTube Music collection organized.
Drag and drop the captured audio files into the newly created playlist. Arrange them in the order you want to them to appear on the CD.
Carefully insert a blank writable CD into your computer's CD/DVD drive.
In the iTunes sidebar, locate the playlist containing the captured audio files that you wish to burn to the CD. Right-click on the playlist name.
From the context menu that appears, select the option "Burn Playlist to Disc." This will open the Burn Settings dialog box.
In the Burn Settings dialog box, choose the appropriate settings for your CD, such as the preferred speed and gap between songs. Ensure that the "Audio CD" option is selected.
Once you've configured the settings, click the "Burn" button to initiate the CD burning process. iTunes will start copying the captured audio files from YouTube Music to the blank CD.
Conclusion
Burning YouTube Music to a CD may involve a few extra steps due to DRM protection, but with the right approach and tools like ViWizard YouTube Music Converter, you can create a personalized collection without infringing upon copyright. Using the methods combining ViWizard YouTube Music Converter nad other popular software to burn Youtube Music to a CD is the best way to enjoy your favorite tunes hassle-free.