Apple Music's three-month free trial is really nice but not as good as Spotify's free tier. The true meaning of a free trial is to find out if this service fits you. And if things didn't work out between Apple Music and you, the process to cancel the subscription is easy. However, it's never easy to say goodbye. After all, 3 months are long enough to get into a habit. Let alone those who use Apple Music for longer than 3 months. What if you can keep some of your songs with you after you drop Apple Music? Especially those you can't find in other music streaming services.
Unfortunately, we all know that once the subscription ends, all the songs in your Apple Music library will become unavailable. Even if you've downloaded them offline, they are not playable anymore due to Apple's limits. The only way to get Apple Music free forever is to hack Apple Music using a third-party tool - ViWizard Apple Music Converter.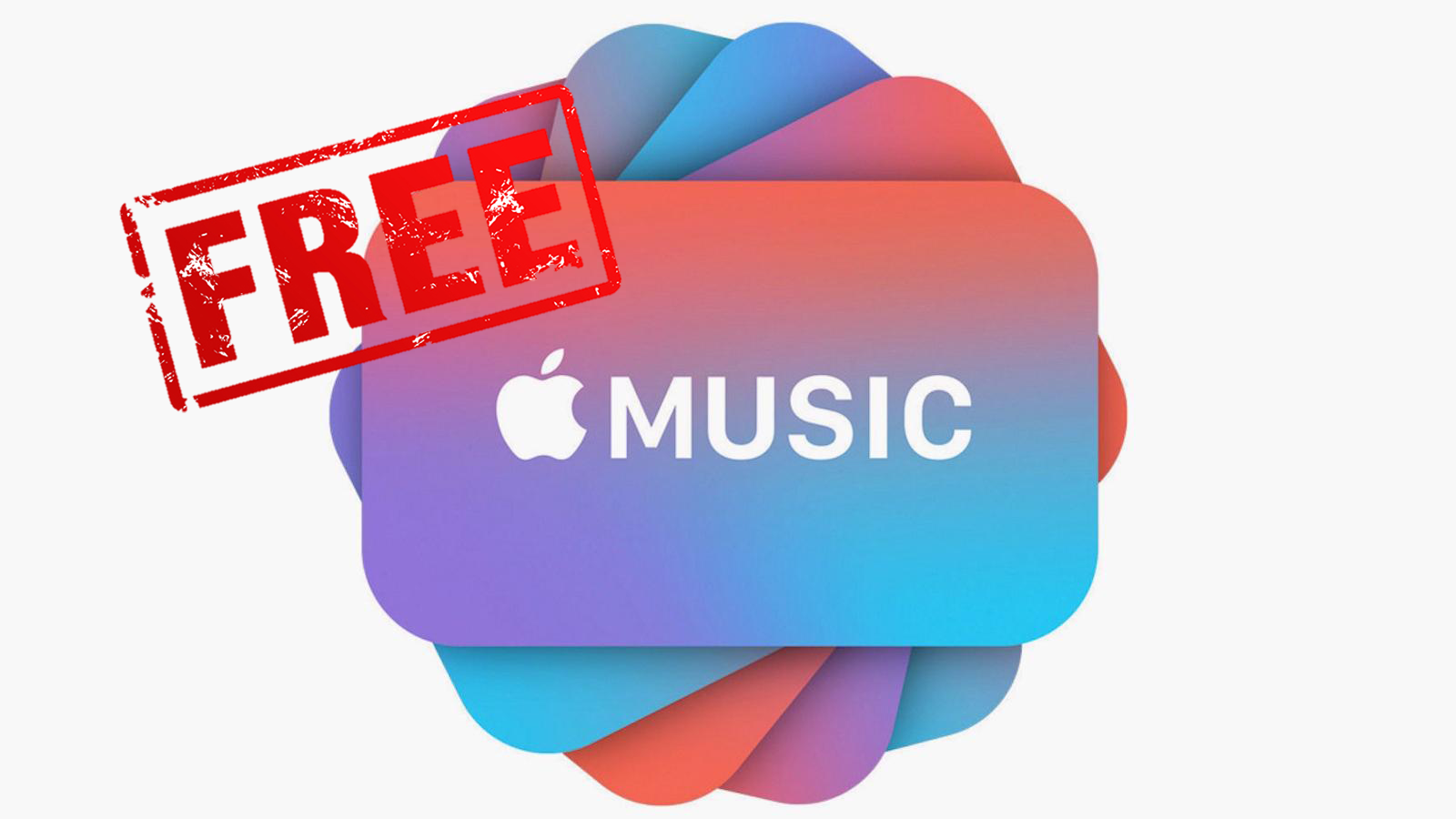 Part 1.

Is Apple Music Free?

As a subscription-based service, Apple offers its music service - Apple Music subscription based on various needs, each requires a starting price. There're 4 basic plans to use with Apple Music, so how much does Apple Music cost depend on which plan to choose:
Apple Music Voice- $5/month
Apple Music Student - $6/month
Apple Music Individual - $11/month
Apple Music Family- $17/month
Apple One: $16.95/month for Individual, $22.95/month for Family, or $32.95/month for Premier
If you're looking for a way to enjoy Apple Music for free, the Apple Music free trial is your golden ticket. New starters have the opportunity to dive into the world of Apple Music without any charges. Not only that, but you have choices - you can get an Apple Music free account for 1 month, 4 months, or even 6 months, depending on the offer available.
On Apple's website:
Use a browser to go to music.apple.com/subscribe. You can also go to its official website and see the notification: "Get over 100 million songs free for 1 month" > Try It Free.
Choose Sign In button to sign in with an Apple ID or Create button to create a new account.

To sign in with an Apple ID, follow the on-screen instruction to enter Apple ID and password. You might also need to enter a verification code.

To create Apple ID: follow the on-screen instruction to enter all the required information.

Confirm the billing information.
Continue to add a new payment method.
Or in iTunes:
In iTunes, go to Store, then scroll down to "Get 1 Free Month of Apple Music" at the bottom.
Under For You tab, click Try It Now.
Next, choose the subscription plan you want between Individual($11/month later), Family($17/month later) and College Student($6/month later) > Start Trial. You may be asked to enter your password again.
Confirm the billing information.
Continue to add a new payment method.
Part 2.

How to Get Apple Music Best Offers for Free

We'll show you how it's possible to enjoy all the great music on Apple Music. It's all about finding clever ways to enjoy Apple Music without having to open your wallet.
1. Get Apple Music Free with AirPods, Beats, and HomePod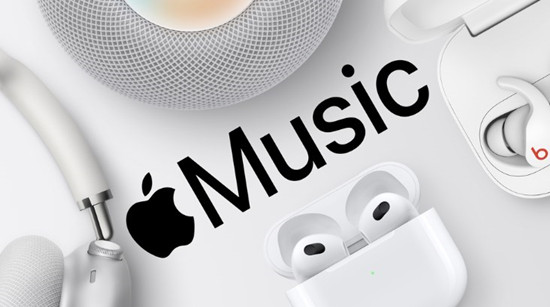 Did you know that if you own cool gear like AirPods, Beats headphones, or a HomePod, you could score a fantastic deal on Apple Music? Apple has something special in store for you – a whole 6 months of Apple Music for free! It's like getting a backstage pass to unlimited music, and you won't need to pay a penny. Just keep in mind that you have 90 days after first paring your audio device to benefit from this speicial offer.
To take advantage of this fantastic offer and enjoy 6 months of Apple Music for free, you'll need to own specific hardware products.
Included Devices:
AirPods Pro
AirPods (2nd generation)
AirPods (3rd generation)
AirPods Max
Beats Studio Buds
Powerbeats
Powerbeats Pro
Beats Solo Pro
Beats Fit Pro
HomePod mini
HomePod
Devices Not Included:
AirPods (1st generation)
Beats Solo Wireless
Beats Studio 3 Wireless
Beats EP
Beats Flex
Get Apple Music free for 6 months (AirPods, Beats, or HomePod owners):
First things, Apple wants to make sure you've got the eligible device. As grab your AirPods, Beats headphones, or HomePod, and keep them handy.
If you don't already have an Apple ID, you'll need to create one. If you've got one, just make sure to log in and your iPhone or iPad is running the latest version of iOS or iPadOS.
Pair your eligible audio device to your device.
Open the Apple Music app on your device to find the special offer page. They'll have all the details about this deal.
Tap Get 6 months free.
Once you're all set up and verified, you're good to go! You can start enjoying Apple Music without any charges for a whole 6 months.
2. Get Apple Music Free from Best Buy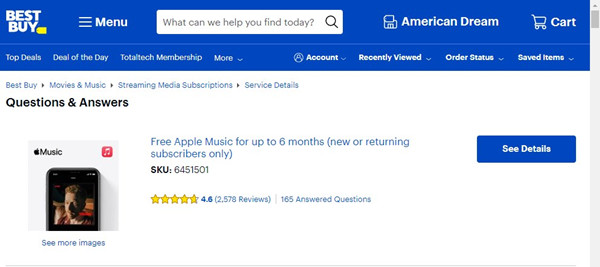 If you're a smart shopper who loves great deals, then you're going to appreciate this next method to enjoy Apple Music without spending a dime. Thanks to a cool partnership between Apple Music and Best Buy, new and returning Apple Music users have the chance to grab an extended free trial - either 4 or 6 months of free Apple Music!
Get Apple Music free for 4/6 months (Best Buy users that're new or returning to Apple Music):
Start by heading to the official Best But website. If you're new to Best Buy, you'll need to create an account. It's a simple process.
Find the "Free Apple Music for Six Months" or "Free Apple Music for Four Months" offer and add it to your cart.
Go to your cart and complete the checkout process. After this, all you have to do is wait for a special code and link, which will be sent to your Gmail inbox.
When you receive the code and link, you've got choices. You can click the "Redeem Now" button in the email to enter the code and claim your gift. Alternatively, you can also redeem the code in the Apple Music app.
If you opt for the app, open Apple Music on your iPhone or iPad. Head to Settings, then Account. Here, you'll find the option to "Redeem Gift Card or Code."
Type in the 16-digit code you received from Best Buy.
Hit the "Redeem" button, and you've activated your free Apple Music trial.
3. Get Apple Music Free from Verizon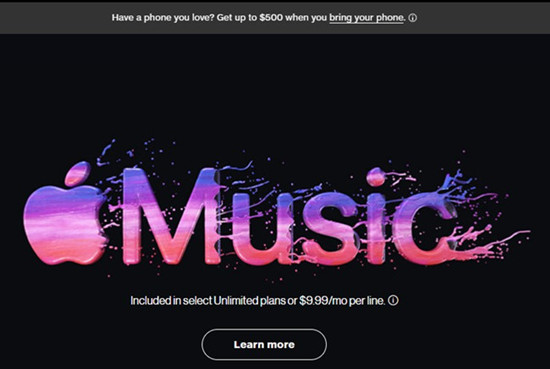 If you're part of the Verizon family and have an eligible Unlimited plan, here's your chance to make the most of the partnership between Verizon and Apple Music. As a Verizon Unlimited customer with plans like 5G Start Unlimited, 5G Do More Unlimited, and 5G Play More Unlimited in the US, you're in for a treat - a complimentary Apple Music subscription for up to 6 months. And here's the kicker - it won't cost you a dime during this period. After the trial, you'll pay the $10.99 per month - unless you're a new Mexico resident, in which case, your Apple Music subscription will automatically end after 6 months.
Included Plans:
5G Get More
Get More Unlimited
Do More Unlimited
Play More Unlimited
Beyond Unlimited
Above Unlimited
Get Apple Music free for 6 month (Verizon Unlimited customer):
Start by checking that your Verizon plan is eligible.
Head to vzw.com/applemusic using your desktop or mobile browser. Alternatively, you can access the My Verizon app, where you'll find "Add-ons" under your Account.
Select the lines you want to enroll in the Apple Music offer. Make usre you're comfortable with the Terms and Conditions before proceeding.
Each enrolled line will receive a text message containing a link to download or open the Apple Music app.
Once you've activate your subscription, you're all set to explore for Apple Music. Dine into playlists, enjoy your favorite tracks, and discover new artists, all without any extract cost for the next 6 months.
4. Get Apple Music Free on Barclaycard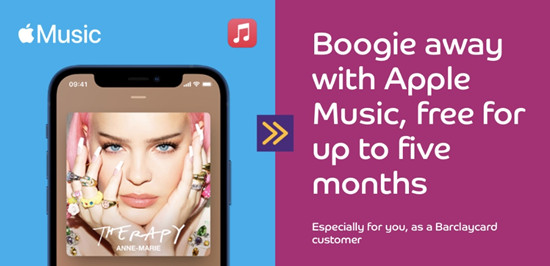 If you're a resident of the United Kingdom, the rhythm of your days just got a musical upgrade. With the chance to score up to five months of free Apple Music, the sounds of your world are about to get a whole lot richer. And here's the kicker: it all starts when you enroll for a Barclaycard. That's right - as a Barclaycard holder, you're in for a splendid 5-month free trial of Apple Music.
What's even more exciting? If you're not already subscribed to other Apple services like Apple TV+, Apple Fitness+, Apple News+, and Apple Arcade, you can dive into a whole bundle of entertainment. Enjoy up five months free on all of these platforms, alongside your Apple Music experience.
Get Apple Music free for 5 months (Barclaycard U.K. residents):
Begin by enrolling for a Barclaycard. Once you've successfully enrolled and received your Barclaycard, keep an eye on your email box. That's where you'll find redemption links.
If you haven't already, download the Apple Music app onto your device. It's readily available on both the App Store and Google Play Store.
Open the Apple Music app and either log in using your existing Apple ID or set up a new one.
Utilize the redemption links send to your email to activate your up to five months of Apple Music.
With your Apple ID in place, you're all set to explore for Apple Music - all without spending a single penny.
5. Get Apple Music Free with Shazam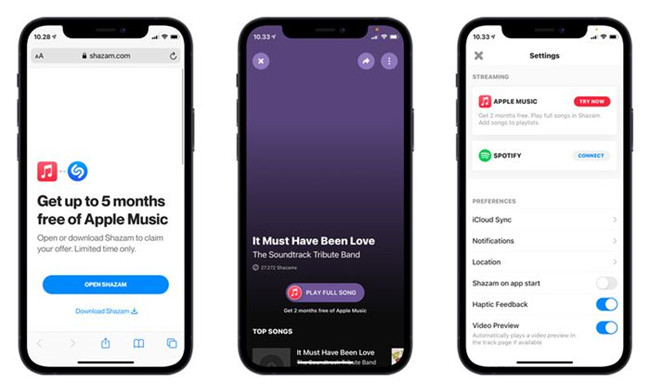 If you're a Shazam user, you're in for a treat that blends the best of both musical worlds. Just like the Amazon Music app, Shazam is also owned by Apple. It's your go-to app for identifying songs, movies, commercials, and TV shows based on their catchy clips. And guess what? If you're new to Shazam, signing up can land you an awesome gift: four months of free access to Apple Music's premium service.
Get Apple Music free for 4 months (Shazam users):
Visit the official Shazam website. On the Shazam website, you'll find a QR code waiting for you. Use your phone's camera to scan it.
After scanning the code, you'll be whisked away to finish the signup process. Just follow the simple instructions on your screen.
You'll have unlocked four months of Apple Music. Explore playlists, discover new tracks, and enjoy all the benefits of Apple Music's premium service for the next four months - without any extra cost.
Part 3.

How to Join Apple Music for Free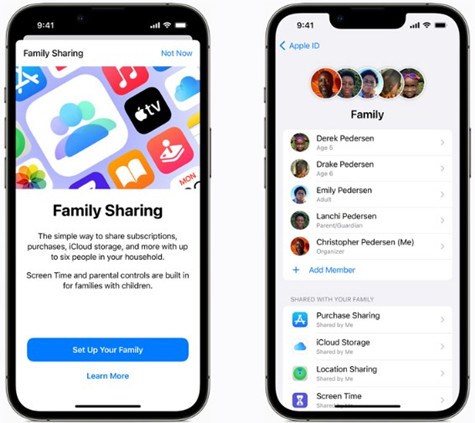 When it comes to enjoying music, sharing is caring. Apple Music knows this, which is why they offer the Apple Music family plan - a fantastic way for family members or friends to join a single Apple Music family group and enjoy Apple Music together. And here's the amazing part: as long as the subscription is active, those added to the family group get to enjoy Apple Music without any extra cost.
Apart from music sharing, Apple Music family sharing also comes with other incredible perks. Each member of family group gets their own personalized account, playlists, and recommendations.
Join Apple Music free (Apple Music Family group members):
If you're already an Apple Music subscriber, make sure you're on the family plan.
In your Apple Music settings, you'll find the option to invite family members or friends to join your Apple Music family group. You'll need their email addresses to send out these invitations.
Once you've sent out the invitations, your family members or friends will receive emails inviting them to join your group.
Those you've invited need to accept the invitation to join your Apple Music family group. They'll need their own Apple IDs for this.
Once everyone has accepted the invitation, your musical group is all set! Now, everyone of your group can enjoy Apple Music premium benefits without any additional costs - as long as the subscription is active.
Part 4.

How to Keep Apple Music for Free Forever

Enjoyed the Apple Music free trial, but don't want to commit to a paid plan? No worries - there's a way to continue listening to your favorite tunes without a subscription. After your Apple Music free trial ends, you might be prompted to choose a paid plan. If that's not in your cards, you can simply cancel the subscription. However, note that any songs you listened to or downloaded during the trial will become unavailable once the subscription is canceled.

Imagine having all your favorite tunes with your where you go, and you don't have to worry about the cost. To keep enjoying the songs you discovered during the free trial, you can use a tool like ViWizard Apple Music Converter. It helps convert Apple Music, iTunes music, podcasts, and audiobooks, Audible audiobooks, and local files you put into the software to various formats like MP3, WAV, AAC, FLAC, M4A, and M4B. It ensures that the original audio quality and ID3 tags of each song are maintained.

Key Features of ViWizard Audio Converter
Free Trial
Free Trial
* Security verified. 5, 481,347 people have downloaded it.
Convert songs, albums, and playlists from Apple Music to MP3
Remove DRM protection from Apple Music, iTunes, and Audible
Save the converted audios with the original quality and ID3 tags
Support the conversion of up to 100 audio formats to others
Before converting Apple Music songs, you need to download and install the free trial version of ViWizard Audio Converter on your Mac or PC. Here's the tutorial you can follow to get free Apple Music songs with the help of the ViWizard Audio Converter.
Step 1

Add Apple Music Songs to ViWizard

Open ViWizard Audio Converter on your computer and Apple Music/iTunes will be launched automatically. On the top center of ViWizard's main screen, you can see there are 3 buttons. The Music Note icon is for loading in Apple Music and other protected audio files, such as Audible and iTunes audiobooks. Alternatively, you can directly drag the songs from the Apple Music folder to ViWizard.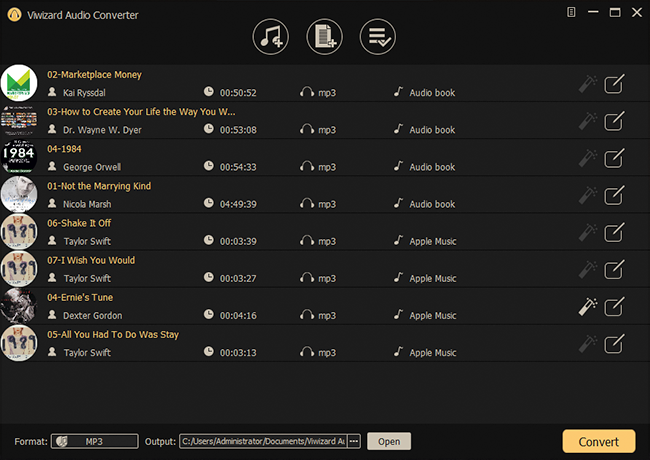 Step 2

Customize Output Settings

After loading the songs, click the Format panel at the bottom left so that you can adjust the output settings. You can change the output format and audio parameters here. Currently, ViWizard Audio Converter supports MP3, M4A, AAC, FLAC, WAV, and M4B as output formats. You can also customize the codec, channel, sample rate, and bit rate if needed.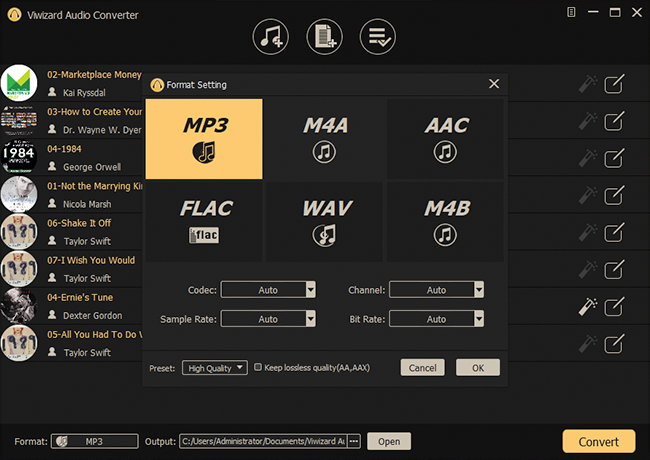 Step 3

Convert Apple Music Songs to MP3

When you are done with all the settings, simply click the Convert button and the program will start to remove protection and convert the Apple Music to common MP3 or other formats at up to 30X faster speed. After it finishes its job, you'll find the converted music files by clicking the Converted button. Now, you finish the free Apple Music hack and you can use Apple Music for free without worrying about the subscription anymore.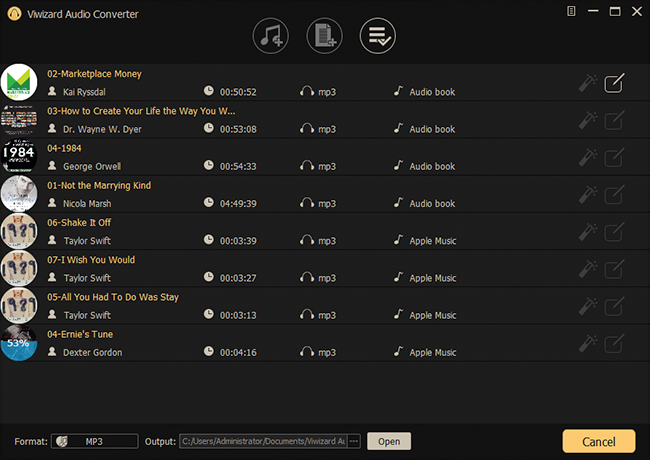 Conclusion
To get a free Apple Music hack, you can use ViWizard Audio Converter. This tool is easy to operate compared with any other solution. Just use the free trial version to have a try by clicking the Download button below.