Grand Theft Auto V, short for GTA 5, is an action-adventure game, which introduces a world of organized crimes. It is released in 2013 for PS3 and Xbox 360 and for PC in 2015. And it's still popular in these years. And it even renewed the record being the fastest game to selling $1 billion. You can play GTA 5 from a third or first-person perspective. You can play GTA 5 online or offline. It is a great game for a single person or a group of friends.
When you are playing this game, you can drive the cars and use the audio system of the car to play music. But there is no music in GTA 5, so you need to import music into this game. Many people want to import their favorite playlists of Apple Music and Spotify to GTA 5 and ask me how to do. We have explained the method to play Spotify on GTA 5. Now, it is Apple Music's turn. In this passage, I will walk you through the best method to import and play Apple Music on GTA 5.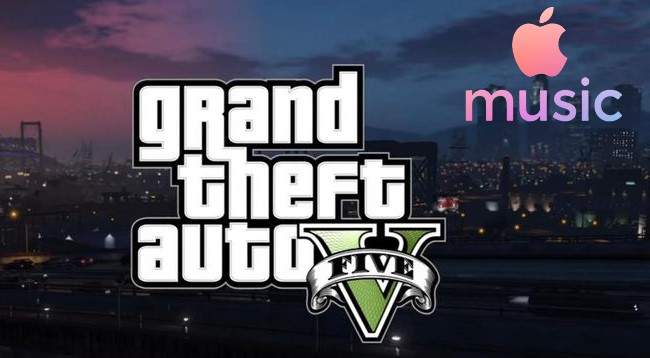 Part 1.

Can I Play Apple Music on GTA?

One of the most common questions among GTA gamers is whether they can truly play their favorite music while immersed in the virtual world of Los Santos. The answer is a bit more complex, and it depends on your gaming platform.

On consoles like PS4 and Xbox One, playing Apple Music in GTA5 may not as straightforward due to platform restrictions. These platforms often have limitations on integrating external music services directly. But fear not, there are alternatives methods to achieve a similar result.

One workaround for console players is to import your Apple Music playlists to the in-game "self-radio" feature. This feature allows you to create a custom radio station with your own music. While it's not a direct integration, it does give you the freedom to listen to your favorite tracks while cruising through the streets of Los Santos. This method may involve converting your Apple Music tracks to compatible formats for the game.

PC players, on the other hand, have the most flexibility when it comes to integrating Apple Music into GTA 5. They can utilize the "self-radio" feature and have more direct control over the music they play in-game. However, there's a catch: to play Apple Music through the self-radio feature on GTA, you need to download your Apple Music playlists into MP3 format on your PC.
Part 2.

How to Convert Apple Music to GTA

This is where a tool like VIWIzard Apple Music Converter comes into play. In the upcoming sections, we will guide you through the process of downloading your Apple Music playlists into MP3 using VIWIzard Apple Music Converter. Once you have your music in the right format, you can seamlessly enjoy your Apple Music collection within the world of GTA 5.

"Can I play Apple Music on self-radio GTA 5?" When you pose this question on platforms like Reddit, you'll often encounter discouraging responses. The reason for the negative feedback is quite clear - Apple Music, while a vast music library, comes with its own set of limitations, primarily due to digital rights protection.

Apple has encrypted their music to protect the usage, which means that Apple Music songs can't be casually played on just any player or device, including in GTA 5. This is a common challenge for GTA gamers. However, ViWizard Apple Music Converter is indeed a solution that bring your Apple Music tracks into GTA.
Why Choose ViWizard Apple Music Converter?
ViWizad Apple Music Converter is the essential tool you need to overcome the compatibility issue. It's not limited to Apple Music alone; it's a versatile converter that can work on a variety of audio sources, including iTunes songs, audiobooks, from both iTunes and Audible, and, of course, the transition between common audio formats.
ViWizard allows you to convert your Apple Music and other audio content to six popular formats, including MP3, AAC, M4A, M4B, FLAC, and WAV. Whther you need small-sized MP3s for your GTA 5 self-radio or prefer the original, high-quality version, ViWizard has you covered.

Key Features of ViWizard Audio Converter
Free Trial
Free Trial
* Security verified. 5, 481,347 people have downloaded it.
Convert songs, albums, and playlists from Apple Music to MP3
Remove DRM protection from Apple Music, iTunes, and Audible
Save the converted audios with the original quality and ID3 tags
Support the conversion of up to 100 audio formats to others
Step 1

Launch ViWizard Audio Converter

First of all, launch this Apple Music to GTA 5 converter on your computer. Use the Load iTunes Library button to load Apple Music songs once you open ViWizard.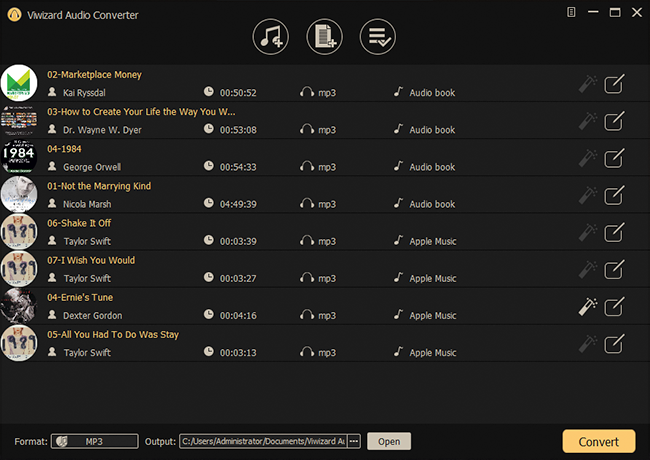 Step 2

Set Output Format

Then, choose a format for Apple Music audios. Click the Format button. On this panel, you can choose the MP3 format and also edit some parameters of audios to personalize your iTunes audio if you want.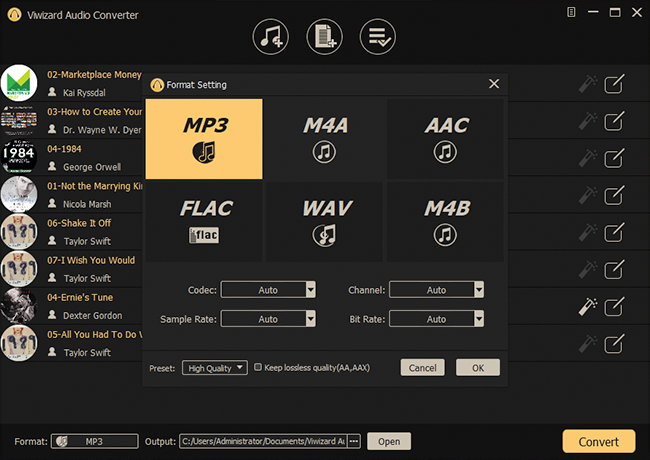 Step 3

Convert Apple Music to GTA 5

Then you only need to click on the Convert button. The speed of conversion for your Apple Music files relies on how long your audios are and the internet connection of your computer. Just leave it alone. When the conversion is completed, click the Converted button to get the files you converted.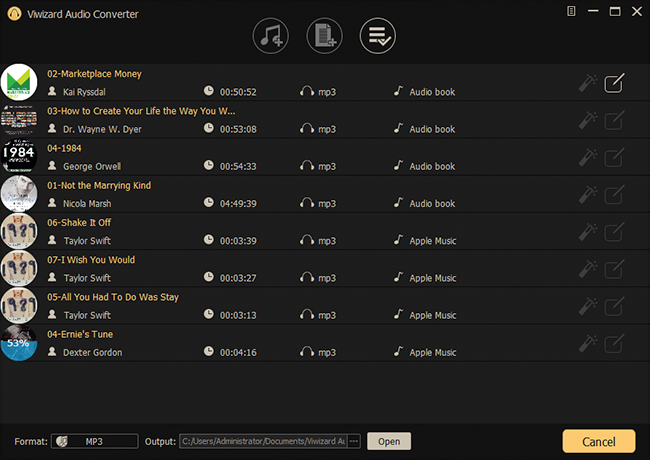 Part 3.

How to Put Apple Music on GTA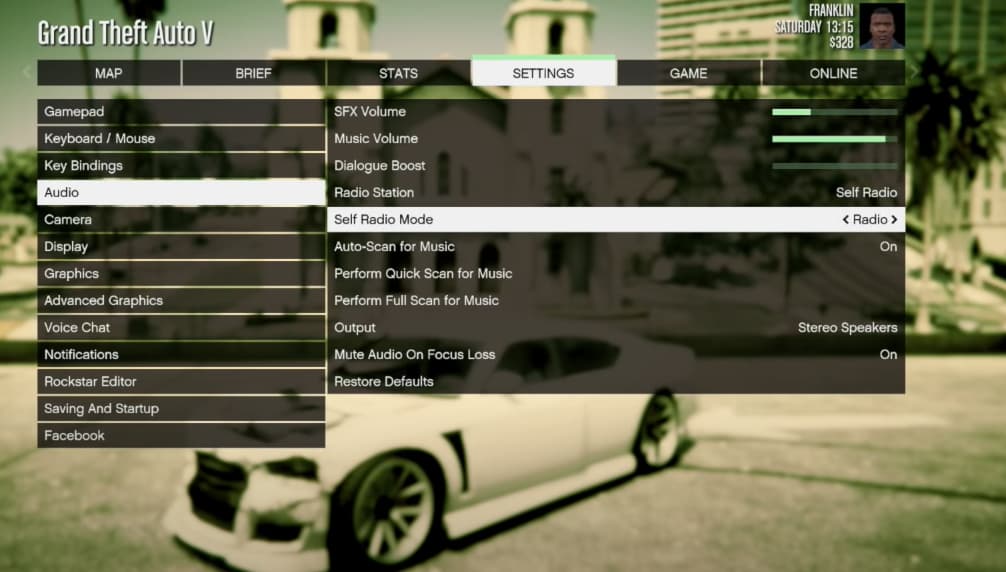 Now that you've successfully converted your Apple Music playlists and songs to a compatible format, it's time to integrate them into the self-radio feature in GTA.
Step 1

Copy Your Apple Music to the Self-Radio Folder
Locate the folder on your PC where your converted Apple Music tracks are stored. If you used VIWIzard Apple Music Converter, it typically saves the files in a specific folder.
Copy the MP3 files of your converted Apple Music tracks to a location where GTA 5 can access them.
Open your GTA 5 game directory. This is usually located in your C: drive under "Program Files" or "Program Files (x86)" for the Steam version.
Find the "User Music" folder within the game directory. This is where you'll place your custom music.
Create subfolders within the "User Music" folder to keep your music organized. For example, you might create folders for different genres or artists.
Place your copied Apple Music tracks into these subfolders.
Step 2

Set Up Self-Radio in GTA 5
Launch GTA 5 and enter the game world.
Access the in-game mobile phone by pressing the designated key/button.
Open the "Settings" menu on the in-game phone.
Scroll down to the "Audio" settings.
Within the "Audio" settings, you'll find an option for "Self-Radio." Select this option.
GTA 5 will scan the "User Music" folder and its subfolders for music files. This process might take a few moments.
Step 3

Play Apple Music in GTA 5

Once the scan is complete, you can navigate the self-radio feature and play your converted Apple Music tracks while driving or walking around in the game.

Now you're all set to enjoy your personalized Apple Music playlist as the soundtrack to your adventures in Los Santos. With your music seamlessly integrated into GTA 5, your gaming experience is bound to be more immersive and enjoyable. Rock on!
Summary
In this guide, we've answered the question that's been on the minds of many GTA 5 players: Can you play Apple Music in the game? While it's true that Apple Music comes with its own set of restrictions due to copyright protection, we've shown you a path to enjoy your favorite tracks while cruising through the streets of Los Santos. By converting your Apple Music playlists and songs to a compatible format and integrating them into GTA 5's self-radio feature, you can create a truly personalized gaming soundtrack. All you need is a ViWizard Apple Music Converter.