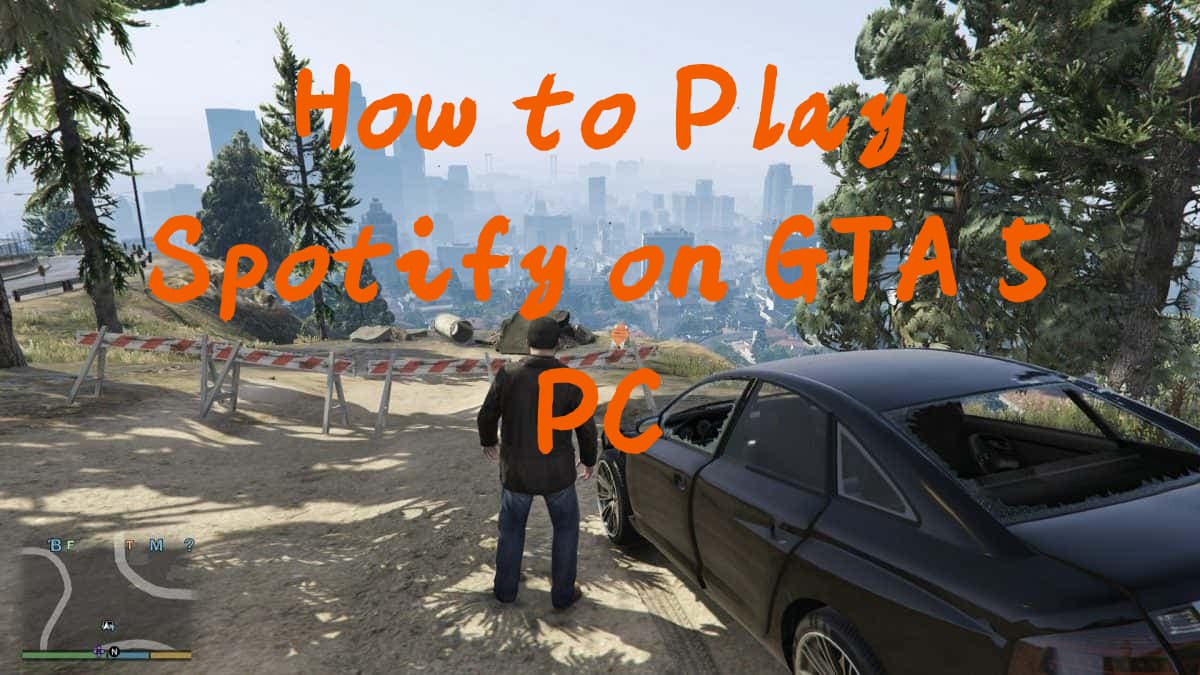 Grand Theft Auto V (GTA 5) is an action-adventure game published by Rockstar Games in 2013. The game was firstly released on PlayStation 3 and Xbox 360 and was available on Microsoft Windows PC in 2015. The game is famous for its heist plots and driving gameplays. Players can get into whatever car they want and use the audio system in the car to play songs. But originally there are no songs in the game and users have to put their music files in a specific folder to import songs into the game.
A user from Reddit proposed an interesting idea on can you connect Spotify to GTA 5 for playing:
In GTA, most of us have cars that should be equipped with the latest technology. For example, you would think that a T20, a Zentorno, or a X80 should have Bluetooth in the Radio. Now this is where my idea comes in: For this idea to work, you will need to be a Spotify Premium as you need Spotify Connect and would need to implement the API (they don't actually need hardware). Whenever you get into a compatible car (think like T20) Spotify Connect kicks in. That way you can control the music from your device or computer.
Unfortunately, Spotify hasn't implemented such a feature on GTA 5 yet. But, today here we are going to talk about how to play Spotify on GTA 5 even without subscribing to a Premium Plan on Spotify. Let's check out now!
Part 1.

How to Connect Spotify to GTA 5 for Music Playing

In fact, you are not able to link Spotify to GTA 5 for playing. It doesn't matter. Here we'll introduce a method to help you install GTA 5 Spotify Mod for listening to Spotify. Then you can play music from Spotify web player while playing GTA 5. However, this unofficial method is only available for those Premium subscriber and exists lots of known bugs. For example, Spotify music does not stop when game is paused. If you can accept those bugs, you can follow the below steps to get Spotify on GTA 5.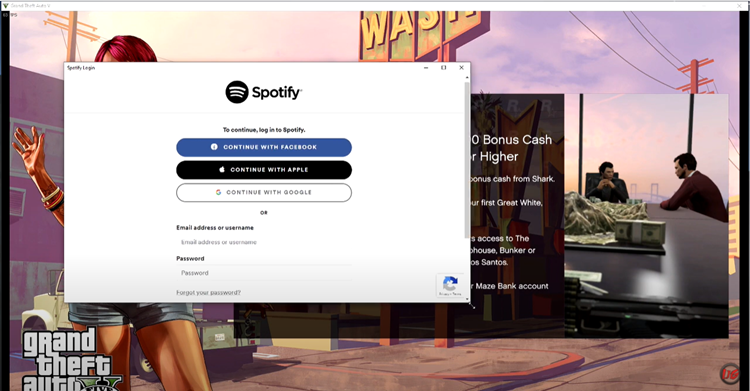 Install GTA 5 Spotify Mode:
Go to edit the file: "mods\update\update.rpf\common\data\dlclist.xml" by using OpenIV.
Then add this to the dlclist.xml: dlcpacks:/spotifyradio and close OpenIV.
Launch the folder called "Place in GTA Root" in this mod's files.
Select all the folders and drag them to the root directory of GTA Default location is "C:\Program Files (x86)\Steam\steamapps\common\Grand Theft Auto V".
Set a Spotify Default Radio Playlist:
Open https://open.spotify.com/ with a browser on your device.
Locate the playlist or album you want to listen to and then copy the link of this playlist.
Open GTASpotify.ini and paste the copied link next to DefaultPlaylist.
Part 2.

How to Play Spotify on GTA 5 on Xbox One

The Spotify app is available on your Xbox Series X, Xbox Series S, or Xbox One to listen to your favorite music and podcasts on your console. If you want to listen to Spotify while playing GTA 5, you just need to open the Spotify app on your console, and select music to play before you start GTA 5.

How to Play Spotify on Xbox One in 2 Ways
Spotify comes to Xbox One for you to play Spotify music on Xbox One directly. Here you'll find the complete guide on how to play Spotify on Xbox One and listen to tunes offline.
Listen to Spotify while you play GTA 5 on Xbox: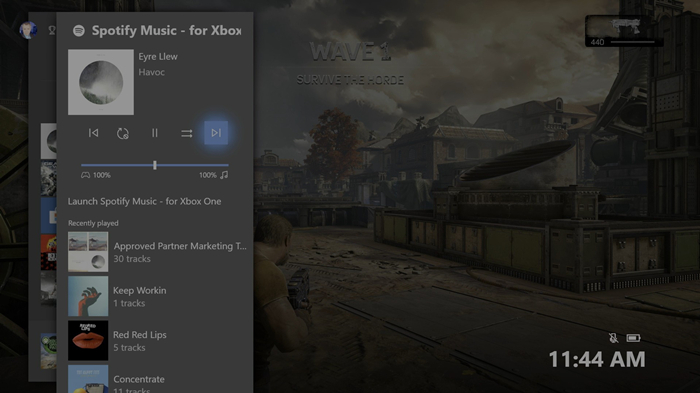 Ensure that you have downloaded and installed the Spotify app on your Xbox console from the Microsoft Store.
Launch the GTA 5 game on your Xbox console.
Open the Spotify app on your Xbox console. Press the Xbox button your controller to bring up the Xbox Guide, then select Spotify.
If you haven't logged in yet, you need to enter your Spotify email address and password, and open the Spotify app on your phone or tablet, and find your device using Spotify Connect, then select LOG IN WITH PIN. After that, go to the pair page on another device and enter the pin you see on your screen.
Once you are logged in to Spotify, start playing music or podcasts within the app. The audio will continue playing in the background while you play GTA 5.
While you game, you can control Spotify directly from the Xbox Guide using your controller. You can change your music selection, skip songs, play/pause, or adjust the volume. Alternatively, you can use Spotify Connect on another device to control your music remotely.
Part 3.

How to Stream Spotify to GTA 5 on PlayStation

Your PlayStation allows you to play music in the background while you use other apps and games, such as GTA 5. With Spotify app, you can choose what music or podcasts you'd like to listen to while in a gaming session.
Listen to Spotify while you play GTA 5 on PlayStation: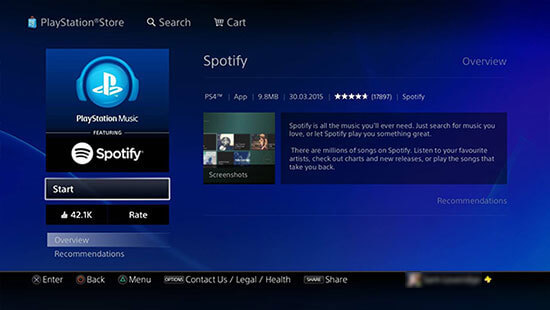 Ensure you had downloaded and installed the Spotify app on your PS4 or PS5 from the PlayStation Store on your console.
Launch the Spotify app on your console. From there you'll need to use Spotify Connect to find your console on another device. On your mobile, go to Settings > Devices > Devices Menu, and select your console.
On the Spotify login screen, select Log in and enter your Spotify account credentials. After logging in, select "Link Accounts".
Press the PS button on your controller to open the quick menu while in the Spotify app.
In the quick menu, navigate to the Music tab and select Spotify from the options available.
From the home screen of your console, navigate to the GTA 5 game icon.
Select the GTA 5 game icon and press the X button on your controller to launch the game.
Once the GTA 5 is running and you are in the game's main menu or gameplay, you can proceed to play your favorite Spotify music or podcasts. The Spotify music will continue playing in the background while you are in the GTA 5 game.
Part 4.

How to Play Spotify on GTA 5 on PC

There's no integration between Spotify and GTA 5. So, if you want to play Spotify songs on GTA 5, you'll have to download them in the first place. But due to the DRM protection, those songs downloaded from Spotify cannot be played elsewhere or applied to public using without the authorization from Spotify.

Meanwhile, to play music in GTA5, you'll need audio files in MP3, AAC, WMA, or WAV formats. Other formats such as FLAC, OGG, or copy-protected AAC don't work in GTA5. But thanks to ViWizard Spotify Music Converter, you'll be able to download Spotify songs to GTA5 supported formats and then you can directly put them in GTA5 for playing.

ViWizard Spotify Music Converter is designed to download and convert Spotify music into 6 different formats such as MP3, AAC, M4A, WAV, M4B, and FLAC. Almost 100% of the original song quality will be kept after conversion. With a 5× faster conversion speed, this tool can download Spotify songs within a few minutes.

Key Features of ViWizard Spotify Music Converter
Free Trial
Free Trial
* Security verified. 5, 481,347 people have downloaded it.
Download Spotify songs, albums, playlists, podcasts, audiobooks
Convert Spotify music to lossless MP3, AAC, FLAC, WAV, M4A, M4B
Support playing offline Spotify music on any device at any time
Compatible with Windows and macOS, as well as, the latest Spotify
Download Spotify Songs into Playable Music Files:
Make sure to download the Windows version of this ViWizard Spotify Music Converter, and also ensure to download and install the Spotify desktop app to your PC previously.
Step 1

Select Spotify songs to play in GTA5

Open ViWizard software and the Spotify app will be launched simultaneously. Then go to Spotify and select songs you want to listen to in GTA5 while playing games. You could drag and drop tracks from Spotify into the ViWizard interface. Or you can copy and paste the link of each track into the search box.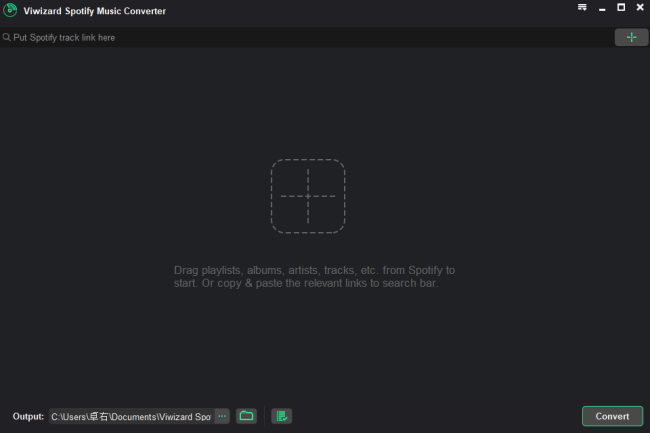 Step 2

Set up the output parameters

After adding music tracks from Spotify to ViWizard, you can choose the output audio format. There're six options including MP3, M4A, M4B, AAC, WAV and FLAC. Since GTA5 supports MP3, AAC, and WAV, just set one as the output format. And then you can adjust the audio quality by selecting the output channel, bit rate, and sample rate.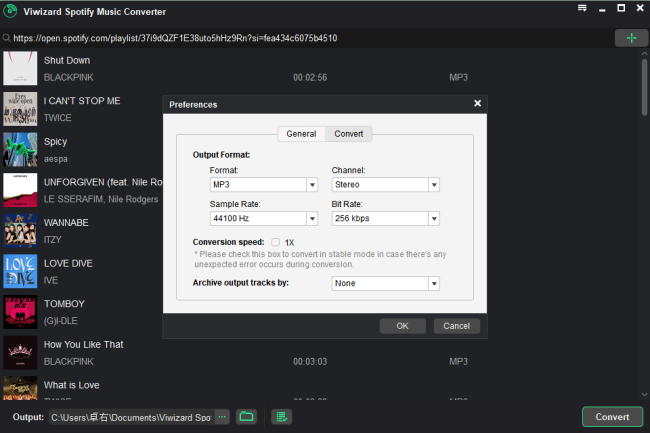 Step 3

Start the conversion and download

Once all the setting is finished, click the "Convert" button to start downloading Spotify music tracks. After the conversion, all the files will be saved to your specified folder. You could browse all the converted songs by clicking "Converted" and navigate to the output folder. Then you can prepare to put Spotify songs in GTA5 for playing.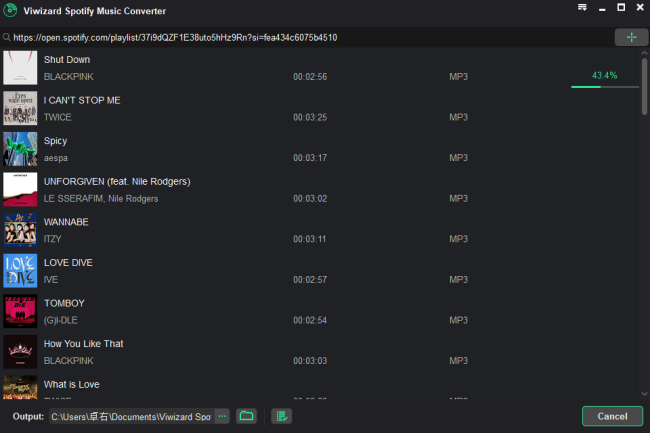 You can put Spotify music on GTA 5 and play it in the game. To use custom music in GTA 5, you need to move your compatible Spotify music files into a folder first and then launch GTA 5. Just follow the below steps to start your music customization.
Import Spotify Songs into the GTA 5 User Music Folder: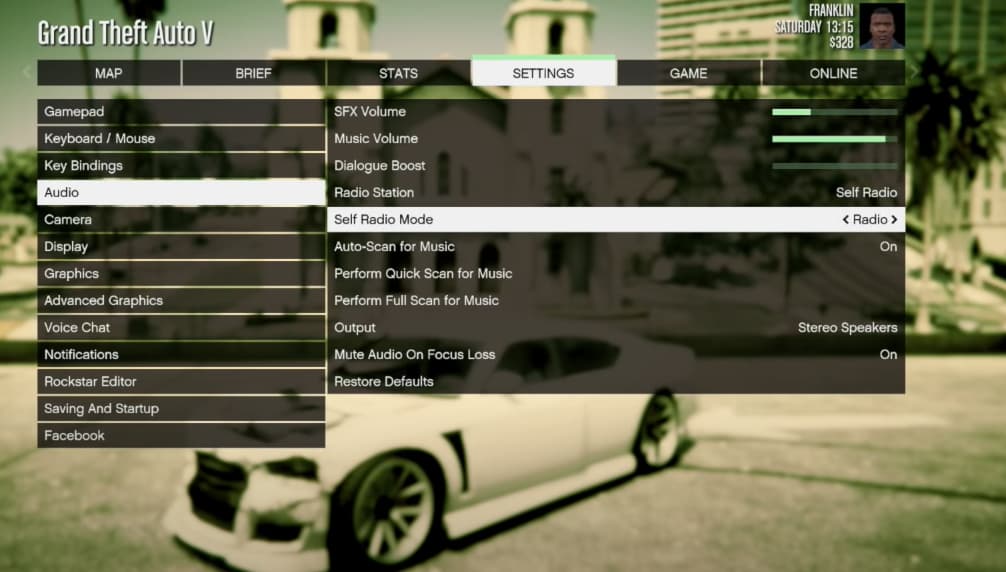 On your PC, open the File Explorer (This PC).
Navigate to the following directory: This PC\Documents\Rockstar Games\GTA V\User Music.
Drag and drop the Spotify music files into the "User Music" folder.
Listen to Spotify while you play GTA 5 on PlayStation: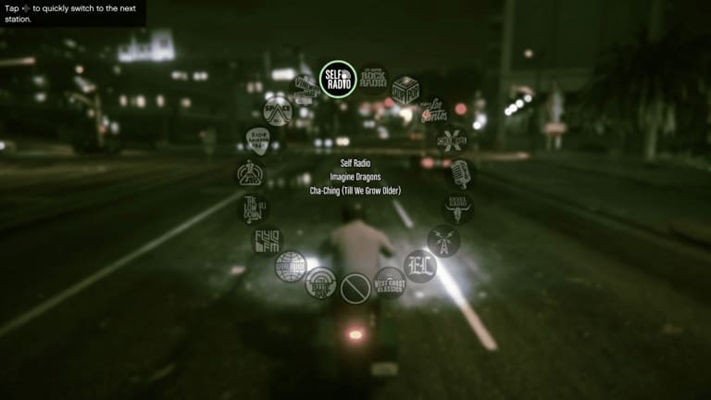 On your PC, launch GTA 5.
Pause the game and navigate to the Settings menu.
In the Settings menu, select the "Audio" option.
Within the Audio settings, locate and select "Perform Full Scan for Music". This will scan the User Music folder for any new music files.
Restart the game to apply the changes.
Once the game has restarted, go back to the Settings menu > Audio > Radio Station, and change the Radio Station to "Self-Radio" mode. This will enable the game to play the music files you placed in the User Music folder.
Start enjoying your Spotify songs while playing GTA 5. The songs from your playlist will be played automatically when you get into a car within the game.
You can also change the playing sequence and manage the playlist in Self-Radio mode.
The Bottom Line
One of the coolest things about GTA 5 is being able to play your own music in the game. Now with ViWizard Spotify Music Converter, you can play any song from Spotify's library and keep rocking on in the game. And actually, in this way, you can get pretty much everything from Spotify on GTA5. You can listen to a radio podcast from Spotify and chill on the coastal high way, download a playlist for specific mood and play on GTA for an ultimate gaming experience and anything you can think of.