Preview
Is Apple Music available on PS4? How to play Apple Music on PS4? This post will introduce 3 solutions - via USB drive, DLNA, or Apple Music Web Player.
PlayStation 4, or PS4 is a well-known great game console developed by Sony. Thanks to the built-in Media Player app, it supports playing media files, like local music via a USB drive. Therefore, you can freely listen to your favorite music in the background while playing games on PS4. In addition to local songs, you can also listen to music online as Spotify offers its streaming service to PS4. As long as you have subscribed to Spotify, you are able to enjoy music from Spotify on PS4 with an internet connection.
But when is Apple Music coming to PS4? How to get Apple Music on PS4? For people who signed up Apple Music subscription, it's no easy job to play Apple Music on PS4 since there is Apple Music for PS4 app yet. But don't be upset. If you are just looking for the solution to stream Apple Music to PS4, this guide will help. We are here telling you how to play Apple Music on PS4 with simple steps.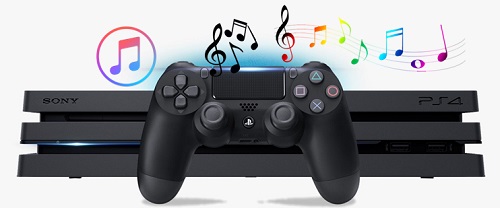 Part 1.

Can I Get Apple Music on PS4?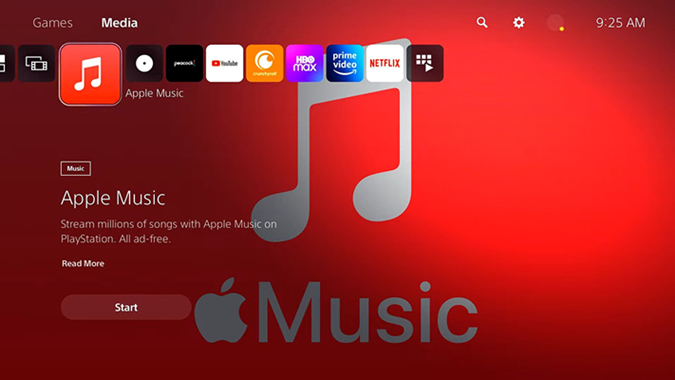 Apple Music, the popular music streaming service offered by Apple Inc., has garnered a massive following for its vast library of songs, curated playlists, and exclusive content. While fortunate users of the PlayStation 5 (PS5) can seamlessly enjoy the Apple Music experience on their gaming console, fans of both platforms who own a PlayStation 4 (PS4) can find their musical joinery to be a bit more intricate. Unlike its successor, the PS4 does not offer native support for Apple Music.
However, there are dedicated users who have explored various workarounds. Read on to discover 4 workarounds to listen to Apple Music on your PS4.
Part 2.

Best Solution to Enable Apple Music on PS4

Enabling Apple Music on PS4 requires downloading and converting the music files. In most cases, Apple Music files are encrypted and protected by Digital Rights Management (DRM), which prevents you from easily playing Apple Music in formats playable on other devices, including your PlayStation 4.

To make your Apple Music songs playable on PS4, you can convert Apple Music to a format supported by PS4, such as MP3, AAC, FLAC, or M4A. The most widely used solution is an Apple Music downloader called ViWizard Apple Music Downloader, which ensures users the access to DRM-free, transferrable, and playable Apple Music files.
Tool Required: ViWizard Audio Converter
ViWizard Audio Converter is one the best Apple Music converters with which you can convert Apple Music songs to MP3, AAC, FLAC, M4A, WAV, M4A, and M4B with lossless quality and ID3 tags kept. In addition, ViWizard Audio Converter also supports the conversion of Audible audiobooks, iTunes music and audibooks, as well as, other common audio files. If you also listen to audio books, don't miss this converter.

Key Features of ViWizard Audio Converter
Free Trial
Free Trial
* Security verified. 5, 481,347 people have downloaded it.
Convert songs, albums, and playlists from Apple Music to MP3
Remove DRM protection from Apple Music, iTunes, and Audible
Save the converted audios with the original quality and ID3 tags
Support the conversion of up to 100 audio formats to others
Here we will show you how to convert Apple Music for playing on PS4 with ViWizard Audio Converter. You can choose to download the Windows or Mac version based on your computer. At last, make sure the iTunes app has been installed on your computer. Now let's have a look.
Step 1

Import Apple Music Files to ViWizard

Firstly, launch ViWizard Audio Converter and Apple Music on your computer will be opened subsequently. Then click the Music note button to load the Apple Music songs you've downloaded in your music library. In the pop-up window, select the songs you want to play on PS4 and click OK to confirm. Or you can go to the folder where the Apple Music songs are stored and directly drag them to the conversion window of ViWizard software.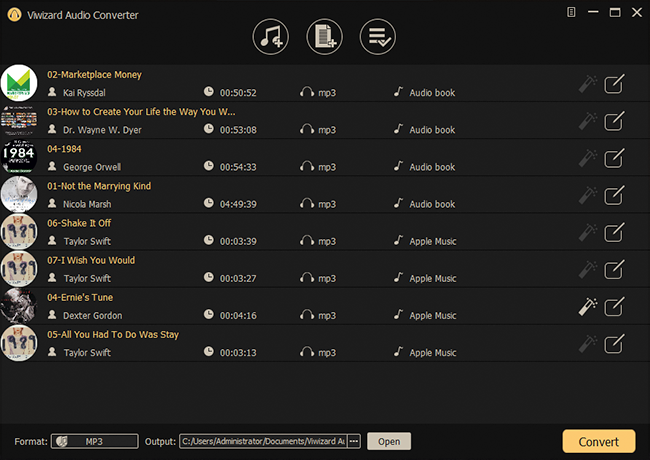 Step 2

Select the Output Audio Format for PS4

Move to the Format section at the bottom left of the converter and select MP3 as the output audio format. In the settings window, you can set the output format, codec, channel, sample rate, bit rate, and music quality according to your needs. In order to play Apple Music songs on PS4, you are suggested to select MP3, AAC, FLAC, or M4A as the output audio format. Then click the OK button to save the settings.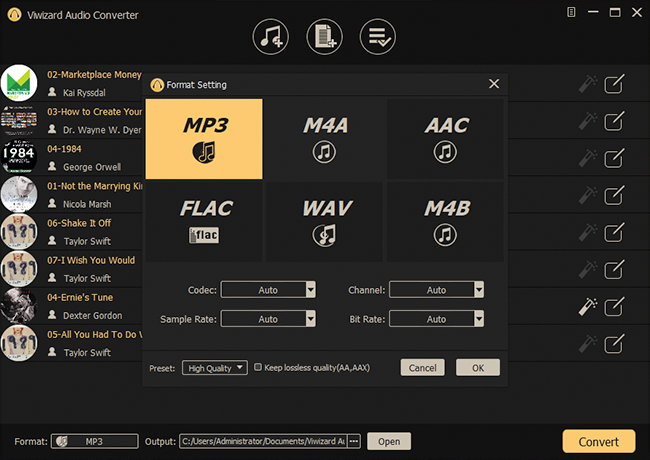 Step 3

Convert Apple Music Songs to MP3

Now you can click on the Convert button at the bottom right to begin converting Apple Music songs to MP3 or other formats that are available for PlayStation 4. After completing the conversion, you can click on the Converted icon to browse all the converted Apple Music songs. Also, you can click on the Search icon to locate those well-converted Apple Music songs. Now you can play Apple Music songs on PS4 freely.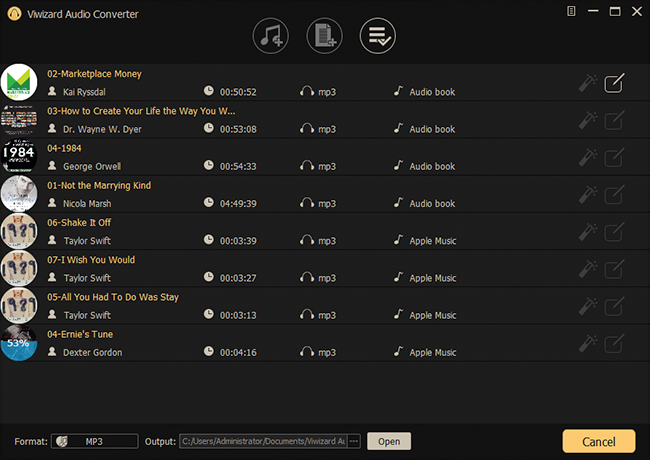 Part 3.

Play Apple Music Files on PS4 USB Music Player

You can now play Apple Music files on your PS4 by transferring them to a USB drive and then using the PS4's USB Music Player app to play them. Make sure your Apple Music files are in a compatible format that the PS4's Media Player can recognize like MP3, AAC, and FLAC.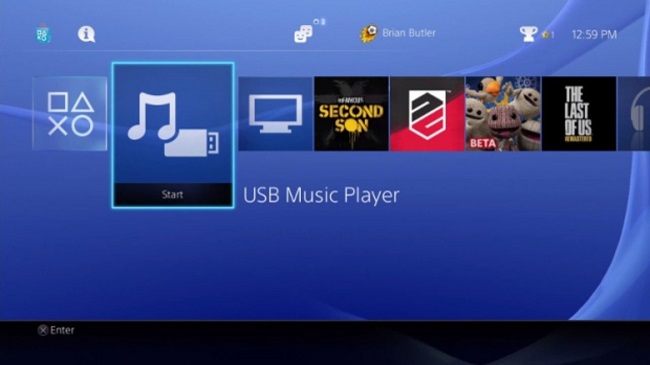 Prepare and format your USB drive to FAT32 or exFAT format. This will ensure compatibility with the PS4.
Connect the USB drive to your computer.
Create a "Music" folder in the root directory of the USB drive.
Place your Apple Music files onto the "Music" folder.
Power on your PS4.
Plug the USB drive into one of the available USB ports on your PS4.
From the main menu on your PS4, access the USB Music Player app by selecting Library > USB Music Player.
Navigate to the "Music" folder on the USB drive using the app's interface.
Select the music files you want to play. To play all of the music in the "Music" folder, highlight it and press the "OPTIONS" button > Play.
Part 4.

Stream Apple Music to PS4 via DLNA Media Server

Another potential workaround is to get Apple Music on PS4's media player through DLNA (Digital Living Network Alliance) streaming. DLNA works by using DLNA devices to share the media files like music, videos, and other media files to other devices over a home network.

This method relies on the internet. If your internet connection is not stable, you won't get a seamless playback. For starters you'll need to set up a DLNA media server on your computer or network. Then you can stream your Apple Music content to your PS4 using the PS4's media player.

Unlike playing the downloaded Apple Music offline using the PS4's media player, you'll need a continuous subscription to Apple Music to help with the playback. After cancelling the subscription, you cannot take advantage of this workaround to use a DLNA server to stream Apple Music to PS4 online.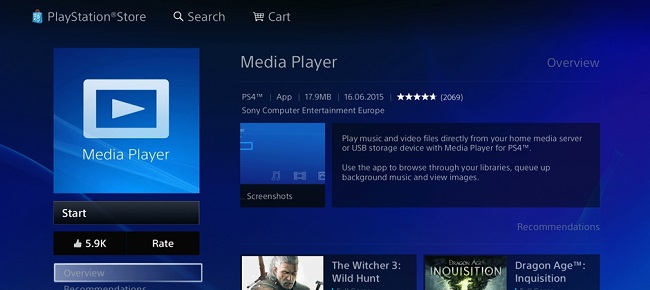 Download a DLNA server app like iMediaShare from the Apple Store on your iPhone and set it up. Other DLNA media server software options are Plex, Universal Media Server, or Emby.
If the DLNA media server allows you to add content from Apple Music, add your Apple Music content to the media server's library, such as Plex.
On your PS4, go to the main menu and open "Media Player." Go to PlayStation Store > Apps > Catalog, and launch the Media Player app.
Make sure your iPhone and PS4 are connected to the same network.
Follow the on-screen instructions to locate and connect to your DLNA media server on your iPhone.
Once connected to your DLNA media server, you should be able to browse your library and play the Apple Music content that you've added to the media server.
Part 5.

Play Apple Music on PS4 from Apple Music Web Player

Although the Apple Music app is not coming to PS4, Apple Music's web player (music.apple.com) is accessible through PS4's browser, so you can access and play Apple Music via the web player on your PS4.

However, the PS4's web browser is known to have limited functionality, and it may not fully support the Apple Music web app as a streaming platform. Additionally, the audio quality may be poor, and some features of the Apple Music web app might not work as intended, such as Apple Music's search.
Power on your PS4 and go to the system from the home screen of PS4.
Open the web browser on your PS4 by selecting the "Internet Browser" option from the content area.
Press the triangle icon, then navigate to music.apple.com and sign in with your Apple ID.
Try accessing your Apple Music library, playlists, and songs through the web player.
Attempt to play a song and see if it works. If the web player uses HTML5 or compatible technologies, it might be able to stream audio.
Conclusion
With DLNA support or Apple Web Player, you are able to stream Apple Music on PS4 online. But you'll find the streaming is not smooth if you don't have a good internet connection. And you cannot listen to Apple Music on PS4 beyond the subscription period. If you have an USB drive and ViWizard Audio Converter, then you can play Apple Music on PS4 offline without any worry of the internet or subscription.